Living in China means "enjoying" some of the great limitations that the country comes with. We're talking primarily about the online space, where harsh censorship clenched its grip over the internet. Accessing even basic sites is impossible, let alone Netflix US that is geo-restricted for this country. You'll need a way to bypass both the Great Firewall of China AND Netflix US' geo-block. Thankfully, we're here to help you solve the problem – here's how!
How to Unblock and Watch Netflix US in China?
Folks living in China already know why we often use this country in our article. Frequent government surveillance and non-stop censorship made the residents weary and tired. Not only can't they access Netflix or Hulu, but also sites like YouTube, Twitter, and Facebook.
China isn't a country like any other. The Great Firewall of China is into play and it makes unblocking sites pretty hard. For unblocking Netflix US in this country, you'll need to get the best VPN that is working in China.
However, that's a pretty hard task, unless you know what to look for. In short, a VPN lets you change your online location, giving you access to foreign sites and platforms. Let's see which is our recommendation and how to use it for this purpose:
1. Get a Virtual Private Network
Subscribe to a premium provider – don't go for a free one! Free providers DO NOT work in China, so you'll need to pay a small monthly fee for a premium solution. Our recommendation is ExpressVPN, as it reliably works in this country.
2. Install the Respective Apps
After buying a subscription, you'll need to download the setup file. Open the setup file and install the app. Sign in with your credentials and proceed to the next step.
3. Connect to the US Server
To successfully unblock US Netflix in China, you'll need to connect to an American server. Click on the country underneath the connection button and the server list will open. Here, scroll down until you find the United States and choose one of the available servers.
Wait for a few seconds and the connection will be established.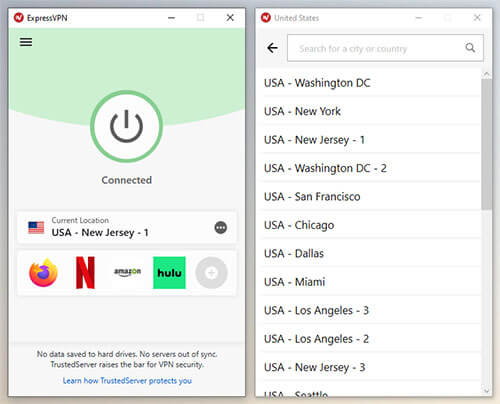 4. Enjoy Favorite Shows & Movies on Netflix
It's time to enjoy Netflix US! Simply visit the website or use the app, sign in, and start watching movies and shows. Very simple, even in a country like China!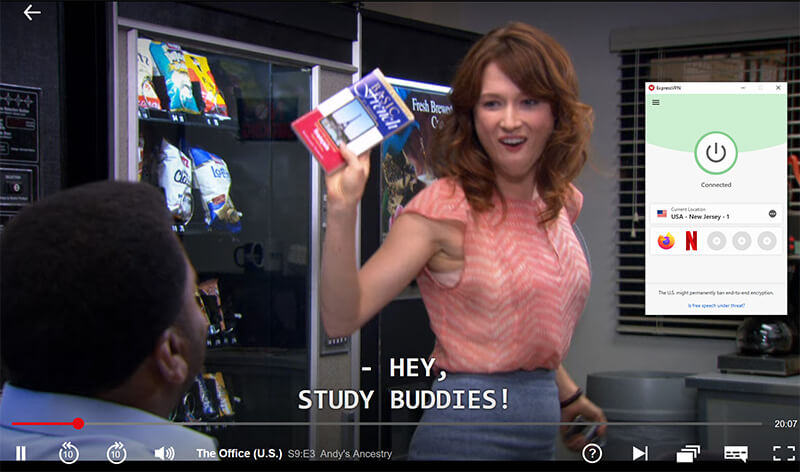 Best VPNs to Unblock and Watch Netflix US in China
We tested a dozen of VPNs to see which one is the best for China. Luckily for you, we managed to dig out 3 of them that will always work – here are the best picks:
1. ExpressVPN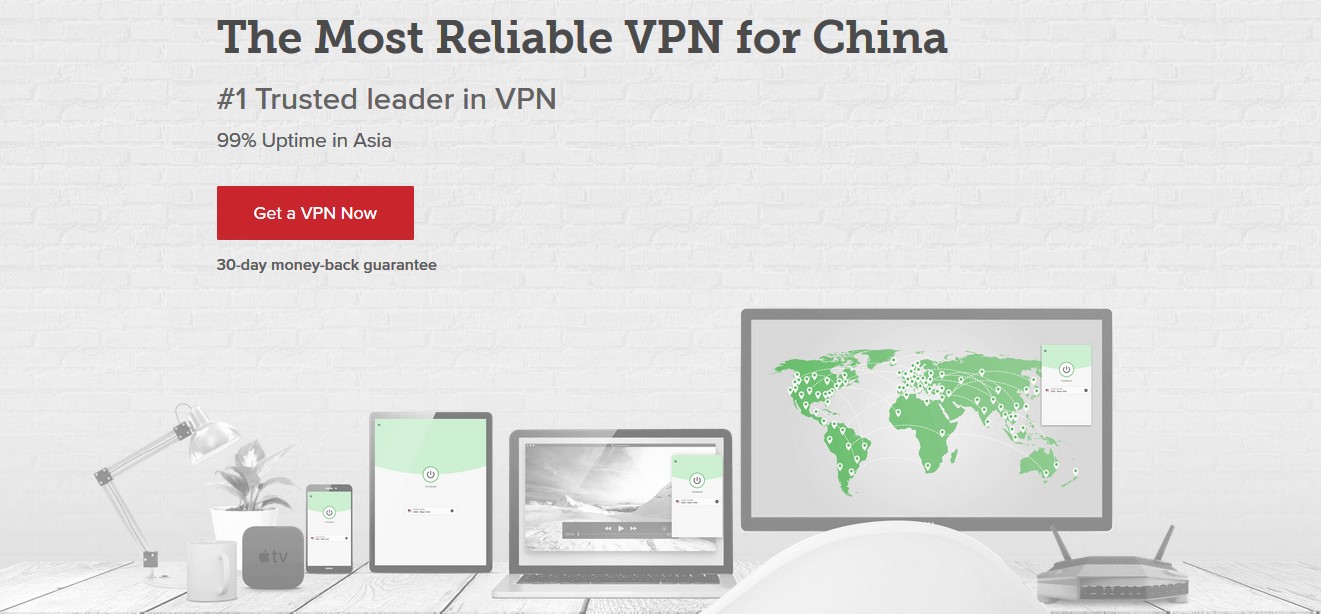 ExpressVPN works in this country like a Swiss clock. Offering 3,000+ servers in 94 countries, its server network is quite big, allowing you to bypass geo-restrictions easily. Furthermore, it offers the fastest speeds on the market, letting you enjoy US Netflix buffer-free.
Our tests showed that ExpressVPN is capable of unblocking pretty much every US-based streaming platform. From Hulu and HBO GO to ABC and Disney+. The good thing is that it can also unblock gambling sites, so if you wanna roll some dices, be our guest.
ExpressVPN has 24/7 customer support and offers up to 5 simultaneous connections. Since it gives you unlimited bandwidth, you can enjoy streaming day and night… although that's not recommended if you don't want to become fat like a bear.
Get ExpressVPN for Watching Netflix US in China >
2. NordVPN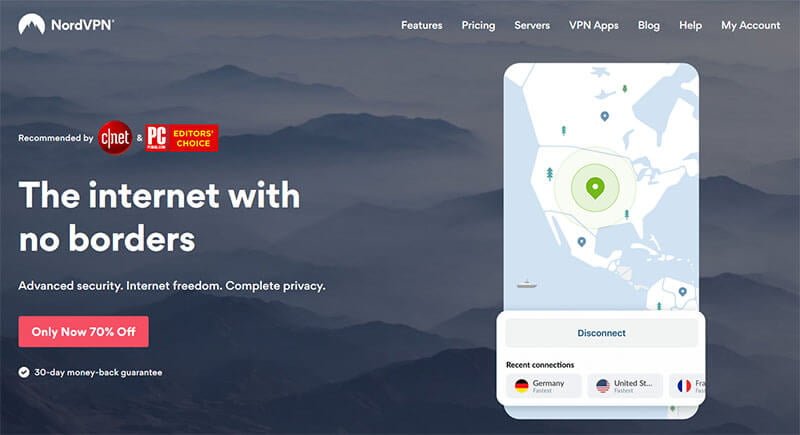 NordVPN knows that you need a fast VPN for streaming. Oh, it knows that pretty damn well! That's why it offers amazing speeds and lots of servers for switching things up. To be precise, you get 5,700+ servers in 59 countries, which is quite an imposing number.
The provider works great in China thanks to its obfuscated servers that offer supreme security and anonymity. Moreover, it has SmartPlay integrated into the app, allowing for smooth and safe streaming. Needless to say, it'll unblock Netflix US, but also HBO GO, Disney+, and Hulu.
If you want an experience with no compromises, NordVPN is one of the top choices. Oh, and it doesn't cost more than a few bucks a month for a 3-year plan. Get it and a 70% discount will be yours to claim!
Watch Netflix US in China With NordVPN >
3. Surfshark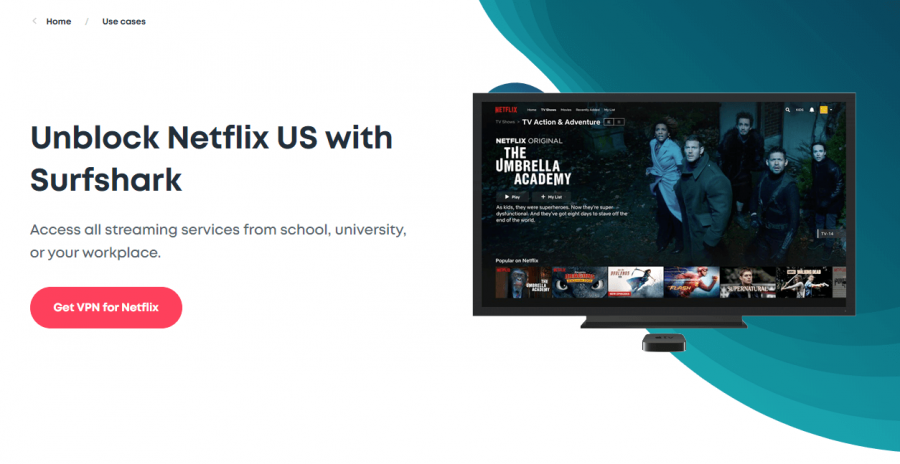 Since CyberGhost doesn't work in China, Surfshark is here to take its place. Now, this provider is significantly smaller than the two mentioned above – 1,700 servers in 60+ countries. However, the size isn't always the biggest factor.
Surfshark does a great job with what it has. We experienced excellent speeds here, with lots of security features and an intuitive interface. The provider has a NoBorders mode, allowing you to successfully bypass the Great Firewall of China.
It will unblock Netflix US with ease and due to solid speeds, streaming will be enjoyable and not a chore. Security-wise, Surfshark uses 256-bit encryption and a kill switch, which is enough to keep you safe all the time.
We nearly forgot to say that it offers an unlimited number of simultaneous connections. This means that you can protect an unlimited number of devices on a single account – how awesome is that!