WeVPN is one of those providers that started its journey to greatness on a high note. The provider is just a few months old, (or should we say young?), yet it managed to spark the interest in many VPN enthusiasts. This makes WeVPN a very good candidate for our in-depth review and analysis, where we'll see if it's worth buying. If you're in the market, shopping for a reliable provider, WeVPN might be a good choice. Find out more about it below.
What is WeVPN?
Before we start our review, we need to see what exactly is WeVPN. Simply put, this is a Virtual Private Network provider from the British Virgin Islands, that aims to bring supreme privacy, security, and speeds. The interesting thing is that ExpressVPN is based in the same location. And as some of you know, BVI is a rest haven for privacy lovers.
Why?
Because it's out of the 5/9/14 Eyes jurisdictions, hence it doesn't adhere to data-retention laws. In theory, WeVPN should already be worth buying, right? Well, not exactly. Apart from being safe and secure, a provider should fulfill a few more conditions that make it a good buying material.
In the review below, we'll analyze WeVPN and see what are its advantages and shortcomings. This is going to be a pretty interesting read, so hang tight and stay with us till the end!
Compatible Devices and Ease of Use
Let's start off this review of WeVPN with the devices because there's a lot to talk about here. WeVPN is a very cheap provider. Really, really cheap, and perhaps one of the cheapest for what it offers. Providers in this price tag usually don't offer much when it comes to device support. There's Windows, and sometimes Android and Mac.
However, this provider aims to be different from the get-go. Here are all the supported devices:

Some of them are coming soon, but at the time of writing the review, it's already pretty impressive. Windows is here, of course, iOS, Android, and macOS, which is still in Beta. Other devices include Amazon Fire, Android TV, Apple TV, gaming consoles, and so forth. We're looking forward to browser extensions and Linux, which WeVPN promises to release soon.
Computers
The majority of people use a VPN on a computer. After all, you can do stuff on the computer that you can't do on a phone – torrenting, for example. If you're one of them, you're in for a treat. We're going to see how easy the app is to install, as well as examine the app and see how it works on Windows. After buying a subscription, download the setup file.
Double-click on it and the first installation screen will appear: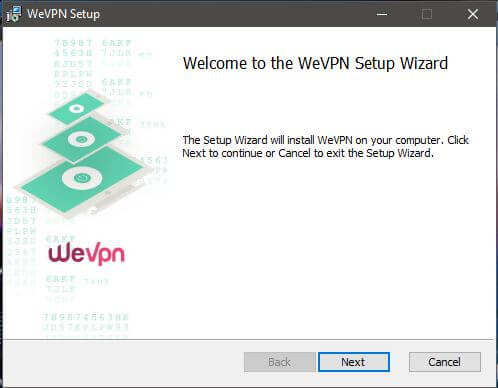 To start the installation process, just click Next: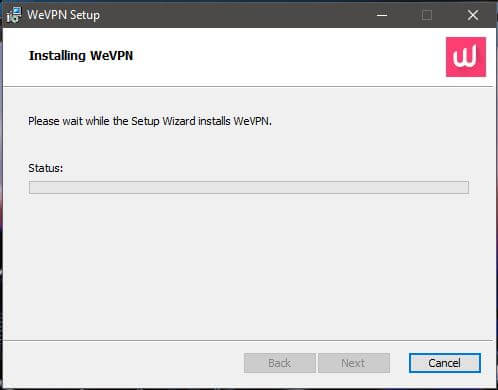 This will last about 5 to 10 seconds and after that, you're ready to launch the app if you want: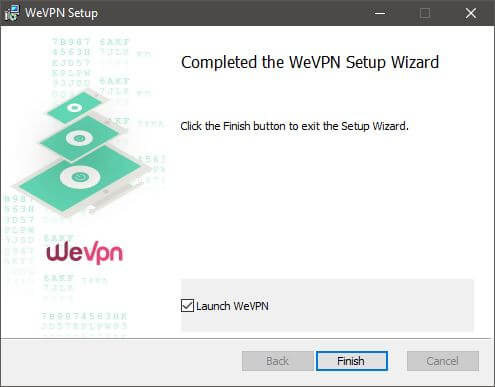 As you can see, the installation is pretty simple. Two mouse clicks are all you need and you're in the app before you even realize it. Let's see how the app looks: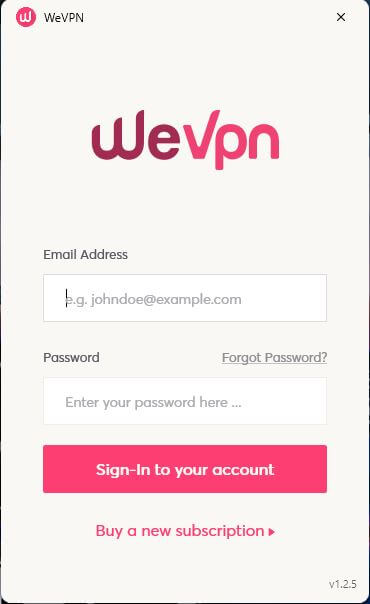 After opening the app, the initial login screen looks quite uplifting if you ask us. The provider sports a colorful interface that doesn't have a very serious tone, yet we're talking about a serious provider. That's always a winning combo! Sign in with your credentials and use the pink button to proceed.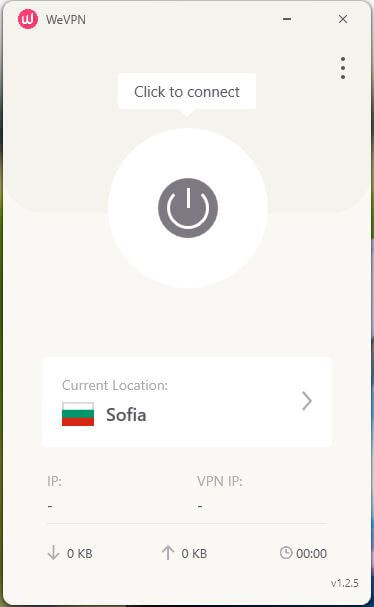 The home screen is rather simplistic. You have the connection button and the country below. By clicking on the country, you open the server list, where you can choose where to connect: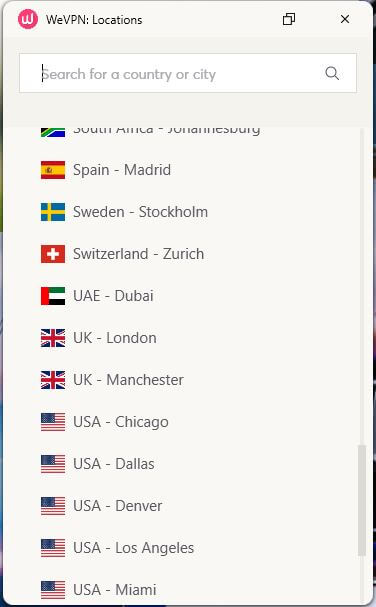 We chose the USA server, double-clicked on it, and connected in less than 3 seconds: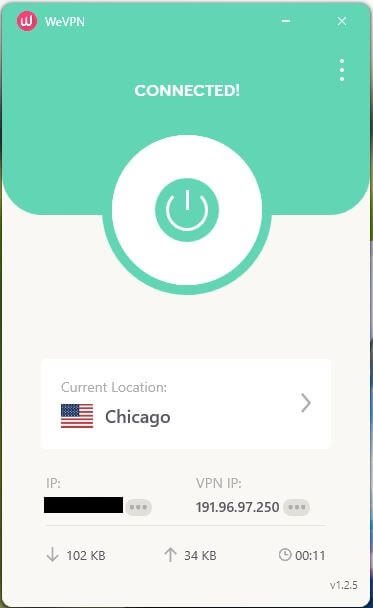 When you establish a connection, the upper portion of the app turns green, indicating a stable connection.
The app is easy to install and use, so it gets a maximum grade for the ease of use – congrats, WeVPN!
Smartphones and Tablets
As we mentioned earlier in our review and test, WeVPN has full-fledged apps for both iOS and Android, making it easy to install on a phone. We'll now do the same as we did in the previous section – examine the app on a smartphone to determine its ease of use. This time, we're going to use an Android smartphone, but rest assured, the apps on both systems are pretty similar.
The first step is to download the app from the Google Play Store, as seen in image 1.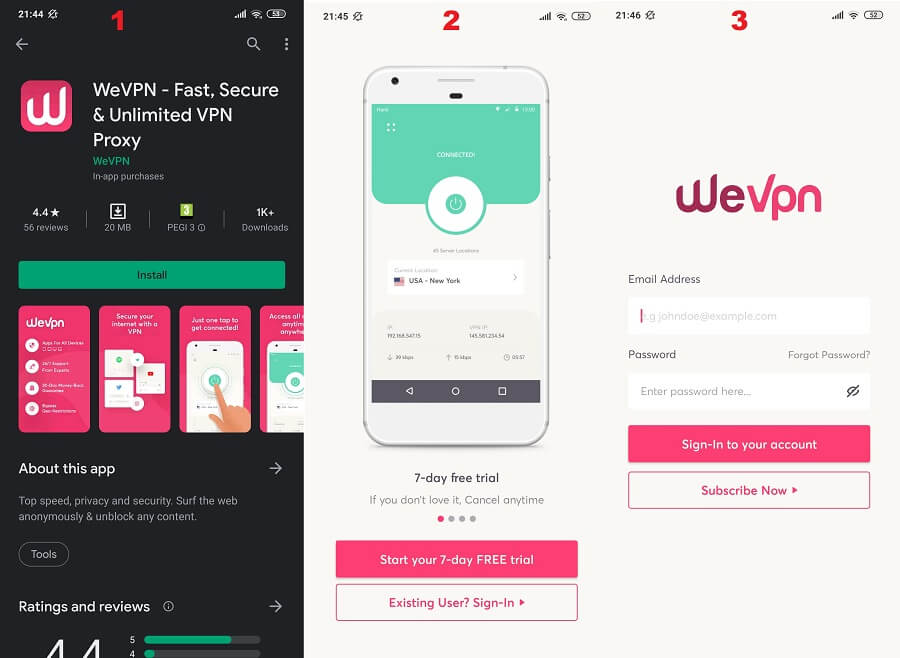 The app has 4.4 stars on Google Play, which is a very good rating, considering that it's a new provider. Nevertheless, after downloading it, you can either choose a 7-day trial or a sign-in option (image 2). We chose the latter, and the login screen looks exactly the same as on the PC, which you can see in image 3. Type in your credentials and sign in.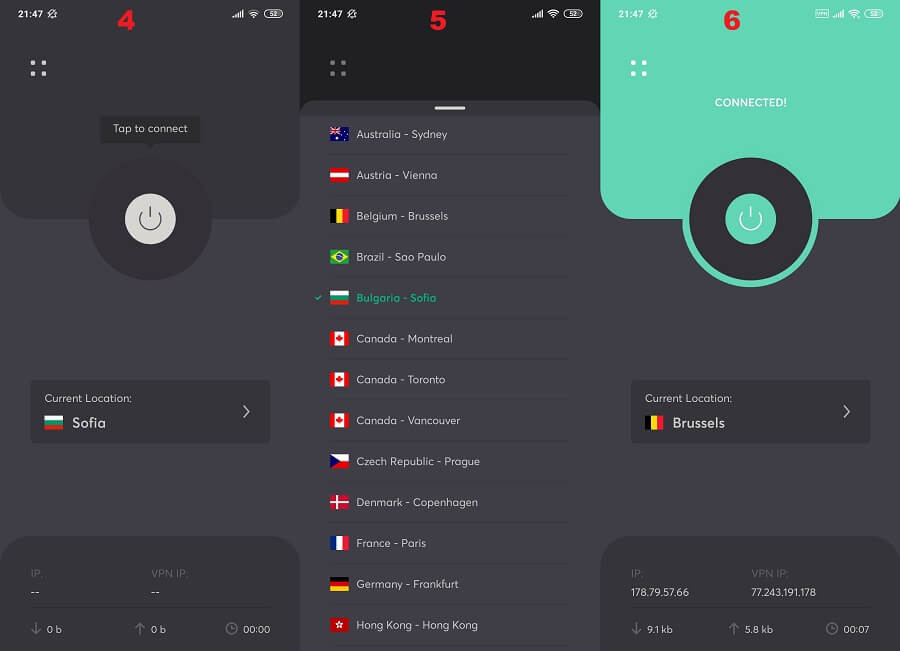 We chose a dark theme for this app, hence it looks… well, darker than the PC app. But, overall, they look almost the same. In image 4, we can see how the home screen looks. To open the server list in image 5, tap on the arrow pointing to the right, next to Sofia. Tap the server you want and wait for a few seconds to establish a connection.
After it's established, the upper part of the app will turn green, once again, showing that your VPN is ON (image 6).
Other Devices
We've seen that WeVPN doesn't support just basic devices we already mentioned. There are tons of other devices, such as PlayStation, Xbox, Amazon Fire TV, Android TV, Amazon Fire, and so forth. However, one device is missing here – a router. Usually, providers support all of them through routers.
You connect your VPN to a router, and then, you connect Apple TV to it, and you're good to go. Unfortunately, WeVPN supports some of these platforms through the SmartDNS feature. It's good for bypassing geo-restrictions, but it's inferior to a Virtual Private Network in terms of security.
On the brighter side, some of the platforms have dedicated apps for them. These are Amazon Fire, Android TV, and Amazon Fire TV.
How Fast is WeVPN? We Checked Its Speed!
The speed test is a mandatory part of our WeVPN review, and honestly, the hardest one to do. You'll see why in just a moment. Generally speaking, not many providers managed to impress us in this regard. ExpressVPN is the fastest one, closely followed by NordVPN and CyberGhost. These three are the best options on the market, so it's not strange.
Before moving on to the speed test, we must mention one thing, and that is that all providers reduce your speed to some extent. Some do it by 10%, while others go up to 80% or even 90%. Speed depends on many factors, such as server load, quality of the network, distance to the server, and so on. For that reason, it's relevant to see how we did our testing.
We did 3 tests in the morning, 3 in the mid-day, and 3 in the evening, for 3 testing locations. Furthermore, we kept the best score and used the best location when that was possible. Our physical location is in the USA (non-VPN test) and we used these 3 locations for testing:
The United States
The United Kingdom
Australia
Without using a Virtual Private Network, our native internet speeds are:
Ping: 11 ms
Download Speed: 211.88 Mb/s
Upload Speed: 202.20 Mb/s
Now, when using WeVPN, our ping, download, and upload speeds respectively, for 3 testing locations, were:
US Server: 52 ms / 103.97 Mbps / 95.44 Mbps

UK Server: 172 ms / 32.41 Mbps / 20.38 Mbps
Australian Server: 590 ms / 11.25 Mbps / 5.78 Mbps

Let's talk a bit about the results. WeVPN is a new name in the game, so it's pointless roasting and ridiculing it. But we still must be real and give you our honest opinion about certain things. And one of those things is that WeVPN is not very good speed-wise.
Just look at how big of a reduction we got from our native internet speeds. From more than 200 Mbps to around 100 Mbps, despite using the server in our country. Needless to say, the results from other servers are all but satisfying, with the Australian one being barely usable.
If you're looking for a blazing-fast VPN, WeVPN won't be a great choice. ExpressVPN, on the other hand, will, as this is the fastest provider your money can buy.
How Good is WeVPN for Streaming?
There are two conditions that the provider needs to fulfill to be a good choice for streaming. One is that it can unblock the majority of the streaming sites and the second is that it has fast speeds. Speaking of that, be sure to check our ranking of the fastest VPNs on the market.
Now, back to the topic, WeVPN is very slow, so it has to rely on unblocking sites, instead. That's okay, as long as we can enjoy streaming without buffering and infinite loading times. Let's see if the provider can unblock Netflix US, for the start.

We were pleasantly surprised to see that Netflix US works. The easiest way to test it is to search for Parks and Recreation, a US-exclusive comedy show. If it's available, then you're using Netflix US. If not, you're watching another non-US catalog. Moving on, we have Hulu, which worked flawlessly.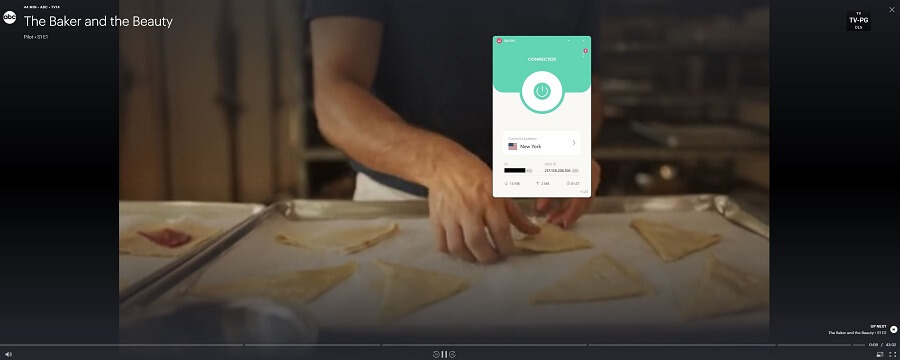 Amazon Prime Video is next in this WeVPN review, and it's very hard to unblock for many VPNs. We were enthusiastic at first, but as soon as we started to initiate the stream, this happened:

On the other hand, Disney+ worked pretty well: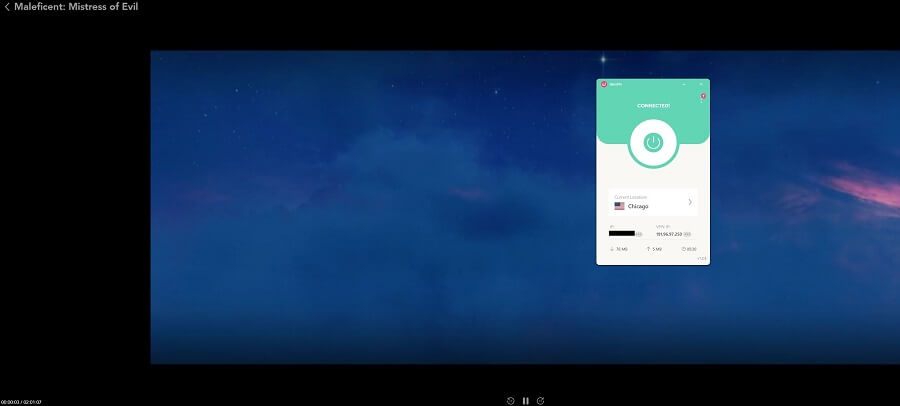 The same can be said about HBO GO: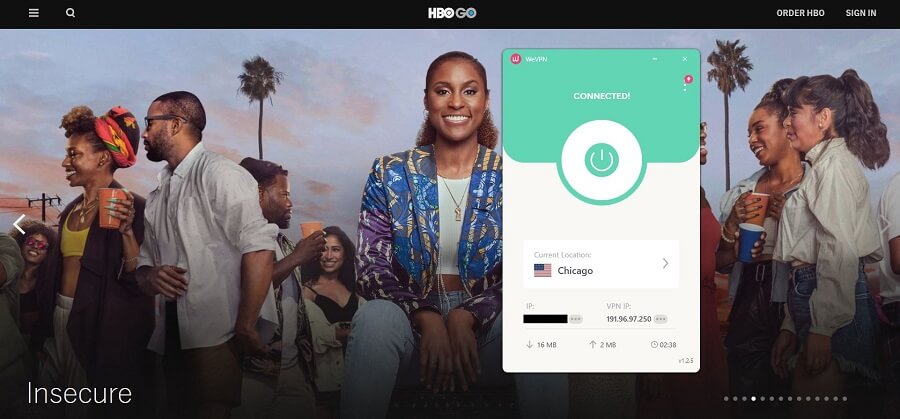 Strangely, DAZN didn't work with WeVPN on, even though we used a Brazilian server. DAZN is available in Brazil, by the way.

Finally, we tested BBC iPlayer and it worked.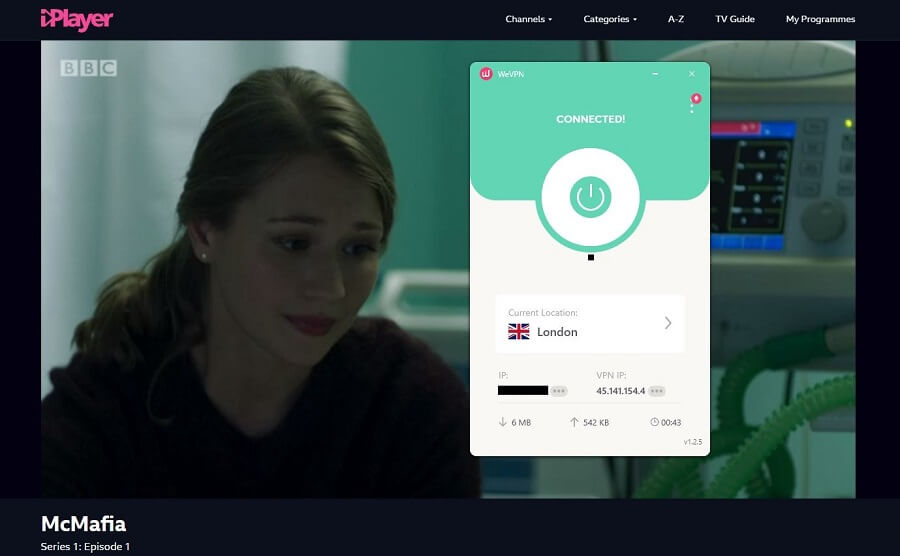 Let's confirm the results we got from the streaming test. WeVPN managed to unblock the following platforms:
Netflix US
HBO GO
Hulu
Disney+
BBC iPlayer
The platforms that didn't work during our review of WeVPN were:
Overall, WeVPN did a solid job at unblocking streaming platforms, although its speeds were lackluster. The results were pretty conflicting. On one side, we unblocked these sites, and on the other, we couldn't properly enjoy streaming due to slow speeds.
We hope that the provider will work more on its speeds in the future and use its full potential. That would make it a lot more valuable.
Confidentiality, Security & Logs
Being based in the British Virgin Islands brings a lot of good stuff with itself. Just think about ExpressVPN and Surfshark – two great options. Both of these offer superb privacy and security and both of them are no-log providers. Is WeVPN following the footsteps of its elder brethren? Well, let's check its privacy policy to confirm it: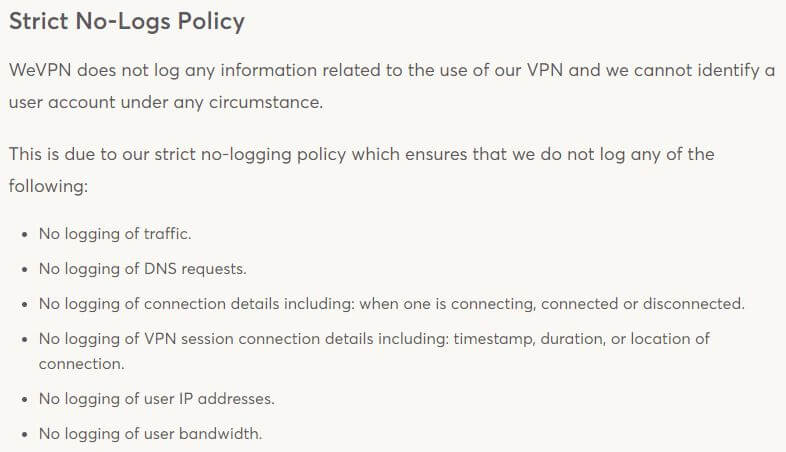 This part of the privacy policy is enough to set things straight. As we assumed, WeVPN is indeed a no-log provider, giving its users a crystal-clear zero-logging policy. We can see that it doesn't log traffic, DNS requests, timestamps, VPN sessions, IP addresses, and bandwidth. Basically, it doesn't log anything, which is just how we like our VPNs to be.
All of this means that no one will be able to trace your browsing history and identify you if the provider is compromised. Even if the government requests certain data, the provider won't be able to hand anything over because it doesn't store ANYTHING.
We can see that WeVPN is indeed safe, but is it secure? One of the ways to find that out is by conducting an IP leak test. Here are the results: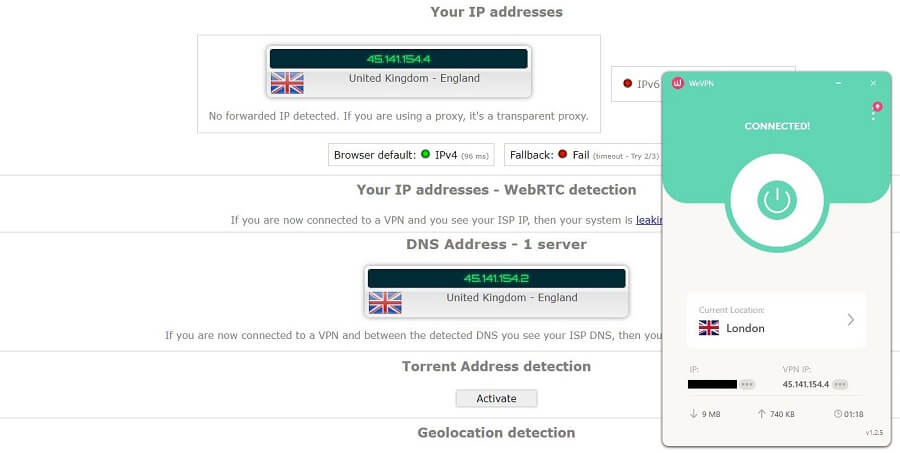 As expected, we had no IP or DNS leaks. In terms of security, WeVPN is pretty rich. It has an automatic kill switch, which will shut down your internet connection if the VPN connection breaks.

Moreover, there's a choice of three security protocols – IKEv2, UDP, and TCP (OpenVPN).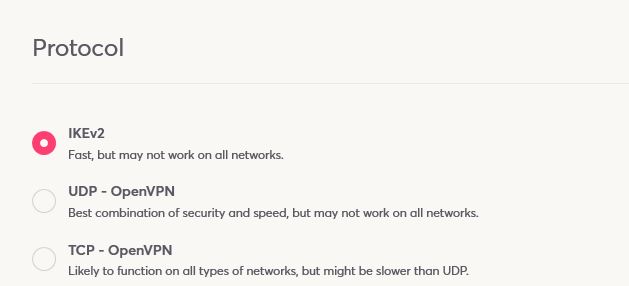 The provider even offers WireGuard on Android, which gives even better speeds and rock-solid security. A few more special features are here as well, but we'll talk about them near the end of this WeVPN review.
Can I Do Torrenting Safely With WeVPN?
VPNs from the British Virgin Islands have a very good reputation when it comes to torrenting. Millions of users enjoy ExpressVPN and Surfshark when using BitTorrent and WeVPN promises to give you the same experience.
We tested it using the 1337x torrent website and we tried to download a movie.

Downloading the movie was quite slow due to its speeds, but on the brighter side, torrenting is allowed by this provider. Our recommendation when torrenting is to use the server in your country if possible. This will reduce your distance to the server, giving you better speeds.
Can I Use WeVPN to Bypass Censorship?
In this review, we can't help but compare WeVPN slightly to ExpressVPN and Surfshark. Bypassing censorship is getting harder these days, but these two providers still float at the top and don't give up. ExpressVPN works flawlessly in censored countries like China and Surfshark uses its NoBorders mode to bypass the Great Firewall of China.
WeVPN doesn't have any special protocol that will give it that possibility. Our testers in China conducted multiple tests, but with no avail. Given that it can't bypass Chinese firewall, we don't recommend it for countries like the UAE, Russia, and Iraq.
If you want to bypass censorship to unblock websites, our recommendation is ExpressVPN.
Pricing and Plan Options
At the beginning of the review, we mentioned that WeVPN is very cheap. The question is – how cheap? Well, let's talk more about that now: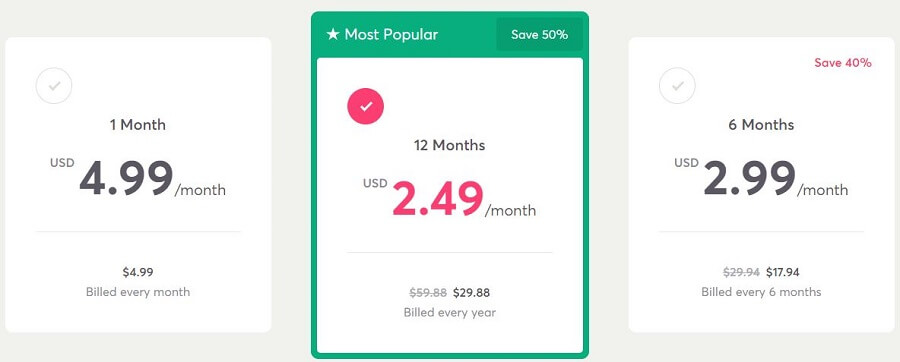 Price-wise, WeVPN can't be compared with any other provider of this caliber. For a monthly plan, you're looking to pay just $4.99 a month, which is as cheap as it gets. For a 6-month plan, the provider will charge you $2.99 a month or $17.94 every six months. Lastly, for an annual plan, you're looking at a price of $2.49 a month or just $29.88 a year.
This is one of the cheapest providers we've ever seen!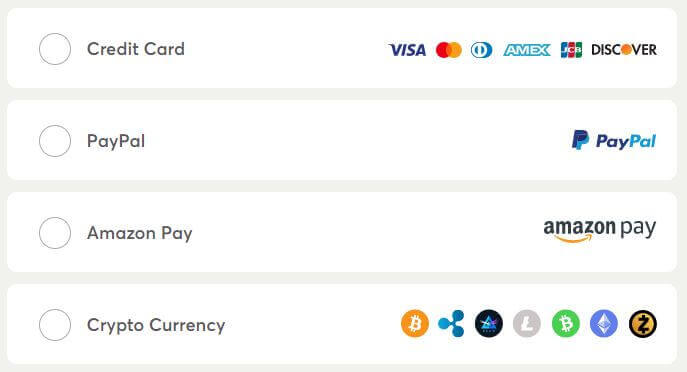 Should you decide to buy it, the provider offers a multitude of payment options, such as credit cards, PayPal, Amazon Pay, even Crypto. Cryptocurrencies are always welcome! And if you don't like it, WeVPN offers a 30-day money-back guarantee, no questions asked.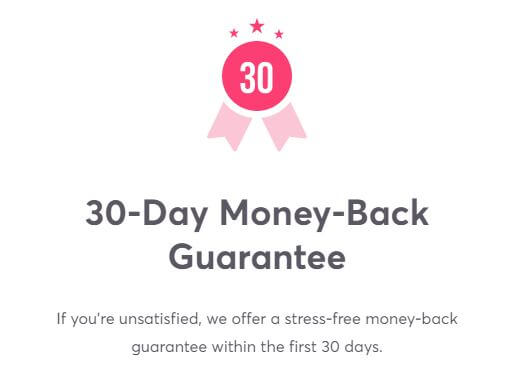 To get it, just contact the support team either by email or live chat, and they'll accept your request immediately.
How Can I Contact WeVPN?
Speaking of contacting WeVPN, you can do it in several ways. And believe us – this is one of the best support teams we encountered in recent years. Visiting the Contact Us page on the website, you get this screen: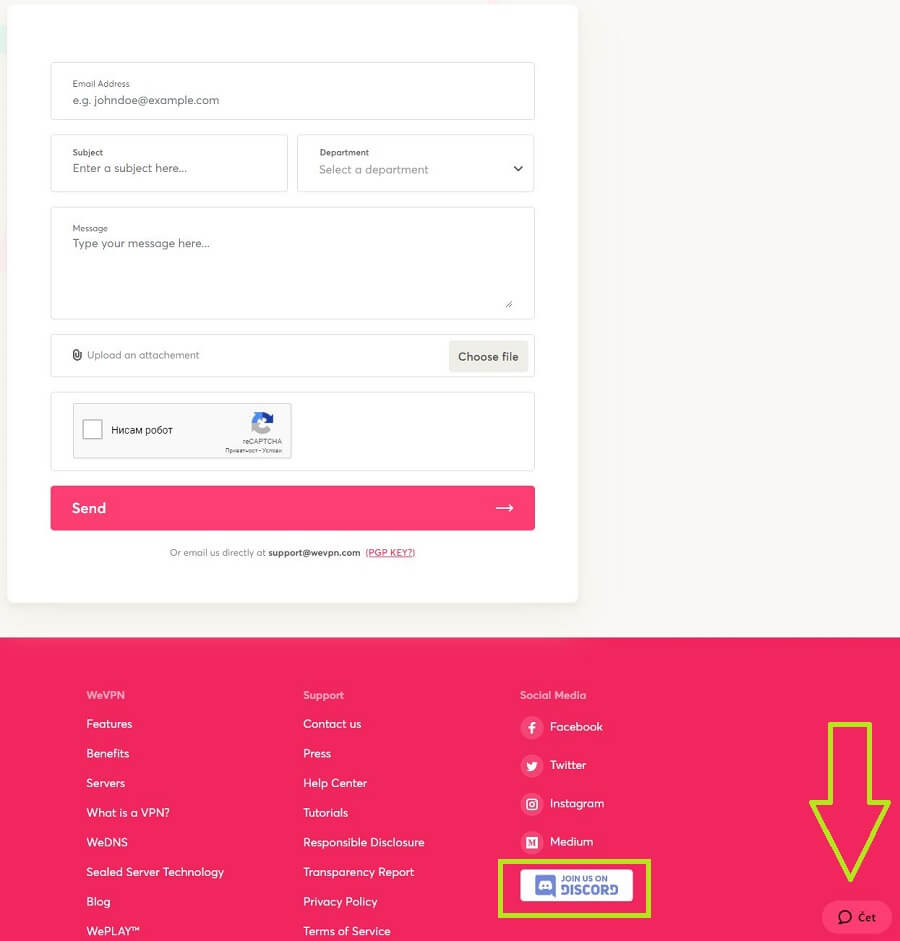 In the upper part of the page, you get an email template where you need to fill in some basic info, details of your problem, and so forth. In the bottom right part, there's a live chat button. Here, you can talk with the support team instantaneously and it takes literally less than 10 seconds to respond.
One interesting thing is that WeVPN offers a Discord server. How many providers do that? Not many, you'll agree.
This is a next-level support team, willing to help its customer solve problems, ranging from mild to serious ones. We're excited about what the future is going to bring to WeVPN. In the next couple of years, this could be the next great provider, given what it managed to build in just a few months of existence.
The Special Functionalities
We're approaching near the end of the review, so it's time to see what special functionalities you can expect from WeVPN. Spoiler alert: you'll be pleasantly surprised!
Split Tunneling
Split tunneling in a VPN of this price? Oh yeah, it's possible!

This feature is a must-have if you use a lot of local websites but you also stream Netflix using foreign servers. It lets you choose which apps are going to use your VPN-given IP and which are going to use your native IP. For example, you can enjoy Netflix US and use your local shopping site at the same time.
Netflix will see you as if you were from the US, while the local shopping site will see your real location. For this price, once again, it's impressive what WeVPN managed to cram in its app.
WeBlock
What the heck is WeBlock? It's just what you think it is – a functional ad-blocker.

It doesn't block only ads, but also trackers and malware, preventing unwanted software from entering your computer. This way you're fully safe and secure online, which is what all of us want.
Other Things You Should Know
There are still a few more things we haven't touched on in our test of the provider, so let's do that now:
Number of Servers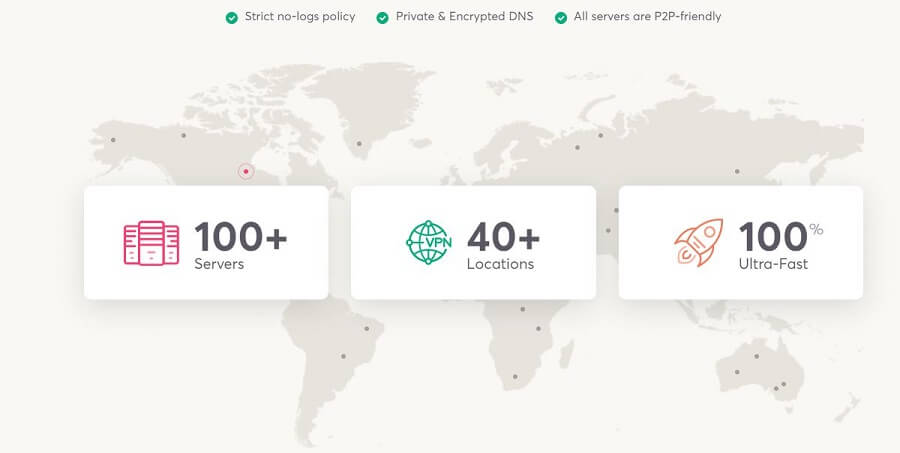 The server network of the provider isn't going to impress you – 100+ servers. It's not very large, and to be honest, it's quite small. But once again, we have to take into account that WeVPN isn't on the market for very long.
Number of Countries
In the image above, we can see that the provider offers 40+ locations. That's great, considering that there aren't a lot of servers. It will give you more variety and more countries, making it easier to bypass geo-restrictions.
Number of Simultaneous Connections
WeVPN won't offer an unlimited number of simultaneous connections. Instead, you get 10 of them, which is more than enough.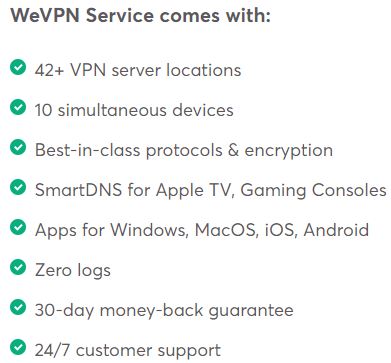 The bad thing is that you can't connect it on a router, so you can't expand this number.
What Do Other Users Say About WeVPN?
Before we conclude the review, it's time to see what other users online think about WeVPN, starting with Reddit:

This user went ballistic on WeVPN, saying that speeds are pathetic compared to NordVPN. We understand him, as NordVPN is truly a much faster provider and this one isn't very fast. Let's see what Google Play users think about it:

Once again, the user complains about the speed of the provider. Interestingly, he also states that nobody replied to him when using live chat, which is odd. Our experience showed that support team was quite responsive and helpful.

The review from the Apple Store is a 5-star one. This user is very satisfied, praising its speed, reliability, and the ability to unblock sites.  He ends the review by saying that the app is fine and wishing the provider to keep up the good work.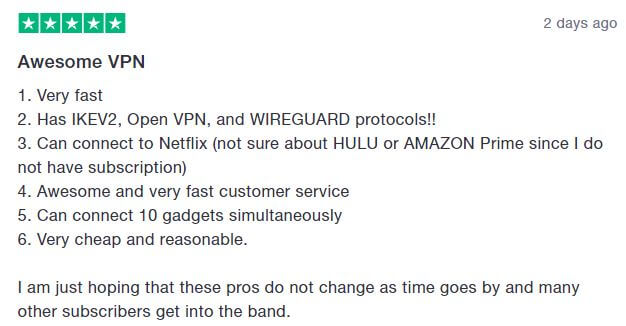 This feedback was written two days ago from writing our review of WeVPN. Once again, a very satisfied user praises several factors of the provider. In short, he likes its speeds, WireGuard addition, ability to unblock Netflix, and pricing.
We can see that reviews online are generally positive, meaning that the provider is off to a great start. Time will tell if it's going to change for the better or worse.
Conclusion: Should You Take It?
The conclusion was the hardest part of this WeVPN review.
If you're asking why, here's the answer. WeVPN is one hand, a very good provider with lots of potential that's new on the market. On the other hand, it's still not up to par with the best providers on the market, but that's justifiable because of the reasons we mentioned in the previous sentence.
Lining it up with the other cheap providers, it would probably be in the top five, along with Surfshark and CyberGhost.
But, if we compare it with NordVPN and ExpressVPN, it's severely overshadowed and under-performing.
Let's put it this way. If you're looking to save as much money as you can, yet still squeeze out every bit of performance, WeVPN is a good choice. However, we'd still recommend you ExpressVPN over WeVPN for many reasons.
It's the fastest VPN around, unblocks every streaming site, works in China, and has more than 3,000 servers worldwide. Right now, it offers a 49% discount and 3 months free for a 12-month subscription plan, making it more affordable than ever.