AirVPN, at first, looks like a great choice for privacy and security lovers. While not exactly the "prettiest" VPN, it surely packs a punch in terms of features and security overall. This makes it a very interesting contender for a review and thorough testing by our team. Needless to say, we spent a few days with the provider and conducted an in-depth analysis, ready for you to enjoy. Grab a cup of your favorite beverage, and sit back – this is going to be a comprehensive review of AirVPN service!
What is AirVPN?
So, what exactly is AirVPN? To answer that, we have to look back at how it was founded. Back in 2010, a group of hacktivists formed a Virtual Private Network called AirVPN. Its goal was to bring rock-solid security to users who want to avoid censorship and enjoy the internet freely.
The provider's motto is – the air to breathe the real internet. And this phrase alone should tell you a lot about the provider. For us, it means that it aims not only to protect you, but also to give you free internet access through bypassing geo-restrictions and unblocking sites.
AirVPN was founded in Italy and the company behind the provider is called Air Di Paolo Brini, c.a. While Italy is part of the 14 Eyes, we don't think that's a problem here. So far, AirVPN didn't have any problems in terms of violating its privacy policy.
If you're in doubt whether or not to buy AirVPN, we recommend reading the review further.
Compatible Devices and Ease of Use
First things first – device support. When you first look at the website, you probably won't think this is a serious provider. The website doesn't look fancy and has no fancy animations and GUI. To us, that's completely okay. As long as it works, we're happy. Device support, on the other hand, is pretty damn impressive!

They managed to cover pretty much every major device. Apart from Windows, Linux, macOS, Android, iOS, and Chrome, we also have several router firmware. And to top it all up, pfSense is also on the list.
Also, this Chrome app is actually the Chrome extension, which serves more like a proxy, and not like a VPN. Firefox doesn't have its AirVPN extension and in the future, we'd like to see that change. This isn't really a complaint, but more like a suggestion.
Computers
To start off our AirVPN review, we'll check the big screens, move to the smaller ones, and then, to the platforms without screens (other devices). If you're going to use the provider on a computer, you're in for a delicious treat. AirVPN supports Mac, Windows, and Linux, so regardless of which platform you're using, you can get it.
Our daily driver is a Windows computer, which is going to be our testing platform now. Upon buying the subscription, you can proceed by downloading the setup file. Double-click on it and the initial installation screen will pop up: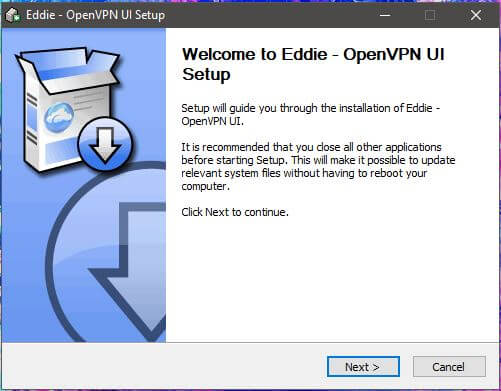 Even the installation screen is old-school! Oh, and don't be scared – this Eddie app is actually AirVPN, so there are no reasons to worry. Click Next and proceed to the next step: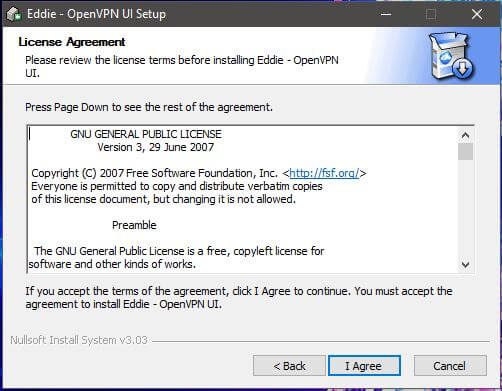 If you don't want to read terms and conditions, click I Agree, choose where to install the app, and wait for the setup to finish: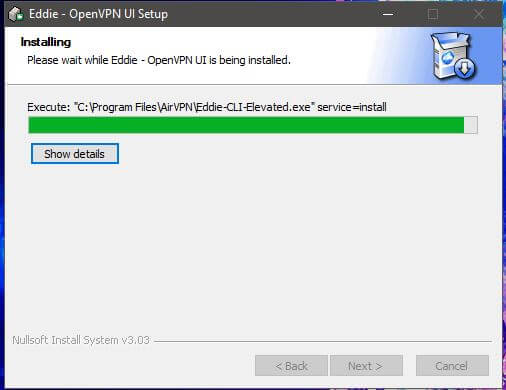 As you can see, it's all but complicated. After it's done, simply boot up the app using the desktop shortcut. This is how the AirVPN app looks: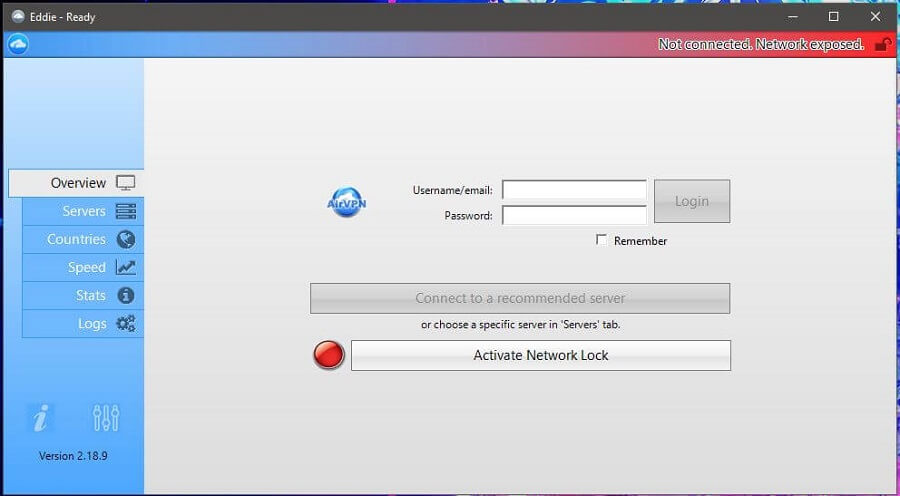 As we told earlier in our review, the application offered by AirVPN is really old-school. No fancy UI and other stuff. On the left, you can choose servers, countries, check the speed, see stats, and read Logs. In this section, though, our goal is to connect to the server.
Enter your username and password and click on the login button. Now, click on the Servers menu to open the server list: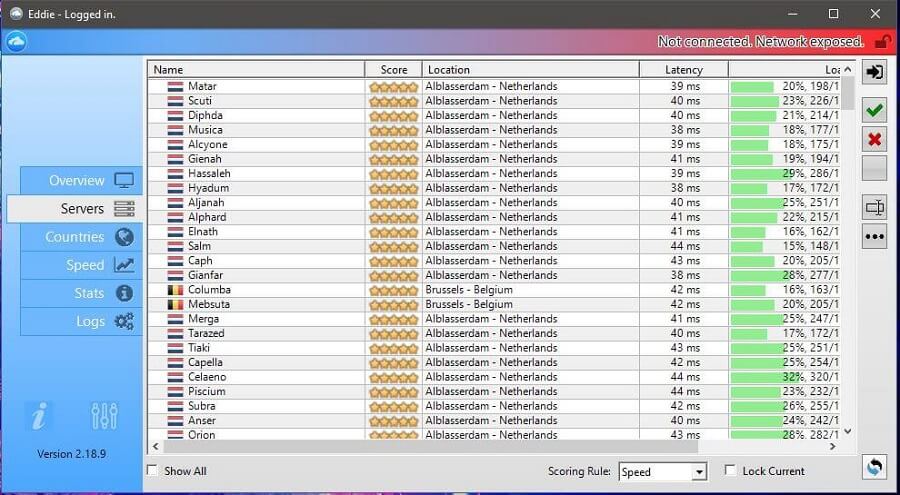 We like this style of the server list. You can see how high are the pings, server load, and other crucial stats. Nevertheless, we scrolled down, found a US server, and selected it.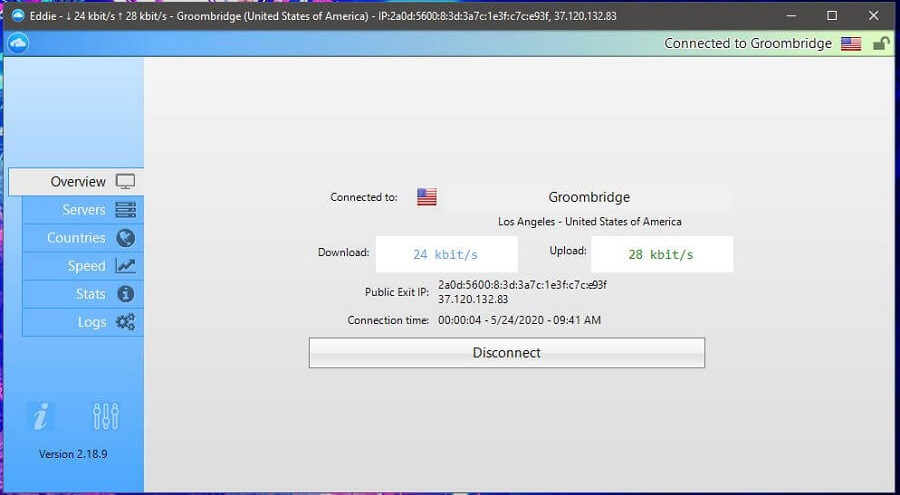 To connect, right-click on the server and choose Connect. While the app is easy to use for us, inexperienced users will maybe have some problems, as it's not the most intuitive app we've seen. Its ease of use is decent, but far from being the best out there.
Smartphones and Tablets
If you use your VPN on a smaller screen, we have some good news – AirVPN is available for both iOS and Android. You can connect to a server and check plane ticket comparator or enjoy streaming to your heart's contempt – that's how powerful phones are today.
We use an Android device for doing all the testing required by this review, so we're going to install AirVPN there and see how easy it is to use.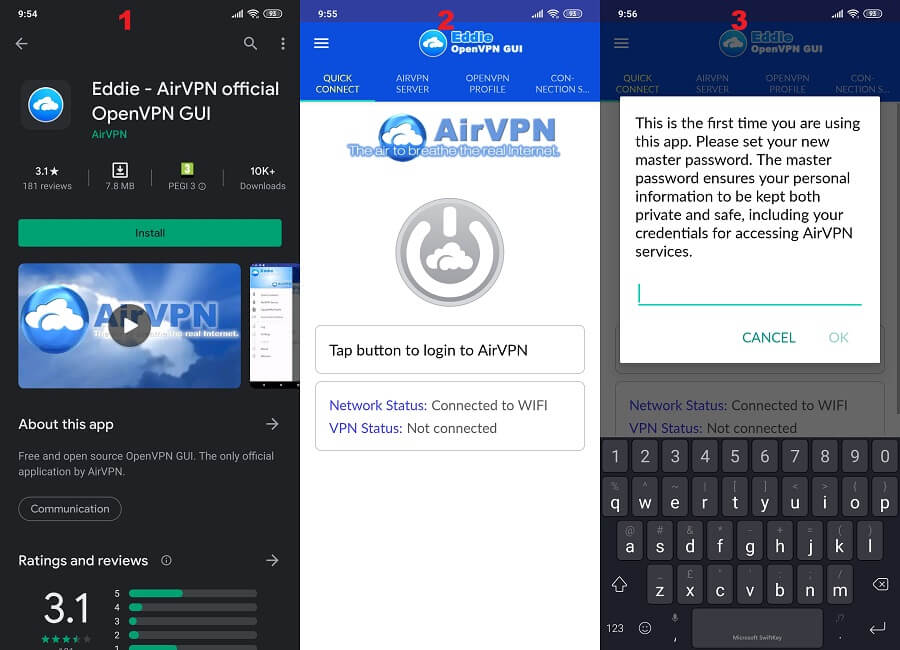 In image 1, we can see how it looks on the Google Play Store. Tap Install to install the app on your phone. By the way, it has only 3.1 stars, which isn't very good. Next, image 2 shows us how the app's initial screen looks. Tap the circular power button to initiate the master password screen (image 3).
After you enter your master password, you're free to sign in. Do so, and you'll open the home screen that looks as shown in image 4.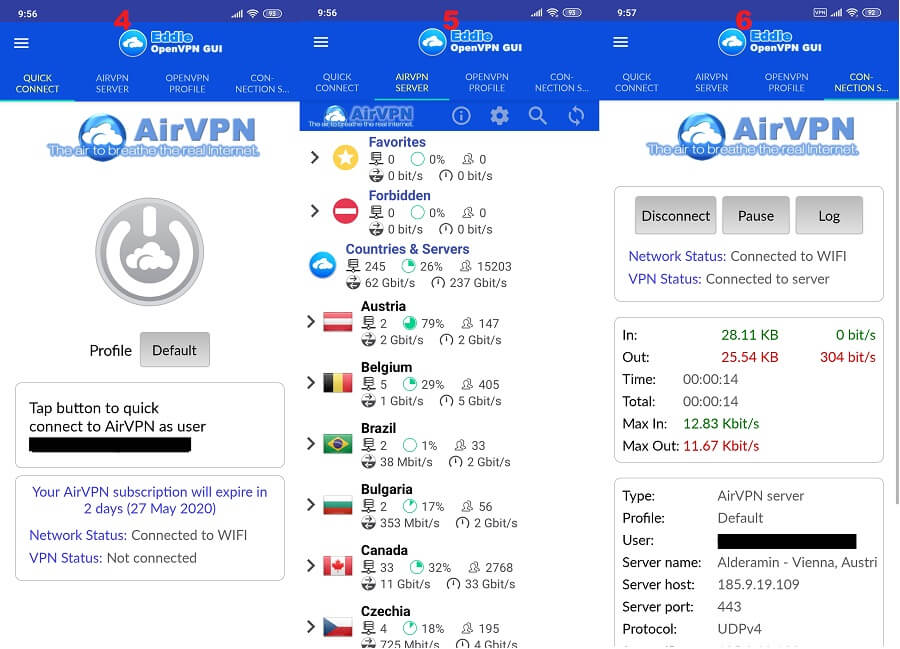 Tap on AirVPN Server to open the server list (image 5). The server list here also shows you the important server stats, which is always a good thing. Tap on the country you want, and then, tap on the server from that country to connect.
You can see how the app looks when it's connected in image 6. It's very simple to use, although it doesn't look like it. Once again, beginners will probably be a bit confused first two or three times.
Other Devices
As we mentioned earlier in this review, AirVPN doesn't just support computers, smartphones, and tablets. We have router support here, which also grants you protection for other internet-capable devices in your home. It can be Apple TV, Fire TV, Chromecast, PlayStation, Xbox, and other devices.
All of these can be connected to a router, which can protect 16 to 32 devices simultaneously, depending on the router itself. When it comes to device support, we're far from disappointed.
AirVPN really did an amazing job, but we'll see if the initial impression isn't going to vaporize until the end of the review.
How Fast is AirVPN? We Checked Its Speed!
The speed test is among the most important tests we conduct during our in-depth reviews. Usually, the best VPNs are the fastest ones. And if you don't believe us, read our ExpressVPN or NordVPN reviews and you'll see. The important thing to mention is that all VPNs will reduce your native internet speeds to some extent.
However, a big difference is between 10% and 80% reduction. Free providers sometimes even go above 80%, while premium options are, more or less, much faster. Speeds depend on many volatile factors, so it's important to see how we did our tests.
We did 3 tests in the morning, 3 in the mid-day, and 3 in the evening, for 3 testing locations. Furthermore, we kept the best score and used the best location when that was possible. Our physical location is in the US (non-VPN test) and we used these 3 testing locations:
The United States
The United Kingdom
Australia
Without using a VPN, our native internet speeds are:
Ping: 11 ms
Download Speeds: 211.88 Mb/s
Upload Speeds: 202.20 Mb/s
Now, when using AirVPN for this complete review, our ping, download, and upload speeds respectively, for 3 testing locations, were:
US Server: 24 ms / 97.08 Mbps / 103.76 Mbps

UK Server: 145 ms / 42.45 Mbps / 23.10 Mbps

Australian Server: 301 ms / 16.87 Mbps / 12.66 Mbps

At first, AirVPN did an 'okay' job when it comes to speeds. When using the US server, it was quite serviceable, with a low ping, and generally high upload/download speeds. However, that quickly changed when we moved on to the UK and Australian servers.
While the UK server was usable, the Australian one was a mess. With a ping above 300 ms and sub-20 Mbps download/upload speeds, the browsing experience wasn't exactly as we wanted it to be. AirVPN is, therefore, not very fast. In fact, we could comfortably say that it's very slow.
How Good is AirVPN for Streaming?
What's it like for streaming, then? AirVPN promises you "the air to breathe the internet." The question is – are you really going to breathe so much air with the provider? Well, not exactly. AirVPN isn't the best VPN for streaming and in a minute, you'll see why.
As always, we start our streaming test with Netflix US, as this is the most popular one. At first glance, it looks like it's working…

Narcos: Mexico isn't a US-exclusive show, so it's not the best example. The best example is Parks & Recreations, which is indeed a US-exclusive. Unfortunately, it wasn't available, meaning that AirVPN can't unblock properly Netflix US.

We couldn't unblock Hulu, as well. The website works great, but as soon as we initiate the stream, this proxy error appears. Amazon Prime Video, as expected before even starting this AirVPN review, is yet another platform that doesn't work: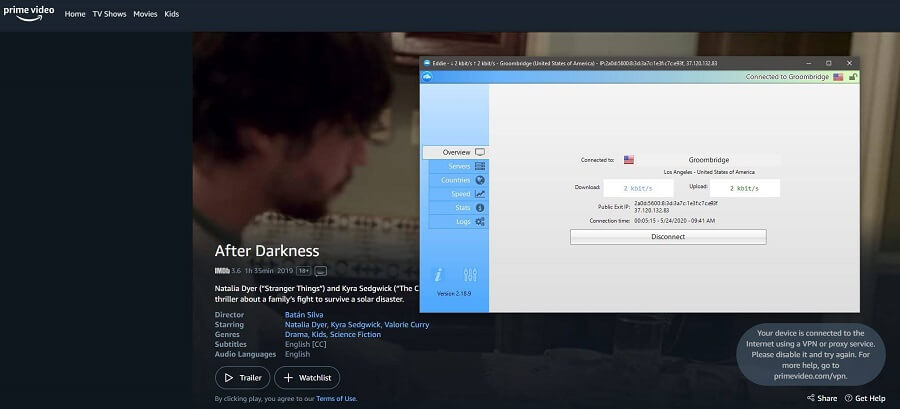 What about Disney+? Well, we're sorry to disappoint you, but it doesn't work. The login button isn't functional, meaning that we can't log into our account.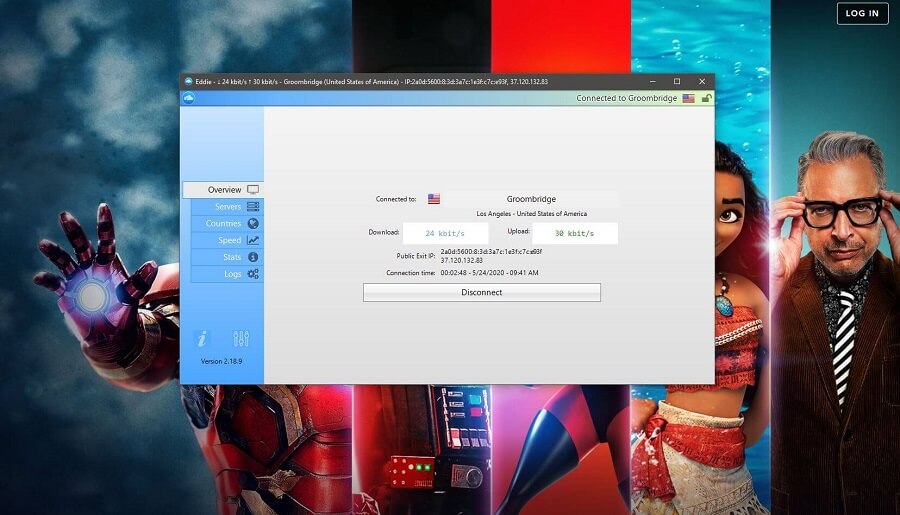 On the brighter side, DAZN works, as we managed to access the login screen pretty easily: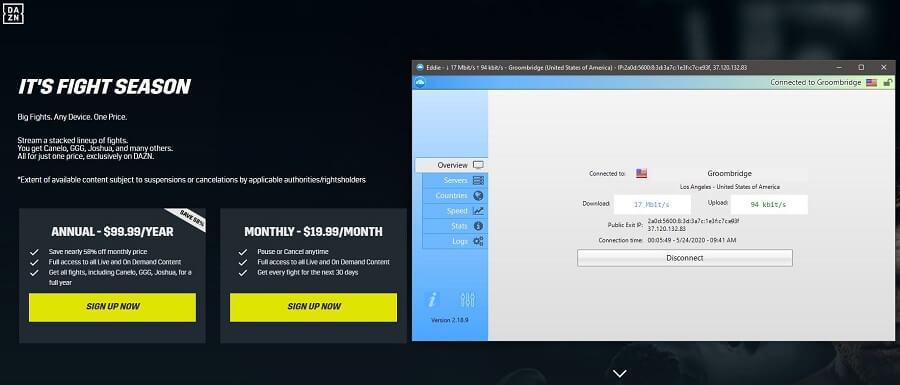 And HBO GO works, too!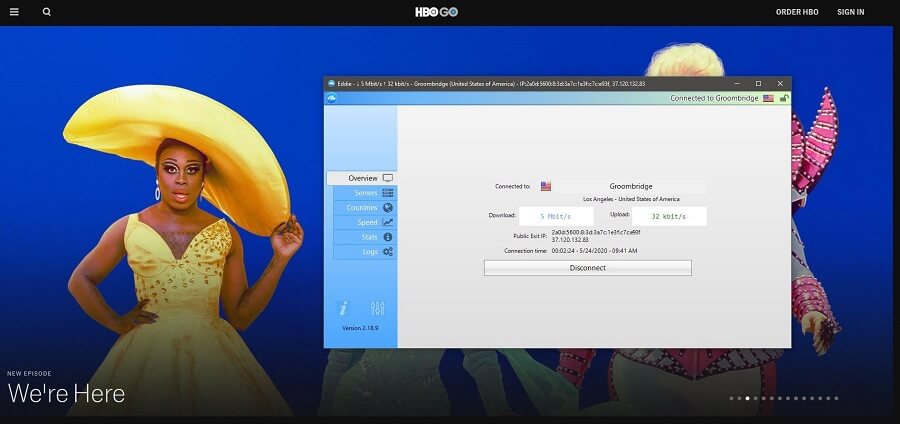 Lastly, it's important to note that we couldn't unblock BBC iPlayer with AirVPN: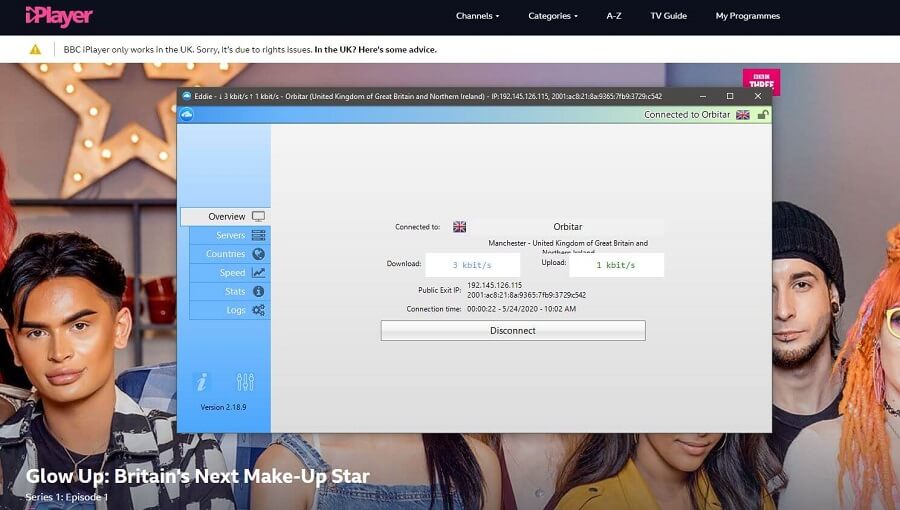 We have to be brutally honest with you – AirVPN is exceptionally BAD for streaming. Apart from DAZN and HBO GO, we couldn't unblock any other platform included in our streaming test. If we couple that fact with the fact that it has some of the slowest speeds we've seen, everything is clear as a day.
AirVPN won't be a worthy companion for streaming.
Confidentiality, Security & Logs
Given that the VPN is founded by hacktivists, it promises a lot in terms of security and privacy. This made us all the more excited to read its privacy policy. We quickly booted up the website, clicked on Privacy, and this appeared: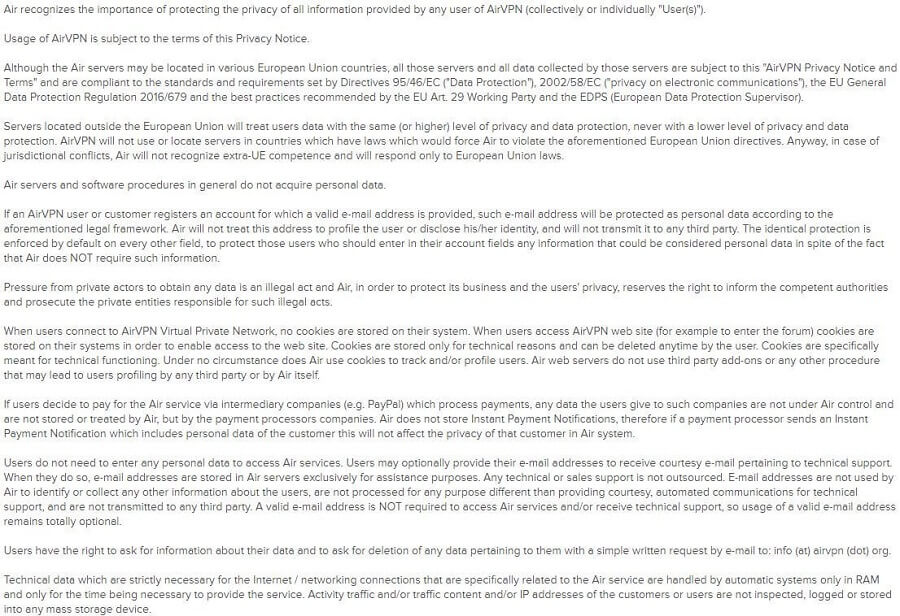 It's pretty much the whole policy, with a small part underneath, which isn't important for our purposes. Also, this might be a long read for you, so we'll sum it up in a few sentences. AirVPN claims that all of its servers and procedures don't acquire any personal data.
The only thing they collect is your email address, but that's necessary for account activation. Another thing, or better said, things, are the cookies that the website collects. These cookies are only related to AirVPN's website, and not their VPN service.
You can delete them manually in your browser, but they're not harmful. We like that the provider lets you contact it regarding your information and request the deletion if you want. Even its email for doing so is there. In short, this privacy policy proves that AirVPN takes care of your privacy, making you anonymous online while using it.
VPNs need to have a clear logging policy and this provider obviously respects that.

The IP leak test we did during our review of AirVPN also showed some pretty good results. No IP or DNS leaks here, granting a 100% security online. In terms of other security features, AirVPN offers 256-bit AES encryption, every security protocol, including OpenVPN, SSL, SSH, TCP, and so forth.
You can also use it with Tor, change DNS, and use a kill switch if you want to. All in all, the provider is well-equipped with security features.
Can I Do Torrenting Safely With AirVPN?
If you're buying a Virtual Private Network for torrenting, you need to take two things into accounts – speeds, and security. So far, AirVPN showed impressive results when it comes to security. It will keep you anonymous and secure online, allowing you to even browse the Darkweb.
Luckily, torrenting is also allowed. We used the 1337x torrent website to download a movie:

It worked just fine, although the speeds were, to be honest, not very good. The good thing is that you can torrent anonymously while using a server in your country, so the speeds will be a bit higher. Still, expect a speed reduction of at least 50% on average.
Those who have slower internet won't enjoy torrenting with AirVPN. Therefore, we suggest ExpressVPN for this purpose.
Can I Use AirVPN to Bypass Censorship?
While looking simplistic on the surface, AirVPN is truly a complex VPN, allowing you to customize every part of your connection. It doesn't offer the largest server network, but what you can do with your connection is impressive.
If you're a newbie, we don't recommend tweaking these options, because you're going to get lost. Why the heck did we mention all of this? Well, because AirVPN can indeed bypass censorship, even in China.
The trick is that it doesn't work out of the box, so to say. Instead, you'll have to tweak some settings a bit in order to bypass the Great Firewall of China or use it safely in the UAE or Russia. Luckily, the provider has a few official guides on how to do that, so you shouldn't have problems bypassing censorship.
Once again, ExpressVPN is a much better option in this regard. It lets you bypass censorship without any tweaking.
Pricing and Plan Options
In our review of AirVPN, we didn't mention anything about the pricing, so it's time to do so now. AirVPN offers you plenty of options when buying it, so you can adapt the service to the amount of money you have in your wallet.

On the left, we can see that the provider offers a trial, but not a free one. You'll need to pay $2.28 to use it for 3 days. A monthly plan, for example, also isn't very expensive. When converted to dollars, it costs around $7.6 a month.
We like the annual plan in particular, as it's one of the cheapest on the market, costing around $4.4 a month, or around 50 bucks a year. AirVPN also offers two long-term plans. One is a 2-year plan at $3.6 a month, and the other one is a 3-year plan at $3 a month.
In our opinion, three and six-month plans aren't worth it, and generally speaking, not even high-end VPNs offer them. Now, is this the best VPN for the money? Not exactly. For instance, you can get CyberGhost's 3-year plan at $2.75, which is cheaper than this.
Also a 2-year plan at Surfshark, for $1.99 is better than AirVPN. While ExpressVPN is much better overall, it's also much more expensive, so we can't really compare in the pricing department.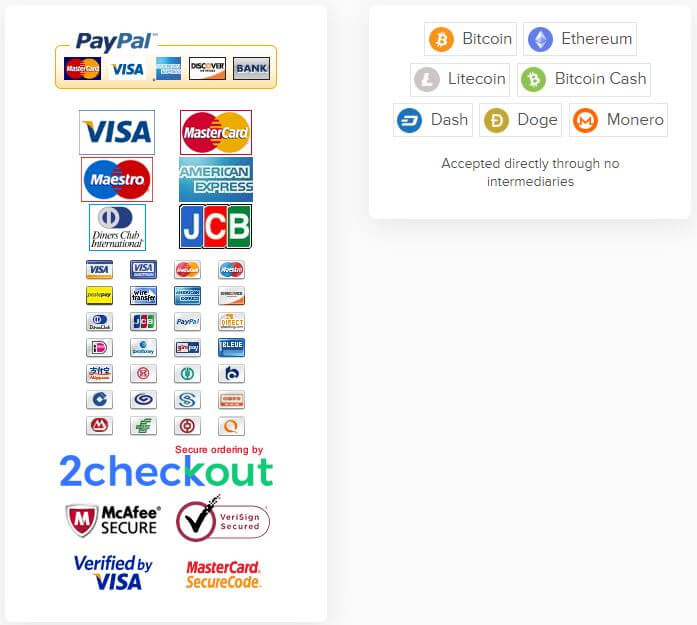 Should you decide to buy it, AirVPN offers plenty of payment options. Aside from credit/debit cards and E/Wallets, you get to pay with cryptocurrencies, for 100% anonymity. The provider also has a 30-day money-back guarantee:

To get it, you'll need to contact the customer support team which is a bit harder to do. More about that in the next section of this AirVPN review.
How Can I Contact AirVPN?
One thing where this provider will disappoint you is customer support. With no live chat, you're going to need to be very patient when getting a response from the support team.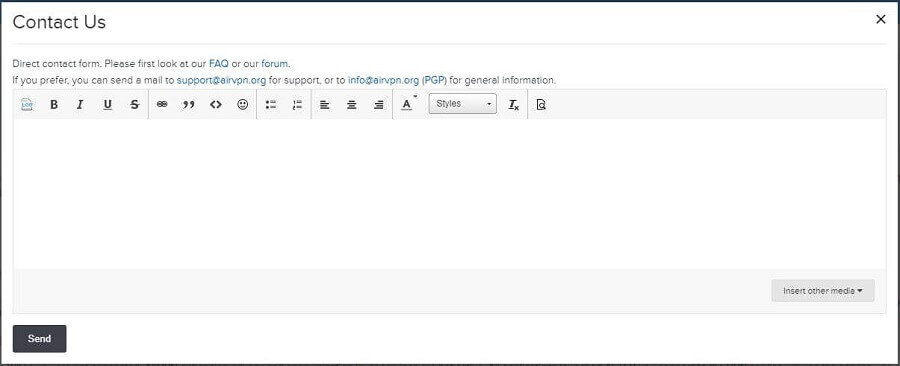 Here's how you can contact AirVPN team. This is sort of a ticket system, where you need to fill in this template and send it directly to the customer support team. Alternatively, you can use your Gmail or Yahoo to send a direct email to [email protected].
Apart from that, the provider offers an extensive FAQ section and forum, but once again, that's not enough in our opinion. If the provider had live chat functionality, it would drastically increase its value. On the brighter side, support is pretty helpful and knowledgeable, but having to wait for a few hours on a response isn't going to make you happy.
The Special Functionalities
Since this VPN isn't for beginners, it's logical that it has some really advanced features to tweak. However, these aren't special functionalities or features. It's just being able to tweak the features that are already available.
But, there's one special feature that functions similarly to a kill switch and it's called Network Lock.
When you're not connected to AirVPN, Network Lock prevents your data from leaving your network. You just need to activate it before connecting to the server you want, unlike an automatic kill switch, which works automatically.
You can also see that this feature is highly customizable. We can choose the allowed IP addresses, both incoming and outgoing, allow DHCP, and so forth.
Other things You Should Know
In our review of AirVPN, there are still a few things we didn't mention. Let's do that now:
Number of Servers
Being a 10-year old provider at this point, AirVPN should have a large server network, right? Wrong. The good thing is that this number isn't smaller than 100, and the bad thing is that it's not very high, either.
To be precise, the provider has slightly over 220 serves worldwide. We have no image to prove it, as it only says "physical servers in many countries."
Number of Countries
These 220+ servers are scattered across 22 countries, meaning that almost every country has at least more than 2 servers.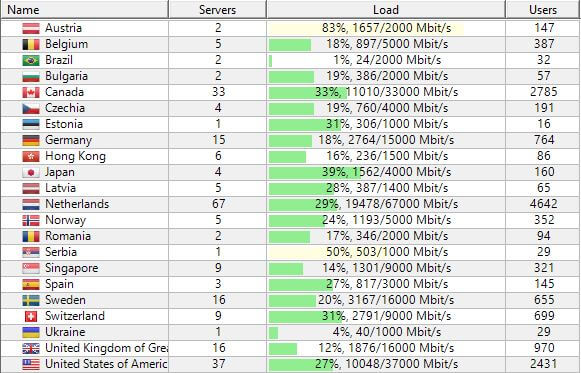 Ukraine, Serbia, and Estonia have 1 server, while all the other countries have 2+. The Netherlands has 67, which is the highest number, followed by the US, Canada, and the UK and Sweden.
Number of Simultaneous Connections
AirVPN goes for that magic number five. ExpressVPN also allows for up to 5 simultaneous connections.

Given its relatively cheap price, it's more than okay. Although, Surfshark is way cheaper, yet offers an unlimited number of simultaneous connections.
What Do Other Users Say About AirVPN?
Before we wrap up our review, we need to see what other users think about AirVPN. We'll start with Reddit:

This iIalian user from Reddit says that he's satisfied with the VPN. In his words, it's easy to hook up and at the time of writing this feedback, he didn't receive any letters from the ISP, implying that he probably used it for torrenting.

On the Google Play Store, the user isn't very satisfied with AirVPN. He uses AT&T and Wi-Fi, and the provider doesn't work well with it. Because of this issue, he says that he is going to use another VPN app, although he likes AirVPN's service.

A Trustpilot user is disappointed, too. In short, he has connection problems, and interestingly, his 360 protection software blocks access to it. Lastly, he complaints about lackluster customer support, which is the ever-present issue of this provider.
Conclusion: Should You Take It?
We had a hard time coming up with the conclusion of this AirVPN review. On paper, AirVPN looks like a fantastic option. It's probably among the best VPNs for security and privacy. However, there are simply too many compromises.
First, it has VERY slow speeds, and second, it's pretty much useless for streaming. Moreover, its customer support is pretty slow to respond and many users online find it infuriating. Finally, for the money, you can definitely get much better options, making it hard for us to recommend AirVPN.
If you want a similarly-priced VPN, our suggestion is either Surfshark or CyberGhost. But, if you want a zero-compromise solution, ExpressVPN is your best bet.