There's a special charm in these South American countries. And needless to say, Colombia is one of the top choices for many tourists. Despite its not-so-good reputation, this country enjoys quite a bit of online freedom. However, there are still some problems that might compromise your privacy and security from time to time. Because of that, we're going to give you a couple of good VPN services that will help you bypass these issues with ease in Colombia. Vamos!
Why You Should Use VPN in Colombia?
As we said, some problems still plague this country, so here's why a VPN will come in handy if you plan on staying in Colombia for some time:
Bypass ISP Surveillance
When it comes to surveillance, the government isn't the one doing it. Here, Internet Service Providers are those who are threatening your privacy (with the agreement of the government of course).
Allegedly, the Colombian law implies that these companies should monitor your activity and if they spot anything suspicious, they must report you.
The question is – what is suspicious here? Well, the Colombian government blocks some adult sites, child pornography, and even some gambling sites. If you're somehow trying to access those, that could be deemed illegal.
Furthermore, if you use the internet to sell drugs or engage in other criminal activities, we're sure that ISPs will notify the government right away. We do not condone illegal activities but using the best VPN possible in Colombia might be a good thing if you love watching porn or gamble online.
Using Self-Censorship
The great thing about Colombia is that it doesn't censor you. You can use Facebook, Twitter, YouTube, and other sites freely. However, if you're a journalist or activist, you're risking your life reporting news and talk publicly about your opinions.
For years, numerous journalists have been exposed to violence, threats, and even death in some cases, especially when talking about corruption, drug, and human trafficking. So, if you're one of them, simply don't post news about it or use a VPN which will encrypt your connection and render you invisible online.
Torrenting Safely
In recent years, the government brought a new law to the table. This law is the anti-torrenting one, meaning that P2P activities are illegal here. However, we haven't heard of any case of arrest or jail for torrenting.
We heard about the case in which one user got an eight-year jail sentence for posting an article on Scribd. You see how harsh these punishments can be? Which implies that copyright infringements can only be worse, depending on the company whose copyright is violated.
Unblock Geo-Blocked Sites
Finally, if you're from Colombia, you might want to enjoy US Netflix, Hulu, HBO Go, Disney+ or Amazon Prime Video. Although it's a country in South America, it doesn't have a huge Netflix catalog. But, if you use a great VPN, you can enjoy it as if you were from the US.
It lets you change your online location, giving you access to any local content, and of course, Netflix, easily. This also applies to the opposite case, where you're abroad and you want to watch Colombian local TV.
Beware that not all VPNs can do this, though. Those that you're going to see below, can.
Best VPNs with Servers in Colombia
Do you want to access RCN TV, Canal Uno or Señal Colombia from abroad? Today is your lucky day. Here are the best VPN providers with servers based in Colombia:
ExpressVPN: ExpressVPN is our numero uno on the top list of VPNs. This provider has servers in this country, meaning that Colombians can enjoy their favorite local content from abroad. You can read the full review of this provider and see why it impressed us.
Surfshark: Surfshark is a provider from the BVI and although its server count isn't impressive, its servers in Colombia. If you don't want to break the bank, this is the one to go for!
CyberGhost: Another provider that won't break the bank is CyberGhost. This Romanian giant has 4 servers in Bogota and luckily, these are the physical servers. Although they don't allow P2P, you can still watch local TV shows with ease.
If accessing local content is what you need, buying a provider of your choice is easy. Click on the provider you want, get a subscription, and follow the steps. You'll be able to enjoy the internet freely in a matter of minutes!
Top 3 Best VPN for Colombia
Colombians who aren't traveling a lot and just need a quality Virtual Private Network should pay close attention now. Here are our top 3 choices for this country:
1. ExpressVPN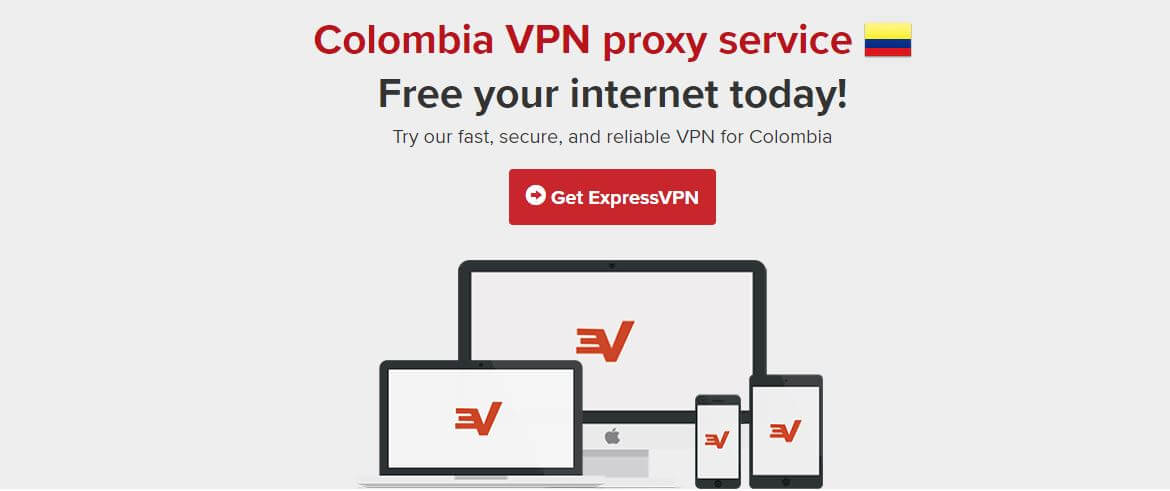 ExpressVPN is a provider we always wholeheartedly recommend. The reason being is because it offers no compromises. You get fast speeds, rock-solid security, ability to bypass geo-restrictions, and even 24/7 customer support!
In terms of security, you can expect a lot, given its location in the BVI. There's a no-log policy, 256-bit AES encryption, split tunneling, DNS and IP leak protection, and kill switch. If watching Netflix is your thing, know that it can unblock it easily, even the US version.
With its support for routers, you can effectively cover up to 16 or 32 devices in your household, making your house a VPN machine! Even if you're a journalist or activist, in Columbia, your safety will never be compromised with the VPN service offered by ExpressVPN.
Grab it while it offers a 49% discount and 3 months free for an annual plan. You also get a 30-day money-back period, so you won't waste a single dollar if you don't like it.
Get All-Round ExpressVPN' Services >
2. NordVPN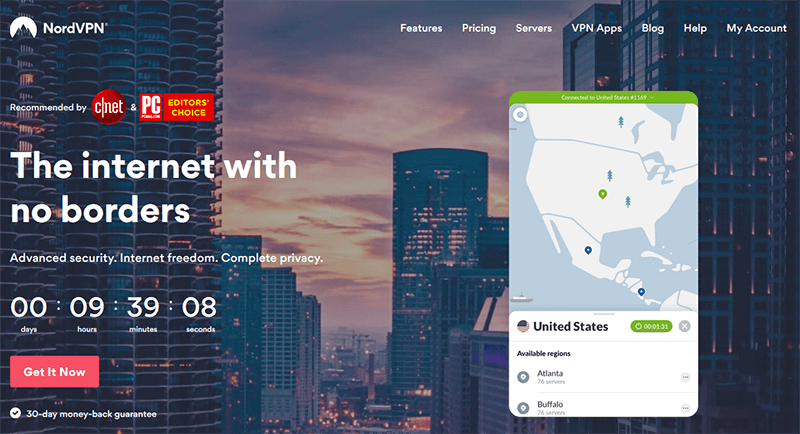 NordVPN has 5,500+ servers in 61 countries worldwide. You can even use its servers in Canada to access local content, although it doesn't have them in this country. Still, if you care a lot about security, we recommend this provider.
You get all the standard features accompanied by a few special – CyberSec, Double VPN, and Onion Over VPN. Given that you can use it with Tor, staying secure online is easier than ever. Furthermore, unblocking geo-restrictions is also easy.
Netflix, Hulu or any Colombian local TV – it's all yours. Right now, NordVPN offers some discounts, so it's worth checking out. It's a highly-rated Virtual Private Network that won't disappoint you.
Get NordVPN's Huge Discount now >
3. CyberGhost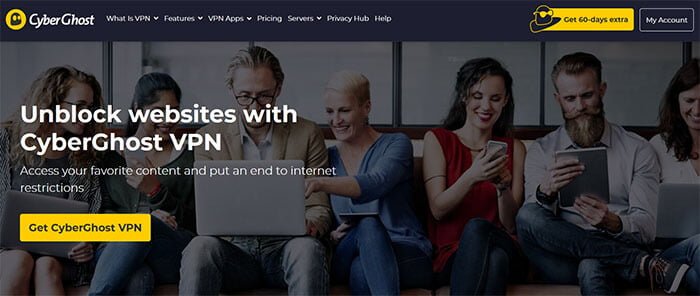 CyberGhost is one of the cheapest currently. Its 3-year plan costs just under three bucks and offers a plethora of features. Let's start with the dedicated servers for streaming and torrenting. These will amp up your experience, giving you fast speeds and tight security.
Speaking of security, this is a Romanian provider, so you can expect unexpected. A no-log policy, military-grade encryption, kill switch, and DNS and IP leak protection. We almost forgot to mention its abnormal server count – 6,200+ servers in 91 countries worldwide!
For a price this low, you can't get a better deal. There's even a 45-day money-back guarantee for a 3-year plan. If that's not generous, we don't know what is.
Bypass Colombian Censorship with CyberGhost >
Why You Should Avoid Free VPNs
We get it. You want to save some cash, and frankly, who doesn't? But there are some things that you shouldn't save cash on and it's your privacy. Free providers often lack security features that can endanger your identity online.
One of these features is a no-log policy. This means that they mostly store logs and these logs can later be sold to third parties. Just imagine someone having your IP, physical address, online history, and so forth.
Not to say that you'll also get slow speeds and limited bandwidth. If you're okay with only a few gigabytes a month, then, by all means, go for it. We're all for unlimited stuff, so we do not recommend using a totally free VPN for Colombia or any other country.
Summary
Now that you're here, you've probably made your choice already. And if you haven't, let us recommend you ExpressVPN for this country. The provider will give you a no-compromise experience that's sublime for any country in the world.
Once you experience the internet in its full glory, you'll never want to go back. The old Chinese proverb says – once you go Express, you never go VPN-less!