Finding a VPN that's worth the price isn't a job we'd recommend to just anyone. The reason being is because it can be time-consuming, and yet, you might come out empty-handed. But, with dozens of providers on the market, some deals are just flashy enough to catch our attention. Therefore, we made a list of more than a few promotions for you to save money, which will give you the best possible VPN experience.
Best VPN Deals & Discounts in 2021 – Top 9 Picks
Despite being usually dirt-cheap, people still prefer free VPNs over the premium ones. However, that's a crucial mistake, as free offerings won't be anywhere near the premium providers you can get.
With our discounts and coupon codes below, you can forget about free stuff. Today, we're all about huge savings, so let's get you a proper VPN for the lowest price possible!
1. ExpressVPN (Up to 49% off + 3 months FREE)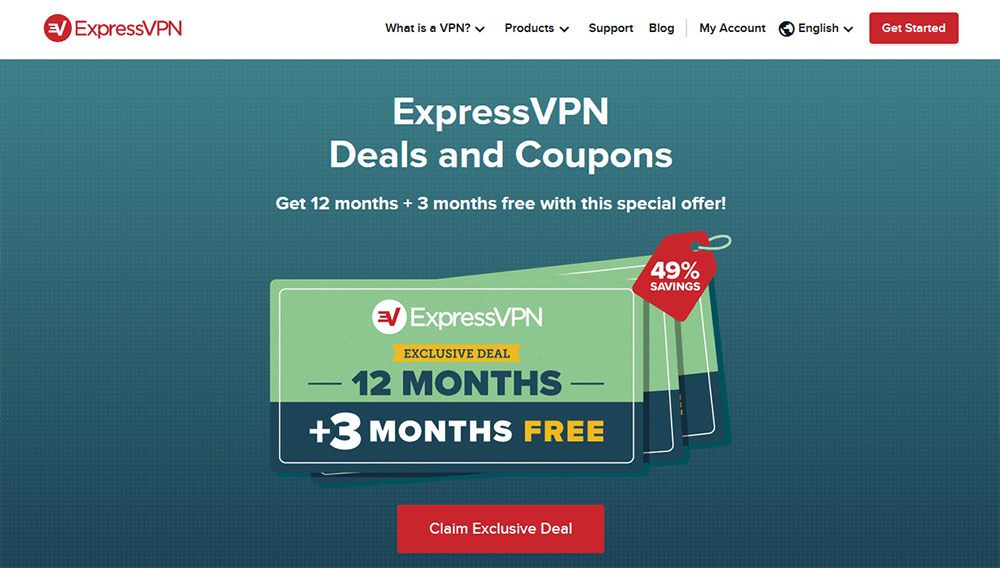 For many users, ExpressVPN is far from being the cheapest provider around. And to a certain extent, we agree. Sure, it's not way too expensive but it's not on the cheap side either, like CyberGhost and Surfshark are.
The standard price for ExpressVPN is $12.95 a month but if you use the button below, you can lower this price by an insane 49%, on which you'll get 3 months completely free. No coupon code is needed ! Just click on the button below. This is a one-year plan, and with a price of $6.67 a month, 15 months' worth of ExpressVPN's subscription will be just $99.95.
To back this amazing deal up, ExpressVPN includes a 30-day money-back guarantee with no strings attached. This means that you can use it to your heart's contempt in the first month and get your money back easily.
In terms of overall quality, this is THE best provider around. It offers the fastest speeds around, coupled with 3,000+ reliable servers in 94 countries around the globe. Even better, ExpressVPN supports all major platforms and even has a guide to set up a VPN on different devices.
The provider is great at unblocking sites as well, so you can access Netflix, Hulu, or Prime Video outside the USA. Moreover, its zero-logging policy is re-audited by PwC for a few consecutive years, making this VPN among the best for privacy.
Lastly, you don't have to be concerned about your security online. Its 256-bit AES encryption will guard your back, all while its automatic kill switch will prevent IP or DNS leaks. It's not the highest percentage-wise discount but hey, you get your money worth here, and that's what matters.
Get a 49% Discount on ExpressVPN >
2. CyberGhost (Up to 79% off)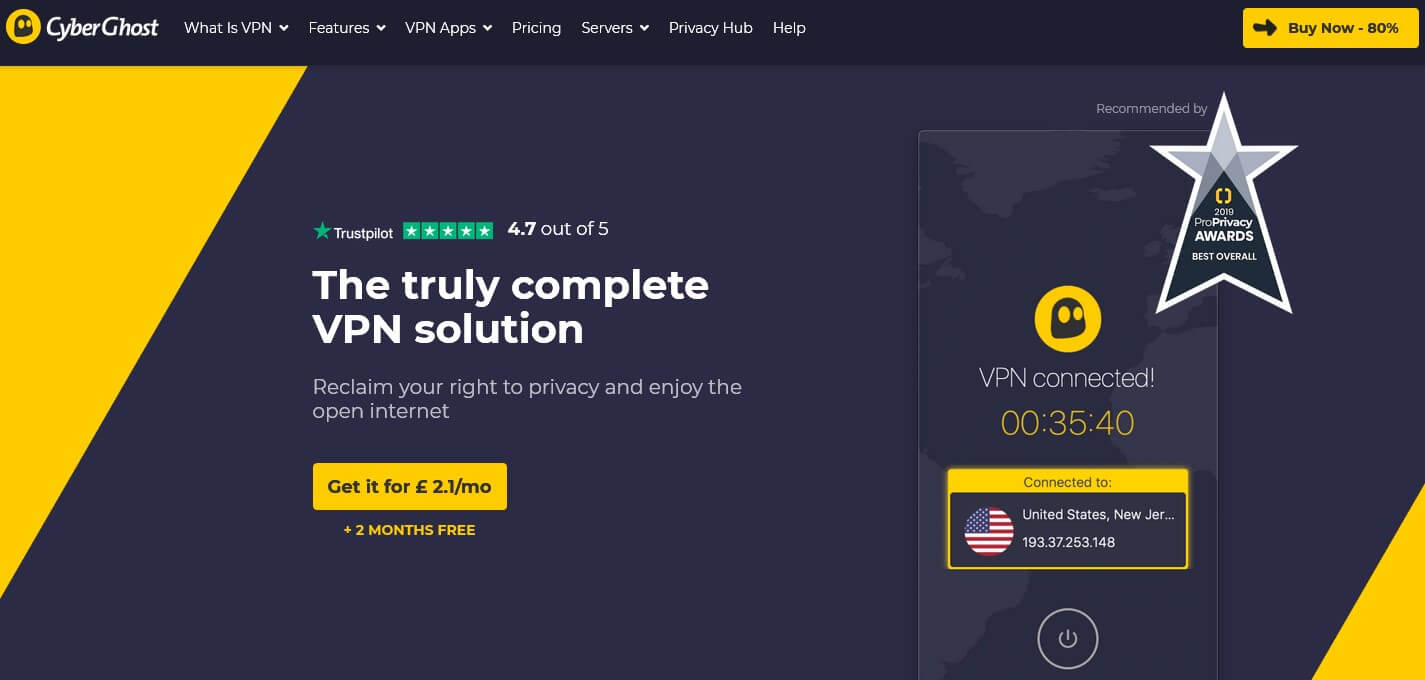 Do you know what's great? When a cheap thing or product comes with a discount – and a beefy one at that! CyberGhost has always been known as an affordable provider, and in 2021 nothing is changed.
CyberGhost VPN offers an insane deal with a 79% discount for its 3-year plan. It's a very long period and it sure sounds like a lot to pay for, despite the discount. Well, that's not the case! In this edition, CyberGhost costs just $2.75 a month, which translates to just $49.5 for THREE years! Once again, no coupon or code is needed to get this huge discount. Just click on the button below 😉
Oh, and if you get it, you can use its 45-day money-back guarantee. Are you not satisfied? Just report it to support and get your money back – easy peasy! Although it's really cheap, CyberGhost cuts no corners when it comes to features.
Military-grade encryption is in place, and with its reliable Kill Switch, you can rest assured that you're secure online. Being from Romania, outside the 14 Eyes, the provider is also a rest haven for privacy. It maintains a zero-logging policy in which it confirms that it stores no logs.
One of the highlights here are dedicated servers. They are great for torrenting and streaming and can unblock platforms like Netflix and Disney+. You'll like its speeds that are consistent within its 6,000+ servers across 90+ countries around the globe.
Protecting several devices is now very easy, thanks to 7 simultaneous connections that you get from this provider. Complementing its great features, CyberGhost has 24/7 support ready to fix potential issues. For the price, finding a better deal is almost impossible.
Check our complete review of CyberGhost to see why it's so great.
Grab Your 79% Discount on CyberGhost NOW >
3. NordVPN (Up to 68% off)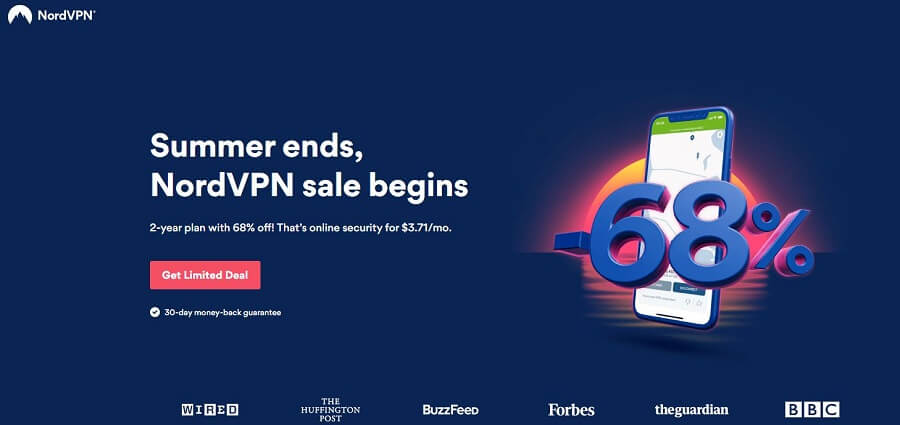 NordVPN is an extremely popular option with the price that sits perfectly fine between being more expensive and affordable. It sure as hell isn't the cheapest option around but if we couple in its great discount (no promo code needed), you're in for a special treat!
In 2021, this provider puts a special discount on its 2-year plan, that you can now get for just $3.71 a month. It's a 68% discount that will lower the price to just $89 for the first 2 years. On top of that, a 30-day money-back guarantee is in place, making it easy to get your money back if you don't like it.
Honestly, there's not much to dislike about this provider. It comes with 5,600+ servers worldwide, scattered across 60 countries. These servers are extremely secure, boasting 256-bit AES encryption and IP/DNS leak protection.
NordVPN has cool features like ad-blocker (CyberSec) and Double VPN. Double VPN lets you route your traffic through two different servers for supreme security, which is essential in censored countries like China. Speaking of China, the provider has obfuscated servers for bypassing that annoying Great Firewall!
Similarly to CyberGhost, it offers dedicated servers, but only for P2P. Needless to say, torrenting with this provider will be a breeze. The speeds are really fast, so you won't even notice any losses on the way.
NordVPN is based in Panama, hence it has a zero-logging policy audited by PwC. Panama is far from the 5/9/14 Eyes, and that's a huge relief for privacy lovers. Last but not least, you get a popular NordLynx protocol here, based on WireGuard, for blazing-fast speeds and impeccable security.
Get a 68% Discount on NordVPN website >
4. Surfshark (Up to 83% off)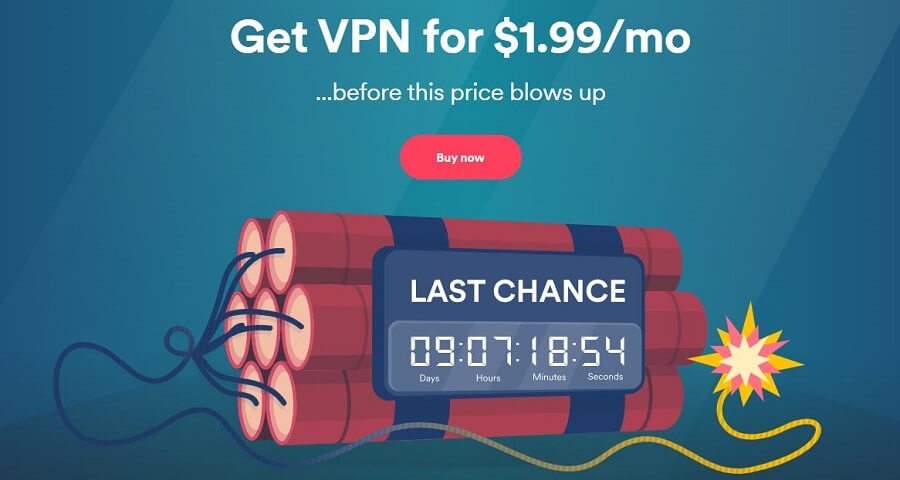 Since its inception, Surfshark was always a cheap VPN. This reputation carried on, and in 2021, it achieved its peak, with the cheapest prices for a premium Virtual Private Network. Make no mistake, this is a VERY competitive provider that takes on the giants like ExpressVPN and CyberGhost!
So, what's the deal about? The deal here is the 24-month subscription plan that comes with a 83% discount. You don't even need to use a coupon code. One will be applied by default and will let you get Surfshark for just $1.99 a month, which translates to just $47.76 for a 2-year plan.
To complement your basic subscription, you get to choose some advanced features, one of which is BlindSearch. It's a true incognito mode, with no ads, logs, and surveillance from the provider. We also like the addition of cryptocurrencies as a payment method, for anonymous purchases.
Surfshark has a server network of 1,700+ servers, which isn't the most impressive number. However, it's amazing in terms of speeds and it works quite well for unblocking geo-restricted websites. You'll like its simplistic interface that spans across every supported platform, as well.
The provider supports routers, so you can protect every device in your household with a single account. Furthermore, there's 256-bit encryption and OpenVPN support, serving as impenetrable security measures.
One thing that makes Surfshark unique is the number of simultaneous connections – unlimited! For a price this low, you can protect every device you want, from your phones to computers and laptops. Basically, you don't even need to connect it to the router, but if you want, go for it!
Read our Surfshark test here to see why it's the best value for the money.
Get a Cheap Deal on Surfshark >
5. IPVanish (Up to 46% off)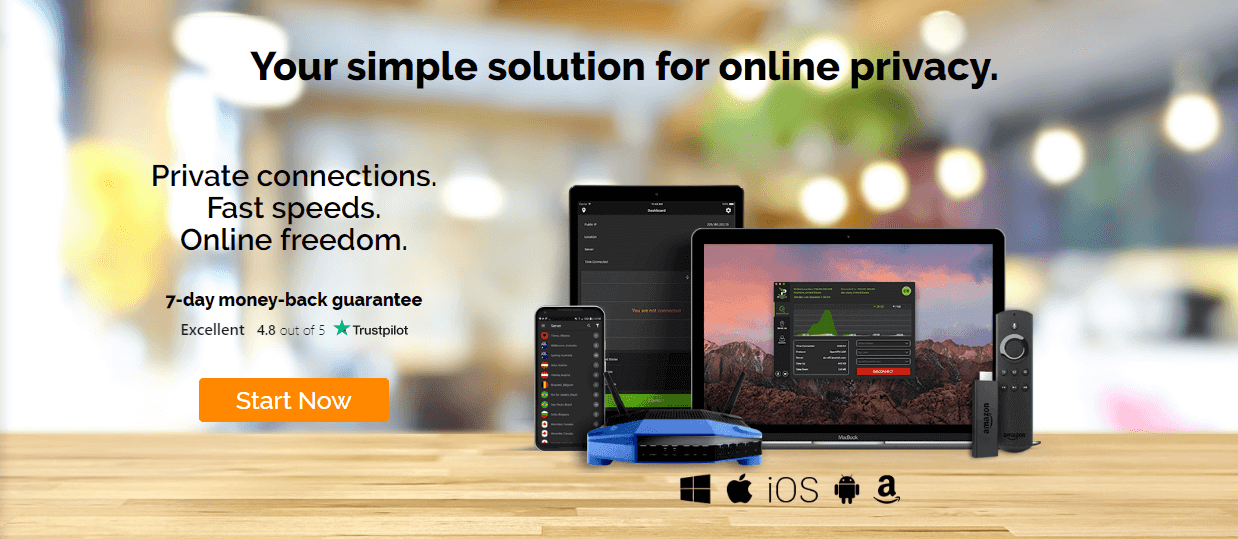 A few years back, IPVanish wasn't the most respectable provider in the VPN community. The reason for that was a violation of its zero-log policy, which made its existing users wary of its, at the time, shady business tactics.
Time passes quickly and IPVanish is one of the best VPN deals at the moment. Right now, you can get this provider for a silly price of $6.49 a month for an annual plan with its 46% discount. You do not need a coupon or promo code, just click on the button placed below to get it! Translated to the annual basis, it's around $77.99, with a 30-day money-back guarantee – not 7 days, like it used to be.
Also, IPVanish includes SugarSync Cloud Storage for free, where you get 250 GB of storage. This provider is based in the USA, which is basically its biggest drawback. The USA is a center of the 5 Eyes, with excessive government surveillance that violates your privacy.
The thing is, however, that IPVanish changed its policy to a zero-logging one, making it much more trustworthy. Now, in 2021, it will NOT store logs, and with 256-bit encryption, you'll have both security and privacy online.
Speeds aren't anything to brag about here but for the price, that's sort of expected. In terms of servers, you get 1,300+ of them in 75+ countries worldwide. You'll like its ability to unblock Netflix but also the encouragement you get for torrenting.
Despite being from the USA, IPVanish wants you to enjoy P2P activities and that's very cool. Another great thing is that you get 10 simultaneous connections, which is far more than competition gives, except for Surfshark. All in all, a decent VPN deal for the buck.
Claim Your 46% Discount on IPVanish NOW >
6. ZenMate (Up to 80% off + 6 months FREE)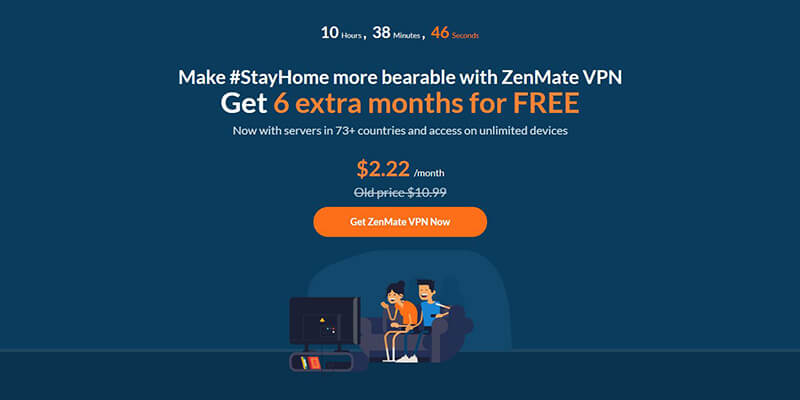 ZenMate might not be very popular but that's not what makes a VPN good. In fact, it's a great VPN according to Reddit users that noticed a huge improvement in ZenMate's performance and server count.
In 2021, you'll get a whopping 80% discount off the price for a 3-year plan. On top of that, you get SIX months completely FREE, for only $2.22 a month. To clear things up, it's just $39.96 for the first 18 months, which is dirt-cheap for a VPN. Which is why ZenMate earned a place in this ranking of the best VPN deals and promotions.
The good thing is that a 30-day money-back guarantee is here, just in case. Now, how good ZenMate is in terms of features? It's pretty good, especially its 3,500+ servers in 74 countries. Its zero-logging policy is a bit questionable, albeit very clear, given that it's based in Germany (14 Eyes).
Therefore' ZenMate might not be the best choice for torrenting (although it supports it) or visiting the Darkweb. Still though, for the price, it's great that it can unblock Netflix and HBO GO, giving you some streaming time.
ZenMate has unlimited bandwidth and offers apps for platforms like Windows, iOS, Android, and Mac. While router support isn't included, its unlimited simultaneous connections are going to make up for it.
Get 6 Months FREE on ZenMate >
7. HideMyAss (Up to 67% off)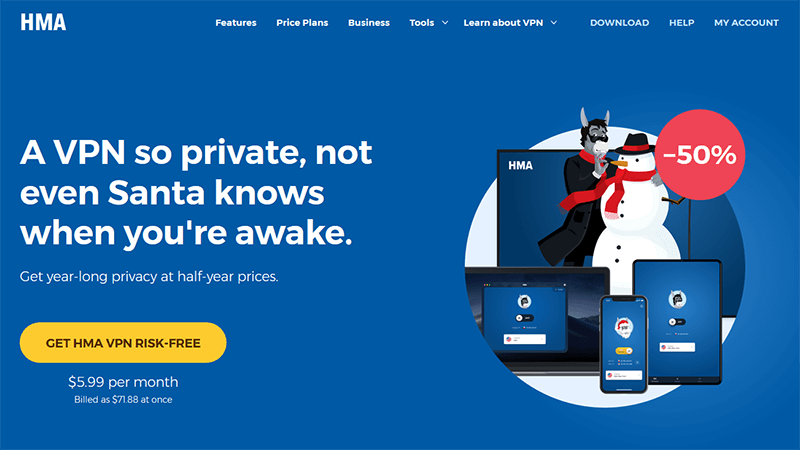 HideMyAss is yet another provider that passed a similar scenario to IPVanish. It's from the UK, hence it wasn't very trustworthy, especially since it helped the FBI to arrest a suspect thanks to the IP address it gave out. From then, its zero-logging policy was under question.
Just recently, in 2021, HideMyAss went on to become a full-on no-log provider which proved to be very beneficial. Although its 5 Eyes membership plagues it, the provider has millions of users that are satisfied with its speeds and features.
If you're looking to buy it, HMA offers a 67% discount for its 3-year plan, which now costs $3.99 a month and makes it a great VPN deal. This means that you're going to pay $143.64 every 3 years, and not just the first time, as many providers do. In other words, this discount applies to every consecutive subscription.
Features-wise, HMA is jam-packed like a hot Miami beach in the summer. There are 1,100+ servers in 190+ countries, effectively covering the whole world. It has standard features like military-grade encryption and a Kill Switch but there are some great features that not many providers offer.
One of them is IP Shuffle. It randomizes your IP every 10 minutes or a day, making it impossible for your ISP to track your activity. Split tunneling makes its return, and lets you choose which sites and apps will go through the VPN network, for added convenience.
HMA isn't a champ when it comes to speeds but our tests showed that it's more than enough. With it, you can unblock platforms like Hulu and BBC iPlayer, while Netflix won't work. Still, with a 30-day money-back guarantee and 5 simultaneous connections, it's a solid deal.
Enjoy Discounted Prices on HideMyAss >
8. Hide.me (Up to 61% off + 2 months FREE)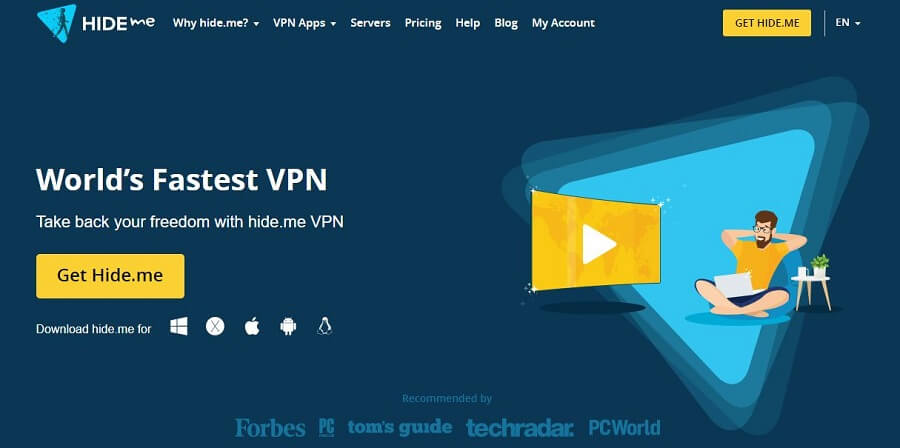 Hide.me is generally an expensive VPN, which is why it didn't make it to one of the top spots on the list. This, however, doesn't mean that it comes with no discounts or coupon codes.
At first, its 61% off doesn't seem like a great deal. But, if we mention the price of $4.99 and 2 months free for a 2-year plan, that already sounds fairly decent. The price of $129.95 isn't very cheap but if you value what Hide.me offers, you'll probably pay for it regardless.
The main focus of this provider is security and privacy. It's from Malaysia, which is one of the best countries for a VPN service. This means that the provider has a zero-log policy and stores no logs of your IP, personal info, and browsing history.
Right now, Hide.me has 1,800+ servers around the globe, accompanied by 256-bit encryption. Furthermore, it's available for every platform, including routers, Amazon Fire OS, Windows, iOS, and macOS. The addition of the WireGuard protocol is a welcome one, too.
On top of that, Hide.me utilizes Stealth Guard, which can strip off the Great Firewall in China and bypass censorship easily. Typically, providers use third-party DNS servers, and Hide.me is an exception – it has proprietary DNS servers.
This means that your bandwidth flows straight through the provider's servers, making it invisible to hackers or ISPs. Hide.me won't unblock Netflix but on the brighter side, platforms like BBC iPlayer, Hulu, ABC, and Hotstar will work perfectly fine.
Claim a Coupon Code for Hide.me right here >
9. VyprVPN (Up to 80% off)

The last VPN discount and deal we want to talk about is from VyprVPN. This provider made significant improvements to its services, making it much more enjoyable and functional. One of the highlights of this provider is its price, which is undoubtedly one of the cheapest around.
VyprVPN will cost you $12.95 for a monthly plan – the same as ExpressVPN. However, its 2-year plan is much cheaper, coming at $2.50 a month or exactly $60 every 24 months. This 80% discount is paired with a 30-day money-back guarantee.
The provider is, in our opinion, worth checking out. Its zero-log policy is recently audited by Leviathan Security, and being from Switzerland, you can rest assured that its privacy laws will remain unchanged. VyprVPN has only 700 servers, but they're scattered across 70 countries.
Unlike much more expensive Hide.me, this VPN does unblock Netflix, BBC iPlayer, Hulu, and sometimes Prime Video, making it great for streaming. With not so great speeds, the provider won't be ideal for torrenting, although it fully supports it.
The proprietary Chameleon protocol of VyprVPN is great for bypassing censorship, and for the price, it's impressive that it works in China. What's also good is its 24/7 support that's very responsive. With all we said about it, VyprVPN is definitely worth a shot for those not willing to break the bank.
Get VyprVPN for a Discounted Price >
Summary – What is the Best VPN Deal in 2021?
In our guide, we mentioned the 9 best VPN deals we deem worth checking out in 2021. We know it might be overwhelming for some and you're probably wondering which is the best out of them all.
Our pick of the bunch would be ExpressVPN with its 49% discount.
It's superior to any other Virtual Private Network but also slightly more expensive. If you prioritize saving money, a great deal is either CyberGhost or Surfshark, and they both offer substantial performance.
Either way, whatever choice you make, know that it will be well worth the money. We made sure that all providers offer a money-back guarantee so that you can easily get a refund if you don't like the choice you went for.