UKTV is a popular streaming channel in the United Kingdom and has been for more than 25 years. Millions of people in the country stream online using the website. It offers channels such as Yesterday, Gold, Dave, Drama and more. However, if you go abroad for a vacation or business trip you will not be able to access the streaming site. If you are wondering how to unblock and watch UKTV abroad, we have a solution so read on.
The channel belongs to BBC Studios and as such, content can only be streamed from the UK. Even if you have an account, once you venture abroad access is blocked. However, by using a VPN you can unblock the website and avoid the error message.
How the website knows where you are located?
It is not difficult for streaming websites and ISPs to find out where you are located in the world as all countries have a specific range of IP addresses.
When you try to visit the website, your IP is noted and if it is outside of the United Kingdom, you are refused access.
This is known as geo-restricting and to be able to get around it you need to have the streaming service think you are still in the United Kingdom. You are able to do this via a Virtual Private Network.
This is a solution to watch channels on UKTV Play; however, a VPN is also a good thing to unlock YouTube videos and more.
Get a British IP address from ExpressVPN >
How a VPN unblocks streaming services?
The Virtual Private Network offers apps for devices, which can be used to change the IP address of the device you use to connect to the internet.
By masking the IP address in the country you are located, and taking one on from the United Kingdom you fool anyone looking into thinking that is where you are trying to connect to the internet from.
So, how do you do this? Easy, by following the steps outlined below.
How to unblock UKTV abroad using a VPN?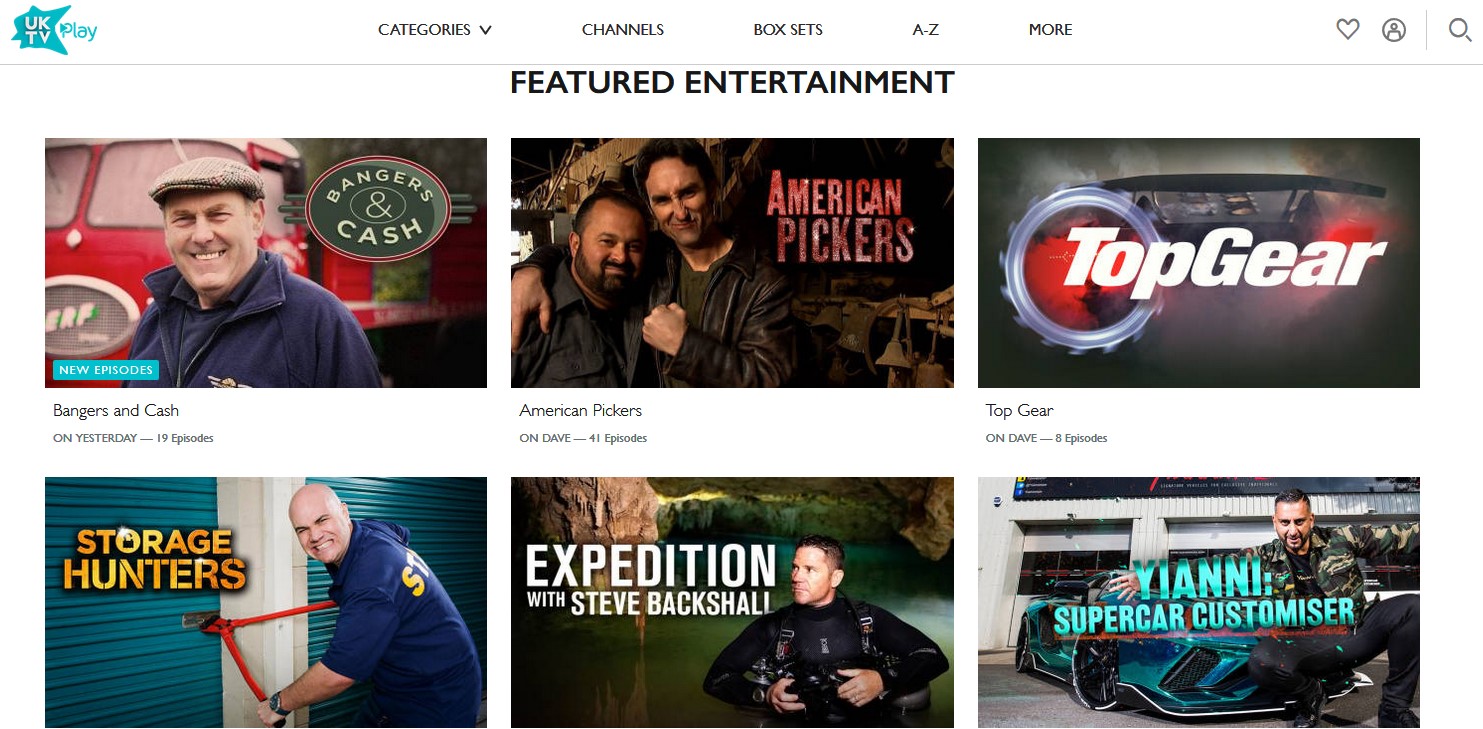 To stream any of the channels while outside of the United Kingdom follow our guide below.
You need a VPN provider and a plan
First, choose a provider and a plan. There are plenty of providers to choose from but not all are good for unblocking and streaming. For instance, IPVanish is not the best when it comes to streaming. Three that we recommend are ExpressVPN, NordVPN and CyberGhost.
Different plans are available but usually all come with the same features, the only difference is the length of the plan. Generally, the longer you commit, the bigger the savings.
For instance, if you choose ExpressVPN and the yearly plan, you can save 49% and get an additional three months free. Therefore, in effect you get a 15-month plan.
An app is needed so download it
After signing up for the plan go ahead and download apps for any devices you use to stream online, for instance Windows or macOS, Android or iOS.
These are not the only devices covered by a VPN. If there isn't a standalone app available, you can manually install the VPN on a compatible router. This allows you to use it on devices such as a Smart TV or games console.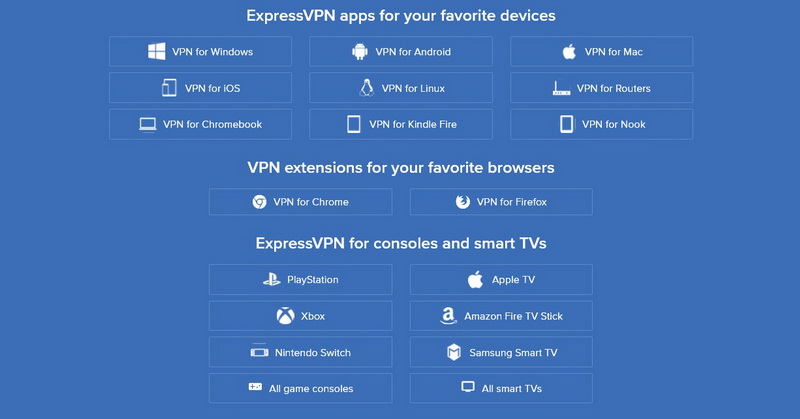 You can download as many apps for as many devices as you want and providers allow you to use simultaneous devices up to the limit set. This means all the family can benefit from the same plan.
Go ahead and install the app then go to the next step.
Launch the app and sign in
You then have to launch the app using the icon and go ahead and sign in.
Once you have signed in, a dashboard opens and this is where you can choose a server from the United Kingdom.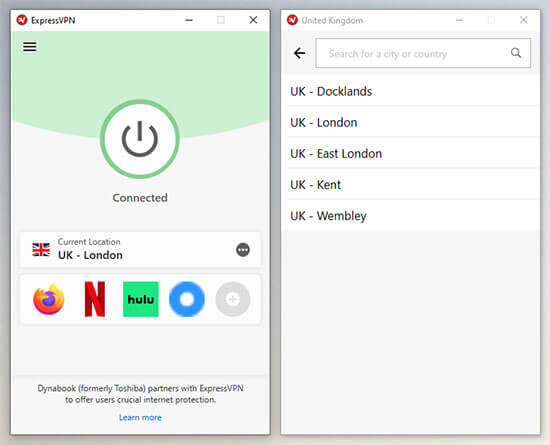 Press the "Connect" button to make a connection and you now have an IP address from the UK that will help you bypass the geo-restrictions. This is how to unblock and watch UKTV abroad using a VPN.
Of course you can do so much more with a Virtual Private Network, for instance you could place a bet on bet365 even if you're abroad; enjoy privacy, anonymity and more.
Three great VPN providers for streaming
ExpressVPN is one of the best for unblocking streaming websites. The provider has military-grade encryption along with leak protection and a Kill Switch. This means that even if the secure connection drops no information is sent over the internet.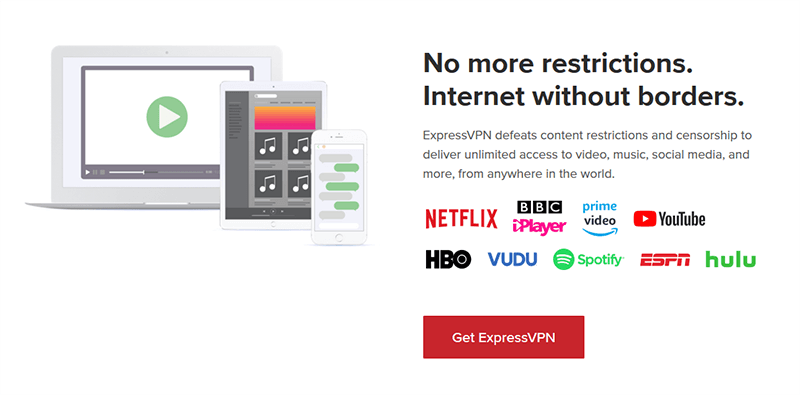 The servers are blazing-fast which makes it a good choice if you want to stream in HD. Plus, you can use it to unblock UK Netflix with ease.
NordVPN is another solution for streaming online. While it is not as fast as ExpressVPN, it offers more than enough speed for streaming.
It offers a wide range of servers in the United Kingdom and thousands worldwide. It also offers state-of-the-art security measures, including Double VPN. This allows you to connect to first one server then another for double the security.
Finally, CyberGhost is a very viable alternative. It is able to get around the geo-restrictions imposed so you can watch UK TV when you are outside the UK.
With 256-bit encryption, a Kill Switch and thousands of servers both worldwide and in the United Kingdom it is also a good choice.
Watch UKTV abroad using ExpressVPN >
To summarise
We have shown you how to unblock and watch UKTV abroad by using a VPN. Now all you have to do is choose a provider, sign up, choose a plan and connect to a server based in the United Kingdom.
Along with streaming, you can also use your plan for security when browsing the internet; remain anonymous when torrenting, using social media or forums and even save money when comparing prices for flights and hotel rooms online.