Denmark is a small Scandinavian country in Europe known for its open-minded internet approach. People here enjoy online freedom and freedom of speech, making it a great place to live. However, it's not without flaws, as you can still encounter some blocks here and there. For bypassing potential issues online while browsing from Denmark, using a VPN is always recommended. Today, we're going to see what are the best choices for this country in 2021, so don't go anywhere!
Why Do You Need a VPN in Denmark?
If you wish to enjoy online freedom, safety, and security, this service is always good to have. Now, why you should use a VPN in Denmark? Let's find out:
Enjoying Torrenting Safely
We usually start with government surveillance or bypassing censorship but Denmark doesn't have these problems. You can safely use Instagram, Facebook, or YouTube, and express your thoughts freely. However, there's another problem when it comes to torrenting.
Many governments worldwide put torrenting and violating copyright in the same ballpark. And in most cases, that's true. But, what about the users who use it just for P2P file-sharing? Unfortunately, they'll have to face the same consequences.
In the past couple of years, the government put enormous efforts into blocking torrenting sites such as The Pirate Bay. Their Rettigheds Alliancen anti-privacy group is here to fiercely battle everyone who tries to download torrents, imposing some hefty fines.
Download torrents safely with ExpressVPN >
Just a few years earlier, in 2015, things took turn for the worse. The government blocked more than 10 file-sharing sites, including torrent and non-torrent sites. Popcorn Time was suddenly forbidden and 20 new sites made their appearance on the list soon after.
So, not only is this a bad place for torrenting but also for any "suspicious" file sharing. Your best bet is to use a VPN usable in Denmark and bypass these issues altogether. Our VPNs from the list below are all P2P-friendly and they'll hide your IP successfully, letting you enjoy this activity.
Bypassing Geo-Restrictions
When we say that a country is free in terms of internet access, that doesn't mean that the whole internet space is available. Denmark still can't access Netflix US, Hulu, HBO GO, or Disney+. And without this service, bypassing this geo-restriction is all but possible.
Thankfully, using a VPN is as easy as it gets. By changing your IP address to another country, you can "fool" the website that you want to visit that you're really from there. That way, you can unblock many Netflix catalogs, watch Hulu from Denmark, or enjoy shows on the British BBC iPlayer.
Avoiding Cybercrime on Public Wi-Fi Networks
Denmark has pretty good internet penetration, as it's a very developed country. Despite being tech-savvy, this country, alongside many others, can't efficiently dodge cybercrime. While the hackers don't attack the country directly, they lurk close to public Wi-Fi networks that are, honestly, the easiest prey.

They're password-protected but they're not encrypted, so they're still vulnerable to these attacks. When you connect to it, you get an IP address from that public router. Hacking the router means that the hacker can get to your device and steal your data.
However, with the best VPN by your side in Denmark or elsewhere, you get a new address, making yourself invisible to hackers. In return, you get impenetrable security and privacy. Next time they try to hack you, they'll need to come up with something far better!
Best VPNs With Servers in Denmark
Are you looking for a VPN provider that must have servers in Denmark? Luckily, some really good providers have servers here! Here are the best providers with servers in Denmark:
ExpressVPN: ExpressVPN is the best provider for this country. It offers multiple servers in this country, supporting torrenting, buffer-free streaming, and all the security protocols that the provider offers.
NordVPN: NordVPN comes with 79+ P2P-friendly servers in this country. It's known for rock-solid security, solid speeds, and the ability to unblock streaming platforms.
CyberGhost: Lastly, CyberGhost offers 72 servers in Copenhagen, making it ideal for enjoying fast-speed web browsing, torrenting, and streaming.
Want to get some of the providers now? Click on the one you want, subscribe, download the apps, and connect to the Danish server. That's easy as a feather!
Best VPNs for Denmark
And now, let's see what are the best overall picks for this country. Once again, we're going to give you our top 3 VPN picks – here they are:
1. ExpressVPN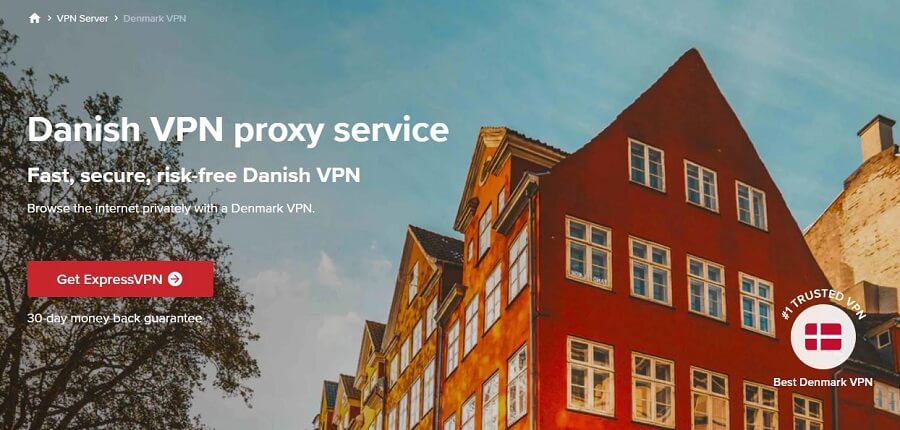 Danish residents will enjoy ExpressVPN the most, due to its super-fast speeds and rock-solid security. The provider is from the British Virgin Islands, and as such, it isn't a victim of data-retention laws. To translate, it has a clear zero-logs policy.
Security lovers will appreciate its 256-bit encryption and kill switch. On the other hand, those who like streaming will be happy to know that ExpressVPN easily unblocks Netflix, Hulu, Amazon Prime, and HBO GO.
It offers unlimited bandwidth, so you can stream or download torrents to your heart's contempt. Should you decide to protect other devices, know that it supports up to 5 simultaneous connections. And if you need any help, its 24/7 support will gladly fix your issues.
Finally, ExpressVPN offers a 49% discount and 3 months free for a 12-month plan. There's a 30-day money-back guarantee if you don't like it.
Enjoy the Internet in Denmark With ExpressVPN >
2. NordVPN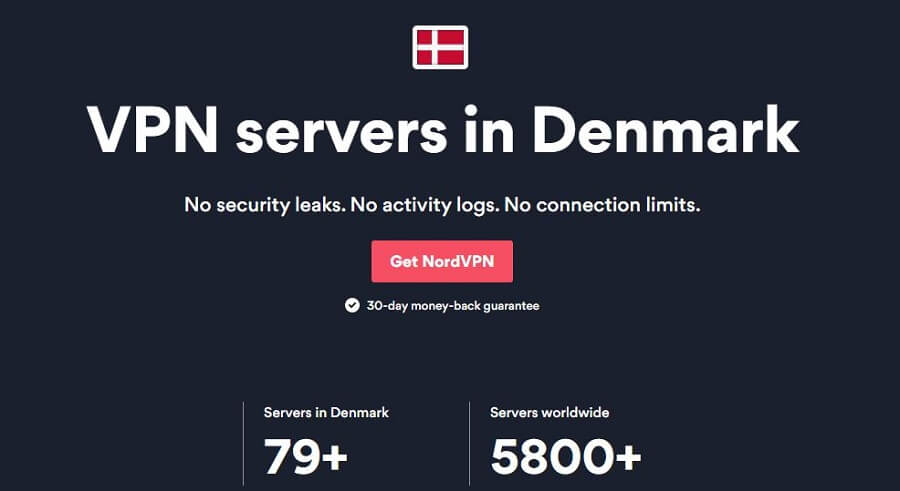 NordVPN is among the finest VPN software you can get in Denmark and around the world. It offers 5,700+ servers in 59 countries, and with a massive server network, possibilities are endless. Logically, it has very good speeds, capable of torrenting, streaming, and gaming.
Furthermore, it comes with military-grade encryption spiced up with some neat security features. One of them is Double VPN. It lets you bypass your traffic through two different servers. SmartPlay is also here for safe streaming and CyberSec effectively blocks ads.
NordVPN recently introduced NordLynx, a new protocol that promises even faster speeds and stronger scrutiny, so it's good to see that they're evolving. To conclude, you should know that the provider has 24/7 live chat support and offers a 30-day money-back guarantee, so you can practically try it for free.
3. CyberGhost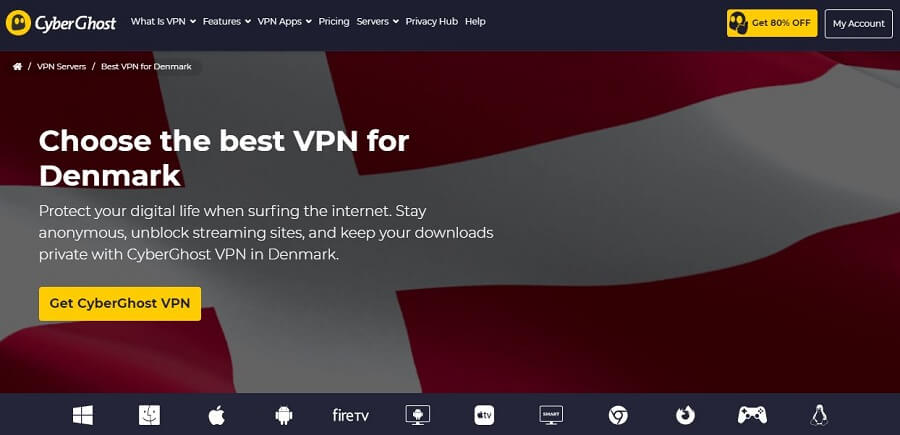 Most of the users shopping for a new VPN provider to use in Denmark aren't willing to pay more. For them, CyberGhost is a perfect choice. It's not only affordable but offers amazing performance for the price and takes good care of your wallet – what more to ask for?
The server count is definitely the most impressive thing about it – 7,000+ servers in 90+ countries. Moreover, these servers are fully capable of torrenting and streaming, which Danish residents will love. Being from Romania, the provider is out of the 14 Eyes jurisdiction, making it great for privacy.
It stores no logs and encrypts your data with state-of-the-art 256-bit encryption. For additional security, there's a kill switch coupled with DNS and IPv6 leak protection. Needless to say, CyberGhost successfully unblocks Netflix and Amazon Prime Video, so expect some exciting streaming adventures.
Unblock Sites in Denmark With CyberGhost >
Summary
So, is a Virtual Private Network mandatory in Denmark? We'd say yes, depending on what you do online. If you're concerned about your privacy, want to unblock sites, and download torrents, you should absolutely use it.
Now, what is the best choice for Denmark? Obviously, it's ExpressVPN. This provider showed amazing results in our tests and is your green card for privacy, security, and online freedom. Get it now and enjoy its premium-grade features limitlessly.
You'll thank us later, don't sweat it 😉