If you are a person who travels a lot, or you are living outside the United States, but still want to watch your favorite shows, this is the article for you. We all have that one show that we can't access due to geo-restrictions. In this article, we let you know how you can watch your favorite streaming platforms and US TV channels in New Zealand for free. So keep reading!
Why can't I watch US TV in New Zealand?
Some streaming platforms and companies that produce entertainment such as TV shows and movies are restricted outside the US.
These companies and websites have access and can see your location due to your IP, or internet address. The IP cannot show exactly where you live, for security purposes, but can definitely show from what region you access the internet.
These restrictions came to be due to some licensing regulations implemented in many countries. American TV channels and similar content providers were required to pay a significant amount of money to acquire licensing rights if they wanted to broadcast in a particular country.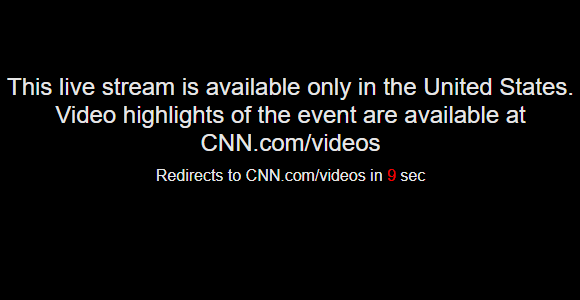 This was common and practical before, while television and radio were at their peak, but now we have video streaming services such as Netflix and Hulu that completely bypass this need.
But the geo-restriction stands despite this fact, so how can you unblock these streaming services, and how can you access US TV channels around the world?
The Solution – Use a VPN
What exactly is a VPN? VPN (or Virtual Private Network) provides a way of securely connecting to another network. This software can allow you to access and unblock certain websites that are restricted in certain regions.
VPNs can also offer a secure way of surfing the web by protecting your personal location as well as information from unwanted eyes.
This is done by changing your appeared location provided by the IP. With a VPN, you can set your location to, let's say, United States, and this allows you to access restricted content from said country. This works for other countries, as well.
When you access a website, the website can see your IP, determining your location, and blocking your access. But with a VPN that can change your appeared location.
This way you can watch and enjoy your favorite US television channel, streaming platforms, and the best part is that all of this is free. Okay, the VPN isn't free, but we will get to that.
Implementing a VPN is also simple. Most browsers have built-in VPNs, but these are limited and don't offer as many features as paid VPN software. For more information, you could also like our article about how to watch US TV in Brazil and in other countries.
How To Use a VPN for unlocking TV Channels?
Using a VPN is actually very simple, even if you have never used one before. Here are the easy steps to using one to watch US TV from anywhere:
Choose one of our top VPN options below and subscribe to the service
Download the VPN app and sign into it using your login details
Visit the server options and connect to a US-based one
Visit your favorite US TV Channel website and enjoy your shows and movies live without any error message.
And that's all there is to it 😉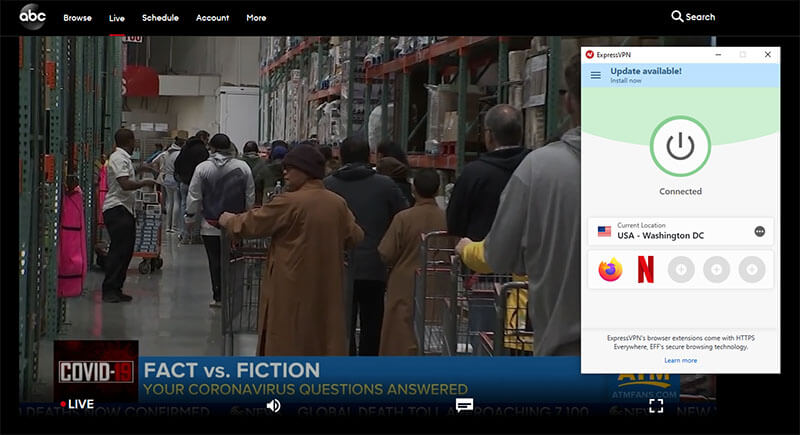 VPN to Choose to watch US TV in New Zealand
There are a plethora of VPN providers on the market, but we narrowed down the options to those that can offer you the most features, the most secure web surfing, as well as the most trustworthy brands.
But is it legal to use a VPN? Read this article to find out more – https://monkeyprivacy.com/is-vpn-legal/
VPNs are not all the same, and below, we list some of the best ones we could find.
ExpressVPN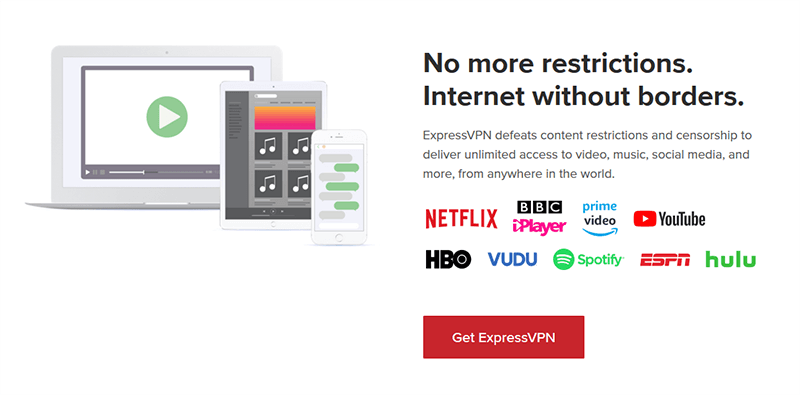 Streaming your favorite US television in New Zealand cannot be more straightforward than using ExpressVPN. Why? First, it has more than 3,000 servers. This VPN provider has a lot of benefits over the competition and is our favorite VPN to use for our entertainment, as well.
They managed to create a software that is extremely fast, delivering outstanding security when surfing the web. They also boast impressive multi-platform support and allowing five connections simultaneously.
ExpressVPN provides a higher level of speed over its competitors, but this is also reflected in its price. If HD quality content is what you desire, ExpressVPN is your best bet. Loading times are amazingly quick, and your investment is well worth it.
They are established in the British Virgin Islands, and they provide a friendly service as well as a private one. Similar to NordVPN, ExpressVPN offers a no-log policy as well as outstanding encryption and tunneling protocols.
If you have the budget, this is a great way to keep your data secure. It also lets you stream your favorite American TV channels, no matter your location.
CyberGhost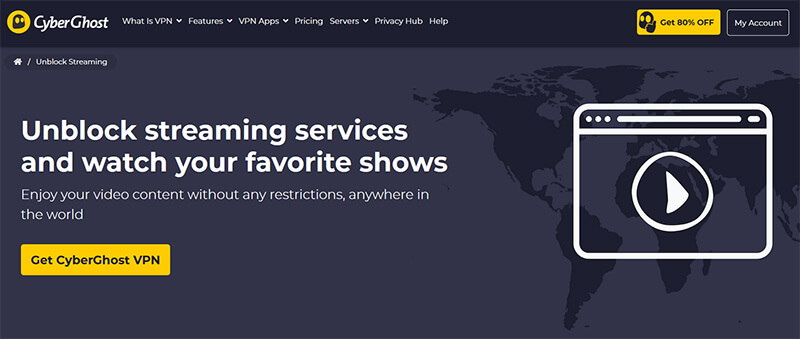 CyberGhost offers an impressively high general usability as well as a wide variety of device compatibility. They also deliver all these great features at a very reasonable price. The stability of their connection is robust, but compared to ExpressVPN and NordVPN, they don't deliver as fast.
But they boast an impressive 7,000+ servers around the world. This aspect significantly boosts the accessibility they provide for New Zealand customers. They have a top-notch security technology as well, keeping your data safe and your location private no matter what.
In the security department, they perform as well as ExpressVPN or NordVPN, but they offer additional features, such as pre-protection. It also comes with a 1 day free trial option to test out the service. For more info and to sign up to CyberGhost, click the button below:
NordVPN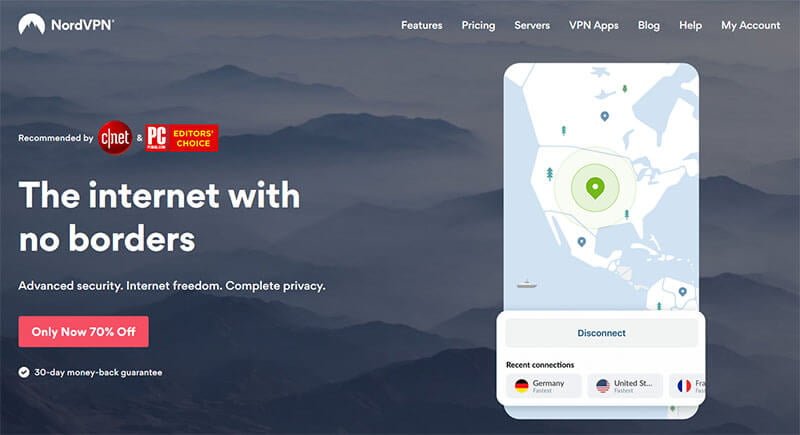 Last but not least, NordVPN is located in Panama, delivering an exceptional and secure connection for their customers.
They also provide a no-log policy, thus establishing themselves as one of the best and most reliable VPN providers around. If you wish to watch your favorite US television Channels live in New Zealand, NordVPN offers an outstandingly secure way to do so.
Implementing numerous advanced technologies to keep your data safe and to allow you to stream American TV and access geo-restricted websites. They also offer these high-quality services at a very affordable price. They are not as pricey as ExpressVPN, but their features and services are alike.
NordVPN also has over 5,500 servers, mostly located in the US. That makes this VPN perfect for those especially interested in American TV channels. If you wish to watch Netflix, Amazon Prime, Hulu, or other similar platforms in New Zealand, NordVPN is a good alternative to ExpressVPN and CyberGhost.
Wrap Up
If you wish to surf the web unrestricted, to watch your favorite streaming platforms such as Netflix and Hulu in New Zealand, as well as other regions, VPNs are the ideal solution.
They offer a reliable way to access your favorite US television regardless of your location. And they also deliver this service in a very secure manner, protecting your location and your browsing data.
Our favorite pick from these VPNs is the ExpressVPN. They are quite pricey when you compare it to the others. But if you can afford it, they offer the fastest connection around, cutting-edge security as well as HD quality with little to no lagging or buffering time. Which is perfect if you want to watch show live.