In the following article, we will show you some of the many aspects that are missing from the SaferVPN offer. And after that, we will of course deliver to you the names of some of the best alternatives to SaferVPN. If you're ready, let's get started now.
What is SaferVPN?
SaferVPN is a Virtual Private Network provider that was created and developed by Safer Social. It is used to protect your data from wireless network security risks by using end-to-end encryption of user connections.
The service was first released in 2013, and the parent company started to accumulate capital after developing a law enforcement system. This system was able to identify and locate vehicle thieves.
SaferVPN claims to be able to access restricted websites from anywhere in the world. They are able to hide your personal information and location so that websites can not track you. Safer VPN also boasts 700 servers across 35 locations.
If you would like to find out all its strengths and weaknesses, check the review that we did. It offers a more in-depth look at the provider that will help you understand why it's important to consider better alternatives to SaferVPN.
This provider has apps for Mac, Windows, Android, and iOS, as well as extensions for Chrome and Firefox. They are designed to provide a smooth and flawless experience, but is that why they deliver? We'll find out shortly!
Downsides of SaferVPN
As with all products, there are pros and cons. Let's take a look at some of the disadvantages of this virtual private network before talking about the best alternative to SaferVPN.
Dodgy Logging Policies
One of the most essential features that VPNs should provide is total anonymity and privacy. While SaferVPN does provide this to a certain degree, their no-logging policies could be much stricter.
Many VPN companies have quite misleading logging policies, and SaferVPN is no exception. They collect 'minimal usage statistics to maintain [their] quality of service.' Essentially, they collect information such as the country you connect from and the country you connect to.
This is generally not a problem for most folks, but it would be nicer if they did not collect any information at all.
Limited Torrenting
You are also very limited to your torrenting options when using SaferVPN, which is one of the most significant downsides to their service. They have only one server out of their network of 700 that is capable of torrenting.
We can honestly say that this is very disappointing and a good reason to look at better alternatives to SaferVPN.
Our Favorite Alternatives to SaferVPN
If you have found that the downsides of SaferVPN are not for you, we have some options. These VPNs are top of the market. They offer all you need in terms of privacy, security, and robust safety features.
ExpressVPN
ExpressVPN is a service that gives you so much more than just internet security, and it has a lot going for it. It is one of the few truly comprehensive VPN services that boasts an impressive array of servers, as well as some excellent features that are not available from other VPNs.
Currently, the average cost for a top-tier VPN service is around $10.50 a month, which is quite a lot cheaper than ExpressVPN costs, and they do not offer a free version of their service.
But, for the level of security and the sheer number of features that you receive, ExpressVPN offers great value for money.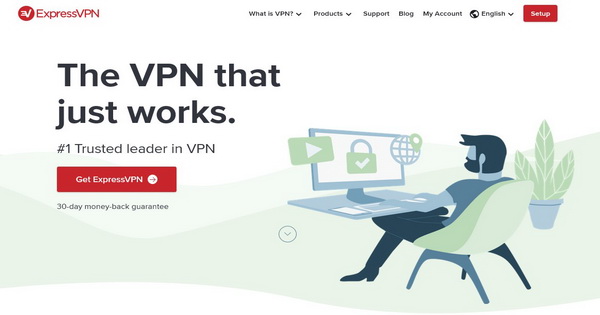 Why Choose ExpressVPN over SaferVPN?
Again, both ExpressVPN and SaferVPN are quite similar, and both of them provide safe and private connections. While they both have a relatively large server network, ExpressVPN has around 2,300 more servers than Safer VPN.
Plus, some VPN providers let you set it up on your router, like ExpressVPN. This gives you additional protection. Why? Because any device connected to your Wi-Fi is then protected.
These 3,000 servers are spread across 94 countries, meaning that ExpressVPN lets you connect to pretty much anywhere in the world. SaferVPN only has about 700 servers in 35 worldwide locations, providing far fewer connection options.
You know see why ExpressVPN is the greatest alternative to SaferVPN?
Why is ExpressVPN better than SaferVPN?
Even though ExpressVPN and SaferVPN both provide fast connection speeds and encryption, the latter only provides one server through which you can torrent. ExpressVPN allows you to torrent through any of their 3,000 servers.
ExpressVPN has SaferVPN beat in terms of ease of use, pricing, and the number of features and server options they provide. Which makes it logically the best alternative you can get.
Get a subscription at ExpressVPN.com >
CyberGhost
CyberGhost is one of the less well-known VPN providers and is a great service with a client for Windows that is exceptionally powerful. It comes chock full of useful features while still being straightforward and easy to use, and their mobile clients are much more ordinary while still being extremely effective.
CyberGhost also offers custom clients for Mac, Windows, Android, iOS, and more. CyberGhost includes several extra features along with standard VPN functionality. Their automated HTTPS redirection allows you to receive the most secure connection possible, regardless of the website you visit.
The company is based in Romania and provides comprehensive VPN services for over ten million users. They feature an impressive 6,000+ servers that span across 90 countries, and while not all of them provide torrents, most of them do.
However, once you have connected a device, a connection slot is used up. You will need to log out of a device if your slots are full, and you need to connect another one. While this can be somewhat of a pain, it doesn't take much time and it is quite unlikely that you will use all 7 devices at a time.
Having so many functions active at the same time can cause your browser to run into some issues and slow down, but you have the option of choosing which of these features to activate, if any at all. CyberGhost also allows you to connect a maximum of seven devices at the same time, which is slightly above the industry standard of five.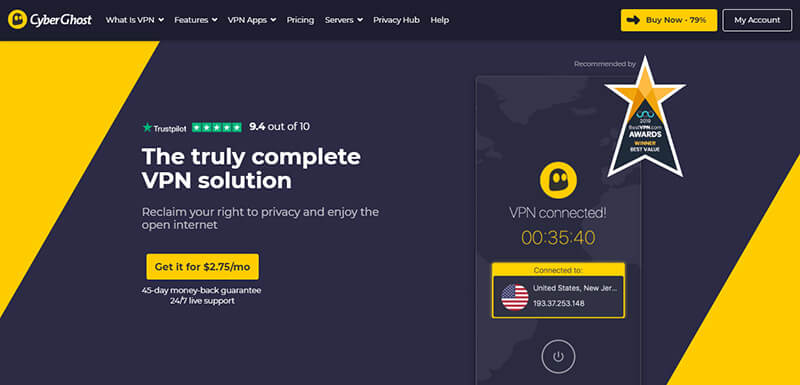 Why choose CyberGhost over SaferVPN?
CyberGhost is one of the most feature-packed VPNs out there and is offered at a reasonable price too. They also offer a 45-day money-back guarantee, as well as a 1 day free trial to test out the service.
SaferVPN does not offer any of these, and their pricing is actually higher than other VPNs of its standard. The SaferVPN app interface can also be difficult to comprehend which can be a reason that leads you to finding a better alternative.
On the other hand, the CyberGhost app is easy to understand, while still not feeling child-like. It is also filled with far more features than the SaferVPN app.
Why is CyberGhost better than SaferVPN?
CyberGhost has a great range of servers that offer global coverage. This provides you with many options to choose from. They also do not record any logs whatsoever, while SaferVPN records some of your connection logs.
While both companies allow for torrenting, SaferVPN, as we have mentioned earlier in this article about the best alternatives, only allows torrenting through one of their servers. This means that your torrent will likely be extremely slow, depending on where in the world you connect from.
Finally, CyberGhost provides some additional features, such as anti-tracking and ad-blocking. SaferVPN, while still offering some decent features, does not provide as many as CyberGhost.
Get a subscription at CyberGhost.com >
NordVPN
NordVPN claims to be the best VPN out there for use with streaming services and also offers some great coupons that make it one of the best VPNs for your money.
One of the main benefits that NordVPN provides is that it does not appear on the list of VPNs that Netflix can detect and block, and is actually one of the best VPNs for those who are looking to bypass the new strict detection measures that Netflix has in place.
NordVPN also goes the extra mile to make sure that you are getting the ideal streaming experience around, all while being problem-free. The FAQ on their website provides suggestions and instructions for the top servers to stream on Netflix, as well as other well-known streaming services like BBC and Hulu.
It is able to work with various international Netflix versions, including those in the US, Canada, UK, Japan, France, and Brazil, which gives it a unique advantage over many other VPNs on the market. Other VPNs are usually only capable of accessing a couple of regional Netflix catalogs, and often encounter problems while doing so.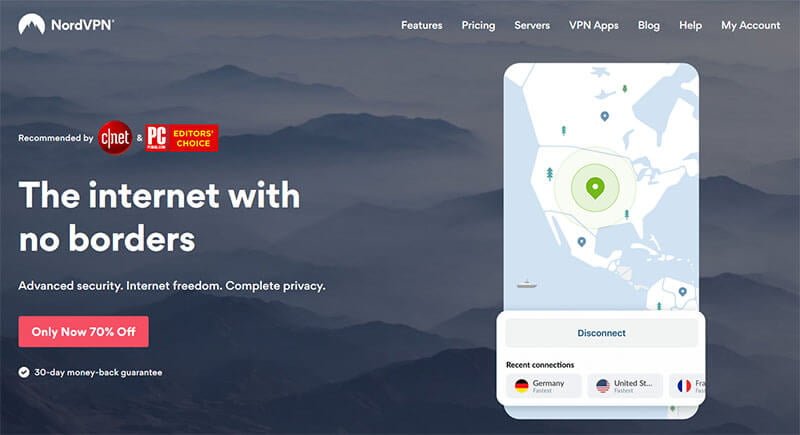 Why choose NordVPN over Safer VPN?
While NordVPN and SaferVPN are quite similar, there are some critical differences between the two. The most significant of these differences is between the number of servers they provide.
NordVPN boasts an impressive range of over 5,500 servers in more than 50 countries, all capable of torrenting. On the other hand, SaferVPN only has 700 servers in 35 locations around the world, of which only one is capable of torrenting.
Why is NordVPN better than SaferVPN?
While an obvious reason is NordVPN's superior fleet of servers, they also offer some other benefits as well. SaferVPN relies on a live chat service in certain hours, and an email system in others, to help customers with inquiries and issues.
NordVPN, however, has a 24/7 customer service live chat as well as an email system, depending on the urgency of your inquiry.
Their apps are also much more visually appealing and are packed with far more features than their SaferVPN counterpart. That is one big reason why we consider NordVPN to be a great alternative to SaferVPN.
Get a subscription at NordVPN.com >
The Best Free Alternative to SaferVPN
Some of us don't want to spend money (or don't have the money to spend) on a Virtual Private Network. Luckily, we have a free alternative to SaferVPN that has some pretty cool features… Windscribe.
Windscribe
Although you are able to choose between some paid options on Windscribe website, the free version is very popular among users and provides a whopping 10GB per month. This is pretty impressive for a free VPN.
Windscribe also offers some features to better hide your identity when browsing online. These features include things like deleting cookies during a VPN session and changing the timezone of your browser.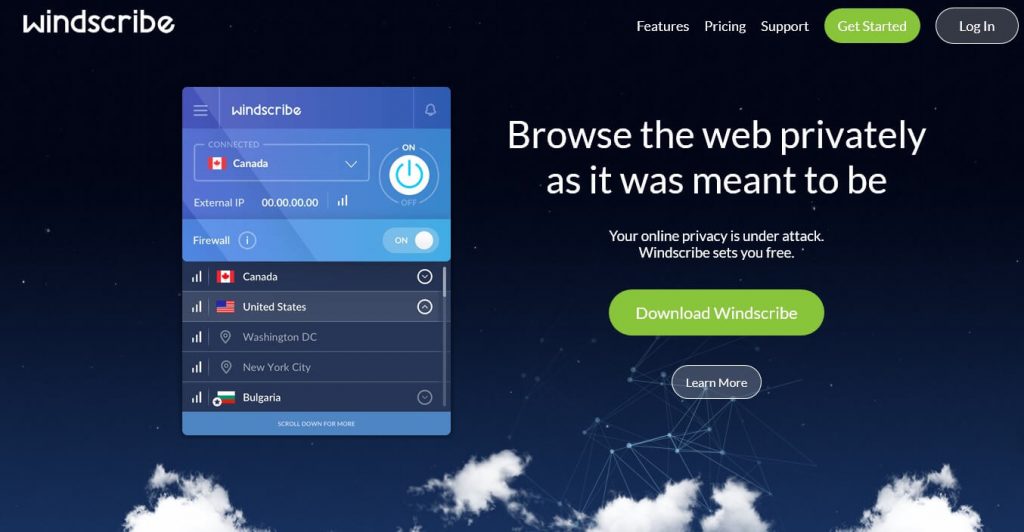 Why choose Windscribe over SaferVPN?
One of the most appealing features to Windscribe is the fact that it allows you to connect an unlimited number of devices. SaferVPN only lets you connect up to 5 devices, depending on the plan you choose.
SaferVPN also only has servers in thirty-five locations, while Windscribe has nearly double that, at sixty locations around the world (you will have to subscribe to the paid version to access all of these). The free version offers 14 servers in 10 locations.
While SaferVPN does provide an unlimited bandwidth limit, SaferVPN provides a very generous 10GB limit, completely free of charge.
Why is Windscribe better than SaferVPN?
As we have mentioned before, SaferVPN does not offer many features in comparison to the more popular VPNs. Windscribe provides a firewall, AdBlock, anti-tracking, cruise control, stealth mode…
In order to receive these features from SaferVPN, you would need to purchase their more expensive subscriptions. However, Windscribe provides most of them for free.
Wrap Up
Even though most VPNs offer the same core service, which is privacy and security, each also provides additional features. These features cater to different needs and preferences.
Finding what works best for you is what is most important when it comes to choosing a VPN. We really hope that this article about the best alternatives to SaferVPN will help you make a choice.