The United States is probably the best location for streaming lovers. With a multitude of platforms like Netflix, Hulu, HBO GO, Disney+, and Prime Video, you'll enjoy your favorite movies and shows with ease. Unfortunately, all of the platforms are available for US residents only, including the new one – Peacock TV. What is Peacock? Why does it matter so much? And most importantly – how to watch it outside the United States? Let's answer these questions below.
What is Peacock TV?
Before we venture into the article, we need to explain what Peacock is. Yes, it's a beautiful animal, but also a very relevant streaming platform that was founded in April 2021. At the time of its inception, the platform was available only for the users of Xfinity, a US-based consumer cable television company.
As of July 15, 2021, Peacock's availability changed, so it's available throughout the whole United States. This platform might be the new great thing, thanks to the huge variety of content. You can watch everything from sports to your favorite TV shows and movies, which makes it an extremely attractive option for the newcomers.
Furthermore, the company that stands behind this platform is NBC Universal. As we know, this is one of the most successful companies in the US. To clarify, this platform doesn't have any TV channels in a traditional sense.
Instead, you get to "make" your own customized channels where the content will be tailored to your needs. For example, if you want to watch Formula One live, the site will probably "throw" sports events at you, and the same applies to movies and TV shows.
All in all, it's an extremely functional platform with a sharp headstart, despite its short life on the shelf. In the future, we predict that it might be on the level of HBO GO or Hulu, if not Netflix.
Why Do I Get a Peacock Error?
Users from the USA can type in the website address and access the streaming platform hassle-free. You just visit the site, and you're free to access US TV shows live and in HD. However, people who are currently outside the US might encounter an error message that looks like this when trying to access Peacock:

It's easy to see why you'll encounter this error, and for streaming addicts, this information will be shocking. But, our guide here is aimed at fixing this issue, even if you're far away from the USA.
Logically, to access the site, you'll need to change your location. The bad thing about it is that it restricts access based on your location, and not your account. For instance, if you're from the USA and you get a subscription, you won't be able to watch your favorite shows when abroad.
This means that you've paid for a subscription and you can't access the site while traveling. In the next section, we're going to give you a solution to this problem, so bear with us until the end of our how-to guide.
How Do I Unblock Peacock Outside the US?
The solution we want to talk about comes in the form of a VPN. The VPN definition is very simple for those who want to understand it. Simply put, it's a service that lets you change your IP address and online location, thus unblock geo-restricted platforms, such as Peacock TV.
On top of that, this service encrypts your connection, allowing you to browse the internet anonymously. This is a great solution for staying safe online, all while being able to unblock every blocked website.
The best thing about it is that it will cost you merely a few bucks a month, so you won't end up in bankruptcy over time. Wondering how to utilize it to unblock and watch Peacock outside the US? Here are the steps:
1. Subscribe to a VPN
The first step is to subscribe to a Virtual Private Network. Our recommendation is ExpressVPN since it reliably unblocks this and other geo-restricted platforms.
2. Download & Install the Respective Apps
Once you have subscribed, the provider will prompt you to download the apps for the platforms you're going to use. Download the app, install it, and then open it. Before accessing the home screen, sign in with the credentials you provided upon registration.
3. Connect to the US Server
On the home screen, click on the country under the connection button. The server list will now open, showing you all the countries available. Scroll down, find the USA, and click on it. You should now see which servers from this country are available.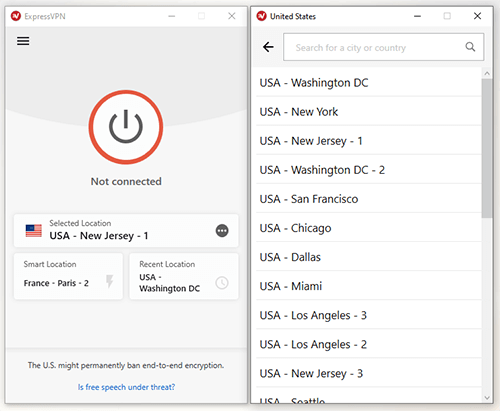 Just click on the server you want and use the connection button to connect. Within seconds, you'll get an American IP address, which will "fool" the site into thinking that you're from that country.
4. Enjoy Peacock TV Abroad
With everything in place, you can now access the website and start streaming your favorite content. Very easy, isn't it?
Best VPN to Watch Peacock Abroad
US Streaming platforms, due to there popularity, are a common target for many VPN users. Netflix, for example, is one of the most popular streaming platforms to unblock abroad. Because of that, it developed quite strong anti-VPN measures that won't allow you to unblock it with a regular VPN provider.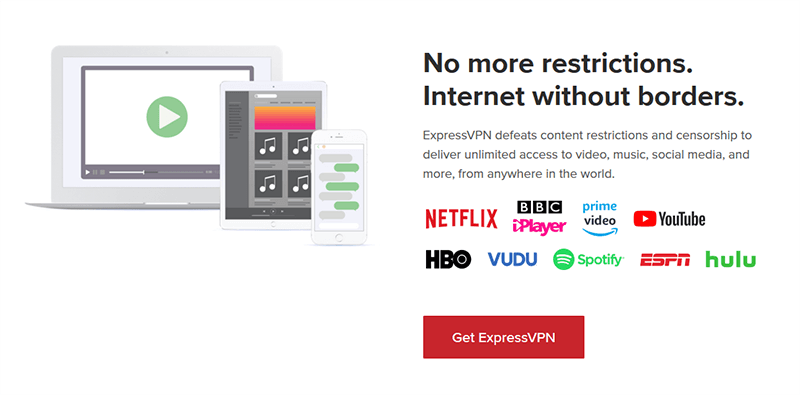 Peacock, being a subsidiary of NBC Universal, is no different. It easily detects low-quality providers and blocks them, preventing you from accessing the site. One provider that always works, though, is ExpressVPN, hence it's the recommended option for this scenario. Why did we decide on ExpressVPN?
Because it's the best provider in the market. It offers 3,000+ servers in 94 countries worldwide, with hundreds of servers in the United States. The provider allows you not only to unblock the platform but also to enjoy fast speeds that are crucial for your binge-laden days.
Enjoy Peacock Abroad With ExpressVPN >
Speaking of speeds, ExpressVPN is the fastest provider out there, as well. It's a VPN working in Canada, which is great for expanding your streaming possibilities. In terms of streaming capabilities, this is a great choice for both speeds and the ability to unblock websites.
With it, you'll be able to unblock and acess Peacock easily when outside the US but also platforms like Netflix, HBO GO, Disney+, CBS, ABC, or Hotstar. Those worried about security will be glad that ExpressVPN uses 256-bit encryption with a kill switch.
Furthermore, the provider maintains a clear zero-log policy that will preserve your privacy. ExpressVPN offers 5 simultaneous connections and apps for every major (and minor) platform, making it easy to watch Peacock TV everywhere you go.
Can I Use Free VPNs for Unblocking Peacock?
Free VPNs are very popular for users who want to save money, and we can understand that. You want to save money, so you take what you can, and in this case, it will be detrimental to you in terms of privacy and security online.
Since our article today is about streaming, we'll mention a few things about it first. Free solutions are quite limited, offering you limited bandwidth and almost no ability to unblock streaming platforms. Even if a free VPN provider could unblock it, with certain bandwidth caps, your binge-watching will be short-lasting.
Not to mention VERY slow speeds that will make your short streaming period obnoxious and full of stuttering. Now, in terms of security, free VPNs are doing damage to you. They use weaker encryption, collect your personal info, and sell it to third parties. You want to avoid that at all costs!
Does everything we said sound good to you? Probably not. That's why we recommend ExpressVPN, or even NordVPN and CyberGhost for that matter. All of these providers will work great for watching Peacock TV abroad.
FAQ
Peacock is, as we said, a new platform on the streaming landscape, so you probably aren't properly introduced to it. Let's answer a few questions related to our topic, to make things clearer for you:
? Is Peacock free?
Yes, the platform is free, or better said, it offers a free version. Peacock gives a free plan for every user, and it's not a free trial. Instead, you get limited access to the platform's extensive library and the site will display ads during the shows, movies, or sports events. That's not all.
The platform offers two paid plans as well. You can get a Premium plan with ads or without ads. The first one costs $4.99 a month or $50 a year, while the second one costs $9.99 a month or $100 a year. We can see that the difference is quite big in terms of pricing. However, in terms of content, both premium plans give you a full library, alas, one with the ads, and one without them.
? What kind of content can I watch on Peacock?
In one word- all. You can watch all kinds of content. There are movies, TV shows, sports events, and NBC's morning news if you want. Some of the shows you can expect are Parks and Recreation, Reservoir Dogs, 30 Rock, The Office, The Tonight Show, and sports events like the 2021 Tokyo Olympics and Premier League.
? Can I watch Peacock on my smartphone with a VPN?
Of course. VPNs like ExpressVPN, CyberGhost, and NordVPN all offer an Android and iOS compatible app. You can therefore use them on your smartphone or tablet to access Peacock during your stay outside the United States.
? What's the best VPN for Peacock?
The best VPN for Peacock is ExpressVPN. It's the fastest one and unblocks this website effortlessly. We recommend getting it because it gives you a 49% discount and 3 months free for an annual plan, making it more affordable than ever.