For a VPN that exists for merely 7 years, SaferVPN amassed a respectable user base. This provider claims to be the fastest and simplest provider on the market, which is, to be honest, a very bold claim. Our team at Monkey Privacy is here to put every claim to the test and see if certain providers are worth your money. Today, we are going to do the same. Strap yourself, grab a cup of your favorite beverage, and let's review SaferVPN thoroughly.
What is SaferVPN?
SaferVPN is a company established in 2013, and as such, its time on the market isn't very long. However, the company did much for the world of cybersecurity and is known for its #UnblockTheWeb initiative in which it gave free access to the VPN to those blocked by the censorship in Turkey.
To make things more interesting, the company is stationed in Israel, Tel Aviv. Although it seems like a bad place for a company like this, we quickly learned that it's actually one of the best. This is because of Israeli that values its residents' privacy and anonymity online.
Israel is, unfortunately, part of the 14 Eyes Alliance, which can contradict what we just said. But, we shall not waste a second more of your time and instead, proceed to our comprehensive review of SaferVPN. Below is a button for visiting its website in case you don't want to read the rest of the review.
Compatible Devices and Ease of Use
Every provider has its set of devices that it supports. Sometimes it's disappointing and sometimes, the provider blows us away with its offerings. Let's see what this one has to offer:

Starting from the left, we have Windows, Mac, Android, IOS, Routers, Chrome, and Firefox. Needless to say, the last two are Chrome and Firefox extensions. The provider also offers its app for Linux, although it's not visible in this screenshot.
At first glance, we're off to a good start in this review and test of SaferVPN.
Computers
When talking about computers, the provider supports Windows, Mac, and Linux. Our Monkey uses a Windows 10 PC, so we're going to follow its steps. As always, we'll use this system to install the app and show you how it looks. We do this to determine its ease of use.
After buying the subscription, the provider will show you its apps, as shown in the picture above. We clicked on Windows and our setup file quickly downloaded. Clicking on it gives you this screen: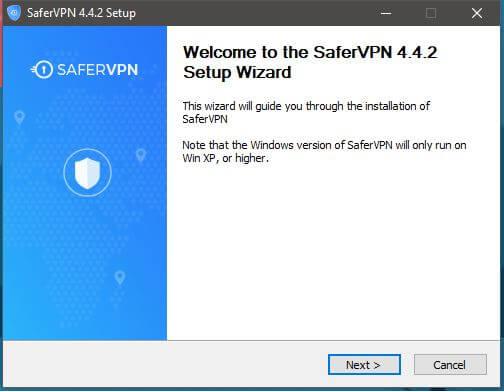 Click Next, choose where to install the app, and the installation will begin: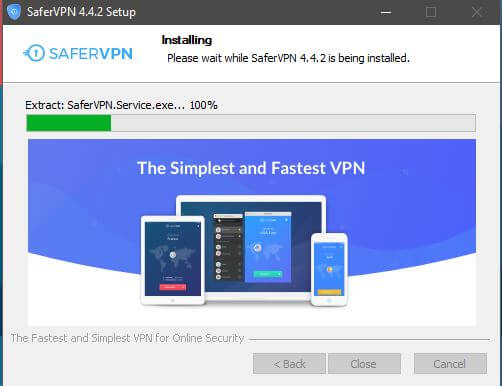 It lasts about five to ten seconds, so you won't have to wait for too long. After the installation, the app doesn't require a restart. You can immediately start the app that looks like this: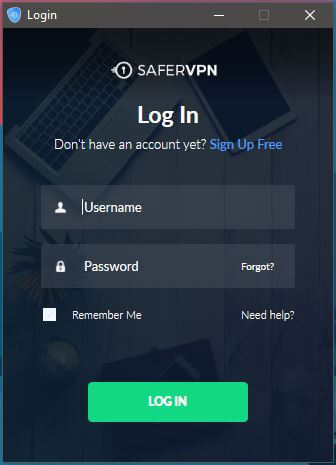 Type your username and password and log in. You should now see the app's home screen: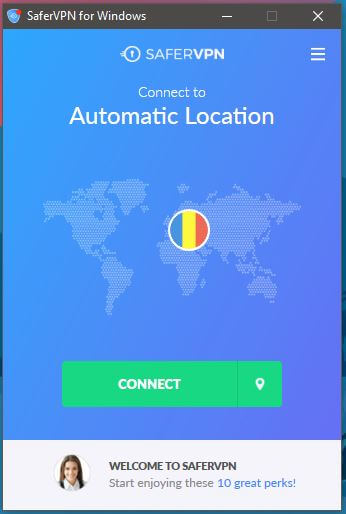 To open the server list, click on the green location sign right next to Connect. The server list looks like this: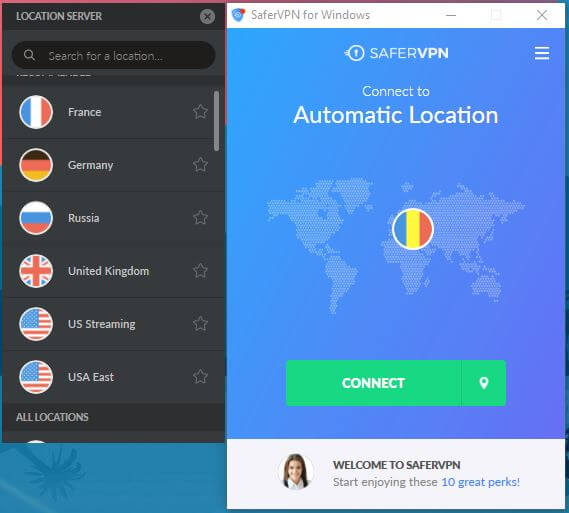 And now, this is where we had one big issue that almost made us quit doing the review of SaferVPN. When we clicked on the server we want, upon connection, we completely lost our default internet connection. This VPN messed up our network completely when it was turned on.
The support team told us to change the protocols but this method worked for some servers and for some, it didn't. For instance, the UK server worked only when using PPTP protocol and the US server worked in IKEv2. We don't know why that happened but that's definitely a big minus.
Nonetheless, here's how the established connection looks: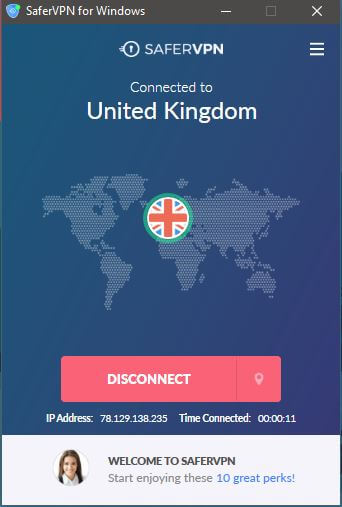 Oh, we almost forgot. After that, the app started connecting/reconnecting constantly, which made us change the protocol again when finally, we managed to continue our testing with a stable connection. Such an awful experience! For the very first time, we give its ease of use the lowest grade.
Smartphones and Tablets
SaferVPN supports two main mobile platforms – iOS and Android. This time, we'll use our Android phone to test the app and see if it's any better than the one on the PC. For the start, you'll need to visit the Google Play Store and download the app, as shown in picture 1.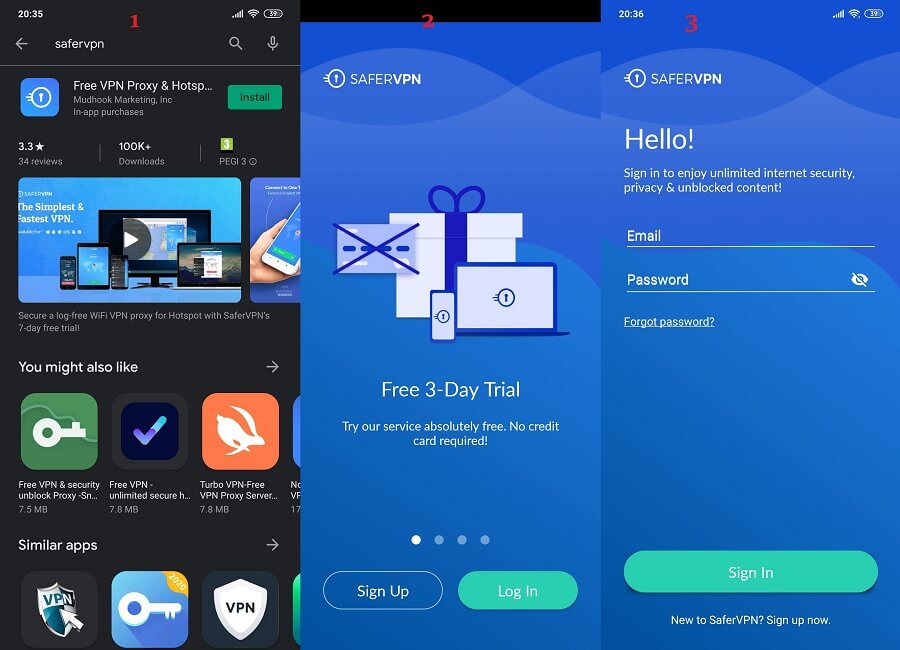 When you open the app, you can see that it offers a 3-day trial, shown in picture 2. We don't need that, hence we proceeded to the login screen in picture 3. As always, you need to type in your credentials, sign in, and you'll see the home screen – picture 4.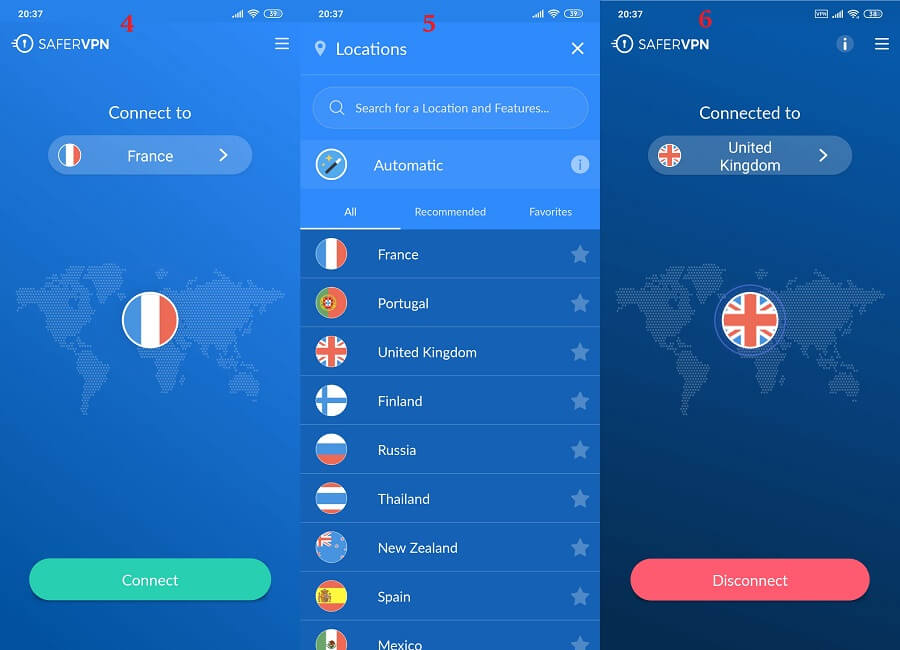 To change the location, click on the arrow pointing to the right, next to France. The server list in picture 5 will open, so choose the server you want. We chose the United Kingdom and in picture 6, you see that our connection is quickly established.
Unlike the Windows app, this one works flawlessly – thank God!
Other Devices
Can you use it with Kodi, Apple TV, Roku, gaming consoles, and so forth? Well, the provider supports routers, so the answer is – yes, you can!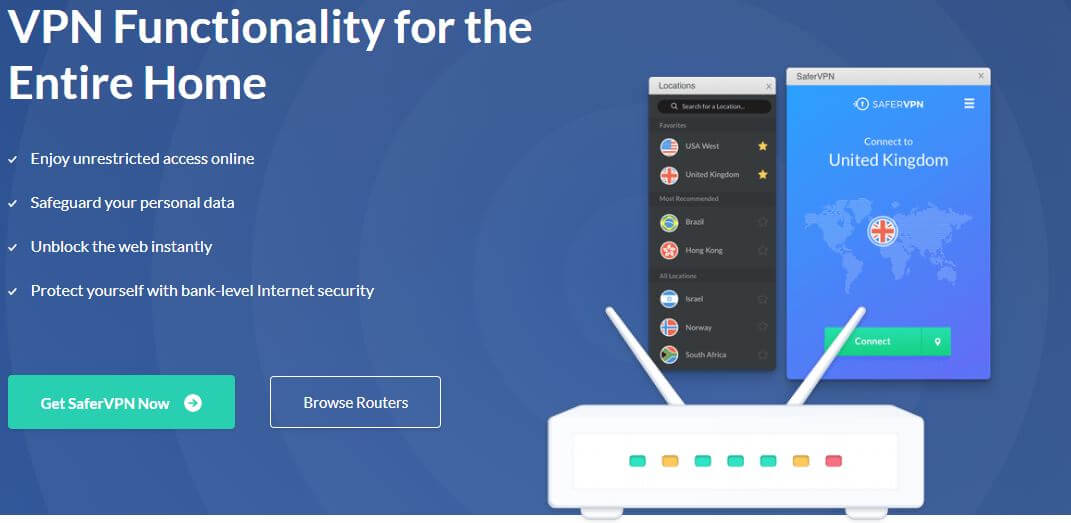 They even have a dedicated page for routers, which tells you how dedicated they are when it comes to this platform. Let's remind ourselves that with a VPN connection with the router, you can protect up to 16 or 32 devices simultaneously.
How Fast is SaferVPN? We Checked Its Speed!
SaferVPN is, as its name implies… safe? We've yet to see that during our review. But, is it fast? Well, we shall see that now. Before we move on to the speed test, it's relevant to say that every provider will reduce your internet speed to some extent.
However, there's a big difference between 10% and 90% speed reduction. Top providers like ExpressVPN and NordVPN will probably reduce your speed by up to 20%, while free providers sometimes even go for 90-95%.
This depends on the level of encryption, server distance, quality of the network, and so forth. Because of that, it's important to see how we did our tests. We did 3 tests in the morning, 3 in the mid-day, and 3 in the evening, for 3 different locations. We also kept the best score and used the best location when it was possible.
Our physical location is in the United States (non-VPN test) and we used these 3 locations for testing:
The United States
The United Kingdom
Australia
Without a VPN, our internet speeds are:
Ping: 11 ms
Download speed: 211.88 Mb/s
Upload speed: 202.20 Mb/s
Now, when using SaferVPN, our ping, download, and upload speeds respectively, for 3 testing locations, are:
US Server: 70 ms / 115.47 Mbps / 75.63 Mbps
UK Server: 108 ms / 82.29 Mbps / 49.66 Mbps
Australian Server: 372 ms / 35.02 Mbps / 21.80 Mbps
In short, speeds are pretty poor. Even when using the US server, our upload speed, in particular, saw a dramatic decrease. Needless to say, the Australian server showed the worst results, with our speeds being under 40 Mb/s, whereas without a VPN, they were both above 200 Mb/s.
We would say that this is one of the slowest providers we used recently. To digress, SaferVPN is very slow, so don't expect to enjoy torrenting and streaming in their full glory. And speaking of streaming…
How Good is SaferVPN for Streaming?
… let's talk more about it now. When we finally managed to establish a stable connection, we had to wipe the sweat off of our foreheads and proceed carefully. The first on the testing list is, as always, your beloved Netflix.
SaferVPN did a stellar job of unblocking it during our review and tests, although we expected more. For instance, the US Streaming server worked fine, while the US East server didn't work. And to make matter worse, it took us at least five attempts to connect to the US Streaming server because of the issue we mentioned above.
The Canadian server, on the other hand, worked flawlessly, while the UK server didn't work. You'll have to try it out for yourself and see. But, it's important that at least one US server works with Netflix. Does it work with HBO, though? Here's a screenshot from the HBO Go website: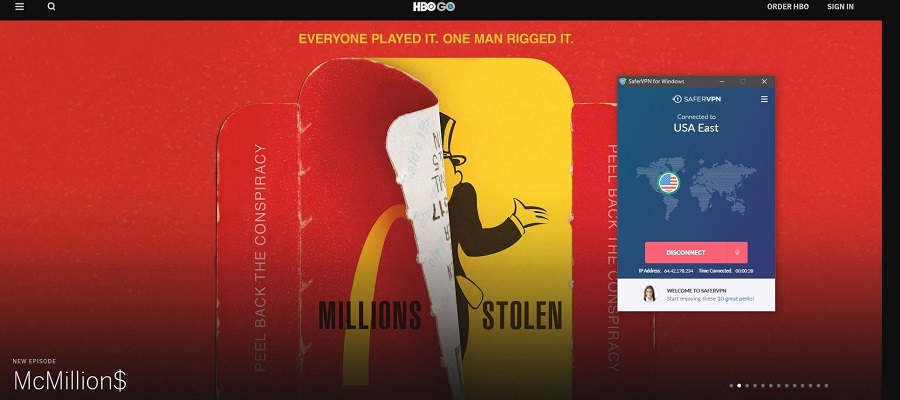 Yup, that works, even when using the USA East server. Let's see if Disney+ works: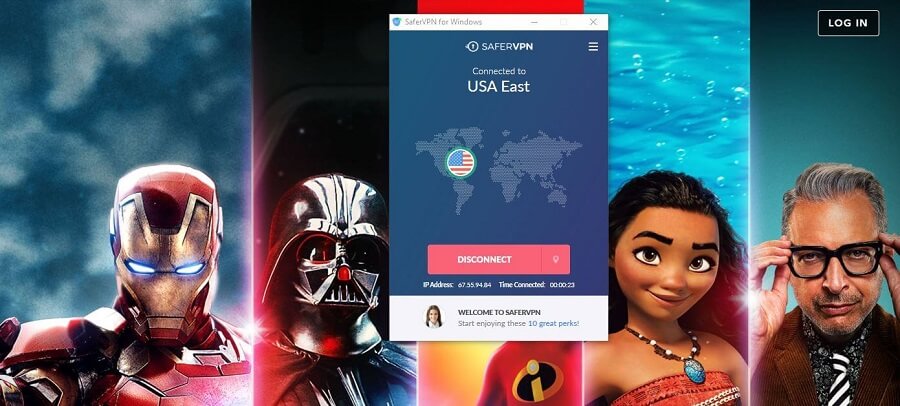 Although it looks like it does, Disney+ doesn't work. When you click on the Login button in the top right corner, nothing happens. And when we manually access the login screen from the Google search, we get an infinite loading screen. Below is a screenshot of DAZN.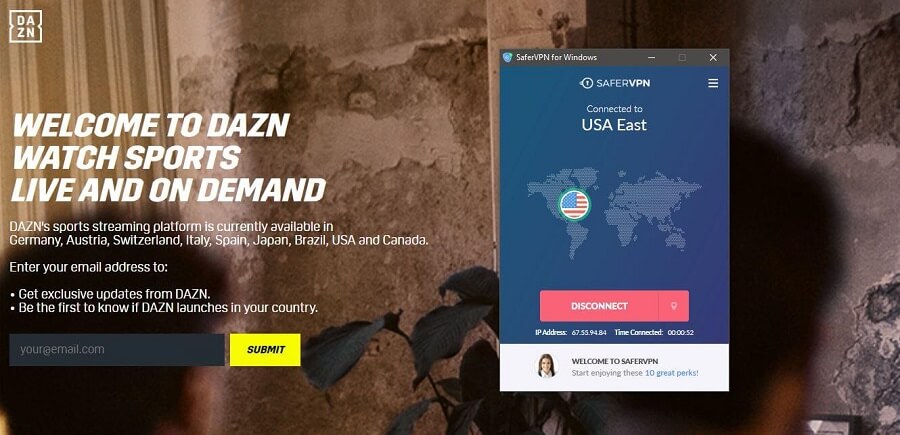 As you can see, it doesn't work. Finally, here's the test for BBC iPlayer: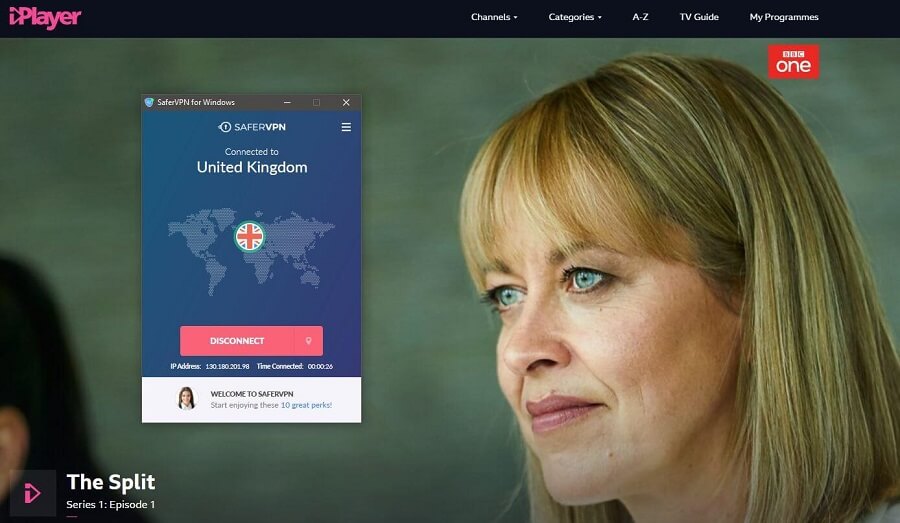 Surprisingly, BBC iPlayer worked flawlessly. So, how good is SaferVPN for streaming? It unblocks US Netflix, BBC iPlayer, and HBO Go. If we count in the slow speeds that we mentioned earlier, we can come to the conclusion that it's not very good.
If it unblocked at least Disney+, it would have been a bit better. But, with these speeds, you'll be happy if you manage to watch even 720p movies and shows without buffering.
Confidentiality, Security & Logs
SaferVPN, judging by its name, is all about safety and security. To verify that, we decided to take a look at its privacy policy and see if they are what they represent themselves to be: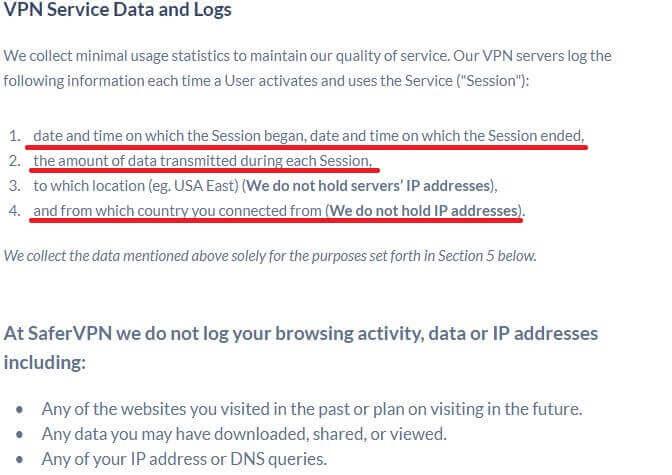 In short, this is what the provider stores – and it's not very good! We see that they store some session info, like the time and date when the session began and ended. Furthermore, they also store the amount of data you used during your sessions and even the country you connected from. If you ask us, that's a gigantic red flag.
We scrolled a bit below and found this interesting line that made us even more suspicious:

As you can see, they can disclose your personal info to third parties if they need to comply with the law, regulation, legal request or legal process. Two thoughts come to our minds now.
Will the 14 Eyes ever request any user data from the company? Since they, as you can see, need to "comply with the law." If so, this means that they'll jeopardize your privacy in a blink of an eye.
And another thing – if they "don't store any data", how can they give it to third parties?! We hate these shady zero-log policies and this one IS indeed very shady. Before we discard it completely, let's take a look at the IP leak test.

Oh, boy. You can see that we used the Romanian server in this screenshot and what does the IP leak test say? Well, it says that we're in the UK and shows a bunch of other DNS addresses below. So, there are DNS leaks, meaning that you'll rarely be 100% secure while using it.
With these two tests alone, we don't have anything else to talk about its security. We'll only say this, though – it is NOT secure, so don't buy it.
Can I Do Torrenting Safely with SaferVPN?
For those still with us, let's see if the provider allows torrenting. In theory, it does. However, it's very limited. You only get three servers that allow P2P activities:
Just to check if our IP isn't leaking, we used 1337x, one of the best-known torrent sites. Here's what we got:

As you can see, we're completely anonymous in this case but we're using the Romanian server. When we tested one of the three servers above, we successfully downloaded a few games and movies, without the provider emailing us about copyright infringement.
The takeaway is that SaferVPN allows torrenting but to a very limited extent. If these three servers are under heavy load, you can forget about fast torrenting speeds, which will worsen your P2P file-sharing experience.
Can I Use SaferVPN to Bypass Censorship?
Censorship is something that you might not encounter if you're from Germany, France, Italy, Denmark or Sweden. But, if you're from China, Russia, Turkmenistan or the UAE, you know what we're talking about.
The Great Firewall of China still remains the greatest weapon in fighting against internet freedom and VPNs. Because of that, only a handful of providers are great options for bypassing censorship. SaferVPN is, unfortunately, far from being great.
Due to the DNS leaks, inconsistent connection, and seemingly "faulty" security protocols, this provider will not be able to bypass censorship. Users from China will have to look for a better option such as ExpressVPN that works effortlessly.
Not to mention that this applies to users from other censorship-laden countries like the UAE, for example. Du and Etisalat are doing a bloody good job of blocking out VPNs, so a weak provider like this won't work there.
All in all, SaferVPN can't bypass censorship.
Pricing and Plan Options
You're probably wondering how much can a provider like this cost. Let's just say that it's not as cheap as you might expect it to be. Here's the pricing from its website: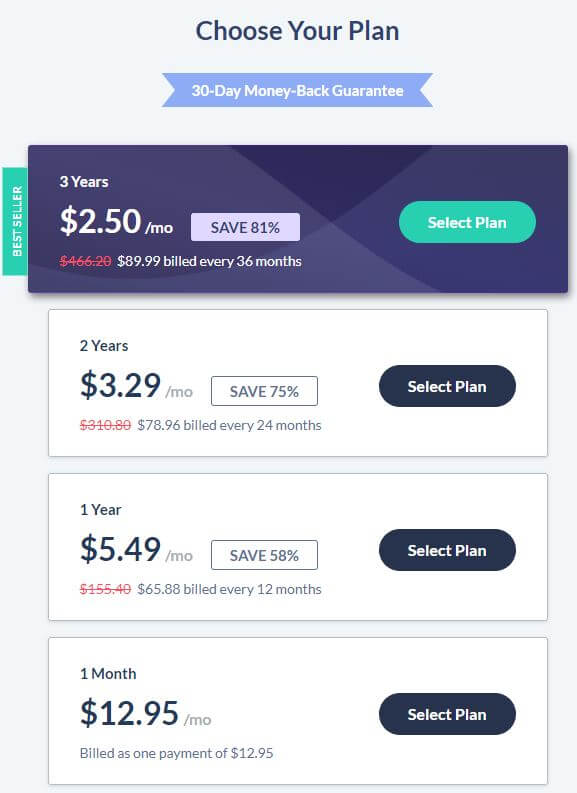 The plan at the top is the cheapest one. It's a 3-year plan that costs $2.50 a month or $89.99 every 3 years. Underneath, there's a 2-year plan at $3.29 a month or $78.96 every 2 years. Then, we have an annual plan at $5.49 a month or $65.88 a year, and finally, there's a very expensive monthly plan for $12.95.
Judging by its pricing, we still don't recommend it. If you want a 3-year plan, you can get CyberGhost for $2.75 a month. It's a tad bit expensive but it's a much better provider. Those who want a 2-year plan can go for Surfshark that costs $1.99 a month, and for an annual plan, the best option is ExpressVPN, which is $6.67 a month.
All of these providers are miles ahead of SaferVPN. Nevertheless, there are the payment methods that the provider supports: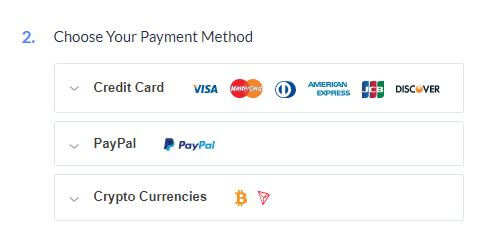 There are cryptocurrencies, which is good to know. In case you want a refund, you can request it via the live chat, like this: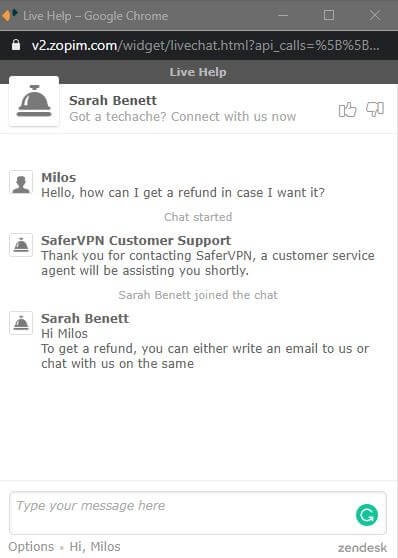 Regarding refunds, here are their refund policy, which is crystal-clear:

As you can see, they offer a 30-day money-back guarantee for all plans. Of course, if you buy it directly from the provider. If not, you'll have to request a refund from the third-party seller you used.
How Can I Contact SaferVPN?
In the previous section of our review, we already mentioned one way of contacting SaferVPN – the live chat feature. The image below shows you all the methods for contacting SaferVPN: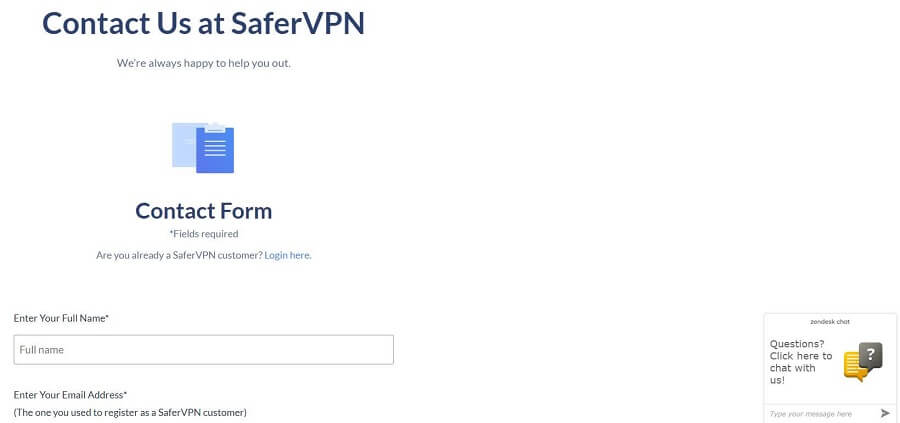 You can either submit a ticket or use the live chat shown on the right. To submit a ticket, visit the site and click on the Support tab above. If you go for this method, you'll get your answer in about 24 hours. The live chat is much faster and in our tests, we got a response within 30 and 60 seconds on average, which is very good.
Whenever the live chat is there, we don't have anything to complain about, unless customer support is really bad. Fortunately, that is not the case here.
The Special Functionalities
The special functionalities are here to make your experience with a particular VPN richer. Unfortunately, SaferVPN didn't do much in this regard, so we only have a single special feature:
Automatic Wi-Fi Security
This functionality isn't anything we already haven't seen. Here's how it looks in the app: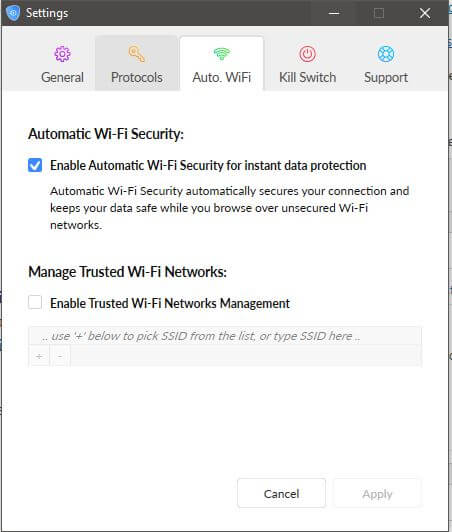 When you enable it, it allows you to add trusted Wi-Fi networks and on these networks, the VPN won't enable itself automatically. But, if you're connected to a Wi-Fi network outside of this list you made, SaferVPN will automatically protect your connection.
It's a handy feature and it's good that it's here. We would lie if we said that we didn't expect a bit more, especially because CyberGhost, NordVPN, and ExpressVPN all offer more in this compartment.
Other Things You Should Know
Since this is an in-depth review, we want to cover as much as we can, so you can determine if SaferVPN is good for you. This one, as we already said, probably won't cut it but let's talk about other things you should know regardless.
Number of Servers
SaferVPN is a very modest provider, which isn't something that will make you happy, especially when talking about server count.

With a bit over 700 servers, this is a very small provider that won't leave you a lot of choices. And given that only a handful of them support P2P and streaming, you'll be left with a bunch of useless servers that will only serve you for hiding from your ISP.
Number of Countries
As seen from the previous image, they offer 34 countries, which isn't as bad. Also, beware that there are servers in Russia, which can be a bit of a problem. Russia wants all the VPNs operating there to provide users' data if the government requests it.
If they don't accept it, they're forced to remove the servers from the country, which is the case with ExpressVPN and NordVPN, for example. SaferVPN, on the other hand, didn't do it. This means that they've most likely complied with the Russian laws, which is a final nail in their coffin, regarding security and privacy.
Number of Simultaneous Connections
The provider offers 5 simultaneous connections.

If you want more, you can add each connection for $1 per connection, which is pointless since they support routers. There's even a plan for small businesses that allows up to 10 connections, which is, once again, pointless, except if your employees are working from home and not in your company, under the same roof.
What Do Other Users Say About SaferVPN?
Before we conclude this SaferVPN review for 2021, let's see what other users have to say about this provider. We'll start with Reddit first:

This user tells straight-up that he hates the provider. Interestingly, he had the same problem as we had when testing it, as he had to change the protocol due to being unable to connect to some servers. He also mentions pop-ups from the Windows app, which we didn't encounter.
Still, the first issue itself is enough to make your life with this VPN a living hell. Now, let's go to the Apple Store: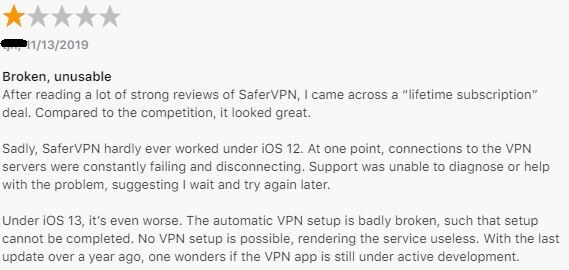 The iOS app is, as you can see, broken. We're glad that we aren't the only ones experiencing problems with their servers and connections. This user points out this issue that he experienced when using iOS 12. When updating to iOS 13, this issue became worse, making the service useless. On the Google Play Store, the situation isn't very different:

This feedback was left in February 2021, so it's a new one. The user tells that he couldn't establish an internet connection and that he experienced login error messages frequently. Both issues are the ones we encountered, although we encountered the second issue only two or three times. Finally, here's a review from Trustpilot:

We aren't exactly sure what this guy is trying to tell. He talks about the company selling your data to third parties, which in theory, could be the case since they collect plenty of data. After all, this one-star review sounds like he's pissed off at SaferVPN for this, or any other reason.
Conclusion: Should You Take It?
This will be a very short conclusion. You should not buy SaferVPN for multiple reasons as you might have seen during our complete review. Its speeds are disappointing, it isn't great for streaming, offers very limited P2P support and most importantly, it's not safe due to its DNS leaks and false zero-log policy.
For this price, you're better off buying CyberGhost, NordVPN or ExpressVPN that costs a tad more but is the best provider on the market. Save yourself some headaches and buy a proper Virtual Private Network – not this one.