Taiwan is a country with some breathtaking cities and landmarks which can easily be a good option for your next vacation. To make things better, the country is free, especially judging by the Freedom House rating of 93/100. But, the question is – why do you still need a VPN for Taiwan? Well, a service like this is much-needed wherever you are. And in this country, there's still some censorship and copyright issues you can encounter from time to time. If you wish to find out more about the best providers for Taiwanese soil, stick with us till the end.
Why You Should Use a VPN in Taiwan?
Whether you're in Taipei or Sun Moon Lake, a service like a VPN helps you improve your privacy and reclaim your internet freedom. Here's why using it in this country might be a bloody good idea:
Bypassing Censorship
During the past two decades, this country saw a dramatic political evolution. Still, the government and the ISPs are turning to censorship to some extent. Although it's not as harsh as in China or Russia, you'll notice that some websites or pages are blocked.

As always, the reason for this is protecting the residents from stuff that they shouldn't see. Simply put, the government uses this method for keeping things stable and keeping national values in the country. This, in our opinion, is completely okay, as long as it doesn't hinder your basic online experience.
In this country, you'll be able to access all of the popular social media sites but be careful not to go into political debates online. Overall, censorship is just a mild problem here that you probably won't even notice that much.
Torrenting Safely
When it comes to torrenting, Taiwan is a bit tricky, which is kinda odd for a country that allows practically everything. The new law emerged in 2009 and it's basically a three-strike rule, disallowing P2P file-sharing. Of course, this applies only to copyrighted stuff, although only in theory.
In reality, the story is different. Your Internet Service Provider might see that you're using BitTorrent. And even if you're downloading royalty-free content, it can still assume that you're pirating, hence issue a strike against you.
We've also heard of ISP throttling in case this happens and some users even got sued after some time. Thankfully, using a VPN in Taiwan will help you solve this. It will encrypt the data you're downloading, making it invisible to your ISP.
Bypassing Geo-Restrictions
Taiwan isn't a country where you'll easily enjoy Netflix, Hulu, HBO Go, and other geo-blocked sites. Sure, you can get a Taiwanese catalog but compared to the US one, it's bare-bones. You want a VPN with servers in the US to access the American catalog of Netflix.
Furthermore, you want a provider with lots of servers worldwide, which will further expand your possibilities. All in all, this service lets you change your IP to another country, hence allowing you to access the content specifically made for it.
Beware that not all VPN providers are great in this regard, so you'll have to choose carefully. Or perhaps, just scroll down and use one of those we mentioned below – they're all great for bypassing geo-blocks!
Best VPNs with Servers in Taiwan
Being a Taiwanese and living abroad might be a heart-breaking situation for you. Missing your favorite local content isn't the greatest feeling in the world, especially if you're used to that beautiful news reporter or whatever it is that you like. Well, here are the best VPNs with servers in Taiwan:
ExpressVPN: ExpressVPN is a blazing-fast provider that will rip geo-restrictions to shreds. Thankfully, it has servers in this country and they support almost all of the provider's security protocols and P2P file-sharing.
NordVPN: The provider sports 5,500+ servers worldwide, of which 16 of them are in this country. Although they don't support P2P, you get a Double VPN feature, which is a great solution for added security.
CyberGhost: CyberGhost has 10 high-speed servers in Taichung and 6,200+ of them worldwide. This behemoth is fast, allows you to bypass geo-blocks, and is one of the top-rated VPNs in 2021. Although you don't get P2P support on these servers, you can at least watch local TV channels.
Getting a provider of your choice is easy as a feather. Click on the provider's name, get a subscription, install the apps, and voila – you're good to go!
Best VPNs for Taiwan
Whether you're just an average Joe or tech-savvy Taiwanese resident, using a good Virtual Private Network is never a bad decision. Here are the best choices for you:
1. ExpressVPN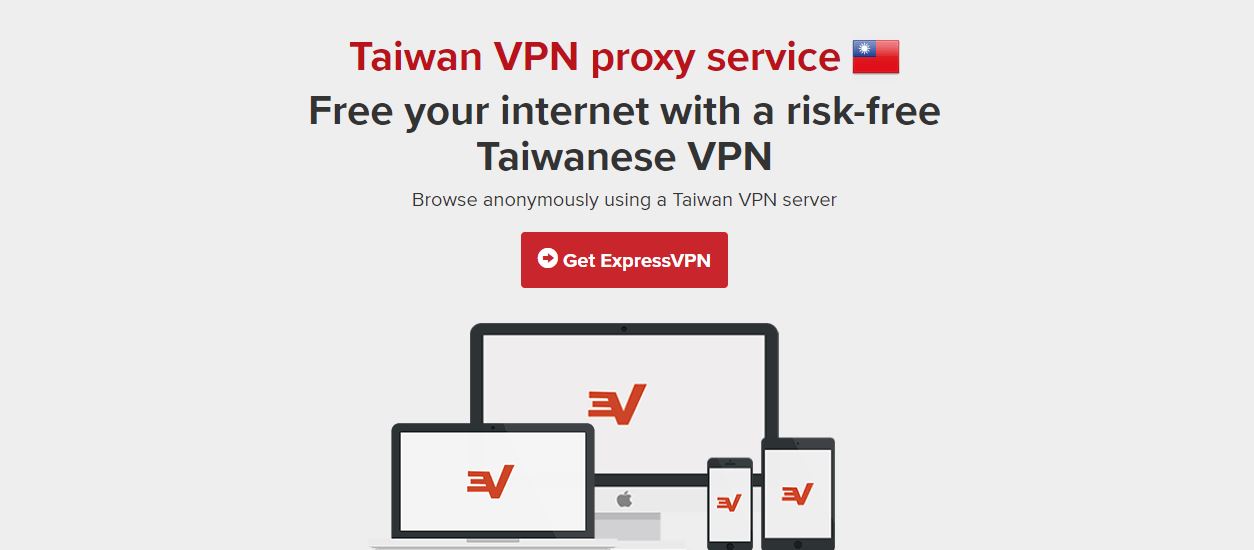 ExpressVPN is, as we said, the fastest VPN to use In Taiwan for 2021. But, did we say that it's also the best overall? We didn't? Well, here you go – it's the best VPN right now.
There are multiple reasons for that. First of all, it's very secure and it's possible to use it on your iPad, iPhone, Windows, Linux, macOS, and other devices, including routers.
Speaking of security, the company is from the BVI, hence you get a no-log policy right away. To make things more secure, you get 256-bit AES encryption, kill switch, and DNS and IP leak protection. Those who would rather enjoy Netflix should know that this is a beast with 3,000+ servers, some of them for unblocking streaming platforms.
Not only will Netflix work but also other mainstream streaming services. At the moment, they offer a 49% discount and 3 months free for a 12-month plan. Any reasons not to get it? That's right – zero reasons.
Enjoy Fast Speeds With ExpressVPN >
2. NordVPN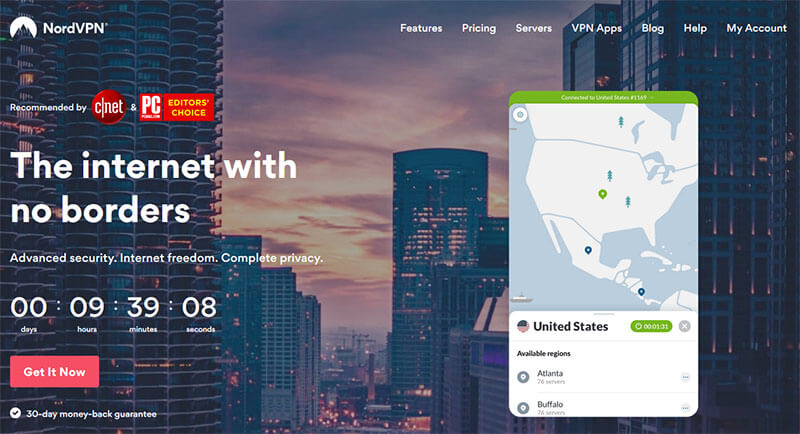 NordVPN is a Panama-based provider that has one of the largest server counts, just 700 servers short of CyberGhost. This fact alone is enough to make you consider buying it. But what if we said that it's almost as fast as ExpressVPN?
And what if we said that it's as secure as Alcatraz? You get a zero-log policy, military-grade encryption, and even special features like CyberSec (ad-blocker), Double VPN, and Onion Over VPN. Bypassing geo-restrictions is very easy, and since it unblocks every blocked site, you're going to enjoy it like icecream in the summer.
This year is great for saving some cash. If you don't believe us, click on the button below and see what we're talking about.
3. CyberGhost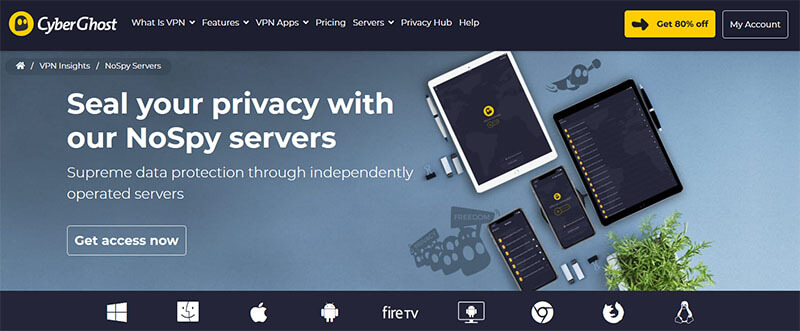 Romania is one of the most VPN-friendly countries and here, CyberGhost enjoys its stay. This company has been around for quite some time, which can be seen in their huge server count. In terms of security and privacy, CyberGhost is one of the best in the business.
256-bit AES encryption, zero-log policy, and tons of other features are awaiting you. Newbies will also love CyberGhost for its simplicity and very low prices. It's one of the cheapest VPNs on the market, yet very fast and capable of destroying geo-restrictions in Taiwan… or elsewhere.
With its dedicated servers, you'll be able to unblock the internet like a boss. And who doesn't like being a boss? Take a look at its offerings by clicking on the button below.
Enjoy CyberGhost's Dedicated Servers >
Why You Should Avoid Free VPNs?
Free providers often seem like a good deal because they're… well, free! But, there are some compromises here. For example, the lack of no-log policy, which means that you're not safe online. They often store logs about your internet history, location or IP, which they can later sell to third parties.
Furthermore, you get limited speeds and bandwidth, resulting in a poor experience overall. We would say that you go for a premium provider, especially since there are a lot of them at a discounted price. Life is too short for wasting time on low-quality VPNs, right?
That being said, avoid free VPN providers for Taiwan. They're not good AT ALL!
Summary
To summarize, the winner of this battle is ExpressVPN, which makes it the best choice for Taiwan. It's fast, reliable, offers 24/7 customer support, and rock-solid security. We have no doubts you'll enjoy the other two providers but if you want a no-compromise experience, this is the one to go for.