People from around the world see Germany as one of the most influential countries. Not only it is known for exceptional football, but also high-quality cars, and unique engineering. Those who live in this country know that it's relatively free in terms of internet access. You can access social media sites and enjoy the freedom of speech. But, why do you even need a VPN in Germany? Well, you're going to find that out if you keep reading.
Why You Should Use a VPN in Germany?
Before we give you a list of the best VPN providers for Germany, we must explain why using this service is a smart move. Pay close attention to what we have to say, as you may learn something you didn't know about your country! Here are the reasons why you should use a Virtual Private Network here:
Avoiding Government Surveillance
Are you a German resident? Or perhaps, are you looking to spend your holidays in this country? Here's one fact – this country is a part of the 14 Eyes. Did you know that? This is crucial info that makes this country not very safe and not very keen on respecting your privacy online. Countries from the 14 Eyes are known for excessive government surveillance, as well.
This means that Internet Service Providers (ISPs) MUST preserve users' data for a certain period of time. It can be two, three, or ten months – that's unknown. Furthermore, the data they store about residents can at any moment be requested by the government. Should the government request that your ISP will give it away, jeopardizing your privacy.
Even if you didn't do anything wrong and the government doesn't react, it's still not pleasant knowing that someone breathes behind your neck. Not only will your ISP see what you're doing online, but also search engines, trackers, advertisers, and so forth.
If you care even the slightest about your privacy, using a VPN in Germany is a must. It will obfuscate your IP address and secure your connection with military-grade encryption. That way, no one will be able to track your activities online.
Torrenting Safely
What about torrenting, huh? Guess what – German government hates it! We've heard about numerous cases of people getting fined thousands of euros simply because they've downloaded a movie through one of the torrent sites. Interestingly, many torrent websites are banned in this country, yet torrenting, as a P2P activity, is legal.
The only thing that's illegal here is violating copyright. But then again, who guarantees you that you didn't accidentally violate it? And even if you didn't, the government can still crack down on you and see you as a suspect.
That's how things are pretty much everywhere and for that reason, you need a rock-solid provider for this purpose. You can even watch Popcorn Time safely with a VPN, which is another P2P activity.
Unblocking Streaming Websites
Before you say that Netflix Germany exists, let us tell you something – it's nothing compared to Netflix US. Sure, you can watch Netflix, but the largest catalog of movies and TV shows is the US one.
We can extend it to other streaming platforms as well. Amazon Prime Video, DAZN, Disney+, HBO GO, and BBC iPlayer are all foreign platforms that won't go well with a German IP. BBC iPlayer is available in the UK and HBO GO, for example, is in the USA. If you want to unblock any of them, you'll need the help of a great VPN that is working properly in Germany.
It allows you to alter your IP address, thus access blocked foreign streaming platforms.
Best VPNs With Servers in Germany
When it's traveling season, you want to be able to enjoy some of the local TV shows on Das Erste or Hessischer Rundfunk abroad. When you have this service, it's very easy. Here are our top 3 picks with servers in this country:
ExpressVPN: ExpressVPN is the best provider on the market. It combines enormous speeds with the ability to bypass geo-restrictions and because of that, it's the best choice for this country. Moreover, it offers 3,000+ servers in 94 countries worldwide.
NordVPN: NordVPN is a relatively affordable solution that offers a lot for the money. With thousands of servers worldwide, decent speeds, and supreme security, it's an ideal choice for German residents.
CyberGhost: Lastly, CyberGhost is here for those who want to save a bit of cash. An affordable solution like this often comes with plenty of downsides, but this one is an exception, making it a great choice for those tight on a budget.
Getting a provider of your choice is very easy. Just click on the one you want, subscribe, download the respective apps, and enjoy your internet privacy with a single click!
Best VPNs for Germany
If you're a German resident who doesn't travel a lot, you just want a reliable provider for all purposes. Here is our list of top 3 VPN providers for Germany:
1. ExpressVPN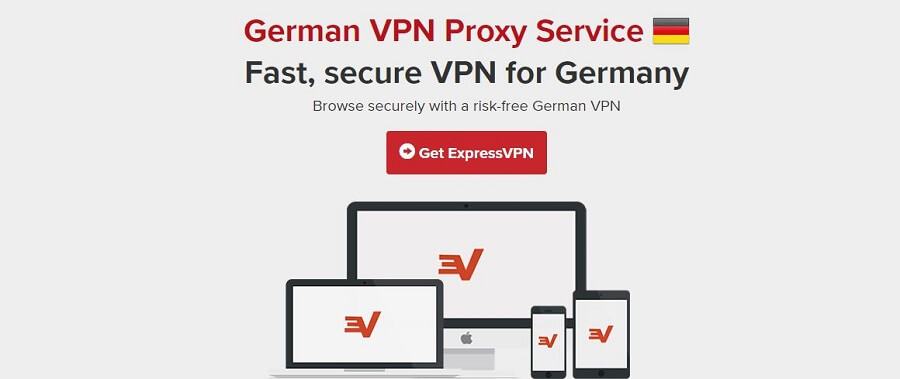 As we mentioned above, ExpressVPN is the best VPN on the market, and especially in Germany. This is quite a bold statement, but we'll explain. First of all, it has the fastest speeds, making it great for torrenting, streaming, and even casual internet browsing. Furthermore, the provider unblocks EVERY streaming website, from Netflix and HBO GO to Disney+, DAZN, Amazon Prime, and many more.
Security-wise, Germans will be pleased to know that ExpressVPN got their back all the time. The provider comes with a zero-log policy and uses military-grade encryption to secure your connection. We like the addition of split tunneling, as well as a kill switch, should things go south.
You can even use your VPN with Kodi, which will give you additional streaming capabilities. ExpressVPN offers up to 5 simultaneous connections and supports routers, too. With a connection to the router, you can protect 16 to 32 devices simultaneously in your house.
Right not, you'll get a 49% discount and 3 months free for a 12-month subscription plan if you buy ExpressVPN. Do so by smashing the button below!
Get Supreme Speeds in Germany With ExpressVPN >
2. NordVPN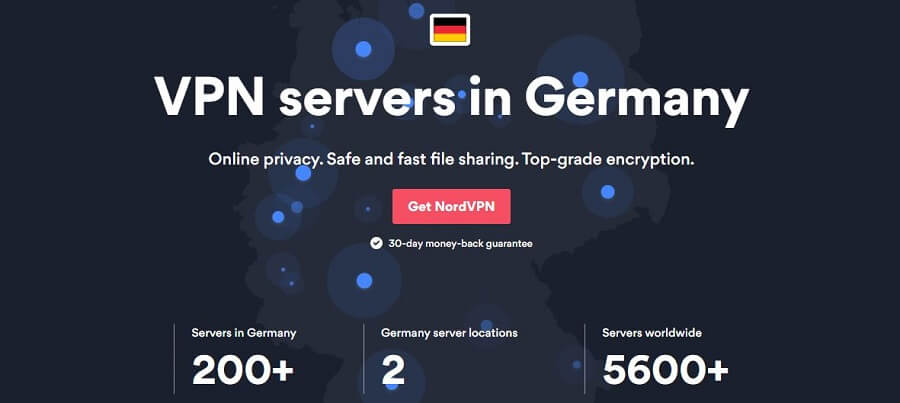 Will 5,700+ servers in 59 countries suffice for you? If so, NordVPN might be the next provider for your enjoyment. This is a provider from Panama, a country outside the 14 Eyes. In other words, it isn't a victim of data-retention laws, making NordVPN a perfect privacy and security solution.
You get 256-bit encryption, an automatic kill switch, and other advanced features. One of them is CyberSec for blocking ads, and for additional security, Double VPN is ready. NordVPN even works in China if you use obfuscated servers, so if you're traveling there, there's your chance!
Speed-wise, NordVPN is on par with ExpressVPN. Coupled with the fact that it works with Netflix and Hulu, this provider is perfect for streaming. And since it doesn't store logs, you can use it for torrenting even in Germany – hell yeah!
Stay Safe Online in Germany With NordVPN >
3. CyberGhost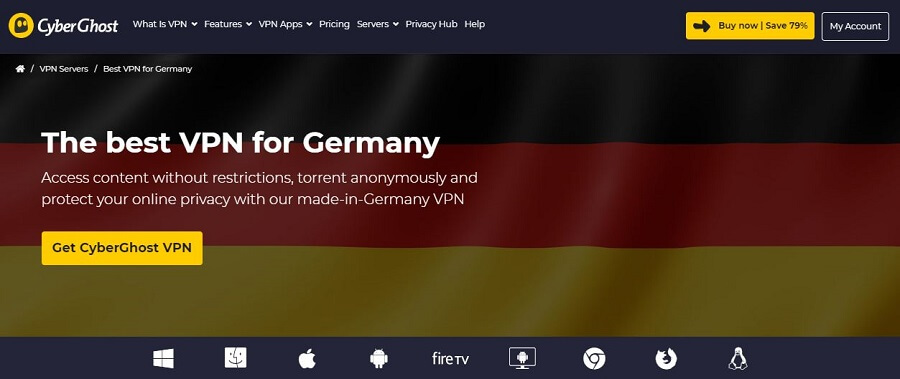 CyberGhost is a perfect money-saving option with lots of features. It offers the largest server network of 7,000+ servers in 90+ countries worldwide and it stores no logs of its users' browsing history. The addition of dedicated servers is a welcome one, as they allow you to unblock popular streaming websites.
The provider can also pride itself on having some of the fastest speeds around. With its speeds, you'll enjoy torrenting, streaming, or listening to music on YouTube. As is the case with the aforementioned providers, CyberGhost uses 256-bit AES encryption combined with an automatic kill switch.
For those willing to save a few dollars, this is a great solution. If you're planning on buying it, we recommend its 3-year plan, as it's the cheapest one. This plan gives you up to 7 simultaneous connections and 24/7 support available via live chat – everything you need to enjoy your online adventures.
Enjoy Your Privacy in Germany With CyberGhost >
Summary
To summarize, the best VPN for Germany is ExpressVPN. Preserving privacy in this country is getting harder each day and this provider is here to mitigate that problem. With a single click of a mouse, you can easily change your IP address with it, rendering yourself invisible to the watchful eyes of your ISP and the government.