With all the fancy security features that premium VPNs offer, it's hard to make the right choice. Among them, a very popular feature is called split tunneling, and it's not as common as you think. It lets you split your traffic into two parts, making it easy to decide which part of it is going to be encrypted and which will use your native IP. Let's see which providers offer it and why it's important for VPN users.
Best VPNs with Split Tunneling – 3 Best Picks
Right away, it's time to talk about the best VPN providers that offer Split Tunneling feature. Our top picks are below, so don't be afraid to scroll down!
1. ExpressVPN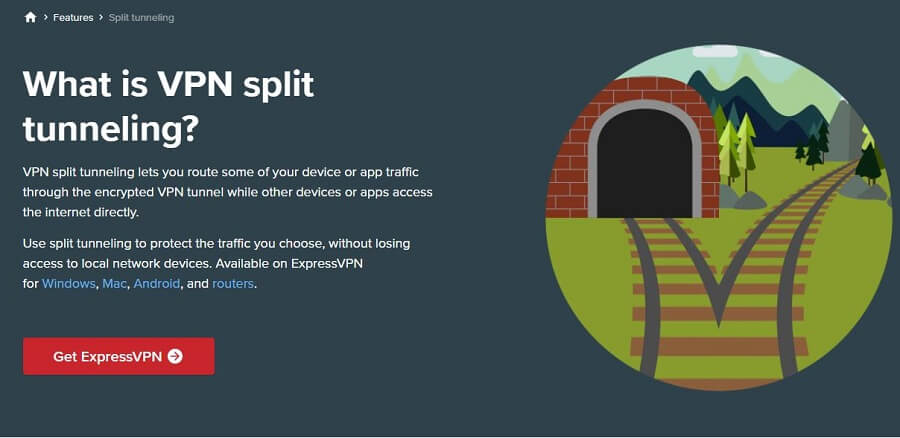 Without a trace of a doubt, ExpressVPN is THE best provider with this functionality. Let us tell you why. First off, the provider is available for all major platforms, including routers. Of course, split tunneling is available for all the devices, making it easy to take advantage of it.
You can find it in the settings menu, where ExpressVPN lets you include or exclude certain apps from the list. This list consists of the apps that will or will not use VPN tunneling. If you add a particular app, for example, it will use your native IP, without tunneling or encryption.
On the other hand, you can add an app that must use a VPN, where the encryption and all security features will apply. This will come in handy for accessing foreign sites and using online banking. An app that requires bypassing geo-restrictions can benefit from a stable VPN connection.
Conversely, you want your native IP for accessing your local bank account, or else, it will lock you out from it. The thing that makes ExpressVPN best in this regard is that it offers split tunneling on a router!
All you have to do is connect ExpressVPN to your router, and then, connect your devices to it. The provider will show you all of the devices, where you can decide which one will use a VPN tunnel and which will be unprotected. Moreover, devices don't need to be connected to do so.
Other features of ExpressVPN are standard. There are 3,000+ servers in 94 countries, 256-bit AES encryption, and 24/7 live chat support. The provider is fully capable of letting you watch HBO GO all around the world and unblocking Netflix, as well.
Should you decide to buy it, be aware of its49% discount and 3 months free for an annual plan. Currently, this offer makes it very affordable.
Enjoy Split Tunneling With ExpressVPN >
2. Surfshark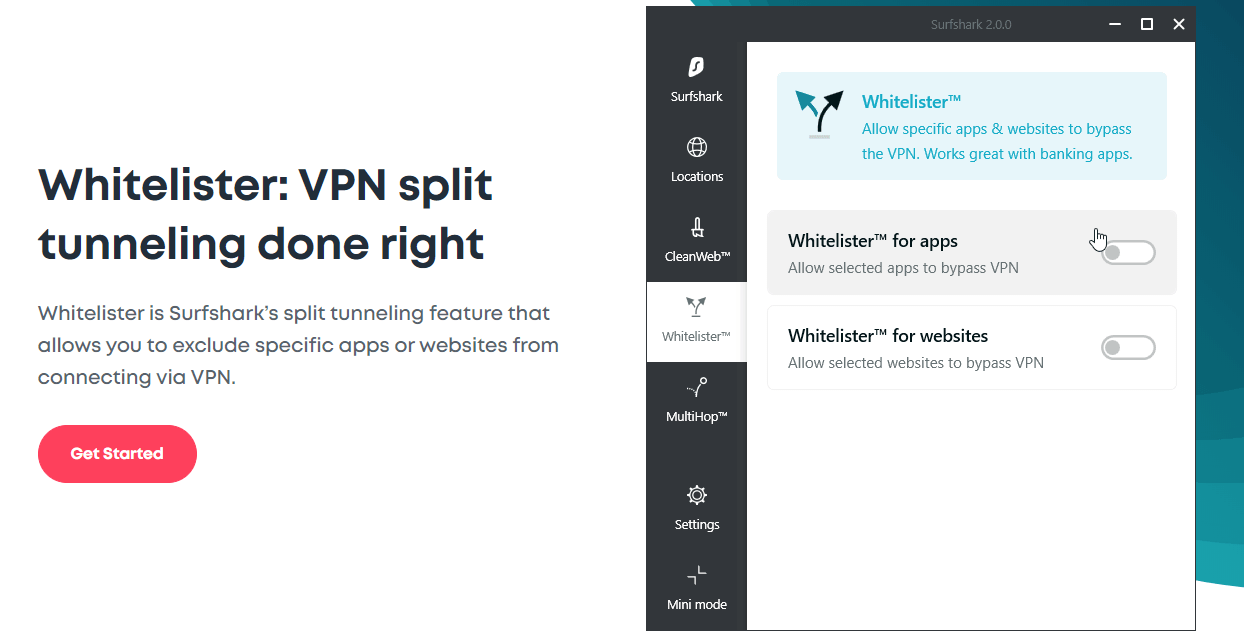 Surfshark is a provider that made significant progress in the past few years. Initially, it was a very small company with a few hundred servers. Nowadays, it has 1,700+ of them in more than 60 countries.
Among all the functionalities, Surfshark offers split tunneling of course! The question is – how good it is here? Well, pretty good, let's just say! Enough to be in this ranking of the best VPN with Split Tunneling. Surfshark names its feature Whitelister, and rightfully so, given its function.
When you open it, it gives you the ability to use split tunneling in two ways – on an app and on the web. The first method is easy. You can select which apps will use a VPN and which apps will bypass the VPN network.
On the other hand, you can select websites and IPs to bypass the VPN network, which is super-handy. This allows you to nominate your local shop's website or bank account, as they both require an IP from your country.
Surfshark is really good for bypassing geo-restrictions. It's the best VPN to use on macOS and platforms like Windows, Android, and iOS. Furthermore, it's from the British Virgin Islands, far from the 14 Eyes, so it doesn't collect any logs of your online activities.
This, in conjunction with military-grade encryption and a kill switch, makes it very secure for day-to-day use. Normally, it has solid speeds for browsing and streaming. Otherwise, we wouldn't list it!
Use Surfshark's Whitelister NOW >
3. CyberGhost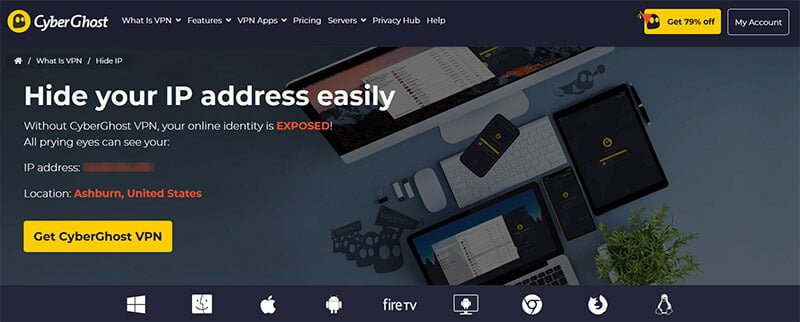 CyberGhost, along with Surfshark, is a very affordable provider. These two are the best cheap VPNs around, with CyberGhost being a tad more expensive. This price increase reflects on the quality, making this provider a bit better option.
However, when it comes to split tunneling, CyberGhost isn't very impressive, hence it's after Surfshark. It gives you a "Smart Rules" menu, where you can choose which website will use or not use the VPN tunnel.
And yes – this applies only to websites! The silver lining is that OpenVPN is the default protocol here, although you can't change it for this scenario. Once again, we don't think that's a big deal, given that OpenVPN is currently the best security protocol.
Split tunneling isn't the main selling point of CyberGhost. It's its price-to-performance ratio. For a very small price, you get 7,000+ servers in 90+ countries around the globe. There are dedicated servers for streaming and P2P, which will let you enjoy these two activities safely and securely.
Even better, CyberGhost packs a punch with its speeds, almost coming close to ExpressVPN. When streaming or downloading torrents, this will give you a significant boost and make everything buttery-smooth.
Lastly, it uses 256-bit encryption and an automatic kill switch for security. And if you want to connect it to multiple devices, there are up to 7 simultaneous connections on a single account. Get its 3-year plan and a 45-day money-back guarantee will greet you – can't get more generous than this!
Take Advantage of CyberGhost's Split Tunneling >
What is Split Tunneling?
Now that you know what is the best VPN with split tunneling feature, let's see what is split tunneling and how it works.
When you connect to a Virtual Private Network server, the inbound and outbound internet connection is encrypted and you get a new IP. Logically, that's always a good thing, right? Well, not exactly. Sometimes, you want to access certain sites and platforms with your native IP address.
In that case, you don't want a connection with a server in another country. Some VPNs allow you to add exceptions to this rule and access certain sites or apps using your real IP.
That's why it's called split tunneling. You "split" your connection in two. One part goes through the tunnel, while the other stays unencrypted.
The best thing is that it works each time you connect to a VPN server. You just need to do so, and the provider will automatically apply the rules you set. Then, when you visit certain websites, you'll access them either with a fake IP or the real one, depending on your preferences.
Why is Split Tunneling Important?
Why would anyone want to use this feature? To be honest, there are many situations in which connecting to a VPN server won't be beneficial.
The first case is if you want to access your bank account. If you do so with your real IP address, you'll have no problems. However, if you connect to a server in another country and try to do so, the bank will lock you out.
It happens because it thinks that you're an intruder, preventing you from accessing your funds.
Another case is when you want to do some local shopping. How will you order anything to your address if the site sees that you're located in another country? Lastly, you can choose not to use a VPN connection to preserve internet speeds on the website or app you want.
All VPNs reduce your native speed to some extent, which is a small price to pay for rock-solid security. By not routing the app through a tunnel, you can rectify this issue at the cost of online safety.
Is Split Tunneling Safe?
Split tunneling is safe if you know how and when to use it. Visiting 99% of the websites online with no encryption is a devil's business. With trackers, advertisers, and hackers lurking around the corner, you're all but safe without this type of protection.
But, before you start using it, ask yourself which websites you plan to implement it on. Is it your local bank website? Is it a local Netflix catalog? In that case, you're using it right. Your local bank can't do you any harm, nor can Netflix, which is a legal platform.
When visiting social media sites, downloading torrents, or accessing the Darkweb, for example, it's mandatory that your traffic goes through the VPN tunnel. You want to avoid the prying eyes of your ISP and the government which will track your online activities daily.
So, to digress, this feature is indeed safe. Just make sure you know how split tunneling works and you'll enjoy using it without any consequences.