Did you know that there is a trick to unblock and watch British TV in the US? If you are wondering what we are talking about you might not realise there are geo-restrictions in place for streaming and watching TV from one country in another. Yes, if you travel to America for a vacation, for work or you relocate to the states, you are not going to be able to continue watching your favourite channels, unless you know about the aforementioned trick.
In this article, we are going to answer all the questions you might have associated with geo-restrictions. This includes why TV from the UK is blocked abroad, how the blocks are enforced and how you can bypass those restrictions following our step-by-step guide.
Why British TV is blocked in the United States?
So, the first question we will answer is why you cannot stream TV Channels from the United Kingdom while being in the United States.
It all comes down to copyright laws within the UK. TV shows on British channels are only licensed for showing content in that country.
Therefore, once you leave the confines of the United Kingdom, you lose access to streaming services you have signed up for in your home country. These include such as BBC iPlayer, ITV Hub, 4OD and My5.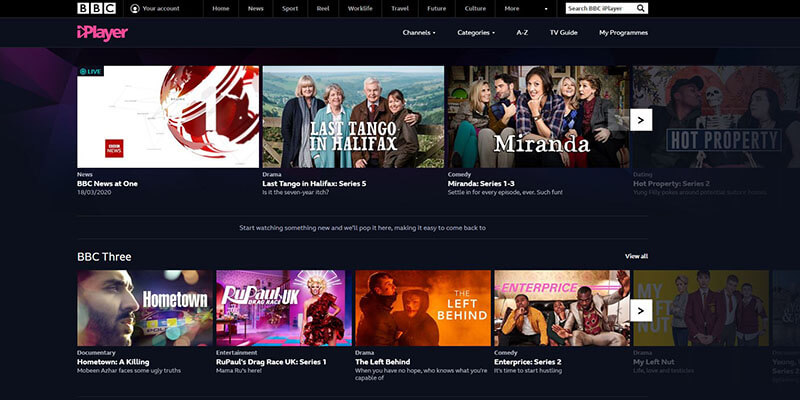 However, we are going to show you a trick that works in 2021 to unblock BBC in a few steps, along with the rest of the streaming services, including UK Netflix.
How blocks are placed?
To understand how to get a free access to UK TV from within the US you first have to realise how the blocks and restrictions are placed.
Watch your favorite channels and shows abroad with ExpressVPN >
When access to your local websites and streaming sites are blocked in other countries, it is called geo-restriction. This means restricting content based on your geological location.
The streaming service knows exactly where you are located based on your IP address. This is because each country has its own range of IP addresses and each device has a unique one.
Therefore, if you try to use BBC iPlayer website to watch some content or ITV Hub and your IP address is flagged as being in the United States, a block applies. When this occurs, the only thing you see is a notice telling you that you cannot access the website.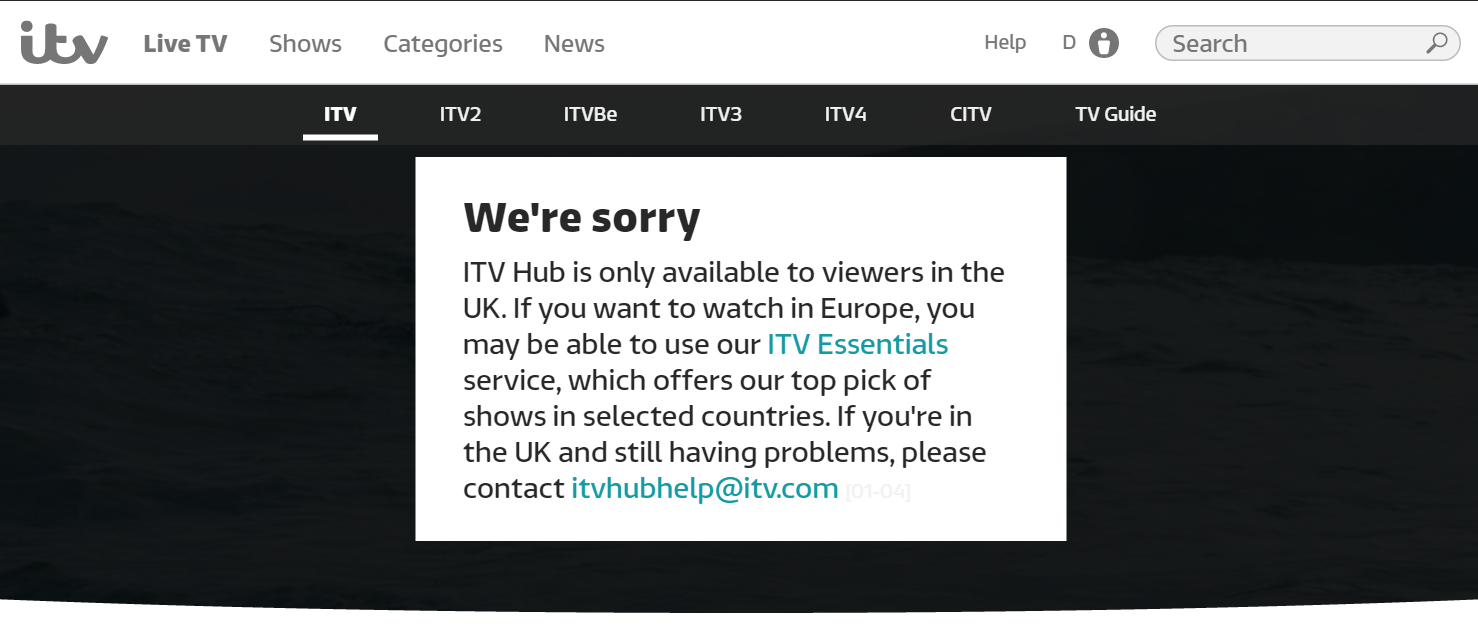 Luckily, there is a trick to avoid the blocks and this is to use a VPN to fool the website into thinking you are still located in the United Kingdom.
How a VPN unblocks restricted sites?
A Virtual Private Network can beat streaming blocks allowing you to access British TV channels at no cost, even if you're currently in the United States of America.
It does this as it provides you with what you need to be able to mask your own IP address and take one on from the United Kingdom. When you do this, it makes it look as though you are located in that country.
At the same time, data you send over the internet connection, such as the name of the website you want to visit, cannot be read as it is encrypted.
So, let us now take a step-by-step look into just how you can access and watch UK TV in America.
Steps to unblock and watch British TV in the US
You now understand why geo-restrictions apply, how they are applied and how a VPN can help. We are going to provide you with the steps required in order to proceed
1) First, choose a provider
The first step is to choose a provider and we highly recommend leading VPN ExpressVPN for many reasons. Alternatives include NordVPN and CyberGhost.
In this case, our first choice is based on the fact you need a provider that offers servers in the United Kingdom. You also need servers that are fast for streaming in HD.
2) Decide on a plan
The next step is to choose a plan with the provider of your choice. Generally, providers offer different terms, yearly, 6-monthly and paying month by month.
The biggest savings usually come with the longer-term plans. So, choose a plan, go ahead, and sign up.
3) Download and install an app
Next, decide which devices you will use to unblock and watch British Television and download an app for the device, then install it.
Providers support a wide variety of different devices. These include Windows and MacOS computers and laptops, Android and iOS smartphones, tablets and more. You can even use it on your Firestick device.
The providers we recommend offer manual installation of the VPN on compatible routers. This means you can even install it on games machines.
4) Launch the app and connect to a UK server
Finally, launch the app you installed and using the dashboard choose a server located within the United Kingdom.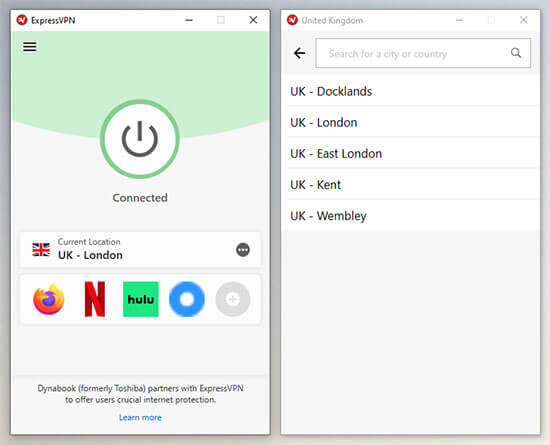 Once you have chosen a server press the "Connect" button and you mask your own IP.
You should now be able to login to your account and stream any British TV Channels.
Stream free UK TV in the US with ExpressVPN
ExpressVPN is the leading provider and our number one choice. It is perfect for streaming in HD from abroad as it offers a wide choice of servers from the United Kingdom and they are blazing-fast.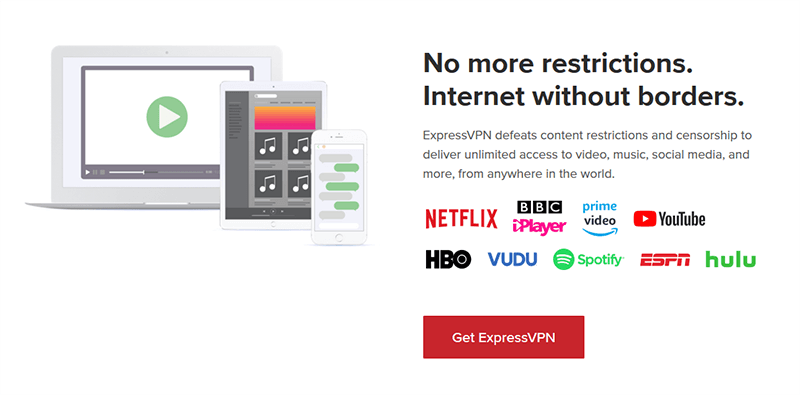 It does not have any issues beating restrictions, allowing you to watch UK TV channels in the USA easily.
The provider offers military-grade encryption to keep your online activities to yourself. It also offers a Kill Switch to stop the internet connection dead if the server connection drops. This means your true location cannot be discovered.
The one-year plan offers savings of 49%, while ExpressVPN includes an additional three-month free.
There is also a 6-month plan and pay monthly plan to consider but neither come with huge savings. NordVPN and CyberGhost are two alternatives to consider to access British TV shows while in the US, however, neither is as fast as ExpressVPN.