Among dozens of VPNs on the market, there are tons of cheap options that seem attractive to new users. Browsec VPN is, at first glance, a very affordable provider that offers quite a lot for the price. Since it isn't a very popular option on the market, we decided to test it out and see how well it fares. Before you buy/use it, we suggest you read our comprehensive Browsec VPN review for 2021.
What is Browsec VPN?
Browsec VPN is, obviously, a Virtual Private Network provider. The thing about this provider is that it's based in Russia, which is an extremely bad place for owning this kind of company.
As some of you know, the country is known for excessive government surveillance and censorship, which jeopardizes privacy and online freedom. Moreover, Russia requires all VPNs that operate there to hand over the data if it's needed.
This means that the company can, at any time, disclose your personal info to the government. Interestingly, Browsec VPN is a popular option on the Google Play Store, counting over a million downloads.
On the PC, this provider didn't fare too well, especially with more demanding users. Before even starting our review, we want to mention that Browsec VPN didn't exactly leave the most positive impression on us.
After all, our recommended option is always ExpressVPN, which is the best provider on the market. In the following review of Browsec VPN, you're going to see why we don't recommend it at all.
Compatible Devices and Ease of Use
Let's start off with the supported devices. This is very important if you want to utilize the service on a multitude of devices at your home or workplace. On the website's home screen, Browsec VPN shows what devices it supports:

As we can see, not a whole lot of them are here. It's definitely not a VPN for Roku, Apple TV, or Windows. Instead, for PC platforms, it comes in the form of a plug-in, supporting Chrome, Firefox, Opera, and other browsers.
If you plan on using it on mobile devices, that's where you're going to get a full-fledged app. Obviously, the provider puts more emphasis on the mobile platform, which isn't necessarily bad if the product is nearly perfect.
Computers
In many cases, users will take advantage of VPNs on a computer. Computers are much more versatile than smartphones, despite allowing you to do pretty much the same stuff.
For computers, as mentioned earlier in our complete review, Browsec VPN didn't put so much effort. Whether you're using Firefox or Chrome, you can enjoy the app only within the browser.
We use Chrome and the installation process is very simple. First, you need to visit the website, click on the Chrome icon, and the site will take you straight to the Google Chrome Store.

Here, just click on the Installation button on the right, and within 3 seconds, the app will be in your Chrome library. To open it, check your plugins right next to the search bar above. A single click on the Browsec VPN icon is enough to open it:
Click on the green button that says Protect Me, and the app's home screen will open.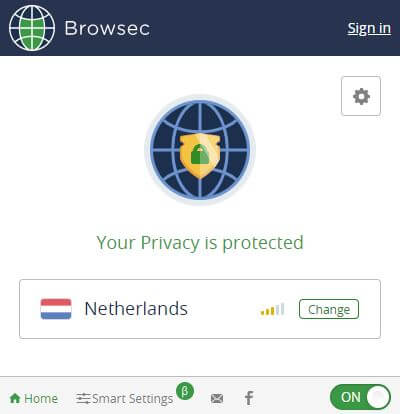 Browsec VPN is turned on by default. You can change that by clicking on the power button in the bottom-right portion of the app. To open the server list, click Change, next to the country in the image.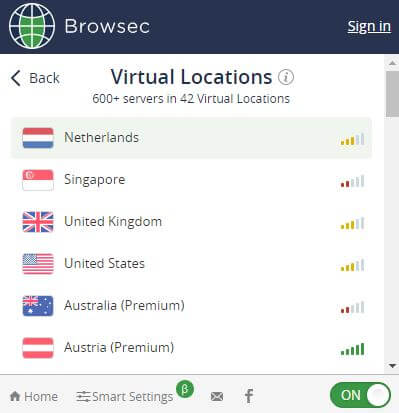 Click on the server you want here and the app will automatically connect to it.
We can see that the app is very simple to use, so even if you're a newbie, using it will be a breeze. That's one good thing about it!
Smartphones and Tablets
If you're not the PC guy or girl, you're probably spending your time on a phone, cycling through numerous images and videos on Instagram or Snapchat.
Well, even for this purpose, you need a VPN to protect your privacy. Luckily, Browsec VPN provides an app for mobile devices, that looks exactly like this: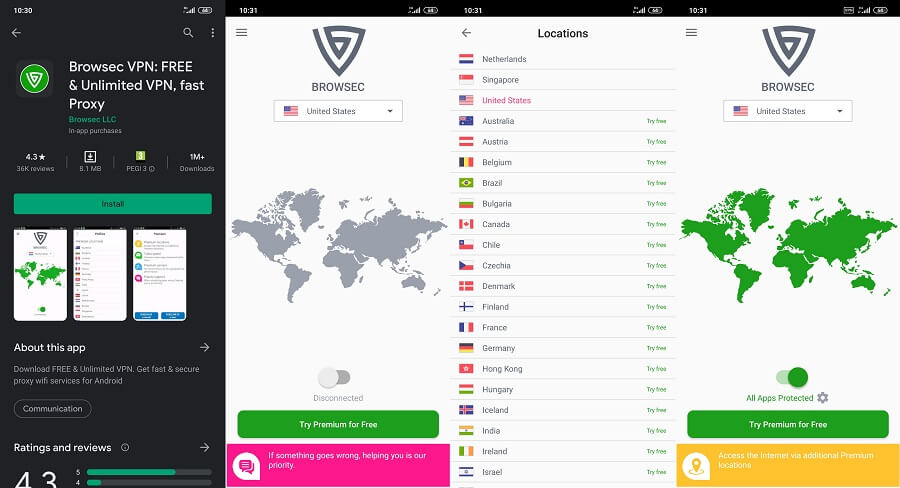 The image on the left shows how it looks on the Google Play Store. We used an Android phone for testing. It has 4.3 stars and 1M+ downloads – very enticing! Once you download it, the app will immediately thrust you into the home screen.
Open the server list by tapping on the country above, where you'll see plenty of locations that the provider offers. To connect to a server you want, tap on the country, and use the connection button shown in the fourth image.
Browsec VPN really did a good job when it comes to optimizing its app. We usually use 5 or 6 photos to illustrate how the app works. This time, we did it in a single row of screenshots, implying how easy it is to use.
Other Devices
What you saw above is what Browsec VPN really offers. Don't expect it to be a VPN compatible with Amazon Fire TV, routers, Chromecast, or gaming consoles. It's really a bare-bones provider that offers nothing but web browsers and apps for mobile phones.
For the price, we expected a lot more from it. At this price range, other providers provide decent full-fledged apps, and not just browser extensions, as Browsec VPN does.
How Fast is Browsec VPN? We Checked Its Speed!
The provider didn't leave a good impression on us from the get-go. Sure, its apps, or better said, extensions, are simple to use. But, you can't make us pay for something that's not a true VPN in every sense of that word.
These VPN extensions are known to provider piss-poor speeds, which made this test all the more predictable. Usually, the best providers on the market are usually the fastest one – ExpressVPN, CyberGhost, NordVPN, and so forth.
Can Browsec VPN parry? Well, let's see. For the start, we need to mention that all providers reduce your speeds to some extent. Some do it by 10 or 20 percent, while some nail it to 80 or 90 percent – the difference is night and day.
When it comes to testing, we did 3 tests in the morning, 3 in the mid-day, and 3 in the evening, for 3 testing locations. Furthermore, we kept the best score and used the best location when that option was available.
Our physical location is the USA (non-VPN test), and we used these testing locations:
United States
United Kingdom
Australia
Without using a VPN, our native internet speeds are:
Ping: 11 ms
Download speed: 211.88 Mb/s
Upload Speed: 202.20 Mb/s
Now, when using Browsec VPN for this 2021 review, our ping, download, and upload speeds respectively, for 3 testing locations, were:
US Server: 67 ms / 78.84 Mbps / 80.93 Mbps

UK Server: 182 ms / 50.61 Mbps / 37.19 Mbps

Australian Server: 578 ms / 10.72 Mbps / 2.31 Mbps

Looking at the results for this part of our review, we don't even have to analyze them. Browsec VPN is obviously one of the slowest VPNs we tested. Even in our country, the speeds were simply atrocious, although we could browse on the Internet.
When compared to our native speeds, we see a significant reduction, especially on the Australian server, which cranked up our ping to 578 ms and upload speed to just 2.31 Mbps.
Beware that these were the BEST results we got. So, in the majority of cases, you'll get the performance of the dial-up internet. If that's what you want… well, go for it. We'd still recommend ExpressVPN – which is the fastest provider on the market.
How Good is Browsec VPN for Streaming?
A good streaming experience is characterized by excellent speeds and the ability to unblock streaming sites. Browsec VPN already failed the speed test, so be prepared to encounter lots of buffering, stuttering, and crashing while watching videos.
Our streaming test will start with Netflix, which is arguably the most popular streaming service.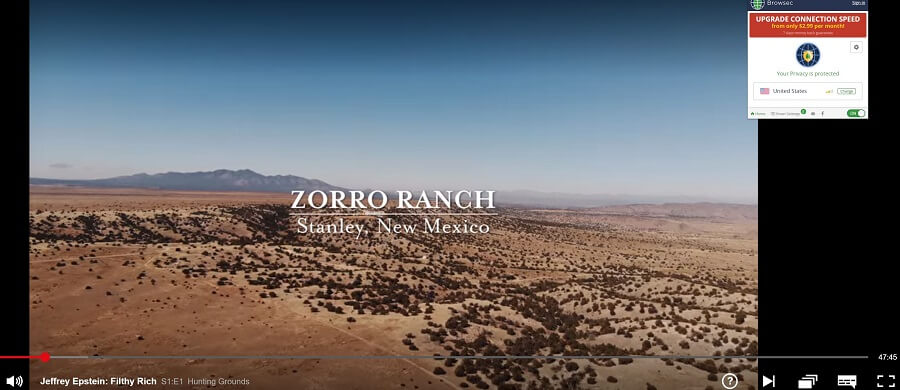 The image above shows some good results – we unblocked it, right? Not exactly. You see, one show called Parks & Recreation is the US-exclusive title, and what you see above isn't that show.
If we access Netflix and we don't find it, that means that it can't unblock Netflix US, which is exactly the case with the provider.
Nevertheless, let's check other platforms, starting with Amazon Prime Video. Strangely during our review of Browsec VPN, we managed to unblock it successfully, which made us quite surprised.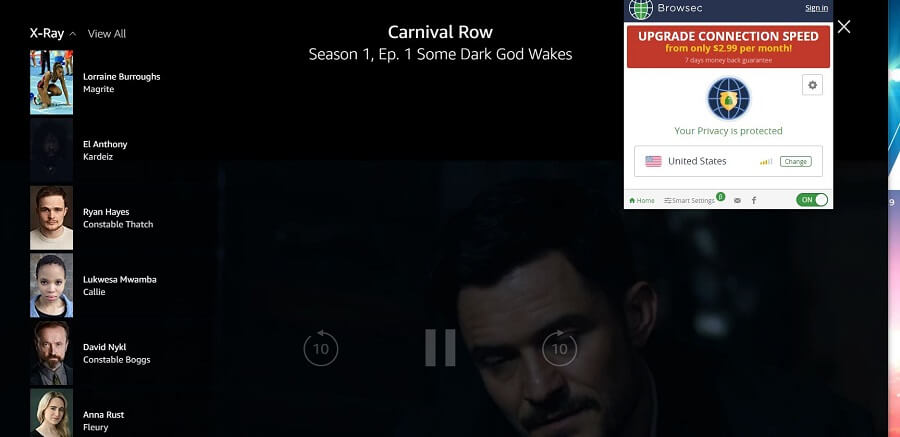 Another American platform, Disney+, obviously didn't work. The login button didn't work, so we couldn't log in to our account.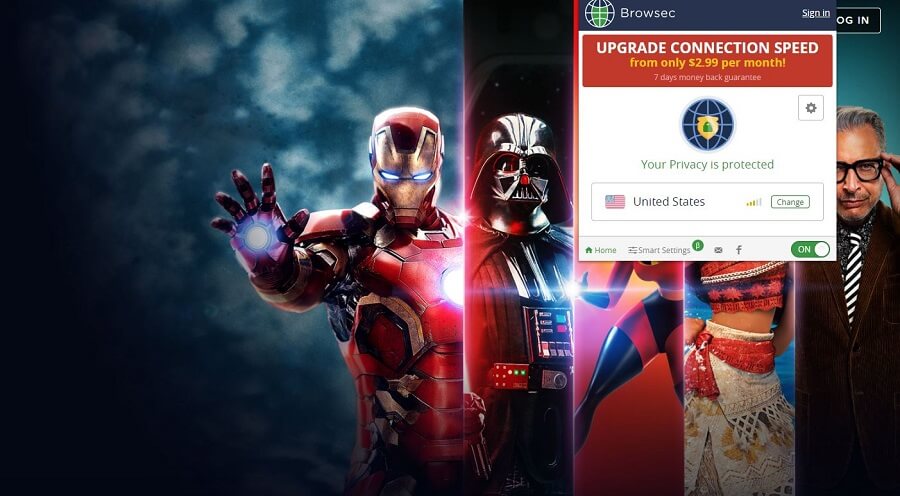 As expected, HBO GO worked easily, although the streaming experience was a dumpster fire.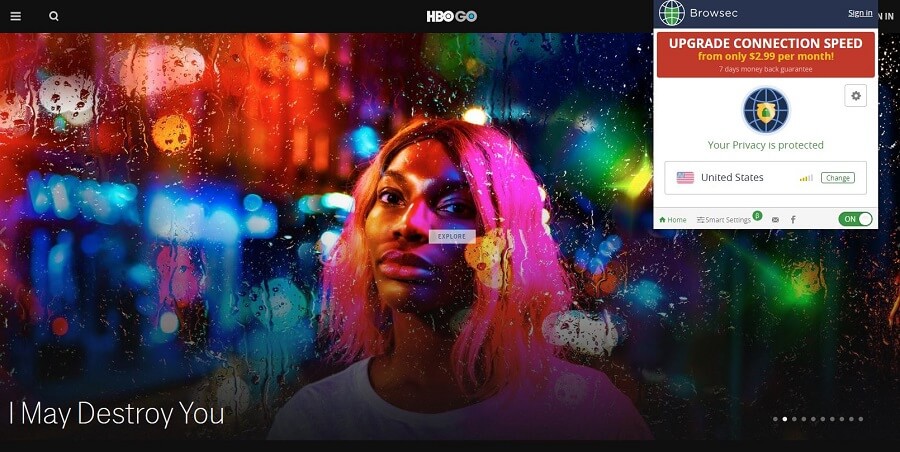 Hulu, which started gaining popularity as of recently, also didn't work. It immediately detected that we're using a VPN and locked us out of the website.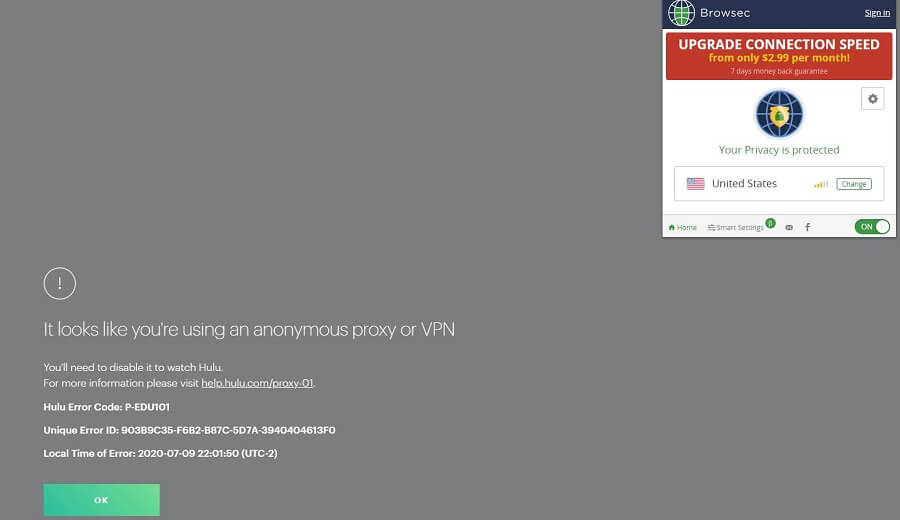 For sports lovers, we tested DAZN, which didn't work. You'll have to get ExpressVPN instead to unblock it.

Lastly, we tested BBC iPlayer, a UK platform, which worked okay. We tried unblocking several shows and they worked well.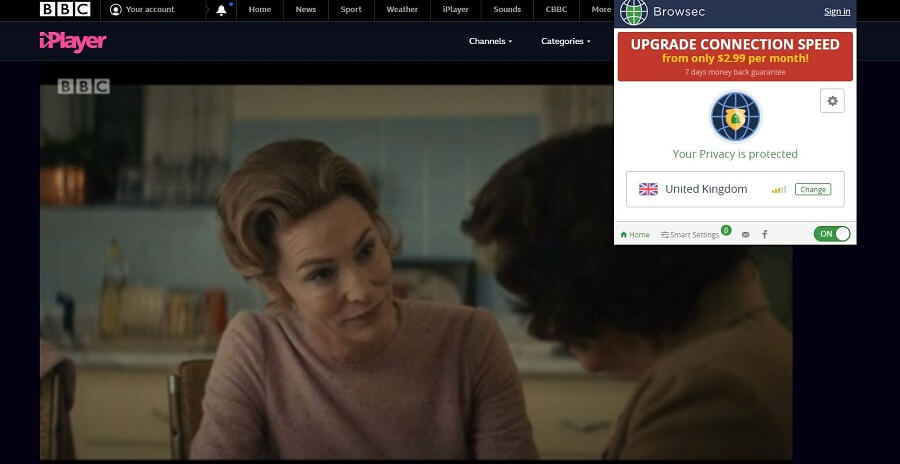 To conclude this section of our in-depth review, we can say that Browsec VPN is very bad for streaming. It can't unblock Netflix, Hulu, Disney+, and other platforms. Even when it unblocks a streaming site, you'll be banging your head against the wall due to how slow it is.
Confidentiality, Security & Logs
Browsec VPN's security and privacy are to be questioned because of the reasons we mentioned above. Let's mention what we said again. The provider is based in Russia, which is already an alarming bit of information.
It's not inside the 14 Eyes but to be honest, it's worse than that. Russia is one of those anti-VPN countries that don't respect your privacy and want to delve into every part of your life.
Surprisingly, the provider's no-logging policy sounds quite benevolent.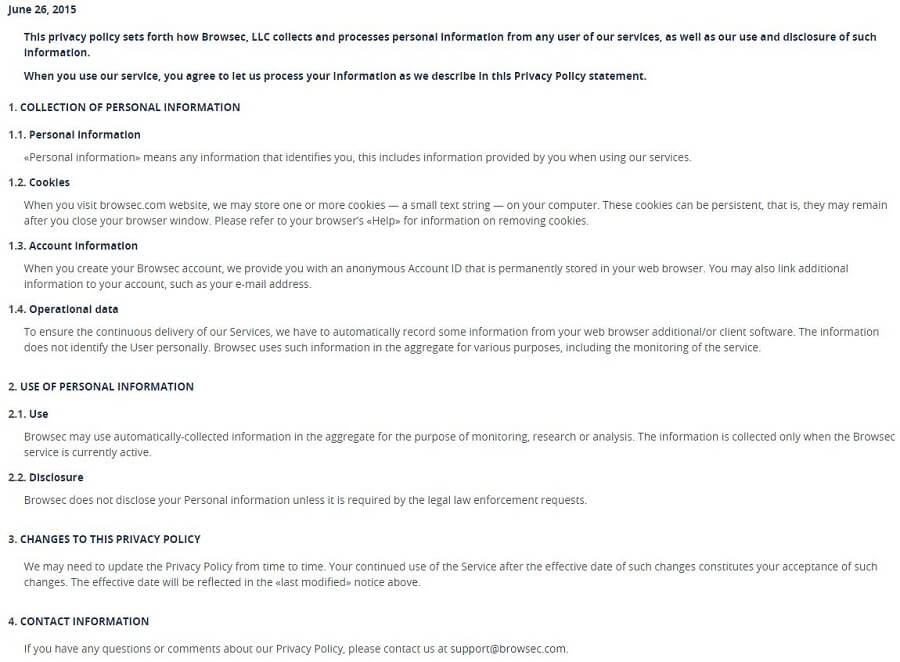 When you read it, you see that the provider actually doesn't store any compromising information. The reason why it seems like it is because this type of information is mentioned nowhere. Where are the IP addresses, timestamps, location, etc?
They mention some aggregate information, saying that they can't be used to identify you. But once again – what information is that? Honestly, the privacy policy doesn't sound very genuine and it's very short. We like short policies but when they go straight to the point and explain everything there is to explain.
This privacy policy is a far cry from what we just said. It's basically useless. Feel free to read it right now and you'll see what we're talking about.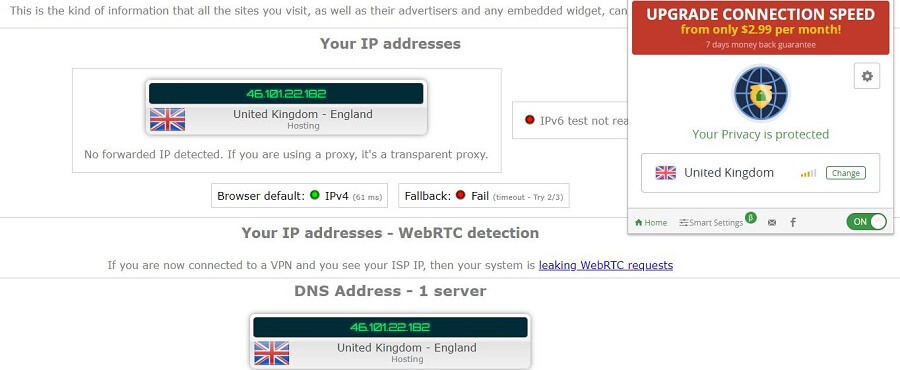 Luckily, our IP leak test was successful, which is one small positive point for Browsec VPN in this review and test. We tested it with multiple locations and the situation was the same. What we didn't like about it is that it doesn't offer additional security features. There's 256-bit AES encryption, HTTP, and IPSec proxy, but also a kill switch.
For those who think that's enough, it actually isn't. A few more features like OpenVPN, split tunneling, and Wi-Fi protection would be welcome, too. The provider implemented an automatic kill switch, which you can't turn off or on.
Instead, it works automatically if the connections break. As for other security features, here's what you can expect: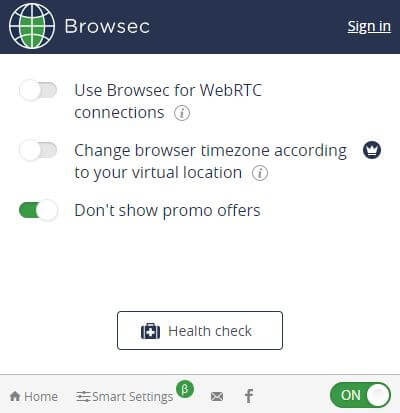 In one word – nothing special. You can use the VPN for WebRTC connection or change the timezone to fit your new location.
Can I Do Torrenting Safely With Browsec VPN?
Browsec VPN is, as we said, a browser-only app. This means that it protects your traffic inside the browser, and when you close it, your traffic is unencrypted. Logically, when you download torrents, the only part that goes through the browser is when the torrent file gets to your PC.
Immediately after that, it goes into your torrent client, which is out of the VPN's reach. It's not inside the browser, hence it's not encrypted. This means that Browsec VPN isn't great for torrenting. In fact, you can't perform any torrenting activity with it.
And no, you can't use a VPN while watching some content on Popcorn Time. Popcorn Time is an app and not an in-browser platform.
Can I Use Browsec VPN to Bypass Censorship?
These days, bypassing censorship is getting harder, as ISPs and governments have numerous anti-VPN measures at their disposal. When we talk about censorship, we think about China and its Great Firewall. This firewall blocks almost all the providers on the market, giving you minimal leeway to make a proper choice.
Browsec VPN is nowhere near bypassing the Great Firewall, as well as working in censored countries like the UAE, Russia, Iran, Iraq, and others. We recommend NordVPN for that purpose, with its obfuscated servers and rock-solid security.
Pricing and Plan Options
Despite bringing nothing significant to the table, Browsec VPN is a paid provider, although it offers a free version as well. This free version isn't as good as Windscribe, so there's no reason for you to use it. You can read our in-depth review of the Windscribe service and see why it's a much better choice – even if you pay for it.
Let's see how much will this VPN cost you and review the pricing.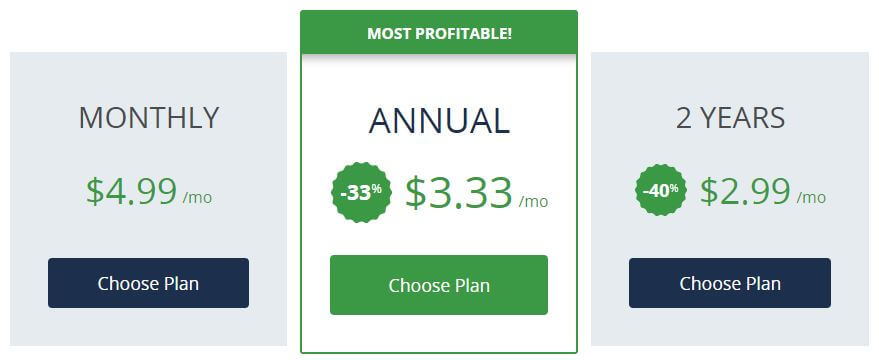 The pricing you see above is relatively cheap. A monthly plan costs just $4.99, while a two-year plan costs $2.99 a month. The provider, interestingly, recommends an annual plan at $3.33 a month. Given what the provider offers, this isn't a price that you want to pay for.
Surfshark, for instance, costs $1.99 for a 2-year plan, while CyberGhost costs just $2.75 for a 3-year plan. Both of these options are way better, yet cost less money. If you're going to get a cheap VPN, these are the best options on the market.

Are you still going to buy Browsec VPN? Well, good luck to you. Here's how you can pay – with PayPal, VISA, MasterCard, and American Express. If the product isn't up to your expectations, which will probably be the case, you get a 7-day refund period.

To get a refund, just contact the provider and follow the instructions.
How Can I Contact Browsec VPN?
Being a small VPN, we were surprised during our review, to see that the customer support team is pretty good and knowledgeable. There are two methods you can use for contacting Browsec VPN: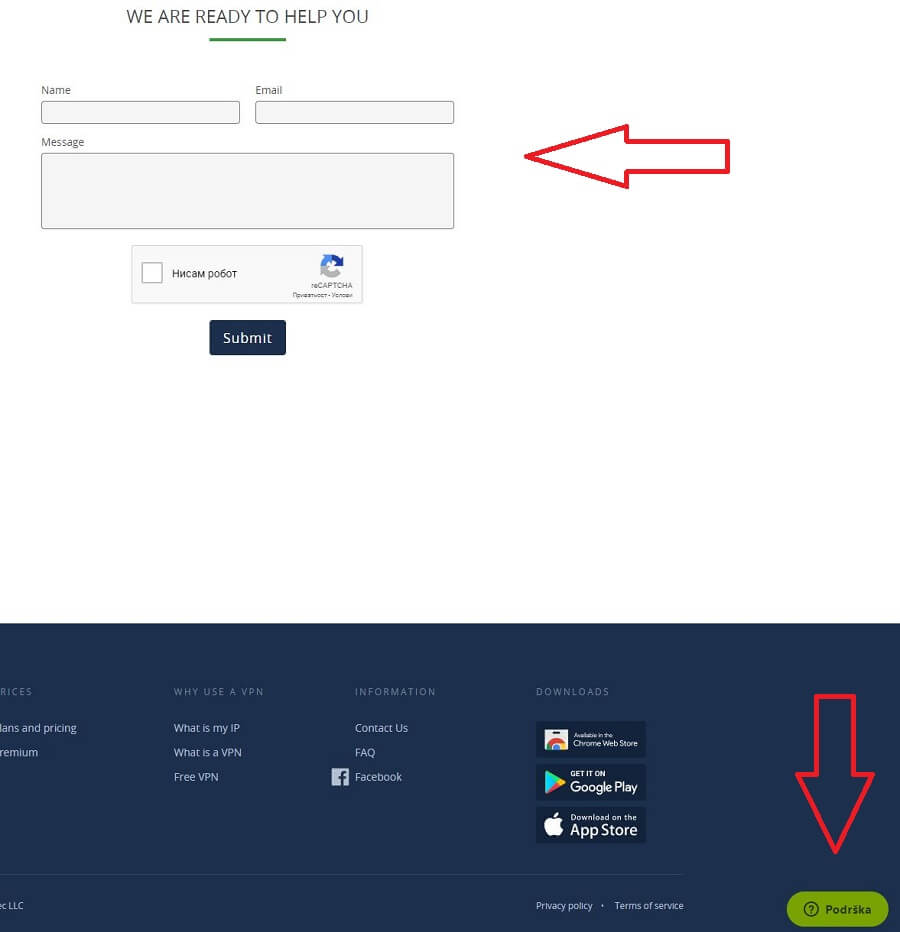 If you're not in a hurry, you can use the email template from above. It's very simple, which we like a lot. Just enter your name, email, and type in your message. After that, click Submit, and wait for a response. Usually, the provider will get back to you in one hour, and in some cases, it can be 3 to 4 hours, depending on how busy it is.
Live chat is much different. Here, you get a response pretty quickly – in a minute or less. We chit-chatted with the support a bit and it's quite good. The support team is ready to help you and fix your VPN-related issues, almost like they know you're going to have them!
The Special Functionalities
We mentioned earlier in our review that Browsec VPN lacks some special features or at least other features that would make it more secure and practical. Well, that was basically this paragraph, summed up in one or two sentences.
Don't expect any special functionalities here, although you could, given the price that is higher than that of Surfshark. And Surfshark packs quite a lot of features that would give other providers a run for their money.
At this point, it's already hard to recommend the provider to anyone, even less-demanding users.
Other Things You Should Know
There are still a few things we haven't mentioned in our review, that you should know about Browsec VPN. Let's go over them now.
Number of Servers

Browsec VPN isn't exactly the champ when it comes to the number of servers. However, if the information within the app is true, 600+ servers aren't that bad. When the provider is smaller and not very popular, you can be happy to get 100 or 200 of them
But, the provider goes out of its way to provide more servers, which is always welcome.
Number of Countries
These 600 servers are scattered across 42 virtual locations, and not physical ones. That's a bit of a bummer, but they had to cut some corners to make it more affordable.
Number of Simultaneous Connections

If you want to protect multiple devices simultaneously, you'll get up to 5 simultaneous connections on the same account. Even when using just browser extensions, one extension means one device, so you can protect 5 browsers maximum.
What Do Other Users Say About Browsec VPN?
As a less-popular VPN, Browsec doesn't have many reviews on sites like Reddit and Trustpilot. Since it doesn't exist on Trustpilot, we decided to check the reviews of it on Reddit, Google Play, and the Apple Store. Let's check Reddit first.

This user obviously has a problem with how slow the provider is. In his words, when he turns off the provider, the video he watches buffers immediately. On the contrary, when it works, his video buffers forever.
That's exactly what we experienced a few times during testing, and not just on YouTube, but on Netflix, as well!

Even on a mobile phone, similar issues plague the provider. Be aware that this is a new review, written in June 2021. This user says that the provider serves the purpose, although sometimes, the internet completely stops working. Of course, upon turning the provider off, it starts working again.

On the Apple Store, the user reports a connection issue – once again. He says that the connection is really good, but the VPN fails to connect most of the time. In his words, it's one of the worst VPNs he used and we couldn't agree more!
Conclusion: Should You Take It?
Concluding this review is pretty simple, given what we got from this provider.
We saw that Browsec VPN isn't worth paying for, and even as a free provider, it wouldn't be a reliable option. The competition on the market is simply too strong and it's overshadowed by much better options, both free and premium.
If you're going to be a premium service, you have to offer apps for the PC and introduce more features. Otherwise, we can't give a positive review of a product that's not complete.
A bit more expensive option is ExpressVPN, but it's also the best provider on the market. That's our recommended alternative if you want a hassle-free web browsing and protection for ALL of your devices at home.