The internet is a great thing but all depends on the websites and streaming services you can access when you go online from certain countries. For instance, you might want to relax and stream your favourite TV shows from such as BBC iPlayer or ITV Hub. However, if you are outside of the UK you cannot access them as they are restricted based on your IP address. This might lead to you wondering how to get a British IP address.
This is what we are going to consider today and we will provide you with the answer. At the same time we will explain how a VPN helps and some of the benefits of changing your IP.
Use a VPN to change your IP address
A VPN aka Virtual Private Network offers numerous benefits, with one of them allowing you to mask your own IP and get one from another country.
As mentioned above, the IP address is what determines the websites and streaming services you can access when outside of the United Kingdom. The ISP and websites see the address of your device and block access.
A VPN allows you to modify it easily and quickly by masking the address of the country you are located in and providing you with one from the United Kingdom. This fools sites and the ISP into thinking you are located in that country.
Few steps to get a British IP address from ANYWHERE in the world
So if you are wondering how to how to get a UK IP address we will show you how in the step-by-step instructions below.
Which provider should you choose?
Your first decision is to choose a provider. Finding a VPN can be confusing as there are many out there both free and paid. Free providers generally cannot offer what you need to overcome geo-restrictions successfully. In fact, not all paid providers manage to beat restrictions and censorship.
We chose leading provider ExpressVPN in this example as it is one of the best for beating geo-restrictions and unblocking blocked content. Other providers you might consider include CyberGhost and NordVPN, but more about providers later.
Different plans – longer commitments with big savings
Once you have chosen the provider, your next choice is which plan and providers offer various commitments.
The ExpressVPN yearly-plan offers the biggest savings of 49%. At the same time, you also get three free months as an added incentive.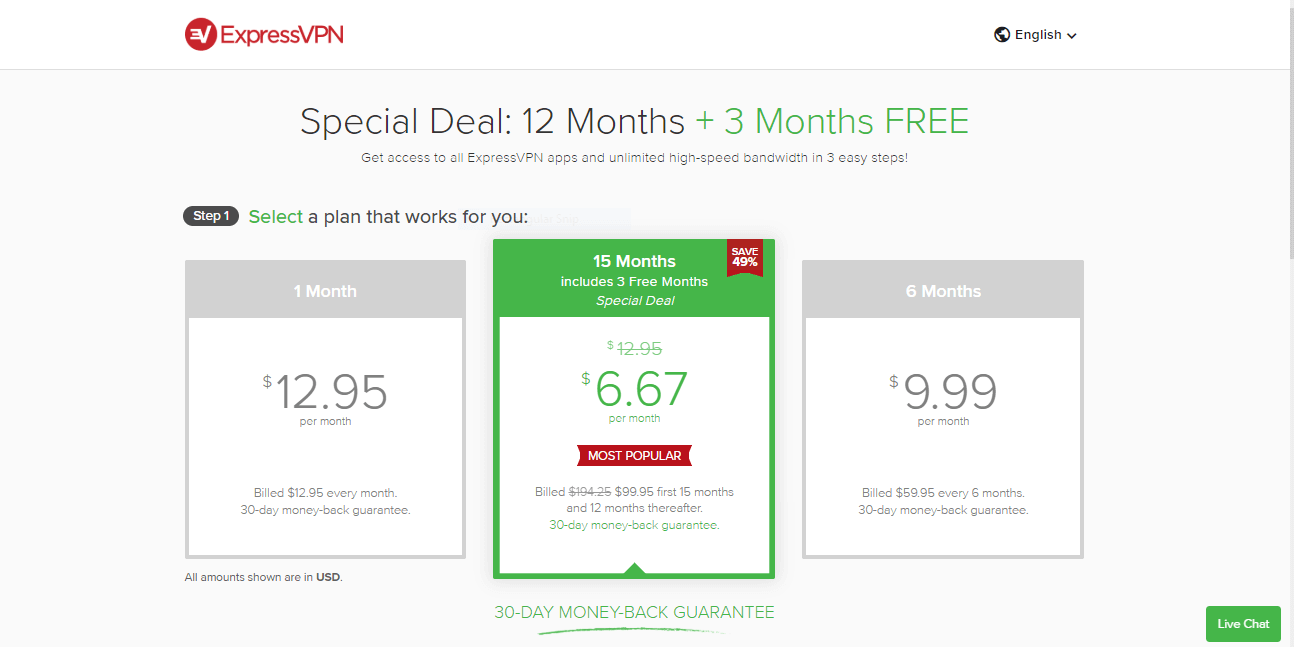 Other choices include a six-month plan or you might want to pay for the plan on a month-by-month basis. Of course, these do not come with the same huge savings.
So, choose a plan, sign up and then go on to the next step.
Install apps onto devices
Once you have a plan in place you can visit the download page and choose apps for any devices that you plan to use.
You can install apps on as many devices as you want, there is no limit and you can use simultaneous connections up to the limit set by the provider.
This means other family members can all use the same plan.
So, go ahead and download apps then install them and move to the next step.
Use the app to choose a server located in the UK
Next, open up the app on your device and click on the icon left by the installation.
When the dashboard opens choose any server from the United Kingdom and click on the connect button.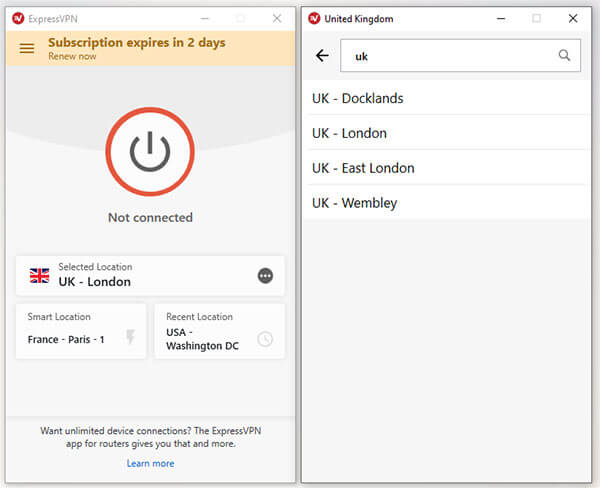 Your own IP is now masked and to anyone looking it seems as though you are currently located in the United Kingdom.

What will be the benefits of getting a British IP address?
There are many benefits to obtaining a UK IP address and below are just a few of them.
Stream BBC iPlayer, ITV Hub and more
Wherever you are in the world, you can catch up on your favourite TV shows using streaming websites such as BBC iPlayer, ITV Hub, 5OD and many more.
All of the above streaming websites are blocked abroad due to licensing laws.
However, once you have obtained an alternative IP you fool the site into thinking you are still within the country and avoid the restrictions.
Unblock UK Netflix
When you go abroad, you can only watch the Netflix content of the specific country you are visiting. This means you cannot use UK Netflix so you cannot stream all of your favourite content, as some content is only available in the United Kingdom.
However, if you take on an IP address from your home country you fool Netflix into thinking you are in that country so you can gain access to your own content.
Protect yourself online
With a Virtual Private Network, you have protection of the encrypted tunnel, which makes any information you send over the internet unreadable. This is essential if you are using hotspots when abroad.
You also benefit from a Kill Switch. This ensures that no information bypasses the encrypted tunnel if the server connection drops.
Top 3 best VPN to get a British IP address
We highly recommend the following three providers, as they are the best three choices for security and unblocking geo-restrictions or censorship when abroad.
ExpressVPN

ExpressVPN offers access to numerous servers in the United Kingdom, and it offers thousands more around the world.
It is able to bypass restrictions in any part of the world, along with overcoming censorship in high censorship countries.
The provider is an excellent choice if you want to stream Netflix along with BBC iPlayer or ITV Hub.
It has a strict no-log policy and is not located in a country that has to share data with intelligence-sharing agencies.
Bypass restrictions with ExpressVPN >
CyberGhost and NordVPN

CyberGhost and NordVPN are two alternatives for you to consider.
Both offer military-grade encryption, Kill Switch, access to thousands of servers, with many in the United Kingdom and many more benefits.