Traveling abroad as a Canadian resident leaves you with no local TV shows and movies to binge-watch. Whether you like watching sports, news or shows like Cardinal and Masterchief Canada, you'll love being able to access them from abroad. A good Virtual Private Network will let you change your online location, allowing you to access your country's local content from anywhere in the world. Sounds good? Let's proceed, shall we?
Why are Canadian TV Channels Inaccessible Abroad?
When you're preparing for traveling outside of your country, this is among the first things you'll think about – how the hell I'm gonna watch my favorite shows?! The reason why TV channels in your country aren't available worldwide lies in licensing.
You see, every television needs to buy a license to broadcast certain shows. The same principle applies to television in general. Canadian channels are licensed to broadcast their content exclusively in this country and no other countries can access it.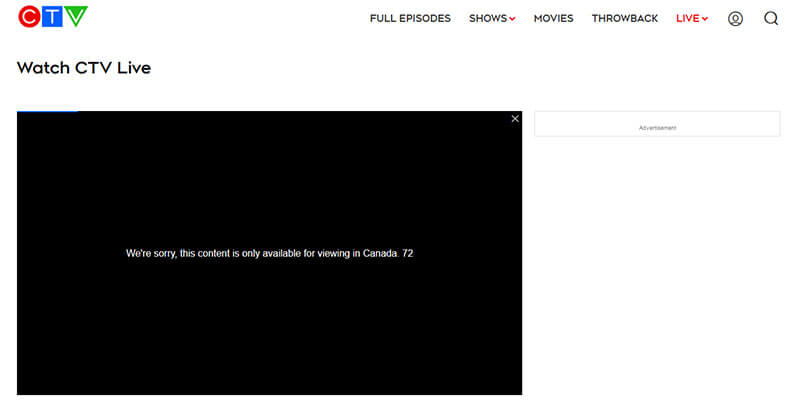 On the flip side, there are channels like Discovery and National Geographics that aren't locked to a particular region. Discovery, for instance, can be watched in the UK, the USA, and a few more countries.
The prime examples of this are CMT, CTV Comedy Channel, BNN Bloomberg, CTV Life Channel, CPAC, and many more. These channels are available only in Canada and accessing them from abroad is impossible – unless you have a VPN.
How Can a VPN Help?
Now, the question is – how can a Virtual Private Network help? If it has a server located in Canada, it can help you a LOT. You can stay in touch with the happenings in your country, read local news or inspect the local stock market. Needless to say, accessing local television will be easy.
This service lets you change your online location to another country by changing your IP. Every provider offers servers in different countries and when you connect to one of them, you're being seen as if you were from another country online.
That's how many people access US Netflix even if they're not from the USA. You can also do this to access Canadian Netflix abroad, as well as the channels we mentioned above. The great thing is that it's bloody easy to do! Let's see how in the next section.
How to Use a VPN to Watch Canadian TV Channels from Anywhere?
If you have a pair of eyes, pair of hands, and a computer/smartphone, you can use a VPN. Oh, you have it all? Congrats! Let's teach you how to do what you came for:
1. Buy a Subscription
To use this service, you'll need to get a subscription first. Don't worry, it's not expensive! For a few dollars a month, you can get a decent one, like ExpressVPN, which is our recommendation for this purpose.
Just so you know, it offers a 49% discount and 3 months free for a 12-month subscription plan. If you're going to buy it, now is a great time.
2. Download and Install the Apps
Bought it already? Good. Download the apps you're going to use, install them, and log in using your email and password. ExpressVPN supports all the major platforms, so you can even connect it to your router.
3. Connect to a Canadian Server
On the home screen, there's a button for connection that looks like a power button on an electronic device. Click on the country underneath it and the server list will open on the right. Now, choose the server you want and click on the power button.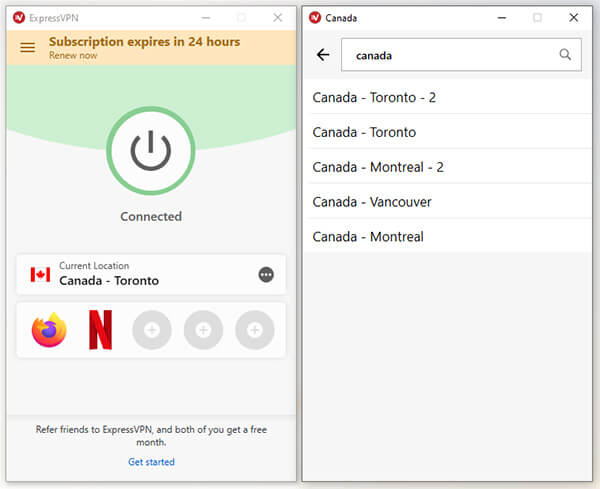 You'll establish a connection in a few seconds.
4. Enjoy Canadian TV Channels Outside of Canada
Last but not least, it's time to enjoy your favorite Canadian content from abroad. Cardinal is a great show, by the way. If you're from Canada and you haven't watched it, now you can. Or if you have some recommendations, post a comment and our Monkey will validate it.
Top 3 VPNs for Accessing Canadian TV Channels from Abroad
There are tons of providers with servers located in Canada that will let you access your favorite TV channels. In our experience, these three are the best:
1. ExpressVPN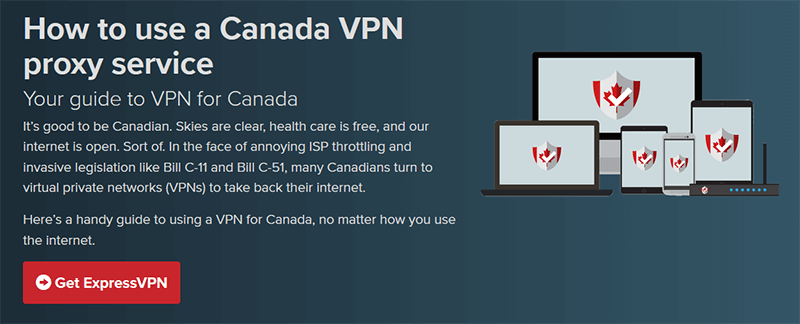 ExpressVPN is really good when it comes to streaming, torrenting, gaming… you know what? Let's just say everything! This provider is our number one in 2021 and there are multiple reasons for that. First of all, it has unbeatable speeds. Don't believe us? Don't hesitate and check our review. It managed to beat every provider we tested.
Secondly, it's very secure, thanks to its 256-bit AES encryption and no-logging policy. Being from the BVI, the provider doesn't store logs, making your info visible only to a single person – you. It can unblock Netflix easily and allows you to watch many other streaming platforms.
Canadians will love how convenient it is. From the screenshot above, you can see its intuitive interface that even newbies will grasp quickly. ExpressVPN offers 24/7 support in case something's not clear and you get up to 5 simultaneous connections on a single account.
The value for the money is insane and if you get it, you'll see what we're talking about.
Watch Canadian TV With ExpressVPN >
2. NordVPN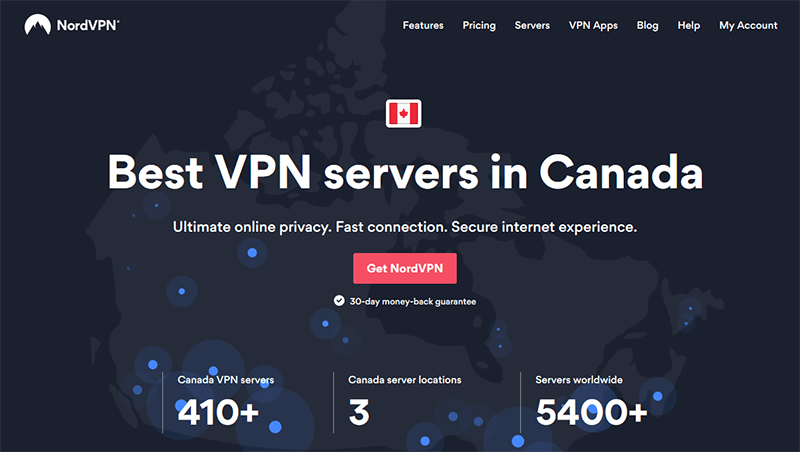 NordVPN is a Panamanian provider that has 5,600+ servers in 61 countries. If you ask us about its highlights, we would have to write an essay. You get an ad-blocker called CyberSec, you get Double VPN, Onion Over VPN, and many other security features.
Speaking of security, NordVPN supports protocols like OpenVPN and IKeV2/IPsec. On top of that, you get military-grade encryption and an automatic kill switch. NordVPN is great for unblocking geo-blocked sites and TV channels. With that in mind, accessing CMT, CPAC or any CTV channel will be easy.
Since the provider doesn't store logs, you'll enjoy performing all kinds of online activities. You can watch porn, gamble, enjoy streaming, browsing, and even torrenting. Although it's not the cheapest provider, it offers some great long-term plans.
The NordVPN app is easy to use and if you have any problems, you can use the live chat feature. Support is amazing and so are the features that this VPN offers for the price.
Long story short, it will cost you similar to a coffee in your local Starbucks… a month! Do you drink just one coffee a month? We doubt it.
Enjoy Canadian TV from Abroad With NordVPN >
3. CyberGhost

CyberGhost is our go-to recommendation for those who want to squeeze every bit of performance for the money. Seriously. If you want to get a 3-year plan for a pocket change, don't waste your time on other providers.
This VPN offers 7,000+ servers in 90 countries and it's still spreading like a plague! By the way, this is a compliment. You get dedicated servers for streaming and torrenting, and Canada has 259 servers in total. 179 of them in Montreal, 60 in Toronto, and 20 in Vancouver.
All of these servers support P2P and can unblock Canadian local TV channels or Netflix if you care about it. The provider doesn't store logs and if you want more security, you can use its NoSpy servers. 24/7 customer support is here and if you buy a 3-year plan, you get a 45-day money-back guarantee.
We don't know about Romanian residents but this Romanian provider is very generous. They even give you a 24-hour free trial, which is great for a high-caliber provider like this.
Stream Canadian TV Easily With CyberGhost >
Can Free VPNs Unblock Canadian TV Channels?
We've noticed that many internet users are quite interested in free providers nowadays. Understandably so. People want to save as much cash as they can, yet they don't know that it's sometimes to their detriment.
Free VPNs sound decent on paper. They claim to offer high speeds, to be able to unblock geo-restricted sites and that they do not store logs. In reality, though, things are different. Premium providers offer much faster speeds compared to free solutions.
They're very slow, making streaming even 1080p videos a chore. In terms of bandwidth, you'll also be pretty limited. While TunnelBear offers only 500 MB a month, Windscribe offers 10 GB. In both cases, that's not a lot to work with.
Not being able to watch an entire season of your favorite show, for us, is pointless. Lastly, these providers keep logs of your internet activities! Some of them know everything about you while claiming to have a no-log policy.
Not only that but they also sell that data to third parties and earn revenue that way. Either that way or by implementing annoying ads that hinder your experience. Nevertheless, don't use free VPNs. Get a premium solution from our list below and enjoy the internet and your favorite contents to the fullest.
Summary
Now that you're at the end of our guide on how to unblock, acess and watch any Canadian TV Channels, did you already make your choice? If not, we'll recommend the best premium option you can get at the market – ExpressVPN. This provider will never disappoint you, whether you're streaming, torrenting or just casually browsing the internet.
Canadians who are abroad will take advantage of its 3,000+ servers in 94 countries, fast speeds, as well as numerous security features it offers. If you don't like it, you can return your money with a 30-day money-back guarantee.
We doubt that will happen, though!