Being outside of your homeland often means missing out on some crucial stuff. It can be an episode of your favorite show, being unable to access a bank account or something else. Either way, you can get a Spanish IP in a blink of an eye and enjoy everything that the country offers online. How to do that, though? Well, stay with us to find out!
Use a VPN to Change Your IP
Using a Virtual Private Network is the least you can do to make sure you're secure online. However, this service gives you a lot more than just security. For example, you can change your online location and access geo-restricted websites. To show you the concept of this service, we'll look at the image below:

A VPN encrypts your connection with a tunnel that goes from you to the site you want to access.
This makes you invisible to the prying eyes of your Internet Service Provider and the government. Furthermore, it allows you to change your IP in a matter of seconds and become another country's citizen in the online world.
How to Get a Spanish IP Address from Anywhere in the World?
Getting a Spanish IP address is very easy. When you get used to doing it, you can do it in less than five seconds – seriously! For the newcomers, here's how to do it:
1. Buy a VPN
There are dozens of providers on the market, yet not many of them are considered good. Our recommendation for this case is ExpressVPN, our favorite provider. Right now, you can get it for a 49% discount and 3 months free for a 12-month plan.
2. Download and Install the Apps
When you subscribe, download the apps you need. It can be on your smartphone, Windows PC, macOS, Linux or iOS. Install the apps, log in with your credentials, and proceed to the next step.
3. Connect to the Spanish Server
Under the button for connection, click on the country displayed. Now, the server list will open, so scroll down and find Spain. Click on it and then, click on the button to connect. Wait for a few seconds and you'll establish a connection successfully.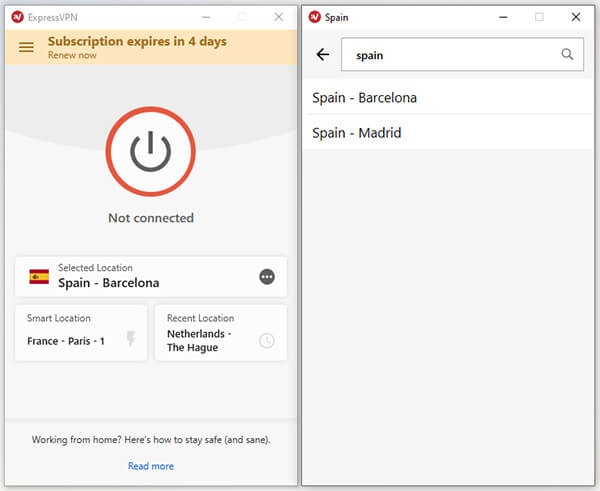 4. Enjoy Spanish Content Online
It's time to enjoy everything that this country has to offer online! What's better is that you can only use the third step each time you try to connect. We told you it was going to be easy, didn't we?

What are the Benefits of Getting a Spanish IP Address?
Using another country's IP address always brings numerous benefits. Let's see what benefits you can expect here:
Access Spanish Streaming Platforms and Local TVs
Do you want to unblock DAZN outside Spain? DAZN is, aside from the USA, available in this country. But, if you're from abroad, you can't access it without a VPN. Furthermore, Spanish Netflix offers a fair share of native shows and movies, so you can unblock it, too.
Those who care about Telecinco, RSTV.es or La 1 should not worry, as this tool successfully unblocks these channels from abroad.
Use Your Bank Account from Abroad
Having trouble accessing BBVA or Banco Santander from abroad? Well, that's because of the fraud detection systems that prevent you from accessing it with a foreign IP. Use a Spanish IP instead and solve these issues.
Stay Safe and Anonymous Online
Finally, if you just want to stay anonymous online, you should use an IP address from this country. Being wrapped in a tunnel with military-grade encryption, your IP will be concealed, rendering you invisible to anyone online.
Top 3 VPNs to Get a Spanish IP Address
Let's wrap it up by giving you our list of top 3 providers for this purpose, shall we? Here are your best options:
1. ExpressVPN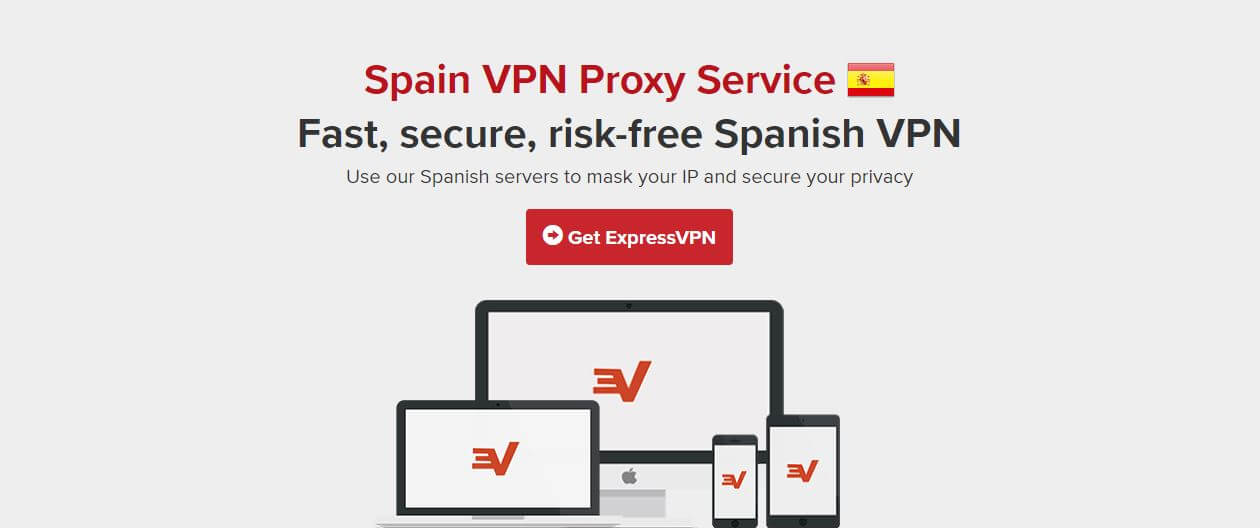 ExpressVPN is the king of the VPN market. It offers staggering speeds and rock-solid security. The provider has 3,000+ servers worldwide and offers servers in Barcelona and Madrid. This is more than enough for getting your unique Spanish IP and enjoying its online offerings.
Aside from that, ExpressVPN is a fully no-log provider, so they don't store any logs. They even proved it in 2019 through a complete audit. Your connection will be encrypted with 256-bit encryption and for additional security, you get IP leak protection.
There's an automatic kill switch in case the server crashes and the addition of 24/7 live chat is definitely a welcome one. Given its huge discount now, it's probably the best choice for demanding users that want the best service to change their IP and get a Spanish one.
Enjoy ExpressVPN's Spanish Servers >
2. NordVPN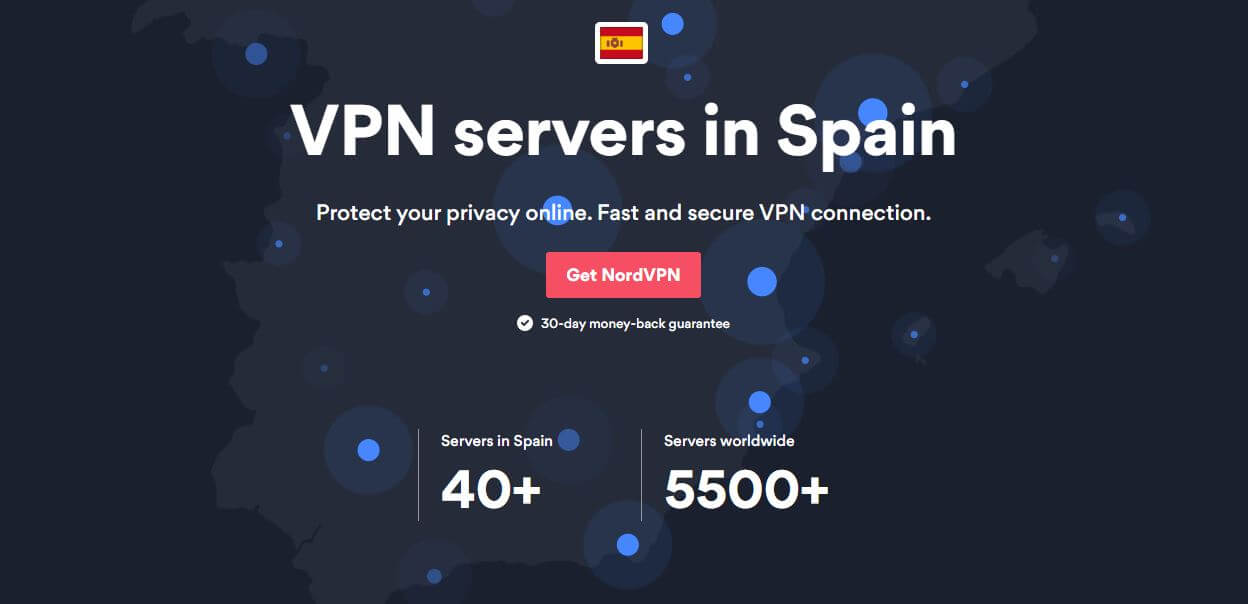 NordVPN is a Panamanian provider with 5,600+ servers in 61 countries. Given how big it is, you can expect 48 servers in this country, which is quite a lot. Getting a Spanish IP with this provider is easier than taking a walk in the park.
Within seconds, you'll be connected to NordVPN's encrypted network, flying low under the ISP's radar. Security-wise, you get military-grade encryption and if you love streaming, you'll gladly use its SmartPlay feature for that matter.
NordVPN even includes an ad-blocker called CyberSec, making your browsing much faster. It easily unblocks Spanish Netflix and works with DAZN, regardless of your location. Be sure to grab its discounts while you still can.
This year, the provider offers some hefty birthday deals, so it's a great chance to save some cash on a quality provider.
3. CyberGhost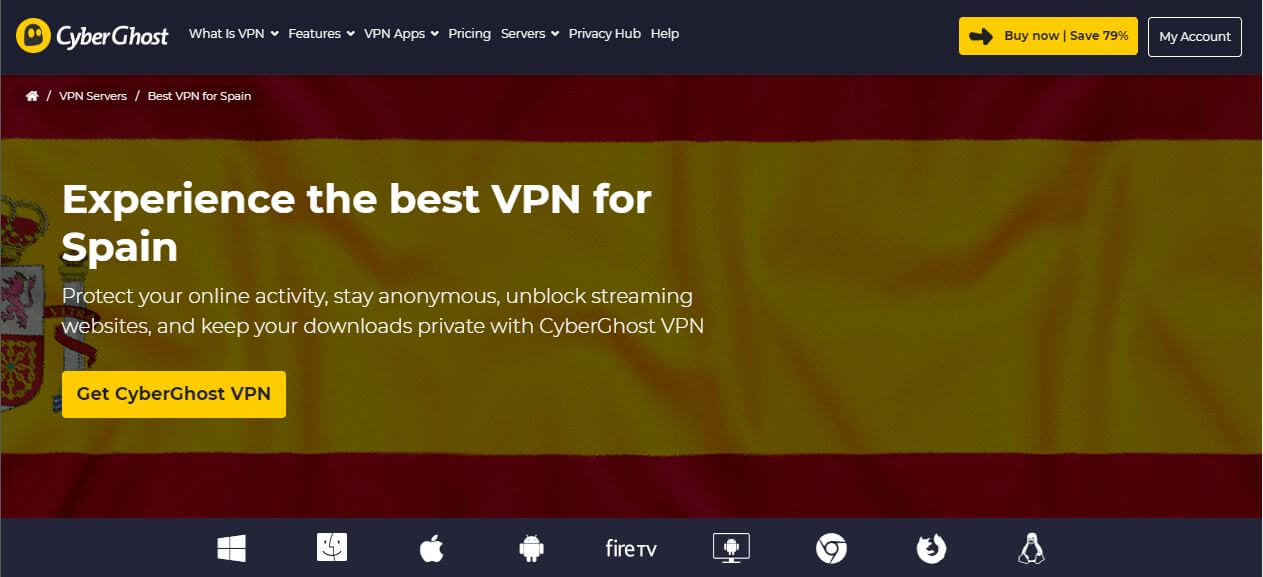 Last but not least, we have CyberGhost on our list. We love this company for its approach to business. It offers top-notch features for very cheap prices and even gives you a 45-day money-back guarantee. That's quite generous if you ask us!
CyberGhost is known for its dedicated streaming and torrenting servers. There are 6,200+ servers in total, of which 24 are in Barcelona and 44 in Madrid. The provider offers solid speeds and unblocks streaming platforms with ease.
It even has a VPN extension for Firefox and Chrome, which is great if you just want to use a proxy. Still, we recommended a full-fledged service, where CyberGhost shows its features the best. If saving money is one of your top priorities, this is a great option to go for in 2021.