Mexico is a vivid and exciting country to visit. While we are sure that you are going to have a great time traveling to it, you may still want to relax after the day rich in tourist activities and watch your favorite TV show. However, the issue may be that you can't access US TV channels from Mexico. This doesn't go only for CBS, ABC, Fox, and ESPN. It also goes for libraries that are offered by popular streaming platforms.
In the modern-day, this is one of the most common issues. It is directly related to the restrictive algorithm set by American TV channels (and many others). Still, there are a couple of solutions that will allow you to bypass this and enjoy the  content for free.
Throughout this article, we will be discussing why you may have an issue watching American TV in Mexico and how to solve it so you can watch all of your favorite shows and contents for free. Let's get right to it!
Why can't I watch US TV in Mexico?
Chances are, you may be having a hard time trying to unblock your favorite TV show when in Mexico. What you should know is that it has nothing to do with you not paying the subscription. It has everything to do with the fact that the algorithm blocks you from accessing content. This is because of your current location.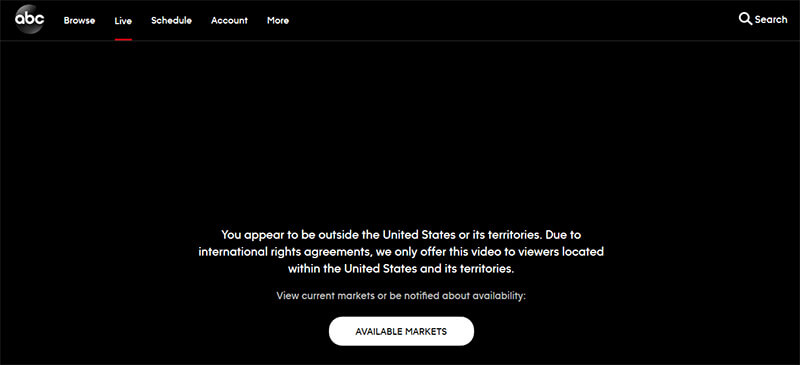 Thus, even if you were set in the US when you initially subscribed, if the IP address you are currently using is not in the US, you will have an issue. This is due to the geo-restrictions that are a consequence of licensing and desire to turn a bigger profit. It is valid whether you're trying to watch ABC, AMC, ESPN, FOX…
Also, certain streaming platforms, including Netflix and HBO Now, simply don't want to offer all the content worldwide and thus create restrictive US libraries.
Luckily, there are some great VPNs that you can use when you're in Mexico.
Solution – Use a VPN
As we have mentioned above, you may find yourself troubled by the fact that you can't watch US TV when you are outside of the country. All is not lost as by alternating your IP address, you will be able to bypass these restrictions and enjoy your favorite content freely.
How is this done? Well, through a Virtual Private Network. Your best bet is to imagine a tunnel, with your present IP address being set at point A and the alternative US location being set at point B.
What a VPN does is tunnels your connection using one of the relevant protocols (OpenVPN as an industry-standard). Your original IP address gets hidden in the process.
And by connecting to a server located in the US, you will be able to fake your presence there (as shown in the screenshot below). That's the only thing you need to do. This means that once the algorithm tests your location, it will show as if you are in the US not Mexico.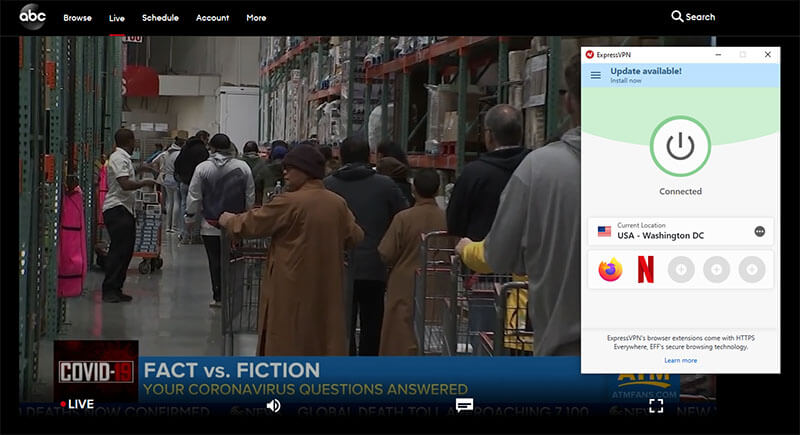 Not only that, but it also ensures that none of your browsing data and private info can be hijacked or revealed to third parties.
VPN to Choose to Watch US TV in Mexico
A good Virtual Private Network will offer more than the ability to unblock streaming content. Thus, you will be looking at reliable encryption, leak protection, large and fast server park, as well as a capable customer team that can get any problem settled within minutes.
Frankly, there are not many VPNs that can do this. However, we have listed a couple of the best to show you what a proper VPN should look like.
ExpressVPN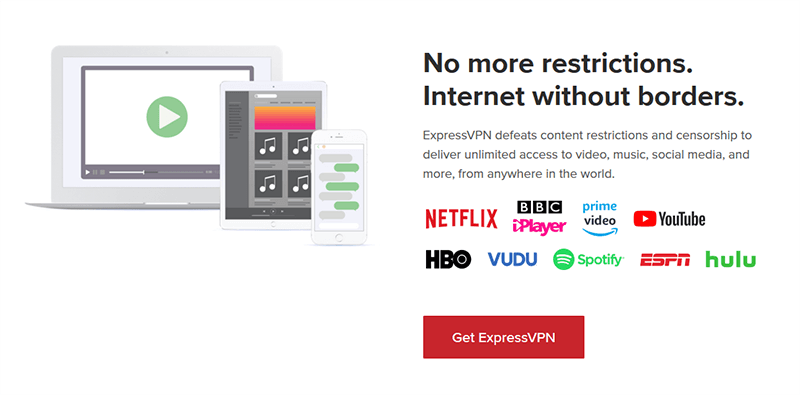 Last, but certainly not least, comes this premium VPN that is considered to be the fastest on the market. The stability of the internet connection that you will get once it is encrypted plays an immense role in unblocking streaming content from Mexico.
For this purpose, ExpressVPN is a great choice. Especially given the fact that you are likely to experience a speed drop that is below 10%. This greatly varies from what you would get out of any average VPN.
Given the vast server park of more than 3,000 servers, you will get to choose between dozens of different US locations. You can easily find the one that offers the best performance. Overall, it is a superb choice for anyone who is on a more flexible budget. Plus, if you want a safe, secure, and fast VPN service – this is the one for you.
Click here to take advantage of ExpressVPN:
Unblock all the channels you want with ExpressVPN
NordVPN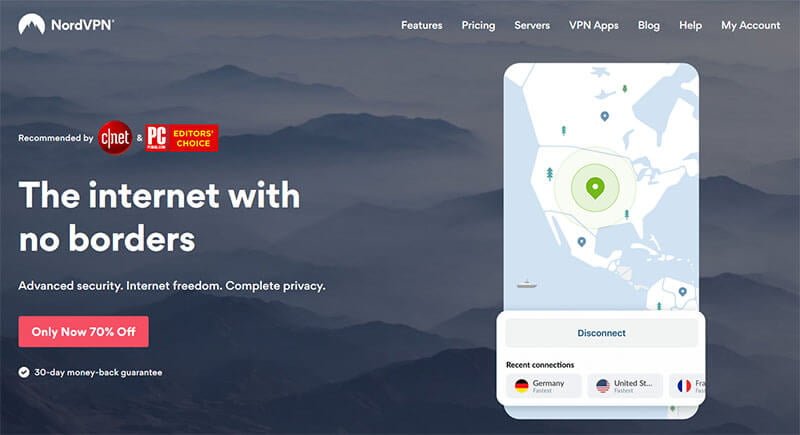 Among the most effective VPNs that will enable you to watch Amazon Prime Video anywhere in the world is NordVPN. Probably the most important thing about it is the fact that it is located in Panama. Thus it doesn't affect your privacy by the unfriendly 5/9/14-Eyes jurisdictions.
What we love about this provider is that it is highlighted by more than 5,600 servers overall. Many of which are set in the US.
The provider does proclaim to unblock more than 150 different streaming sites, which we did find to be particularly true, especially when it comes to Netflix, Hulu, HBO Now, etc.
The array of tunneling protocols offered by NordVPN ensures both great usability and device compatibility. Plus the industry-standard encryption (256-bit AES) will keep you secure. This is all to say that NordVPN is an option that you are sure not to regret, so get it here:
CyberGhost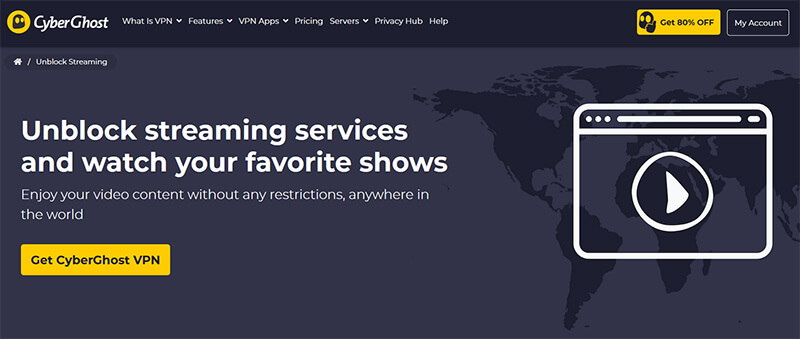 Another excellent choice for unblocking and watching US Television from Mexico is CyberGhost. It is based in Romania and is highlighted by over 6,000 servers.
While it may not be as versatile in unblocking streaming platforms, it sure does a great job with the most popular sites. Also, due to the great connectivity that it offers, you will have nothing to worry about when it comes to high ping or time outs.
Most importantly, it does offer proper leak-protection and makes sure that you are not put at a malware risk.
CyberGhost is not only known for its user-friendly interface and an affordable price. It also has an effective 24/7 live chat support. Thus, in case you are having an issue accessing your favorite site from Mexico, that is sure to get settled within minutes!
For more information and to sign up, click this button:
Wrap Up
We did our best to showcase something for everyone, including both budget-friendly as well as high-end VPNs. All of the three providers offer great value. This is not only when it comes to unblocking US TV but also in terms of protecting your encryption.
So what are you waiting for? Go ahead, subscribe to one of these VPNs, and enjoy American Television no matter where you are in Mexico!