Turkey, much like Mexico, is known for its local TV shows that many people worldwide love to watch. However, these shows are locked behind a geo-restriction, meaning that you can't watch them from abroad. Furthermore, you can't access your bank account or watch Turkish Netflix without an IP from this country. Are you wondering how to get it easily? Stay with us, watch, and learn – it's easier than you think!
Use a VPN to Change Your IP
A Virtual Private Network is the best tool for staying safe and secure online. With its military-grade encryption, staying anonymous is effortless. But, this service isn't here to help you only with that. It lets you get a new IP address and access local content as if you were from another country.
The service wraps your connection with a so-called VPN tunnel, keeping it unreachable to ISPs, governments, and hackers. Here's an image that explains what we just said:

The tunnel spans from you to the site you want to visit, making sure that your data never leaks out of it. Of course, there are lots of benefits of this service, which we're going to talk about later. For now, scroll down to find out how to get a Turkish IP address in a few steps.
How to Get a Turkish IP Address from Anywhere in the World?
Wherever you are, this service is here to take care of you. Are you tired of being unable to access local content in your homeland abroad? Let's fix things up quickly:
1. Get a Subscription
Getting a subscription is your first step in order to change your IP and get a Turkish one. With dozens of providers out there, choosing the one you can always count on is hard. A good VPN to use in Turkey is ExpressVPN, which is our recommendation. This is our #1 provider and currently, it offers a 49% discount and 3 months free for a 12-month subscription plan.
2. Download and Install the Apps
Upon purchase, you're prompted to download the apps. Since the provider supports every major platform, you can download whatever app you want. Install it and log in with your credentials.
3. Connect to a Turkish Server
On the home screen, you'll see a random country under the power button. Click on it to open the server list. Turkey is on the lower portion of the list, so scroll down, click on it, and then, click on the circular power button to connect. The connection will be established in a few seconds and you're ready to go.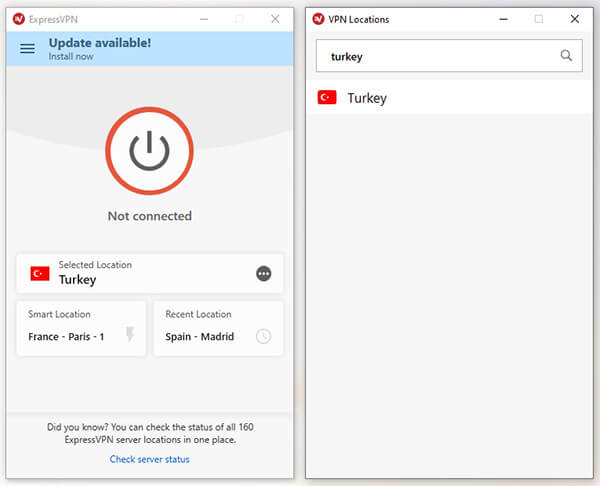 4. Enjoy Turkish Local Content
Once the connection is established, accessing Turkish local content or your bank account is simple. Of course, that is if you use ExpressVPN because it's very reliable and won't let you down.

What are the Benefits of Getting a Turkish IP Address?
If there weren't benefits of this, we wouldn't waste time writing this article. You, as a Turkish resident, probably know all the benefits. But, our readers that aren't from this country might want to learn something new. Let's talk about the benefits:
Accessing Local Television and Netflix
Wanna binge-watch Netflix Turkey all day? Well, that's not healthy for you but you can do it with a VPN. You can also watch Gümüş or Ezel on the most popular Turkish local televisions if you want to! This service offers you access to all of your favorite content from abroad.
Now that you can do it, you'll make your days better in a foreign country.
Avoiding Government Surveillance
Government surveillance is, to be honest, devil's business. Keeping things private is what we like here, and obviously, changing your IP will help. As we said, this service will keep your anonymous, thus letting you avoid censorship and bypass geo-restrictions.
That's why we always suggest using a VPN. There's not a person on this planet that doesn't need a Virtual Private Network!
Using Your Bank Account from Abroad
Finally, if you want to grab some cash to impress your fiancee from abroad, this service will come in handy. However, if you try to access your Turkish bank account from a different country, it will lock you out. This is because you're using a foreign IP.
If you have and use a Turkish IP Address, that's not going to be a problem! So you know what to do, right? 😉
Top 3 VPNs to Get a Turkish IP Address
Now, let's see what are the best providers for getting an IP address from this country:
1. ExpressVPN

ExpressVPN is a fantastic choice for this purpose. It's blazing-fast, allows you to bypass geo-restrictions, and offers superb security. You can now watch YouTube freely or access Netflix and Hulu with ease.
Residents of this country will like it for its ease of use. It's very simple, yet offers all the features you would need. There's a no-log policy accompanied by military-grade encryption and an automatic kill switch.
The provider offers split tunneling for additional security and has servers at multiple locations in this country. Speaking of servers, ExpressVPN has 3,000+ of them in 94 countries worldwide, which is an imposing number!
You can use it on a router to cover up to 16 or 32 devices in your house. With all these features at your disposal, it's hard not to like the provider. We liked it, too – check our review of it here.
Enjoy Turkish Content With ExpressVPN >
2. NordVPN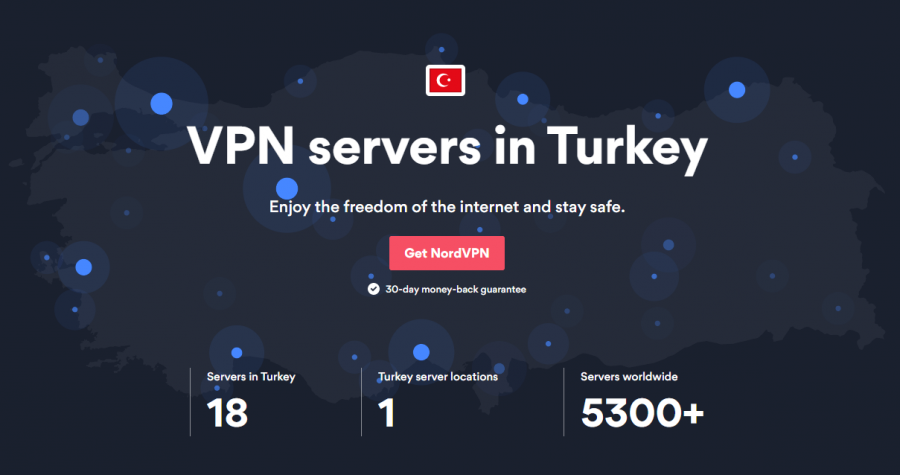 NordVPN is a gigantic provider with 5,600+ servers in 61 countries around the globe. In Turkey, the provider offers 18 high-speed, obfuscated, P2P-supported servers. Quality-wise, the provider is exceptional. It stores no logs since it's from Panama, and you even get tons of security protocols and features.
One feature we like is CyberSec, an ad-blocker but also SmartPlay, a feature for streaming safely and anonymously. Watching Turkish local TV is now possible, with the addition of Netflix, Hulu, HBO GO, and DAZN.
In terms of speed, NordVPN is like Formula 1, making it great for gaming, torrenting, gambling, browsing or any other purpose online. All in all, this feature-rich provider can be yours for the price of a cup of coffee a month.
Get a Turkish IP With NordVPN >
3. CyberGhost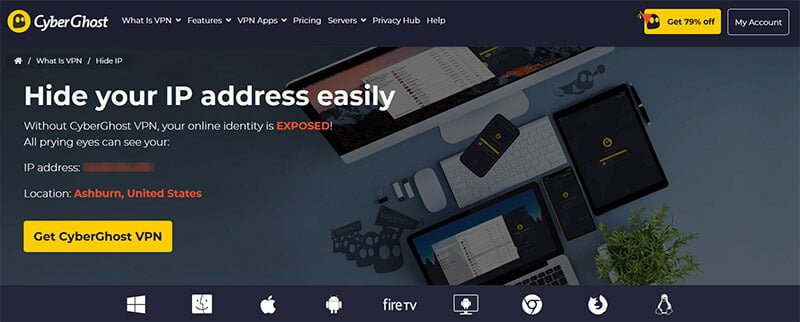 CyberGhost managed to rise above the competition with its 6,200+ servers worldwide, in 91 countries. Crazy times, right? The provider has 24 servers in Denizli and these are the new ones. Although we're talking about physical servers, they don't support P2P, which isn't a big deal.
You can still access Turkish content easily since it has DNS and IP leak protection. This way, your IP will never accidentally leak, keeping you secure online. When talking about security, it's important to mention that CyberGhost doesn't store any logs.
And if you're all about streaming and torrenting, you get dedicated servers, which work flawlessly. This is among the cheapest solutions in 2021, so don't hesitate to get the 3-year plan to save some cash.