The Philippines isn't just great for vacations. This country offers a plethora of quality content online that you might want to watch. Furthermore, if you're struggling to access your bank account from abroad, changing your IP address will be a solution. If you're wondering how to do that, you've come to the right place. Let's see how to get a Filipino IP address from anywhere in the world!
Use a VPN to Change Your IP
In order to modify your IP, you'll need one tool called VPN. Now, for those who don't know, it stands for Virtual Private Network. Aside from being virtual and… well, private, this service has lots of tricks under its sleeve.
For the start, it lets you obfuscate your IP, hiding you from your Internet Service Provider and the government. Here's an image that briefly explains the concept of this service:

The service uses a tunnel to wrap the traffic that goes from your location to the site you want to visit. While doing that, it prevents anyone to intercept you with its military-grade encryption and other security features.
However, the main thing is that it lets you change your IP with a single click. Because of that, it's an ideal solution for problems like these. Stay with us to see how to use it.
How to Get a Filipino IP Address from Anywhere in the World?
Did you know that you can get an IP Philippines anywhere in the world? Well, now you know. Let's see how to do that:
1. Get a Subscription
To use a Virtual Private Network, you'll need to get a subscription. We don't recommend using free providers because of their limitations. As for the premium ones, our top choice is ExpressVPN. This provider from the British Virgin Islands offers the best features and speeds for the price.
And speaking of price, there's a 49% discount and 3 months free for a 12-month plan. Sounds good, eh?
2. Install the Respective Apps
It's time to install the app. The provider supports all the major (and minor) platforms, so feel free to make a choice. After the installation is finished, log in with your credentials, and you'll get to the home screen.
3. Connect to the Filipino Server
Under the power button for connection, there's a random country. Click on it to open the server list. Now, scroll down and find the Philippines, click on it, and connect using the button we mentioned. You'll establish a connection in a few seconds.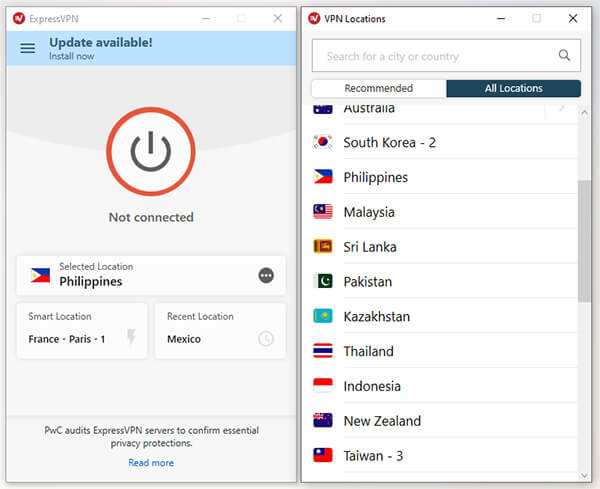 4. Enjoy the Internet to Your Heart's Contempt
The only thing left to do is to connect to a Filipino website of your choice and enjoy it. And if you want to do it again, you need to use only the third step. Capiche? 😉

What are the Benefits of Getting a Filipino IP Address?
While you can't sit on a Filipino beach and watch female booties every day, at least, you can get this country's IP and be its resident online. What benefits will it bring? These benefits:
Accessing Your Bank Account from Abroad
Did you leave your money in your homeland while you're abroad? Well, that's your mistake but don't panic just yet – you can fix it. Banks will usually lock you down from your account if you're accessing it from a foreign address.
But, with a VPN, you can use the address of that country and access it easily.
Watching Filipino Local TV Channels
The Philippines is galore of quality TV channels such as ABS-CBN, CCTN 47, GMA 7 Manila and FOX Sports Asia. But, if you're outside of the country, you can't access them, unless you have a tool for altering your IP. Now that you have it, you can do it.
Oh, you don't have a VPN, you said? Sadly, you won't be able to enjoy local TV channels from abroad.
Staying Anonymous and Secure Online
Your primary concern online should be your safety. Avoiding cybercrime has become a pretty gruesome task. With this service, however, that's not an issue. Stay safe and enjoy the internet as intended.
Top 3 VPNs to Get a Filipino IP Address
Let's check our top choices for getting a Filipino IP in a single click. Don't be lazy, scroll down, and take a look:
1. ExpressVPN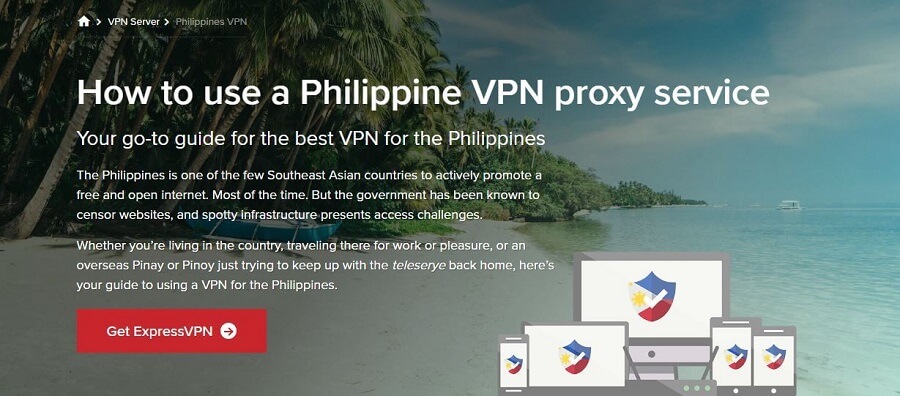 ExpressVPN is a gigantic provider that offers 3,000+ servers in 94 countries worldwide. The provider is known for its speeds, letting you stream 4K content or enjoy torrenting safely.
Speaking of torrenting, the provider gives you a no-log policy, so even if it's hacked, DMCA, NSA, and other agencies can't see what you've done on the internet.
The provider encrypts your connection with 256-bit encryption and unblocks geo-restricted platforms easily. It's great for enjoying Netflix and Hulu but also Filipino local channels. You also get split tunneling, 24/7 live chat support, and a 30-day money-back guarantee.
Get a Filipino IP With ExpressVPN >
2. HideMyAss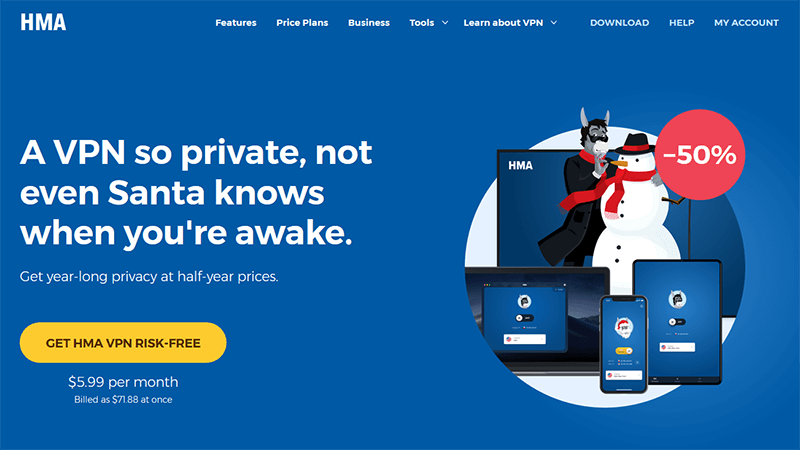 HideMyAss offers two servers in this country, with 6 IP addresses. Given that not many providers have servers here, that's quite good. The speeds of this provider are solid and it can unblock HBO GO, Hulu, and BBC iPlayer easily.
Furthermore, you get a plethora of bonus features, such as dedicated servers for streaming and tons of security protocols. With 256-bit encryption, your connection will stay safe all the time. Plus, there's a 30-day money-back period, so if you don't like it, you can get your money back within a single day.
Since the provider keeps some logs, it's not always our go-to option. For this scenario, though, it's great.
Use HideMyAss to Get a Filipino IP Address >
3. PrivateVPN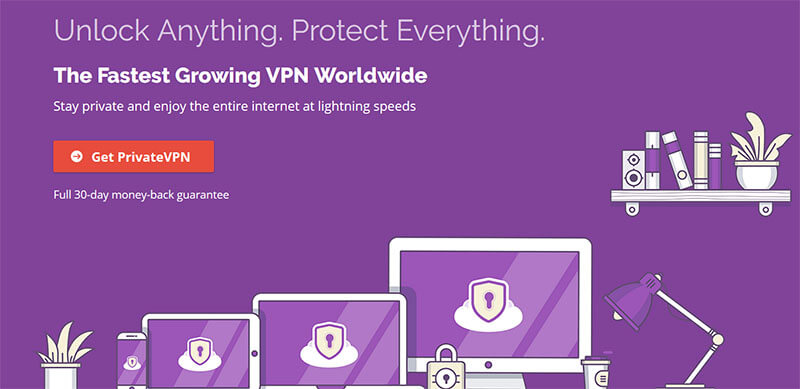 PrivateVPN is a very small provider in terms of server count, offering just 150 of them in 60 countries. The great is that it offers some servers in Manila, so you can get an IP easily. In terms of speeds, it's surely not a champ but if you're not very demanding, you'll enjoy it.
It can unblock local Filipino channels and even supports P2P file sharing. Given its cheap prices, it's a great option for saving some cash, yet getting the most out of your subscription. You can read our full review of it here.