If you came across this article, chances are you are looking through different VPNs that could be great alternatives to Hide.me. While the number of providers on the market is huge, it is a fact that, in today's market, just a few are worth the time and money. To help you out, you will find some of our recommandations below but also all the downsides of a VPN service like Hide.me.
What is Hide.me VPN?
We are sure that there are many of you who haven't heard of Hide.me, which is why we will go through the concept behind it first. Maybe most importantly, this Virtual Private Network is not set in a country that is inside the 5-9-14-Eyes alliance. This means you can be quite confident about your privacy.
The provider offers two options, including a free-of-charge plan that is limited by a single device connection and 2 GB of data transfer. On the other hand, their paid plan does seem to offer much more, including an array of protocols featuring OpenVPN. It also features 256-bit AES encryption.
Not only that, but we were quite pleased to find that Hide.me comes with a kill switch. This is why it is pretty high in our ranking, given the fact that you can be sure your connection is secure.
Also, they offer unlimited torrenting and compatibility with the TOR browser for added anonymity. Additionally, there is an effective 24/7 live chat, as well as a responsive ticket system as an alternative.
This all looks great, but we wouldn't be making an article of the downsides and best alternatives to Hide.me if things were perfect. It is seriously lacking in the ability to unblock censored content across the world, as well as the ability to provide a fast and stable connection. Let's take a look.
Downsides of Hide.me VPN
As we have mentioned above, Hide.me may be reliable if what you are looking for is anonymous browsing.
However, for anyone who wants to unblock streaming platforms and other censored content, it is not the best solution for a few reasons.
Limited Server Park
Hide.me is among the newest VPNs that are trying to compete with the leading names. For this reason, we were not surprised to find out about its limited server park.
You are offered 1600 servers in just above 50 countries. It offers coverage of North and South America, as well as Europe and some parts of Asia and Australia. Some would say this is more than enough, but we wouldn't agree.
The main reason for this is because most locations are set in the EU, and the Sydney and Hong Kong servers simply aren't reliable enough. This means that, out of the few continents that it covers, you can expect fine performance only on two (North America and Europe).
That is the first reason why you should look at a better alternative to Hide.me.
Slow Servers
Once tested, we found that the speeds even in Europe and the US were not up to our expectations. Our first test was done with the UK server, where we experienced a 55% drop in both upload and download speed. The ping was set at 140ms.
We moved on to testing the East and West Coasts and got almost identical results, with slight differences in the ping (which is normal as we are located in the USA). We experienced a 35% drop in upload and download speed with the New York server, which had a ping of 80ms.
On the other hand, we had a 50% drop in speed for the West Coast, with a 120ms for the ping.
Blocked Netflix
You may be looking for a VPN in order to have unlimited access to content from Netflix. However, Hide.me is not going to be a VPN to rely on for this purpose.
It is well-known that the most popular streaming platform has been in a raging war against VPNs for quite some time now. Thus, we were not surprised to find that trying to access Netflix in the US and the UK was not possible with Hide.me.
What we experienced was a common streaming error. You understand better now, why you should look at alternatives to Hide.me ?
Limited Free Plan
Compared to some other options, like Windscribe and TunnelBear, the free plan that Hide.me offers is very limited. You are looking at 2 GB of data transfer, three incredibly slow servers, and the ability to connect with just a single device.
Terrible Refund Policy
First and foremost, they offer just a 14-day reimbursement window for all of their plans, but this is not all.
Even if you request a refund within this time frame, you will not be eligible for it if you have exceeded 500MB of data transfer. This means that your chances of getting your money back are close to none if you have used their service even just a little bit.
Our Favorite Alternatives to Hide.me
As always, we did our best to highlight the downsides of Hide.me and look for relevant alternatives that could resolve those issues.
Thus, we came across a couple of leading names that would make for good alternatives to Hide.me.
ExpressVPN
This is our favorite VPN and the best alternative to Hide.me. ExpressVPN is based in the British Virgin Islands. As such, it stands among the leaders in terms of security and privacy. It offers 100% anonymous browsing with no logging, an industry-standard tunneling protocol and encryption network.
Much like NordVPN, it is highlighted by a considerable server park that offers 3,000 different servers in more than 90 countries. The best thing is that it effectively unblocks content in China, Russia, and Saudi Arabia.
Not to mention, the speeds offered by ExpressVPN make it a service that you will definitely fall for.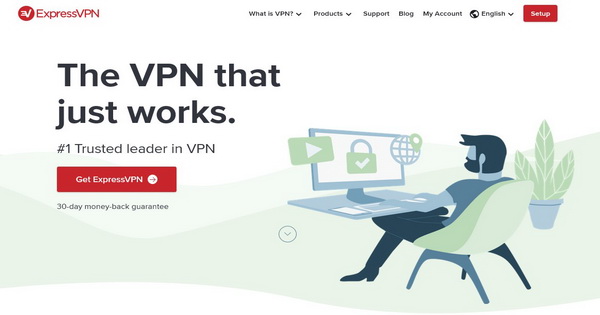 Why choose ExpressVPN over Hide.me?
The clear answer is because of the great speed that this provider offers. Compared to Hide.me, you are looking at excellent connectivity and fast servers in all of the featured locations.
Thus, you will be able to unblock streaming sites, as well as enjoy online games and torrenting without any connection issues.
Why is ExpressVPN better than Hide.me?
First, it features a very good app for Apple devices.
Yes, it is on the pricier side, but considering its overall performance, ExpressVPN is worth it. This includes robust security features, as well as a user-friendly logging policy and explicit overall compatibility.
Get a subscription at ExpressVPN.com >
NordVPN
Anyone who has ever researched the best VPN on the market has undoubtedly come across NordVPN as a reliable option. Situated in Panama with a strict no-log policy, you have nothing to worry about in terms of privacy.
We love the fact that it offers an array of instruments that protect you from potential leaks and malware risks. Additionally, there are a couple of tunneling protocols, including OpenVPN, and 256-bit AES encryption for added security.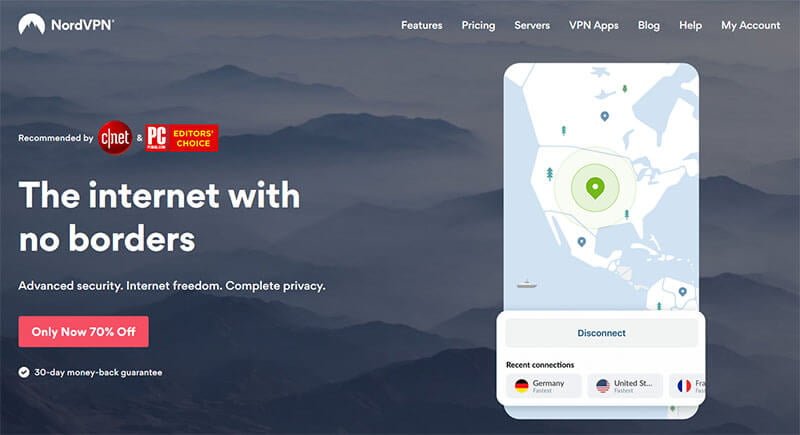 Why choose NordVPN over Hide.me?
NordVPN is the best to watch Netflix with. That's the first reason why it is a good alternative to Hide.me. Plus, it offers more than 5,500 servers and is highlighted by explicit security features.
It has compatibility that will allow you access to the dark web. NordVPN also features a flawless ability to unblock Netflix and is quite efficient when trying to watch geo-restricted YouTube videos. Keep in mind that these two providers are similar in terms of price and payment methods.
Why is NordVPN better than Hide.me?
The most affordable subscription for NordVPN will cost you just below $3.50 per month for their three-year plan! Which is way less expensive than Hide.me. Also, the servers are faster and much more stable.
Get a subscription at NordVPN.com >
CyberGhost
When it comes to services that are friendly for those on a sensitive budget, CyberGhost is the way to go. Given its affordable pricing options, one might think that this product doesn't offer good performance.
However, we tested it and found that this Romanian-based service is quite good, which is why we can recommend it as an alternative to Hide.me. The set-up process is extremely fast and easy. Plus, it can unblock Netflix, and it offers all-inclusive connectivity.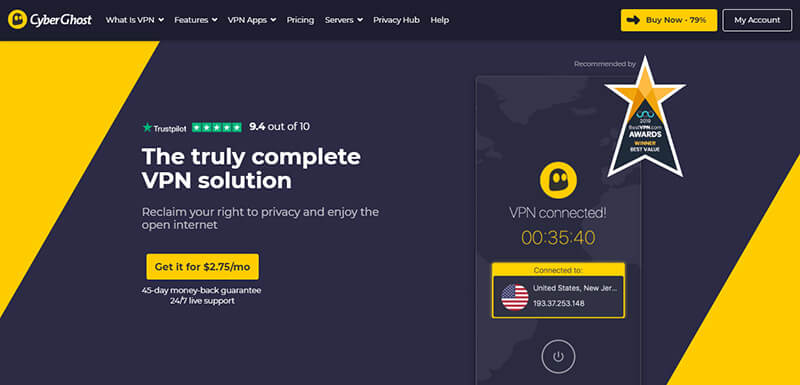 Why choose CyberGhost over Hide.me?
Our first answer would be because of server reliability, considering we had connection issues with Hide.me.
This is not something that you will encounter with CyberGhost. We performed a couple of test sessions and found it to work great both in the US and Europe.
The same goes for Australia and Asia, where we were able to acquire a stable connection. One of the best things is the fact that we could unblock Netflix in 75% of the locations that we tried.
Why is CyberGhost better than Hide.me?
This service is highlighted by a strict no-log policy, as well as proper encryption.
Plus, you will pay only $2.75 per month for the 3-year plan. Not to mention, CyberGhost offers a 1 day free trial, as well as a great refund policy of 45 days for subscriptions over 6 months – one of the longest on the market.
Get a subscription at CyberGhost.com >
The Best Free Alternative to Hide.me
Considering the fact that Hide.me VPN offers a free plan, it is normal that we highlight the best substitute for this.
Windscribe
We are quite confident saying that Windscribe offers the best free VPN service out there.
While based in Canada, we found that the provider doesn't keep logs, which is incredibly important for privacy reasons. Also, you are sure to enjoy a fair torrenting and streaming ability.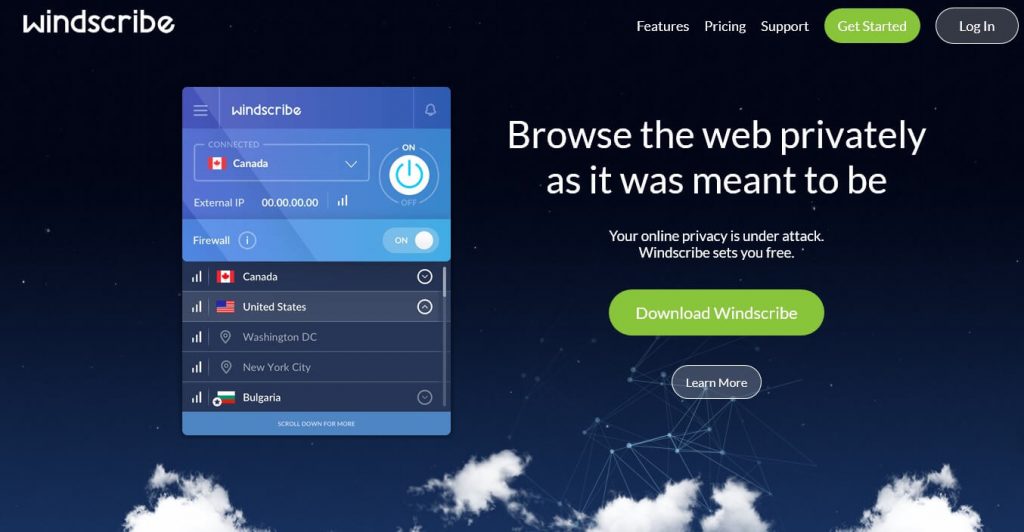 Why choose Windscribe over Hide.me?
The main reason is because the limit that highlights this service is much higher. Thus, you are looking at 10GB per month, as well as 14 reliable servers you can connect from.
Why is Windscribe better than Hide.me?
As we have mentioned above, Windscribe offers more security features and options with its free plan.
Wrap Up
In the end, it all comes down to whether you can put up with the inability of Hide.me VPN to unblock content worldwide.
If you can't, then NordVPN, ExpressVPN, and CyberGhost are the three best alternatives that you can't go wrong with!