Today, we will be putting our primary focus on HideMyAss service and its best alternatives for 2021. We shall be discussing what is good and what's not so great about it. And you will see, there are a lot of things to say. Without further ado, let's check the cons of HMA but also some great alternatives.
What is HideMyAss VPN?
In the past two decades, HMA! has massively grown in popularity. A service that can bypass geo-restrictions and ensure anonymous browsing is undoubtedly worth it.
However, due to the high demand for a Virtual Private Network, there are several providers that can't really keep up with the expectations. Additionally, many services are not there to ensure anonymous browsing, but rather track and sell your browsing data and connection logs.
Founded by Privax Limited a couple of years ago, this UK-based service is known for its big server park featuring more than 900 servers in 190+ countries. In this matter, it can surely stand up to par with the leading names, including ExpressVPN and CyberGhost.
Also, the speeds that this provider offers seem to be reliable when it comes to regular browsing activity as well as streaming content HD. However, while HMA does suggest that it can unblock numerous platforms, we didn't find this to be the case. This is the first reason why you should be looking at an alternative.
Yes, the interface that is with this VPN is user-friendly. Plus, the installation process is done with a few simple steps. Still, this is barely worth anything if HMA doesn't offer proper protection, and works more like an average proxy.
Downsides of HideMyAss
It is a fact that HMA can be called a global provider considering the server park as well as the consistent speeds that it offers. On the other hand, it does have several flaws that are related to its overall performance and sketchy privacy policy.
Let's take a look before presenting some of the best alternatives you can get in 2021.
Sketchy Logging Policy
Among the most important aspects of any Virtual Private Network is that it doesn't track or collect your browsing data and private info. Most providers do claim to feature a no-log policy, but the reality is quite the opposite.
The same goes for HMA that doesn't only collect your username. It also collects logs, amount of data transfer, as well as IP of your original location. While they do justify this with the presumed security motifs, we don't trust it.
Along with the fact that they will be collecting your browsing data, HMA does oblige to the regulations of the 5-Eyes alliance, which can be a pretty big issue and a really good reason to look at some alternatives.
UK Jurisdiction
As we have mentioned above, this provider is under the regulation of UK data retention laws. However, it is also the global alliance that can affect your privacy.
The fact that any of the allied governments/authorities can ask for your browsing data or IP address is not something you want to get out of a VPN.
You can be sure that HMA is sharing your activity both for the purpose of preventing illegal acts and in order to turn a profit. Considering the fact that you will want protection out of a VPN, and not the opposite, this is a huge downside.
Discouraged Torrenting
Because HMA does collect your activity, it doesn't come as a surprise that they don't encourage or allow torrenting. It seems that HMA does do its best to fight any illegal activity done using their servers.
Since your personal info, as well as connection logs, are sure to be revealed to the local authorities, we strongly suggest that you don't use this service for P2P transfers. The reason? You are at a considerable risk of DMCA sanctions. You better choose alternatives such as ExpressVPN or NordVPN for torrenting.
Blocked by Netflix
While this provider does offer just below 1000 servers, which is quite good in terms of unblocking potential, we had no luck. After performing a couple of tests, we found that HMA will not serve its purpose when it comes to unblocking US or UK catalogs of Netflix.
On the other hand, we had substantial connection issues related to the locations in Australia and Asia. This meant that we weren't able to test this properly in the first place. Chances are, if you want a VPN that will give you access to streaming content, you should look at better alternatives.
Unreliable Customer Support
In the end, comes the ability of HMA to settle an issue that you might have. Unfortunately, they don't feature a 24/7 live chat, which is a downside per se.
Additionally, social media support is almost non-existent. You will need to wait at least 2 business days in order to get a relevant customer support answer.
Our Favorite Alternatives to HMA
We did our best to highlight the significant concerns that we have related to subscribing to HMA. If you want to know more about HideMyAss, you can read here.
Let's move on to a couple of alternatives that we do find secure and reliable if you were hoping to enjoy unlimited browsing experience!
ExpressVPN
As our first choice of alternative comes a provider that is known for incredible server speeds, and overall performance. Based in the British Virgin Islands, ExpressVPN offers more than 3,000 servers in just below 100 countries.
You can be sure that by subscribing to this premium VPN, you will get to enjoy a tremendous server performance all around the globe. Additionally, ExpressVPN is highlighted by a strict no-log policy, as well as phenomenal device compatibility, so that you can connect with different operating systems at the same time.
Not to forget, ExpressVPN does a great job when it comes to unblocking content in countries with restrictive governments, including Saudi Arabia, Korea, China, and Russia.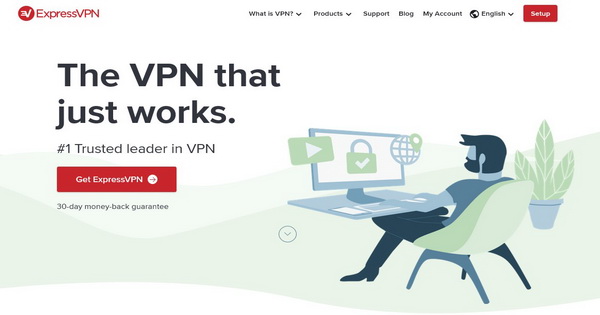 Why choose ExpressVPN over HideMyAss?
The main motif should be because of the overall performance that you will get out of ExpressVPN. You will not experience any privacy-related or security-related issues while being able to maintain a fast internet connection in all locations with this great alternative to HMA.
Why is ExpressVPN better than HMA?
This is for a couple of reasons. Firstly, it is more reliable and sure to provide anonymous browsing that you were looking for in the first place.
Also, by subscribing to this VPN, you will have nothing to worry about in terms of whether you will be able to access certain streaming content or not.
Not to forget, ExpressVPN is highlighted by competent customer service and a user-friendly interface, that are there to ensure you have a tremendous browsing experience.
Get a subscription at ExpressVPN.com >
NordVPN
As one of the leading names in the industry, NordVPN boasts an impressive 5,500+ different servers that are set in more than 50 countries. Additionally, because it is Panama-based, there is nothing to worry about in terms of your privacy.
There is a myriad of reasons why NordVPN has been at the top of the list for years, including the fact that it offers optimal security, reliable server performance, and effective customer service.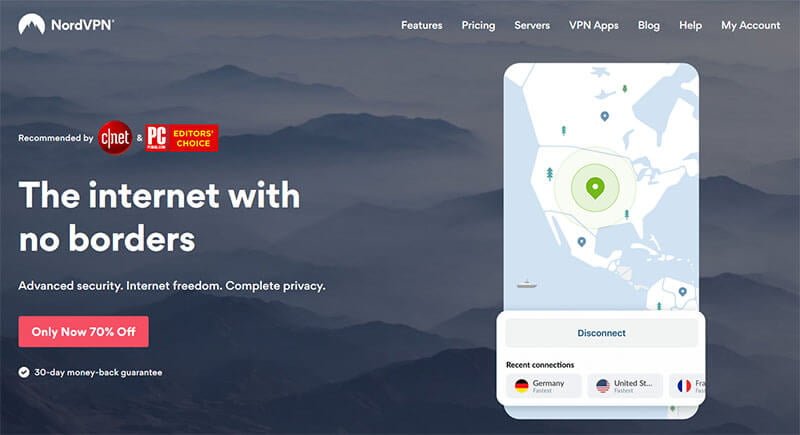 Why choose NordVPN over HideMyAss?
Looking at the flaws mentioned above, we can say with confidence that NordVPN has all of those fixed. Firstly, you will not have a single issue trying to unblocking streaming platforms considering that this VPN does a great job with more than 150 sites worldwide.
Not only that, but the torrenting that was discouraged with HMA is allowed with this service, and you will not have to worry about an increased risk of DMCA sanctions. Isn't that enough to make it a great alternative?
Why is NordVPN better than HMA?
As you could read above, HMA is not the right option if you want to stay anonymous.
On the other hand, NordVPN does ensure you are completely protected with a couple of instruments, including a CyberSec and a kill-switch.
Additionally, with its no-log policy, and the company being based in Panama (outside 5-Eyes jurisdiction), you have nothing to worry about.
Get a subscription at NordVPN.com >
CyberGhost
Last but not least, when it comes to paid alternatives to HideMyAss, there is CyberGhost. It is thought to be the best value choice on the market. CyberGhost is highlighted by more than 6,000 servers, and a reliable overall performance suitable for global browsing activity.
It doesn't only work great in terms of unblocking censored sites, but also by providing you a malware and leak protection that you are hoping to get out of a VPN. CyberGhost also offers a 45-day money-back guarantee so you can test out the service.
Not only that but with 7 simultaneous connections on one account, you will be able to get more than you expect out of a single license.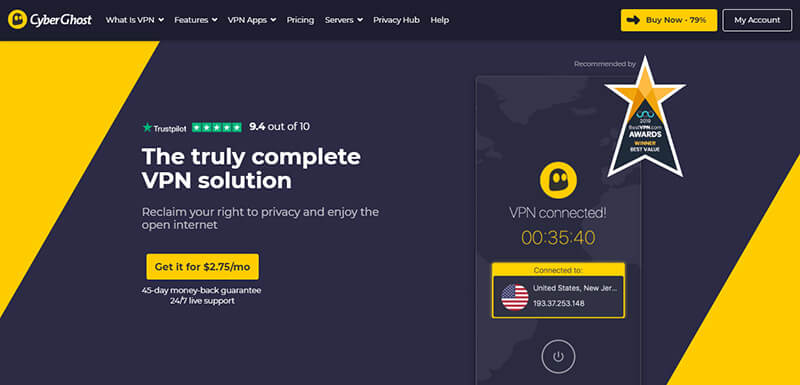 Why choose CyberGhost over HideMyAss?
Both for the reasons that it is much more affordable and for the fact that its overall connectivity and performance is something HMA can't compete with.
Why is CyberGhost better than HMA?
CyberGhost is a better alternative for a couple of reasons. Firstly, you will not have any issues with customer service because CyberGhost does have a live chat feature.
Additionally, the interface experience, as well as switching between the many locations, is incredibly simple. Thus, you are sure to get a tremendous unlimited experience that is completely anonymous.
Get a subscription at CyberGhost.com >
The Best Free Alternative to HideMyAss
Before doing this article about the best alternatives to HMA, we considered the fact that there are undoubtedly some of you on a sensitive budget. So we have prepared a single free option that can replace the British VPN provider.
Windscribe
Windscribe is known for both its free and paid plan. While the latter is highlighted by more than 500 servers, the one that you will not pay anything for offers just 14 locations.
However, the performance that you will enjoy with these servers is quite good. We also had a good experience trying to perform P2P transfers.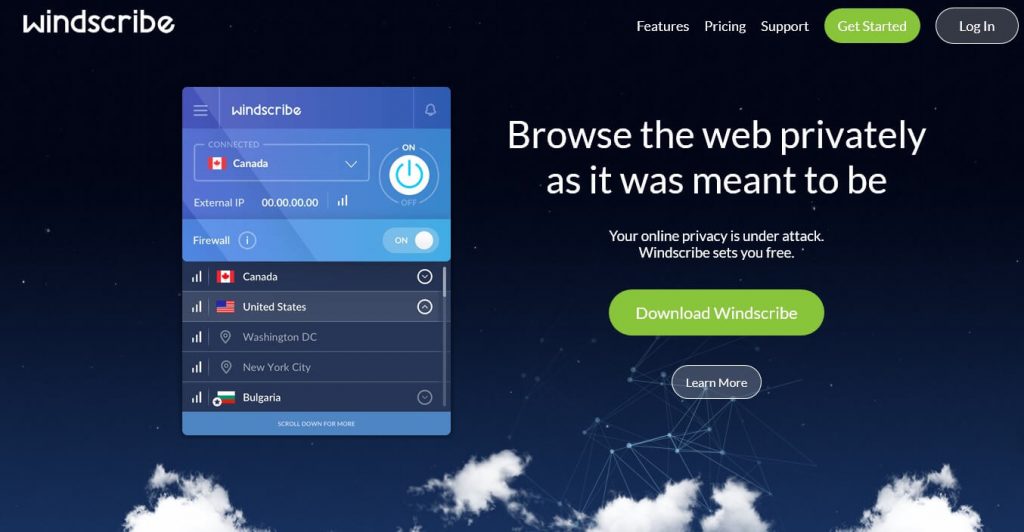 Why choose Windscribe over HideMyAss?
For the sole reason that you will be getting almost the same protection and overall performance while not having to pay a single dollar.
Why is Windscribe better than HMA?
The privacy and security features offered by Windscribe is definitely the biggest plus of using this service over HideMyAss.
Wrap Up
In the end, it all comes down to what you are looking to get from a Virtual Private Network. For all of you that want an anonymous browsing experience, and the ability to watch Netflix worldwide, HMA is not reliable.
We did our best to highlight the most popular and trustworthy alternatives. It is your turn to go ahead, do further research, and choose the one that you suit you the best!