The Google Play Store is an extensive catalog of apps and music available for Android users. However, this site is different, depending on the country you're in. Your country might not have the same catalog as other ones, in which case you'll want to change your Google Play region. Doing so is very easy but you need to take care of a few things first. Keep reading to find out more about it.
How to Change a Country on Google Play?
Without wasting your time, let's see how to perform our easy trick. To do so, you'll first need to use a Virtual Private Network. A VPN will help you change your IP address, making it seem like you're from another country.
If you're not in another country, you MUST use a VPN for Google to give you the option to change the location. Let's see how to get a VPN first:
Subscribe to the provider of your choice. Our recommended option for this purpose is ExpressVPN. It's the best provider on our ranking of the best VPNs for Android.
Download the Android app, open it, and sign in with your credentials.
To change your IP, open the server list under the connection button.
Find the country you want and connect to the server located there using the connection button.
You should now see a small "VPN" icon in the notification bar up top.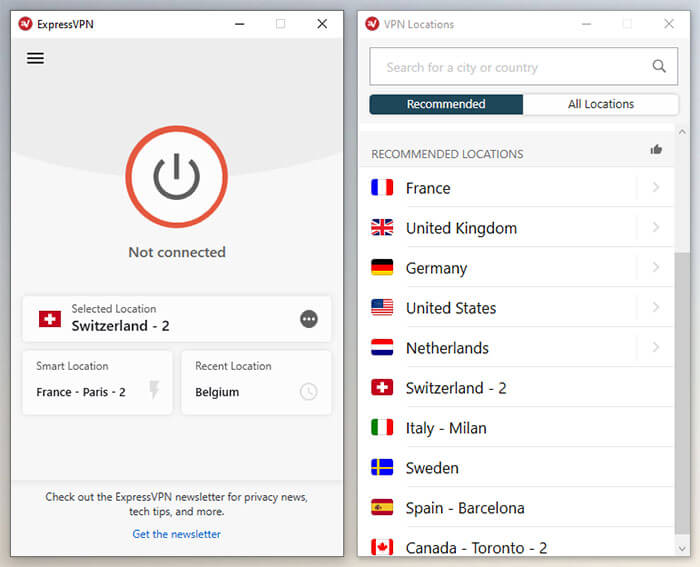 Now that you completed this step, it's time to glance over to the Google Play Store and continue on with our guide.
Open the Google Play app from your home screen or app drawer.
Tap on the three horizontal lines that you can find in the top-left corner of the screen to open the side menu.
Below, you'll see the option called Account. Tap on it to open another menu.
Now, with a VPN connection, you should see the section "Country and profiles." You can see your country there, but also another country that should be the same as your VPN server's location.
Under the option "Switch to the [another country] Play Store", click on the payment method you want to add. Beware that this payment method must be registered in the country you're trying to switch to. If you can't add an eligible payment method from another country, you CAN NOT change your country on Google Play Store.
Best VPN to Use in 2021 – ExpressVPN
As we said earlier, our recommended choice for this purpose is ExpressVPN.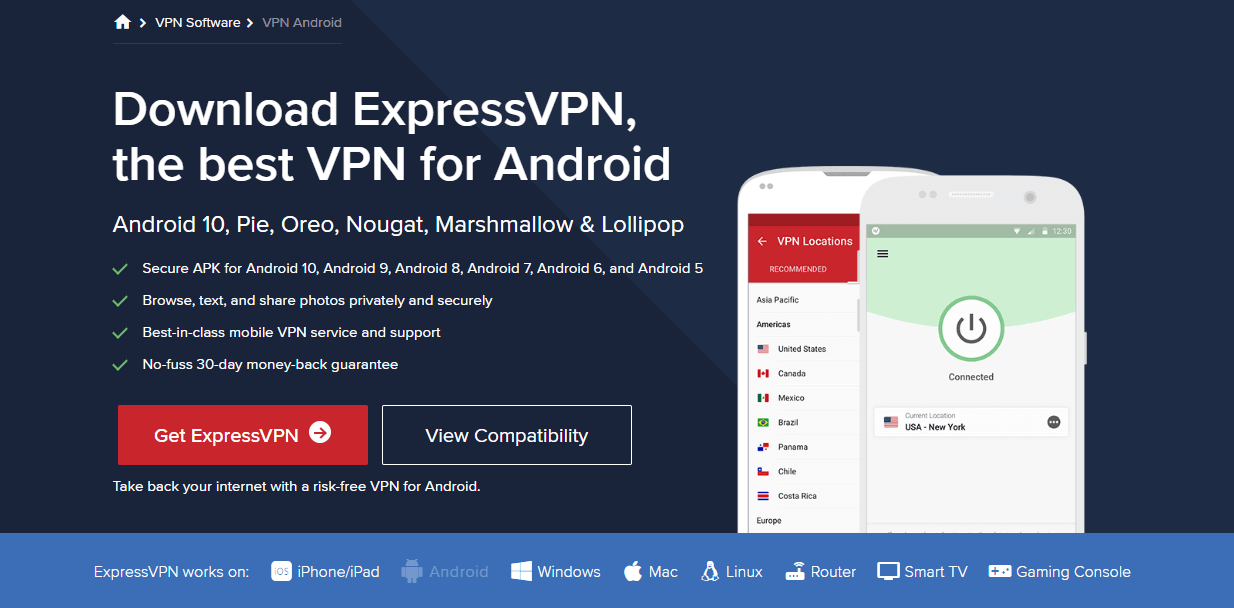 It's the best provider on the market, allowing you to enjoy the internet anonymously, with impeccable security. Furthermore, it allows you to unblock and watch YouTube videos or platforms like Netflix, Hulu, and HBO GO.
The main reason we chose ExpressVPN is due to its ability to unblock sites and bypass geo-restricitons. Google Play has strong measures that will detect any attempt at changing online location or bypassing any limitations.
However, ExpressVPN has a long record of success with this kind of problems, hence it's the best possible option. Not to mention that it has 3,000+ servers in 94 countries worldwide. Here, it's countries that matter, and the provider has almost the largest number of them if it wasn't for HideMyAss.
Security-wise, ExpressVPN offers 256-bit AES encryption and a Kill Switch. This will ensure that your connection is always secure, making it impossible for anyone to track your activity. To make things better, it maintains a zero-logging policy audited by PwC, so you can put maximum trust in the provider.
If you're not going to use it only on your phone, you can take advantage of 5 simultaneous connections that it offers. Should the problems arise, ExpressVPN's customer support will fix the issues expressly – pun intended.
Lastly, its 49% discount and 3 months free for an annual plan is definitely a good deal. Grab it while you can and change your country on Google Play in less than a few minutes!
Change a Country on Google Play With ExpressVPN >
What Impact Will Changing your Country on Google Play Have?
Changing country on the Google Play Store lets you browse the catalog catered to that country. For example, PayPal is an app that's still not available in some countries. But, with a VPN, you can easily change your country and download it.
If you're in another country and you plan on staying there for more than a year, you're definitely going to benefit. The problems will arise if you change the region and you want to get back to your region in less than a year. Google Play doesn't allow us to do that.
When you change your country, you can't use your payment methods or Play Balance for one year. Furthermore, changing your country is also impossible during this period.
This means that you're "stuck" with another country and another payment method for 365 days and you can't do anything about it. So, before deciding to do this, we recommend thinking twice about it.
Our guide will help you change the country, but we can't do anything about this potential problem.
Can You Change Country on Google Play with a Free VPN?
Yes, you can! Great news, huh? Well, not exactly. We suggest AVOIDING free VPNs at all costs, and here's why.
Free providers will offer you very limited features that won't even come close to what premium providers will offer. One of them is security, which isn't as strong as with the paid providers. You get weaker encryption accompanied by the fact that the provider will most likely store logs.
These logs contain your personal information, which these companies later sell for revenue. Needless to say, this will jeopardize your privacy in a blink of an eye, without you even realizing it.
Free VPNs also can't unblock streaming platforms like Netflix or Prime Video. Streaming, therefore, will be impossible to enjoy, due to many additional issues that arise. These issues include slow speeds, unstable connections, and the lack of ability to bypass geo-restrictions.
That's why getting ExpressVPN, NordVPN, or CyberGhost will be a much better decision. All three of these providers will help you change your country on Google Play, but also provide impeccable security and fast speeds. What else do you need? 😉