Are you looking for the best alternatives to PrivateVPN because you were disappointed by the service offered? In this case, we suggest that you discover 3 VPNs that we can recommend to you. But before, let's see in detail the weaknesses of PrivateVPN. And you'll see, there are a few.
What is PrivateVPN?
Given its name, one would assume that you are looking at a Virtual Private Network that is completely safe and secure. Founded in 2009, by Privat Kommunikation Sverige AB, this provider is set in Sweden.
It is safe to say that this VPN packs quite a few security and privacy-friendly features, given its versatile set of tunneling protocols. Additionally, it uses 256-bit AES encryption that is used by military organizations and banks.
Not only that, but you are looking at a VPN that is apparently compatible with most devices. This is why we consider it to be a user-friendly choice. Also, activities like streaming and torrenting are completely supported and allowed by PrivateVPN.
For the long-term subscription options, the prices charged are low, with the service costing $2.88 per month with the annual plan. However, while PrivateVPN certainly comes with more than a couple of powerful features, it lacks in a few aspects, which explains why you might be looking at a better alternative.
Downsides of PrivateVPN
As we have mentioned above, no one denies that PrivateVPN is a great service when it comes to security and the overall interface. The installation process consists of a couple of simple steps, and you are sure to be protected from leaks, as well as any kind of malware.
However, that simply may not be enough for someone who wants to be sure that they will get a fast and 100% privacy-friendly VPN. We say this for a couple of reasons.
Swedish Jurisdiction
First and foremost, you need to know that Sweden is a part of the 9 and 14-Eyes alliance. This means that your data and private info could be handed over to the local authorities and governments if requested. Isn't that a good reason to look at alternatives to PrivateVPN?
This certainly is not something you are looking to get out of a VPN that should ensure 100% anonymous browsing. Thus, you are put at risk of the US, the UK, New Zealand, Australia, Canada, and other countries getting a hold of your activity.
Yes, PrivateVPN claims a strict no-log policy, but that is something we are going to discuss down below. For a service that claims great privacy, a 9/14-Eyes jurisdiction is not something that would be considered a positive thing.
Sketchy Logging Policy
PrivateVPN claims strict no-log policy, which is quite common for most providers. As mentioned above, in most cases, this simply is not true.
Driven by our past experience, we decided to review its privacy policy and ToS. What we found out is that PrivateVPN actually collects cookies of your activity and stores your original IP address.
This means that PrivateVPN can sell this to a third party to turn a profit. Also, they may need to hand the info over to one of the allied governments if requested. Considering the fact that this provider emphasizes privacy and security, this is a huge downside.
Unfortunately, PrivateVPN is not transparent enough about the way they do business, and some things need to be changed.
Unreliable Customer Service
What we are looking for in most VPNs is a customer service team that can get your issue settled within minutes. However, we weren't able to find that with PrivateVPN.
The thing is, this provider doesn't include a live chat feature that is recommended for this purpose. Thus, you will either have to go with their social media support or ticket email system. The latter takes at least a business day to provide a response.
Limited Server Park
PrivateVPN is quick to call themselves a global provider that can unblock censored content across the world. Still, we didn't find this to be the case.
Firstly, compared to alternatives such as NordVPN and CyberGhost, PrivateVPN is incredibly small. It offers just 84 servers in 61 countries. Not only this, but their Asian and Australian servers are not among the most reliable ones.
We had a serious issue with connection to both Sydney and Hong Kong. For this purpose, we can't truthfully call PrivateVPN a trustworthy global service.
Our Favorite Alternatives to PrivateVPN
We did our best to go through both the potential, as well as flaws, that are related to PrivateVPN. Unfortunately, what we found out is that it is not the best provider when it comes to privacy and overall performance.
This is the reason why we think that the below-mentioned VPNs are good alternatives and much better options for enjoying anonymous browsing.
ExpressVPN
Our absolute favorite VPN is ExpressVPN. It is based in the British Virgin Islands. As such, it stands among the leaders in terms of security and privacy. It offers 100% anonymous browsing with no logging and an industry-standard tunneling protocol and encryption network.
Much like NordVPN, it is highlighted by a considerable server park, with 3,000 different servers in more than 90 countries. The best thing is that it effectively unblocks content in China, Russia, and Saudi Arabia.
Plus, the speeds offered by ExpressVPN make it a service that you will definitely fall for, but also the best alternative to PrivateVPN.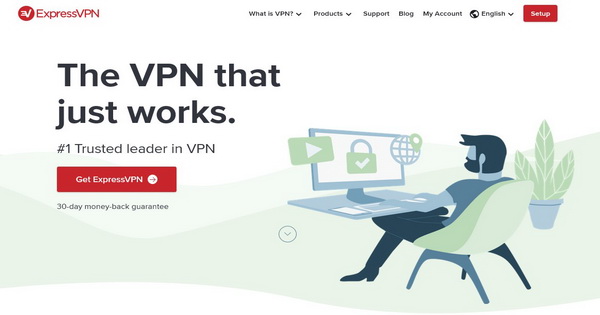 Why choose this VPN over PrivateVPN?
The clear answer is because of the great speed that this provider offers. Compared to PrivateVPN, you are looking at excellent connectivity and fast servers in all of the featured locations.
Thus, you will be able to unblock streaming sites, as well as enjoy online games and torrent without any connection issues.
Why is ExpressVPN better than PrivateVPN?
Yes, it is on the pricier side, but considering its overall performance, ExpressVPN is worth it. This includes robust security features, as well as a user-friendly logging policy and explicit overall compatibility!
Get a subscription at ExpressVPN.com >
NordVPN
Second on our list of the best alternatives to PrivateVPN is NordVPN, which is considered to be one of the most reliable and versatile providers on the market. Highlighted by more than 5,500 servers and an incredible privacy policy, it is a trustworthy option.
The parent company is based in Panama, which means you are completely safe from any restrictive data retention laws or the 5 Eyes alliance. Not only that, but NordVPN offers a myriad of leak-protection instruments, including CyberSec and a kill-switch.
What you are looking at is a powerful VPN that will ensure an anonymous browsing experience and unblock censored content around the world.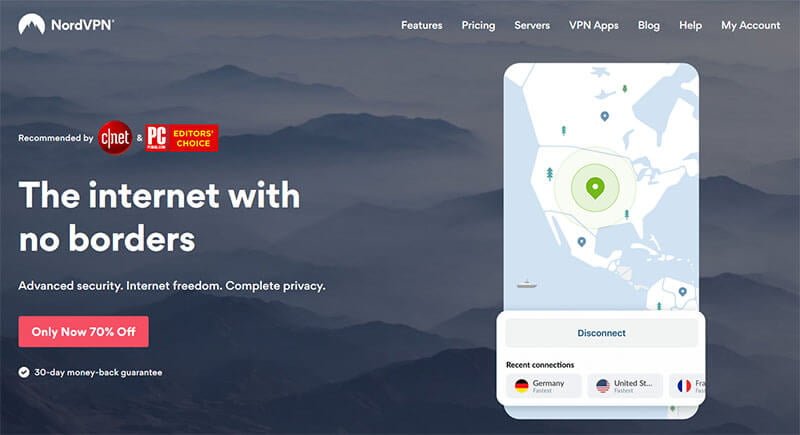 Why choose this VPN over PrivateVPN?
The answer to this question is quite simple – it does a much better job of unblocking streaming content.
Looking at what NordVPN offers, you will be able to enjoy extensive libraries from more than 150 streaming sites. These sites include Netflix, Hulu, Amazon Prime, and BBC iPlayer.
Reliable connection and flawless unblocking ability are features that go a long way when it comes to overall value.
Why is NordVPN better than PrivateVPN?
Apart from being more reliable when it comes to streaming content, it also comes at an affordable price and doesn't have Swedish jurisdiction.
Not to mention, its customer service and refund policy are effective and user-friendly. Thus, you are sure to have a splendid experience using NordVPN!
Get a subscription at NordVPN.com >
CyberGhost
You have probably heard or read about this provider as being one of the most affordable options out there. The fact that it will only cost you around $2.75 per month for the 3-year plan makes it friendly for those on a budget.
CyberGhost is based in Romania and has been claiming great security and performance for years. What we can say is that it is one of the best options in terms of usability and compatibility. Its VPN for iPad is particularly appreciated for its ease of use.
This service offers reliable performance, with more than 6,000 servers around the globe. Plus, it comes with a 1 day free trial that allows you to see if this VPN suits your needs first.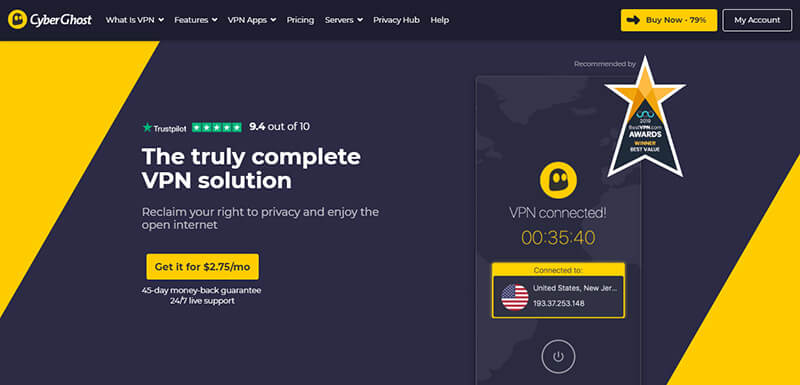 Why choose this VPN over PrivateVPN?
The main reason that CyberGhost is a great alternative to PrivateVPN is the incredibly effective customer service. Featuring a live chat, you are sure to get a relevant answer within minutes.
They offer a 45-day refund window for all long-term subscriptions over 6 months, as well as a 14-day window for the 30-day plan. The best thing about CyberGhost is that the customer service is indisputable and is sure to get your issue settled within minutes.
Why is CyberGhost better than PrivateVPN?
The answer depends on what you are looking for in a Virtual Private Network. In overall usability and compatibility, CyberGhost has PrivateVPN beat.
Firstly, you can connect with up to 7 devices at a time. Additionally, using a VPN from any of the potential devices and operating systems is incredibly easy.
Lastly, the price that this service comes at is even more affordable than the one offered by the Swedish provider.
Get a subscription at CyberGhost.com >
The Best Free Alternative to PrivateVPN
This wouldn't be a good "best alternatives" article without listing at least a single option that is completely free of charge.
Windscribe
Based in Canada, this provider may not have the best jurisdiction available, but it does offer a fair free plan.
Now, it comes with a 10GB data transfer per month limit, and you can connect from just 14 servers in 10 countries. However, the ability to torrent still stands tall.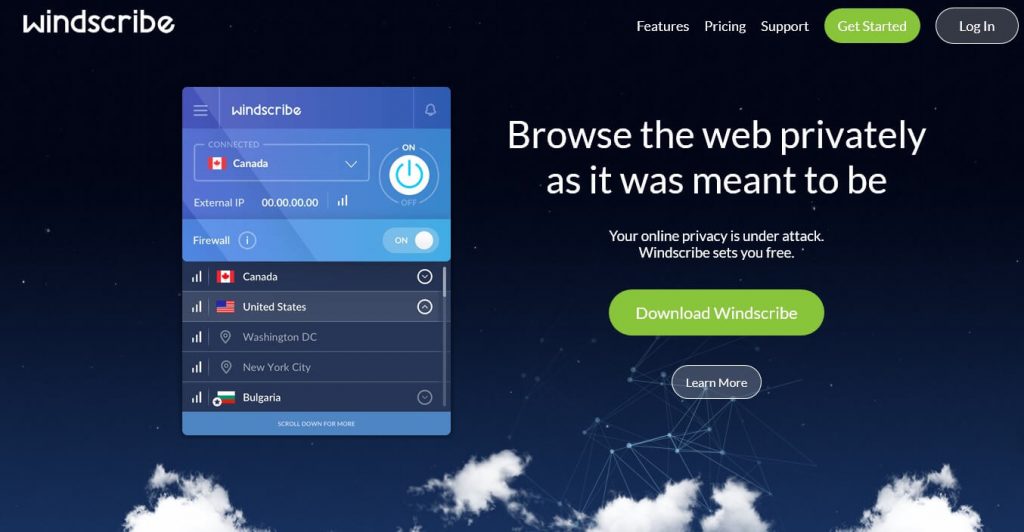 Why choose this VPN over PrivateVPN?
The main reason is that you will not be paying anything, and you will still be able to unblock censored sites in the US and Europe.
Why is Windscribe better than PrivateVPN?
We can't really say that it offers more robust features, but Windscribe does offer faster performance with some of its servers.
Also, it has a better no-logging policy, which is quite surprising given the fact that it is completely free.
Wrap Up
Frankly, we can't say that PrivateVPN is a service that lacks basic quality. It does offer a good ability to unblock censored content, and it is quite easy to use.
On the other hand, it is not the best in the aspect of privacy, given its jurisdiction and logging policy.
That is why NordVPN, ExpressVPN, and CyberGhost are the three best alternatives that we can recommend for stress-free anonymous browsing!