Free stuff always sounds better than it actually is. While many people use free providers and get along with them, you might find them a lot inferior to paid solutions. When it comes to torrenting, though, a safe and secure VPN is a must. Truth be told, not every free provider is secure enough, making it harder to enjoy torrenting safely. But, today, we're going to give you a few of them that are worth a shot.
Free VPNs for Torrenting – What's the Catch?
There's a lot to talk about torrenting and P2P activities in general. In today's day and age, governments around the world are hell-bent on stopping copyright violation that often happens when downloading from torrent sites.
Fines are very expensive, and in some countries, you can even get jail time if you cross a certain threshold. For the reasons mentioned above, you need to know all the advantages of using a VPN for this purpose.
Free VPNs will give you SOME of the advantages but will ALWAYS come with all of the issues below, or at least one of them while torrenting. Let's see what's the catch with free providers and if they work for this situation.
Limited Bandwidth
Providers that you get without paying a single penny are called free. They can usually be downloaded right away, and in some cases, you don't even need to register. Unfortunately, these providers almost always come with limited bandwidth.
Premium providers will never limit you in how many megabytes or gigabytes you should consume per monthly basis. You can binge-watch shows and movies, or download torrents worry-less.
On the flip side, free VPNs will do so, and these limits can go from 500 MB to 10 GB a month, on average. Just imagine having 500 MB a month – does that sound good? How much bandwidth do you consume a month on your smartphone? 3, 4, 5 GB?
Well, that should make some things clear and understandable.
When you're getting a free provider, expect this issue. If not, at least one of the following issues will arise.
Slow Speeds
Oh, you got ProtonVPN and it has unlimited bandwidth? Great, but what about speeds? You can bet that speeds will be very slow, which they actually are. When it comes to speeds, free solutions are simply not enough to satisfy even less-demanding users.
In our numerous reviews on this site, we tested dozens of VPNs with snail-like speeds, and the browsing experience is atrocious. Torrenting is a completely different thing, where fast speeds are mandatory if you want to download a movie, game, or music album quickly.
Sadly, you won't be able to enjoy such treatment.
Privacy Concerns
When using a non-paid Virtual Private Network, you won't be able to avoid DMCA notice easily. The reason being is because they don't care about your privacy. In fact, they'll violate it the second you start using it or registering on the website.
Maintaining VPN servers is quite expensive and they need to earn money somehow. One way is through implementing annoying ads, which isn't so malicious. Another way is to collect your personal data and browsing history, which is later sold to third parties for revenue.
If you care even the slightest about your privacy, you should take this into account. If third parties have info about your torrenting habits, yet the government can always request that information… you're knee-deep in problems.
Inability to Download Torrents
Last but not least, free VPNs will sometimes refuse to work with BitTorrent or any other torrent client. They won't allow you to download or seed, making them unusable for this purpose.
That happens a lot, and the prime example of this is ProtonVPN. Its free version has unlimited bandwidth, but it doesn't allow you to download torrents. As we said, at least one of these issues is bound to appear when using these providers.
So, before you continue reading, be sure to think carefully before you make your choice.
Best Premium VPN for Torrenting – Get it for FREE!
If free solutions aren't up to the task, it's logical to look out for paid solutions. Money always works and that's how the world functions. When you pay for a provider, you'll pretty much always get a better browsing and torrenting experience.
Sure, there are some paid providers that aren't worth a dime, but if you know where to look, you can find the industry-leading VPNs. One of them is ExpressVPN, a provider that doesn't offer any form of free plan.
But, before you crumble in disappointment, let us tell you that you can get it completely free for 30 days. Here's how to do it:
Visit ExpressVPN and get a monthly plan that offers a 30-day money-back guarantee.
Download the app you want to use, open it, and sign in.
On the home screen, open the server list and connect to the server you want.
Visit any torrent site and start downloading torrents safely.
Just before 30 days expire, contact support and request your money back. Now, you've used ExpressVPN for free, with your money back in your pocket.
More About ExpressVPN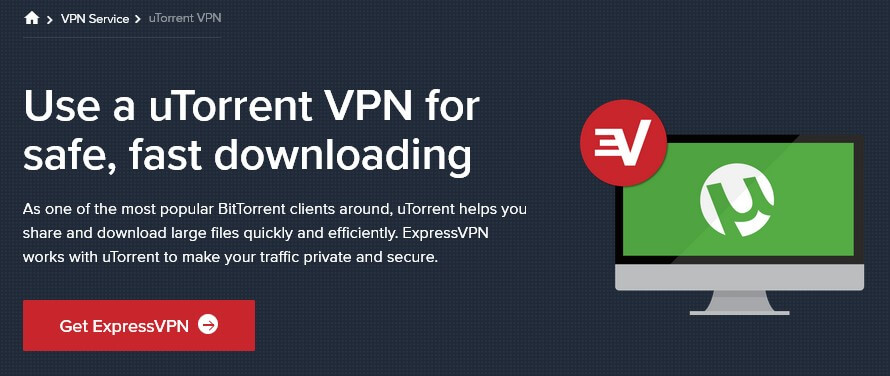 ExpressVPN is the best paid VPN for torrenting on the market. It offers everything you need for this activity, including fast speeds and rock-solid security. Our tests showed that ExpressVPN is indeed the fastest VPN out there, so you don't have to worry about annoying speed reductions.
Furthermore, the provider packs 3,000+ servers in 94 countries worldwide, which will allow you to change your IP easily. The servers offer stable connections, making torrenting a breeze, and not a chore.
Security-wise, this is the top solution. The provider is stationed in the British Virgin Islands, hence it adheres to strict privacy laws. It doesn't store any logs and has 256-bit AES encryption for keeping you safe. In case you wonder, this is the level of encryption that banks, military, and government use.
ExpressVPN offers unlimited bandwidth, even in your first 30 days of use, as well as 5 simultaneous connections. This means that you can protect 5 devices on the same account, at the same time. Plus, there's 24/7 customer support that will fix potential issues in no time.
As mentioned above, there's a 30-day money-back guarantee that applies to all plans. The best solution is to buy the cheapest one on a monthly basis and get your money back once it expires. And if you want to continue using it, we recommend getting an annual plan.
It comes with a 49% discount and 3 months free, so you'll get it for a much cheaper price per month.
Top 3 REALLY Free VPNs for Torrenting (2021)
If you don't care about all the limits and inabilities that free VPNs offer, we have no problem mentioning some of the best providers for torrenting. Here are our top 3 picks that you should consider getting:
1. Windscribe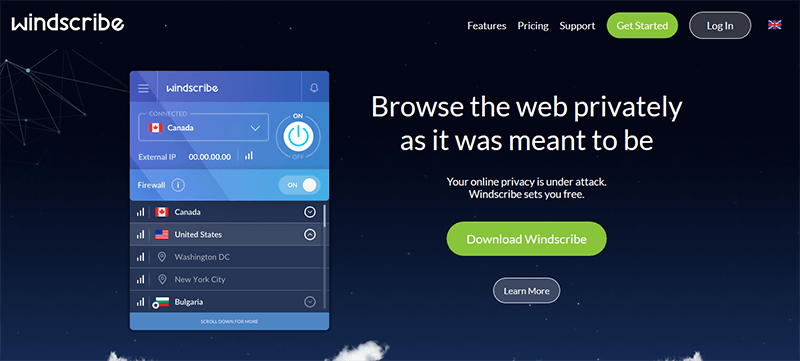 Windscribe is probably the most popular free solution on the market. The reason being is because it offers extremely intuitive apps and user-friendly websites, that users enjoy browsing and reading through.
From the perspective of torrenting lovers, we can say that this is as far as you can go. Windscribe offers 10 GB of bandwidth a month, and for a free provider, it's not very slow. Sure, it's much faster than TunnelBear, Hola VPN, and Betternet, making them pale in comparison.
Users who get a free plan will be able to use servers in only 11 countries, some of which are the USA, UK, France, Norway, Romania, and Switzerland. Moreover, the provider uses OpenVPN by default and lets you use a kill switch for added security.
What about its jurisdiction? Well, this is where things start to get shady. Windscribe is based in Canada, a 5 Eyes member. Countries from 5 Eyes are known for excessive government surveillance, which leaves space for the provider to violate your privacy.
It has a no-logging policy, but in a country like this, it's not very relevant. If the government requests from it to hand over the data, it will probably do it and you'll get compromised for torrenting. That didn't happen to this provider yet but it's important to warn you of potential consequences.
Other than that, Windscribe uses 256-bit AES encryption that will provide enough security for limited torrenting sessions.
Torrent Safely With Windscribe free VPN >
2. Hide.me

Hide.me is a premium provider that has a lot to offer in terms of performance and security. Its price is a bit more expensive, and in our opinion, it's not the best value for the money. But, in comparison to Windscribe, it has to offer something, and that's good jurisdiction.
This provider is based in Malaysia, a country far from the 5/9/14 Eyes. As such, it's not under government surveillance or censorship, which allows Hide.me to operate safely and with a zero-logging policy.
Its no-log policy is among the best on the market, where the provider claims that it doesn't store your IP or any timestamps. Where Hide.me doesn't impress is limited bandwidth – just 2 GB a month. Saying that it's not enough for torrenting is an understatement.
2 GB a month will let you browse the web just 3 or 4 days in a month, which is unacceptable these days. Moreover, free users will get only 3 servers to choose from – Singapore, Canada, and the Netherlands.
Hide.me supports every major platform, including Windows, Android, iOS, and macOS, and even its free version can be installed on them. To make things better, there's OpenVPN support and 256-bit encryption, coupled with an automatic kill switch.
Speeds aren't excellent and there's a severe bandwidth limit. But, in terms of safety and security, Hide.me will definitely be a loyal companionship for torrenting. And if you ever decide to buy it, know that there's a 14-day money-back guarantee if it's not your cup of tea.
Enjoy Torrenting With Hide.me free VPN >
3. Hotspot Shield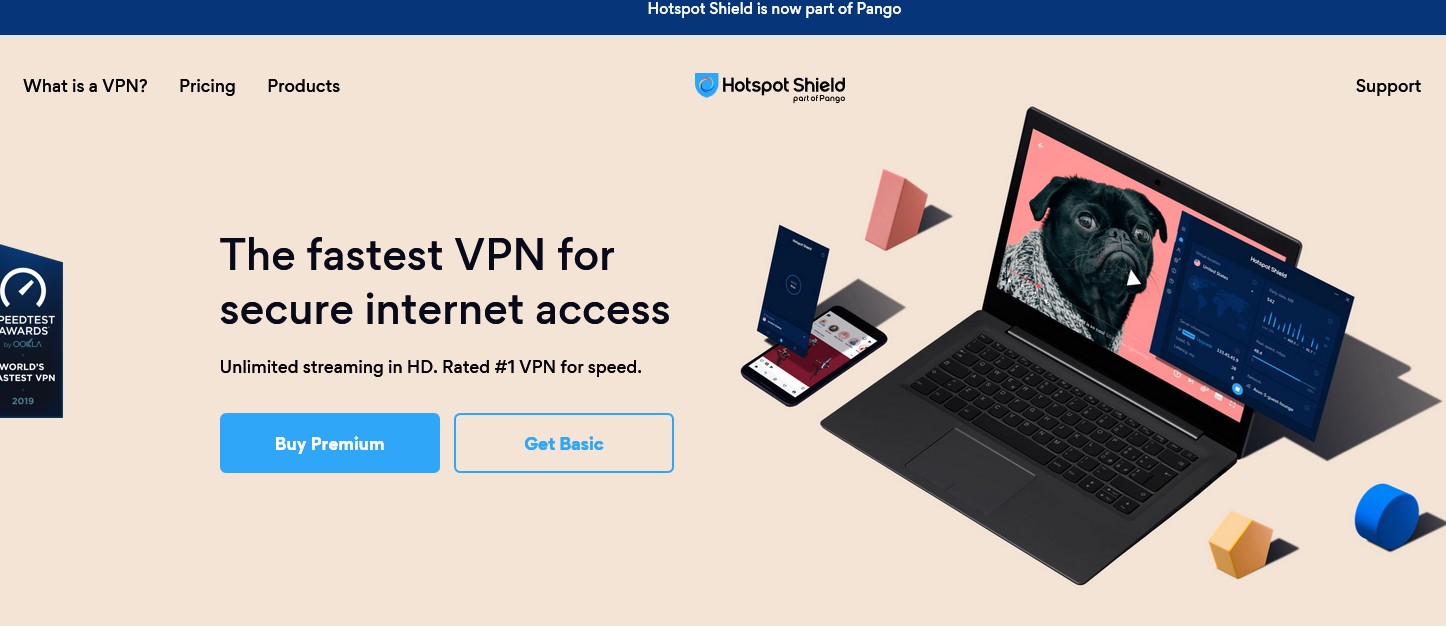 Hotspot Shield is seemingly a solid option for those who enjoy torrenting, but not the best. This provider is from the United States, which is a very bad location for a company of this type. The USA is one of the first founders of the 5 Eyes, so it's basically an epicenter of government surveillance.
This doesn't make us trust Hotspot Shield as much and begs another question – is it really a good free VPN for torrenting? Well, the provider advertises itself as safe for this purpose, even encouraging it in numerous FAQs and blog posts.
In terms of bandwidth, it gives you 500 MB a day, which is around 15 GB a month. That's more than Windscribe. The main issue with the provider is that you get a server in one country only – the USA.
On top of that, speeds are very slow, so you won't be able to enjoy torrenting, even when downloading smaller files, which is the only thing you can do here. But, security-wise, there's military-grade encryption and IP/DNS leak protection that should keep you safe and away from the watchful eyes online.
Hotspot Shield offers a premium plan, as well. However, if you want a premium VPN, you should get ExpressVPN instead since this one is not worth the money.
Get Hotspot Shield for Torrenting >
FAQ
To wrap things up, let's answer a few more questions related to the use of best free VPNs for torrenting.
Is using a VPN for torrenting legal?
Yes, using a VPN, in this case, is legal, so you don't have to worry about it. As long as you don't perform any criminal activities while using it, you'll have no problems. VPNs are completely legal companies that function like any other company, making them completely safe and secure.
Why is my downloading speed slow when using a VPN?
All VPNs reduce your native internet speeds to some extent. That's not a reason to worry, as this is only a small price to pay for rock-solid security you get. To reduce speed losses when connected to a VPN, make sure that you connect to the nearest possible server.
For instance, if you're from Poland, you can connect to the server in Germany and vice versa.
Can I use OpenVPN for torrenting?
Yes, you can. OpenVPN is the best protocol for torrenting because it's a mix of superb security and fast speeds. IKEv2 is a good alternative, as well, but OpenVPN is much more secure and offers stable connections.
Ther are faster protocols than this one, but they offer weaker security.