If you are reading this article, you are probably looking for ways to unblock USA Network while traveling. Coming across blocked access to your favorite TV channel can be quite irritating, especially if you have been subscribed to it for years. Fortunately, there is an effective solution, and it comes in the form of a Virtual Private Network. How to use it, as well as what are the most reliable providers, is something we will reveal in this article. Let's get to it!
What is USA Network?
Owned by the NBCUniversal Cable Entertainment Group and a subsidiary to Comcast, USA Network has been operating since 1977. The main concept behind it was to be the first sports channel out there under the name of Madison Square Garden Sports Network.
Today, it offers a programming schedule that is appealing to almost any gender and age group, including original, feature films, sports, and several popular TV shows.
As a pay-television, it has its headquarters inside the Comcast Building which is situated in New York. Talking about its sister channels that you may want to watch there is a few including CNBC, E!, NBC and Universal Kids.
It is considered to be one of the most popular major subscription TV networks, as it is present in more than 90 million households across the United States. This doesn't come as a surprise, given the versatility of its programming schedule and the slogan All in. All day.
USA Network Popular TV Shows
When it comes to USA Network hits, we would list Silk Stalkings, La Femme Nikita, Monk, and Covert Affairs as the ones that highlight this TV channel. Additionally, apart from broadcasting the original shows, you can also find Law and Order seasons as well as several Universal Pictures movies.
As for sports, USA Network does have an exclusive license to WWE content. Also, it does stream baseball games, as well as college football and basketball. Not to forget, the 2014 Winter Olympics were premiered on this TV channel.
This is all to say that watching USA Network live while you are abroad can be quite an experience, and with a proper VPN, you should be able to do it.
USA Network Error Message – Why Does It Appear?
It all comes down to making a bigger profit. Thus, instead of allowing free access anywhere in the world, USA Network blocks its content unless you are subscribed from and are currently in the United States.
That doesn't mean you are out of luck though. There are two main ways to bypass these geo-restrictions. First, you could move to the US. But that may not be the best solution and is impractical to most. Secondly, we recommend that you use a VPN to change your IP address location.
How Can a VPN Help?
A Virtual Private Network can go a long way if you want to unblock popular streaming sites, including USA Network. It all comes down to hiding your original IP address and using an alternative one that is set inside the US in order to bypass the restrictive algorithm.
The way that this works is by using tunneling protocols that transfer your internet connection from one location to another, hiding your private info, original IP address, and encrypting your browsing data. Thus, not only will you get the benefit of accessing censored content with a VPN, but in some cases, great privacy protection.
Bypass geo-blocks with ExpressVPN service >
This can be quite beneficial for someone who enjoys torrenting, as most providers do encourage this kind of activity and ensure that you aren't at risk of DMCA sanctions.
How to Unblock USA Network Outside the US Easily?
If you are not sure how to use a VPN to watch USA Network from abroad, do not fret. It is actually very simple. We have the step by step process here:
Sign up to one of our recommended VPN options below.
Download the app and sign in using your credentials
Navigate to the server list and connect to a US-based option
Visit the USA Network, sign in or sign up for an account
Search for the show you want to watch and enjoy
There you have it!
Best VPNs to Watch USA Network Abroad
If you are abroad and you want to stream USA Network, the only thing you need to do is install a VPN and log to your account.
However, not every provider can ensure the optimal unblocking ability. If you're on a Mac, check our favorite VPN providers here. But for now, let's take a look at our favorite options.
ExpressVPN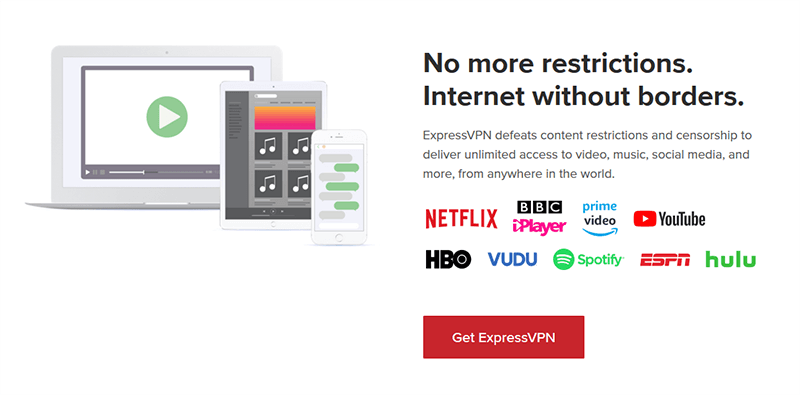 ExpressVPN is one of the leading names with over 3,000 offered servers. It is a fan favorite and definitely our top recommendation.
The fact that it is situated in the British Virgin Islands means that you will not have to worry about unfriendly data retention laws. Additionally, it is highlighted by an array of tunneling protocols, including OpenVPN, IKEv2, L2TP, as well as PTTP.
These support versatile compatibility with iOS, Android, Windows, and macOS. The 256-bit AES encryption is another instrument that keeps you safe from hackers, as well as third parties.
The built-in kill switch and shared IP address put the risk of DNS leaks at zero. This all makes unblocking TV channels such as USA Network simple and easy. Overall, ExpressVPN is one of the most user-friendly and security-enhancing providers out there.
To find out more about ExpressVPN or to sign up to the service, click here:
CyberGhost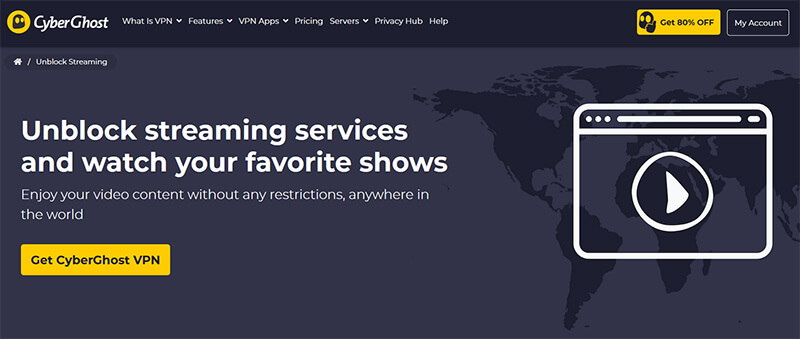 If you are currently outside of the US and you want to watch USA Network, then CyberGhost can be of great help. It does offer more than a thousand servers set in the country, and 6000+ servers across the globe.
Based in Romania, you have nothing to worry about in terms of your privacy, given the strict no-log policy and friendly jurisdiction. We did a series of tests and found it to unblock Netflix in all of the locations across 6 continents… and of course USA Network. Not only this, but CyberGhost is also highlighted by incredibly effective customer support.
As we have already suggested, the ability to get your issue settled within a couple of minutes is really important. This is especially true when it comes to internet security and effective anonymous browsing experience. Much like ExpressVPN, CyberGhost is safe to call it a global provider!
NordVPN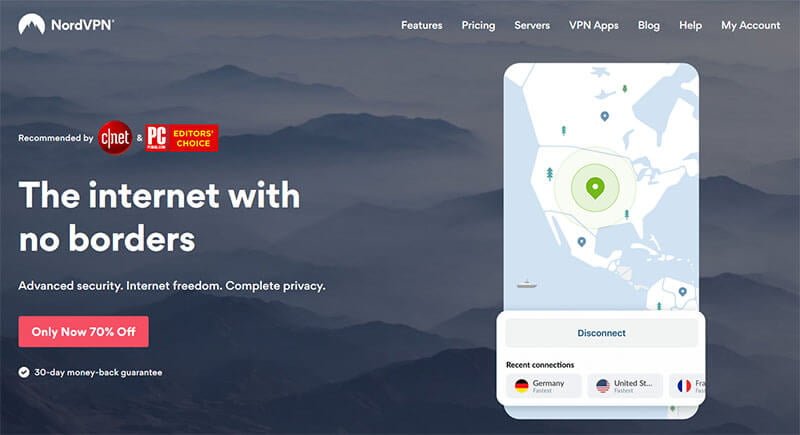 NordVPN offers a great security aspect that comes in the form of industry-standard tunneling protocols and encryption. Featuring a kill switch, the risk of WebRTC and DNS leaks is close to zero. Keep in mind that the main highlights of NordVPN are its Panama jurisdiction, as well as its no-log policy.
This ensures that no one but you will be informed of your browsing activity. Apart from this, NordVPN is also a great choice if you want to bypass all the geo-restrictions. This means you can have unlimited access to USA Network content even if you are abroad.
Not only that, but you will be able to enjoy TV shows, and other content streamed by almost any site or channel that comes to your mind. Last but not least, you should know that out of 5,500 servers covering a total of 50+ countries, most have a 99.99% uptime!
Wrap Up
USA Network is among the most subscribed pay channels in the US for a good reason. Thus, unblocking it while outside of the United States can bring you hours of entertainment.
The providers mentioned above are just an example of what a reliable VPN should offer – subscribing to one of these, or a likewise alternative will ensure stress-free anonymous browsing! If you would like more information, here are 5 VPNs that work really great for streaming, but also gaming… and torrenting.