StrongVPN isn't a new name in the VPN world. Being on the market for more than a decade, it is, surprisingly, still not a well-known provider. However, the provider promised some big improvements in recent years, making it a very interesting company to review. Needless to say, we conducted all the tests possible with StrongVPN and our review is ready for you to enjoy. Before you buy StrongVPN, we suggest you read this analysis until the end, so sit back, relax, and let's dive into it.
What is StrongVPN?
StrongVPN's history is quite interesting. The company was founded in 1994 and at that time, it was a land-based company that sold computers. However, with the rise of technology, the company started doing more… internet stuff, so to say.
In 2005, StrongVPN as we know today, emerged, making it one of the oldest providers on the market. You can immediately see that the company is based in the United States, which isn't the best scenario for a company like this.
Being a part of the 5 Eyes, USA is known for excessive government surveillance, which can easily jeopardize your privacy. On the other hand, the provider claims to store no logs, which is a bit of light at the end of the tunnel.
So, is StrongVPN yet another mediocre American provider? Or is it, perhaps, a great VPN for you? Keep reading our comprehensive review to find out!
Compatible Devices and Ease of Use
As always, we'll start the review with devices and ease of use. For a Virtual Private Network, it's always better when it supports more devices. The more devices there is more value for the money you can get.
Apart from the basic platforms, we like it when the provider supports a bit more. Routers and gaming platforms, for instance, are one of these. Just to make it clear, StrongVPN isn't a cheap VPN, so our expectations were a bit higher. Thankfully, we weren't disappointed:

We can see that the provider supports quite a lot of devices, although Linux is not on the list. But, if we take into account that this isn't the most popular option out there, we can sort of forgive it. From the left, StrongVPN supports Windows, macOS, iOS, Android, Amazon Fire TV, and Routers.
So far, so good.
Desktop application
Our research showed that many people use VPNs on a computer. Given that many of them enjoy streaming, it's much easier to unblock and watch Hulu outside the US on the PC, for example, rather than using a small smartphone screen.
Supported computer platforms are Windows and macOS. We use a Windows computer for testing, so the screenshots you're going to see below in our StrongVPN review are coming from that platform. Upon buying the subscription, you'll be prompted to download the setup file.
Do so, double-click on it, and the initial installation screen will appear: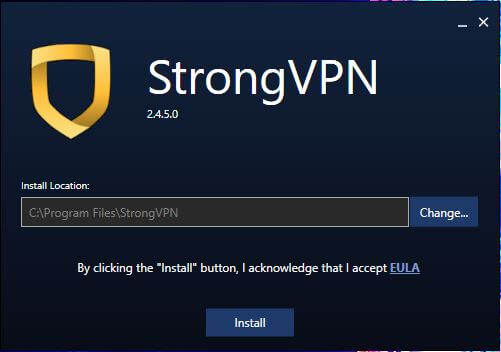 Right from the get-go, the provider thrusts you into the installation. Simply choose the location where you want to install it, click Install, and boom! It's done!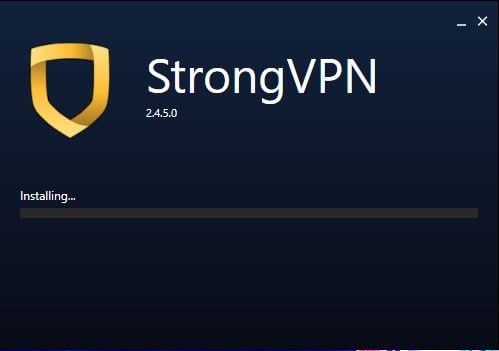 If this simplicity could be kept in the app as well, that would be amazing! Speaking of the app, you can run it as soon as the installation is finished, so let's do it now.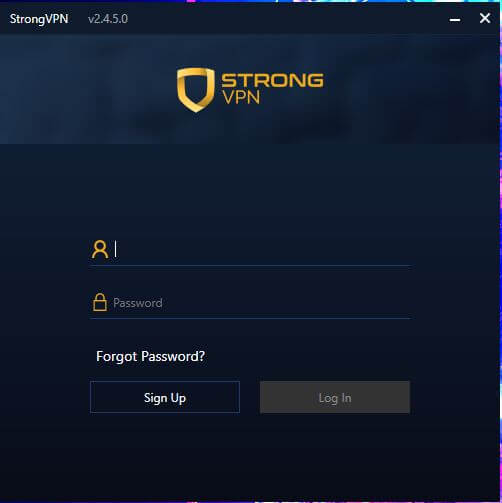 The initial registration/login screen is here and if you already bought it, you know what to do. Enter your credentials and proceed: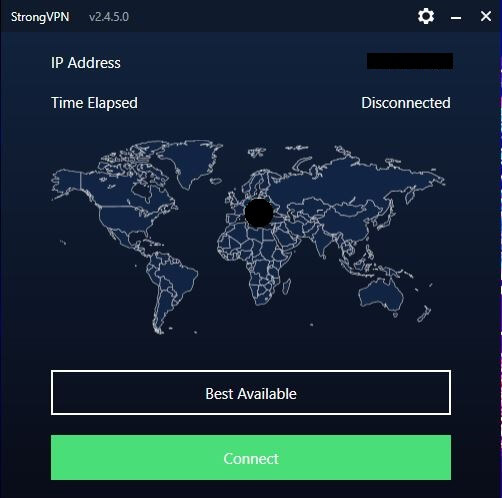 The app looks fairly simplistic. The Settings are above, while the server list and connections button are below. Now, it's quite unintuitive for us, but to open the server list, you need to click on "Best Available."
Wasn't it easier to place a button called "Server List" or something like that? Nevermind, click on it and the server list will open: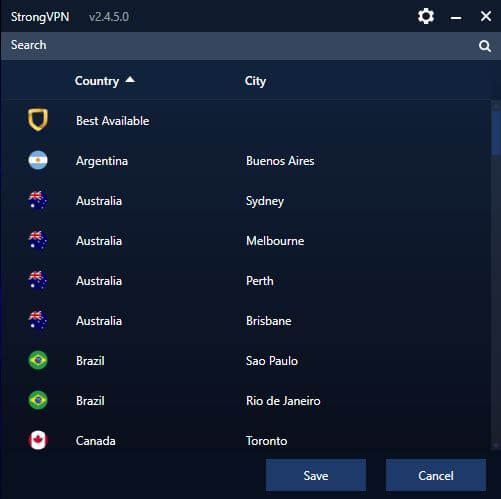 To connect, you must click on a country, then Save, and then, use the connection button at the home screen. Once again, not very intuitive, but it works.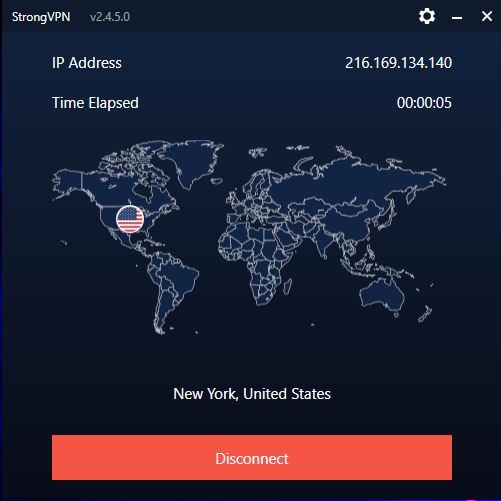 Finally, here's how that looks. For ease of use, we can't give it a maximum score because of the things we mentioned. However, these aren't fatal flaws. We aren't so busy that we can't spend a second or two more in the app, but it's worth mentioning for potential buyers.
Smartphones and Tablets
If you still prefer doing your online activities on a smaller screen, that's not bad. Today's phones are so powerful, that they can serve as a mobile PC, which they actually are. StrongVPN supports all, or better said, two platforms here – iOS and Android.
Our testing phone is an Android device, so we'll use it for doing our tests for this StrongVPN review. Rest assured, the app on the iOS counterpart is pretty much the same, so you won't miss out on anything by looking at the screenshots below.
To get StrongVPN on your Android phone, download it from the Google Play Store, as shown in image 1.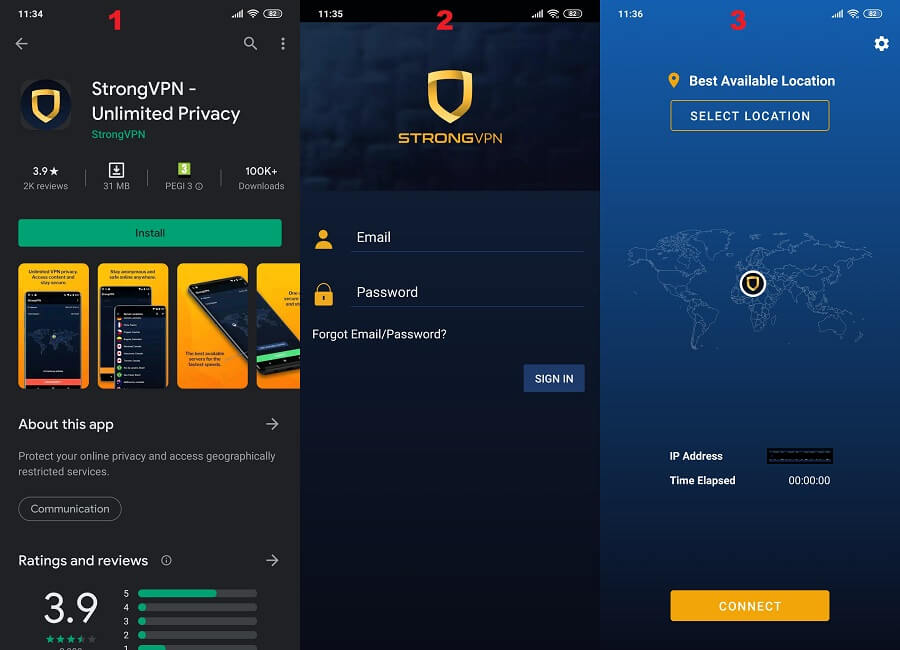 With 3.9 stars on Google Play, StrongVPN isn't the best VPN app out there. Download the app, run it, and you'll get to the login screen, shown in image 2. Enter your credentials, tap Sign In, and the home screen will open. You can see how that looks in image 3.
Luckily, the app is more intuitive here, so tap on "Select Location" to open the server list (image 4).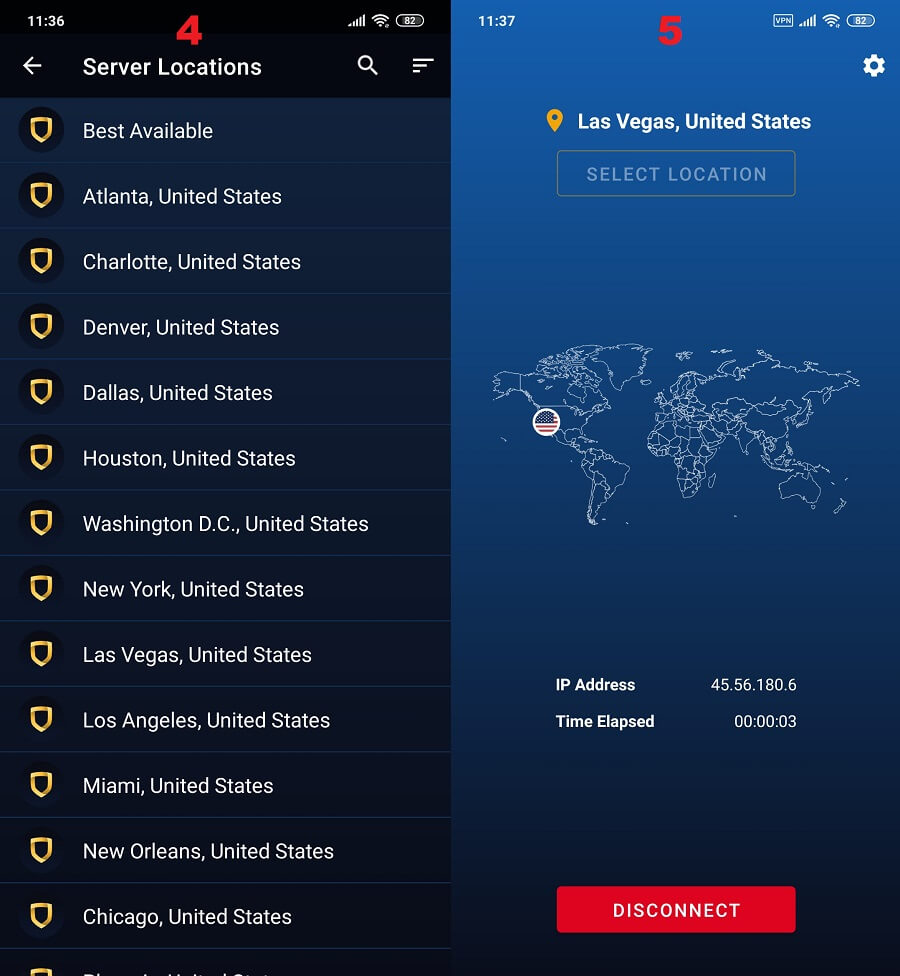 Tap on the server you want to use, use the connection button on the home screen, and you'll establish a connection in a few seconds. We can see how that looks in image 5. All in all, the Android app is very simple to use and even newbies won't have problems using it.
Other Devices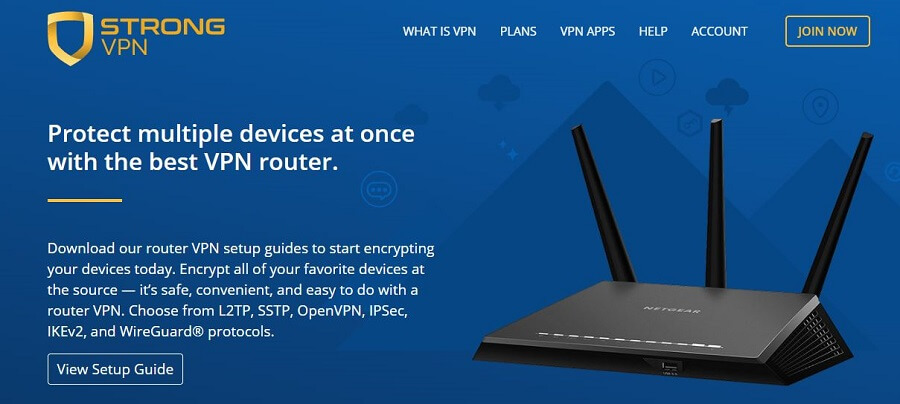 One thing that separates StrongVPN from other less-known providers is the extensive device support. While many of them stick to four basic laptop/tablet/phone/computer platforms, this provider extends it further.
We can see that it supports routers and has a native app for Fire TV. By supporting routers, it allows you to use it with Kodi, PlayStation, Apple TV, Chromecast, and many other platforms in your home. Simply connect the VPN to your router, then connect these devices to your home network, and enjoy protection.
Routers support either up to 16 or 32 devices simultaneously, so this will be the number of devices you can protect in your household.
How Fast is StrongVPN? We Checked Its Speed!
StrongVPN claims that it's the strongest Virtual Private Network out there. While we definitely appreciate the strength, we also like it when the provider is fast enough. An interesting trend is that the fastest providers are usually some of the best on the market. ExpressVPN and NordVPN are prime examples.
When it comes to speed, it depends on many factors. It can be server distance, server load, quality of the network, and so forth. The main thing is that ALL providers reduce your native internet speed to some extent, but quality providers don't do it by a huge margin. Since the speed is so volatile, it's important to see how we did our tests
We did 3 tests in the morning, 3 in the mid-day, and 3 in the evening, for 3 testing locations. Furthermore, we kept the best score and used the best location when that was possible. Our physical location is in the United States (non-VPN test) and we used these 3 locations for testing:
The United States
The United Kingdom
Australia
Without using a VPN, our native internet speeds are:
Ping: 11 ms
Download Speed: 211.88 Mb/s
Upload Speed: 202.20 Mb/s
Now, when using StrongVPN for the purpose of this review, our ping, download, and upload speeds respectively, for 3 testing locations, were:
US Server: 45 ms / 105.63 Mbps / 67.98 Mbps

UK Server: 98 ms / 45.37 Mbps / 39.20 Mbps

Australian Server: 471 ms / 21.75 Mbps / 9.68 Mbps

StrongVPN really did surprise us, but not in a positive way. We expected a bit more when it comes to speeds. Although the speeds on US and UK servers were quite usable, it was still quite a reduction when compared to our native speeds.
The Australian server showed the worst results, and in this day and age, it wasn't serviceable, especially due to its sky-high ping. While it's not the worst we've seen, we can't say that it's even remotely close to the fastest providers out there.
That being said, StrongVPN isn't very fast. If speeds are your primary concern, we suggest getting ExpressVPN, as it's the fastest provider on the market.
How Good is StrongVPN for Streaming?
As we mentioned earlier in this review of StrongVPN, many VPN users get this service for streaming. Unblocking Netflix and other platforms have become a necessity these days and this software helps a lot. The thing is that what we said is theoretical. Not every provider can unblock streaming platforms and not every provider is great for streaming.
StrongVPN turned out to be a great provider for this purpose. We'll show you why in just a second. Let's start with Netflix US, the most popular streaming platform worldwide.

The US-exclusive show, Parks and Recreation, works flawlessly with StrongVPN. This means that we successfully unblocked Netflix US. We also tested a few more catalogs and found that Netflix UK and Netflix Australia worked, as well.
Next up, we have Amazon Prime Video, a platform that almost no VPN can unblock. Sadly, this is the case with StrongVPN: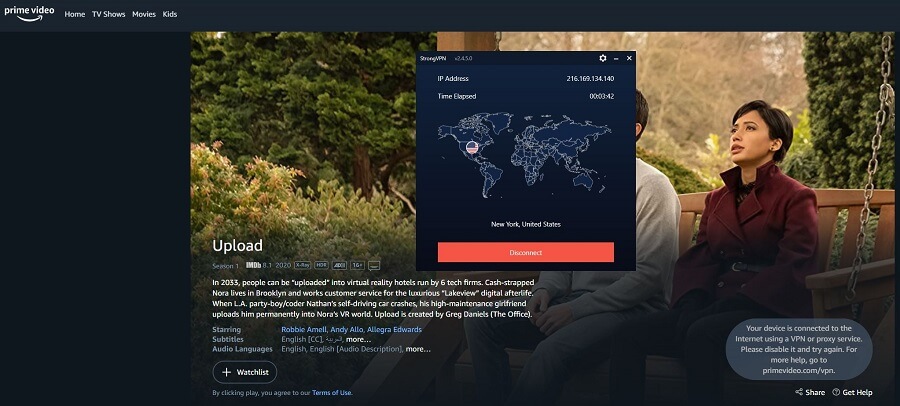 On the brighter side, we managed to unblock Hulu with our US server, with no proxy errors:

Continuing with American streaming platforms, we also tested Disney+. Much to our surprise, the streaming experience was buttery-smooth!
The same can be said for HBO GO, yet another American giant that StrongVPN unblocked successfully during our review: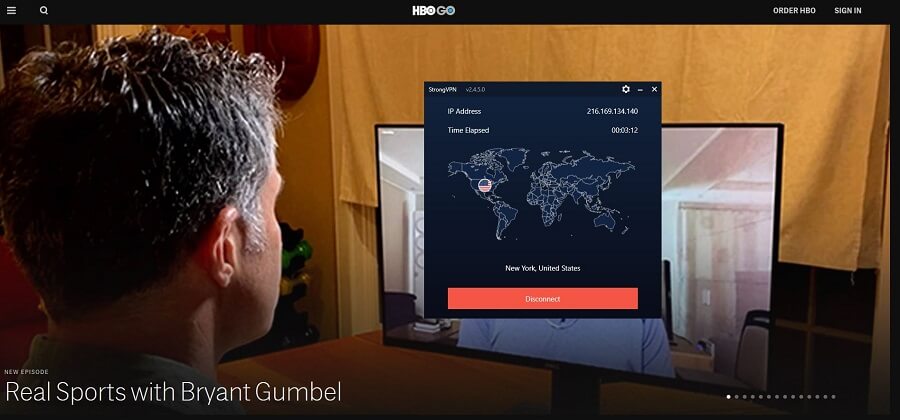 For sports-streaming lovers, the provider will also unblock DAZN: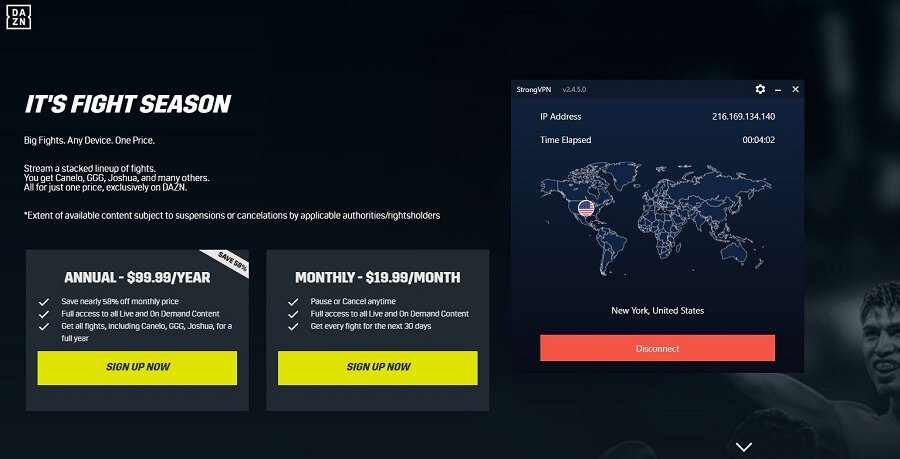 And finally, if you're from the United Kingdom and you live abroad, you should know that StrongVPN will NOT unblock BBC iPlayer.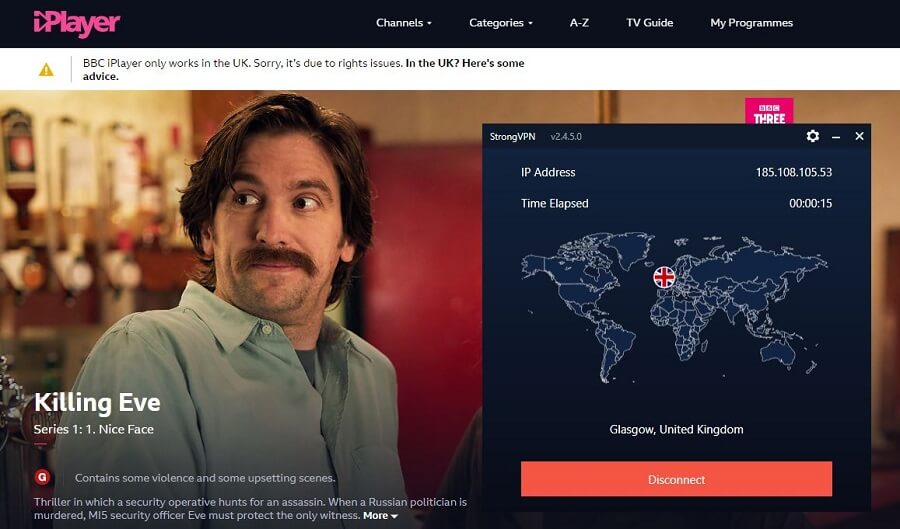 ExpressVPN will, though, making it, yet again, a much better choice.
So, how good is StrongVPN for streaming? We'd say it's very good if you're a fan of US-based streaming platforms. Apart from Prime Video and BBC iPlayer, the provider unlocked pretty much everything else.
While its speeds aren't impressive, you'll still enjoy streaming to a certain extent. Don't try bumping up the quality to more than Full HD or you'll be greatly disappointed.
Confidentiality, Security & Logs
If you know a thing or two about VPNs, you know how important their privacy policies are. Collecting data and scamming people is an old trend propagated by low-quality and free VPNs. But, StrongVPN isn't a cheap provider by any means. Plus, it promises to be a zero-log provider, leaving no room for mistakes.
We hate broken promises and StrongVPN has quite a task ahead of itself if it wants to impress us. Let's start this part of our review for StrongVPN with its jurisdiction:

As we said, the company is based in California, which is basically the heart of the USA. This is some bad news from the start, but let's not judge immediately.

This is the summary of its privacy policy, and from the looks of it, it's quite good. StrongVPN mentions that it doesn't collect personal info or sell any of the information to third parties. Furthermore, they claim that they don't store your browsing history or anything you do when connected to a VPN server.
In the last bullet point, we see that they work with third parties, which is a must. Someone must manage payments, maintain the site, and so forth. This "forces" them to use cookies, which you can disable and not be a part of it.
One thing that impressed us is the level of honesty here. They say that they work with third parties and openly display them – kudos to them!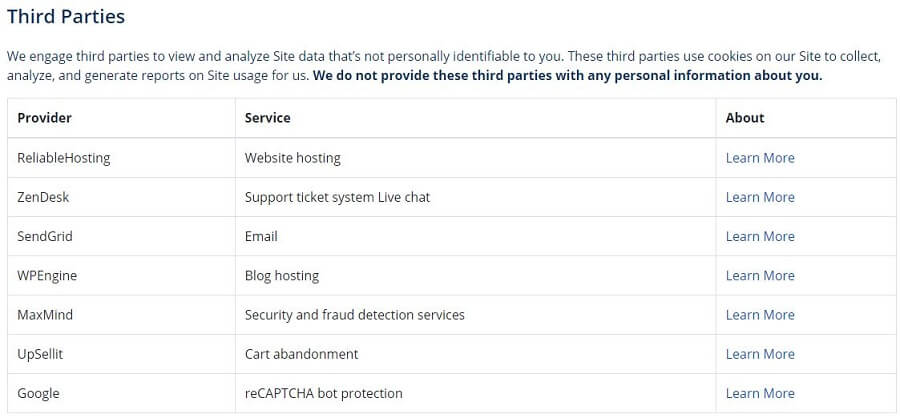 When the provider is this honest, it's hard to call it untrustworthy. In fact, StrongVPN is one of the most trustworthy providers we've seen in recent times. Now that we concluded that it's safe, let's see how secure it is by checking our IP leak test.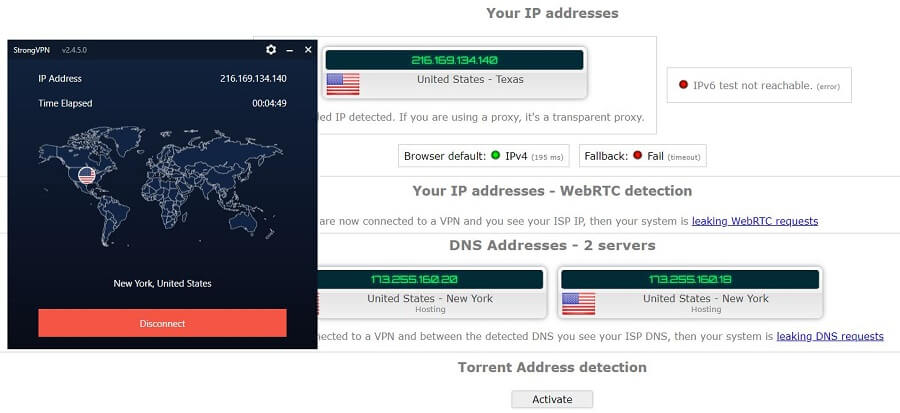 As expected, no IP or DNS leaks. Security-wise, StrongVPN uses 256-bit AES encryption, a kill switch, and offers a wide array of security protocols, including WireGuard.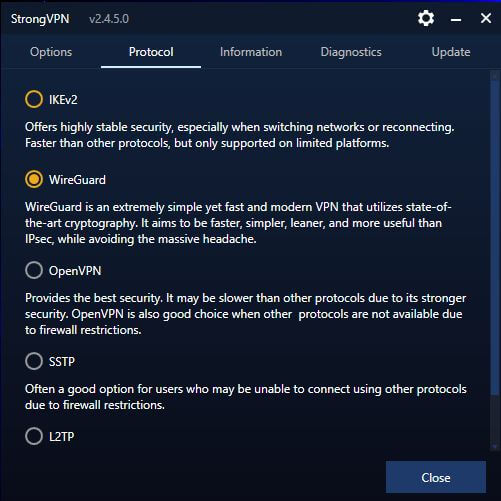 Despite being from the USA, it really did a great job when it comes to security and safety. Nothing more to add here!
Can I Do Torrenting Safely With StrongVPN?
US residents know how this country goes with torrenting – like Tom and Jerry! In recent years, however, many US-based providers started allowing torrenting, with IPVanish being one of the first to do so.
StrongVPN, due to its no-logging practices, seems like it's a good contender for the position next to IPVanish. We visited the 1337x torrent site to see if we could download a movie. Of course, we deleted it afterward.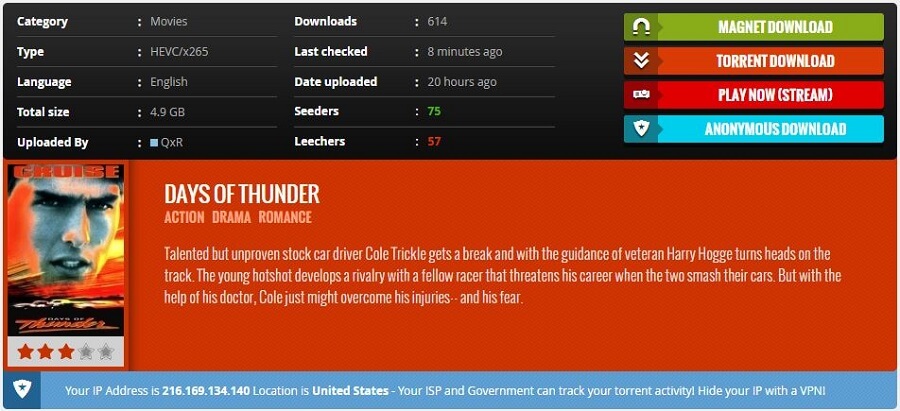 Torrenting worked for us and it will for you, no doubt, with one small caveat. Being a US provider, StrongVPN complies with DMCA, an authority that works on protecting copyrights in the United States.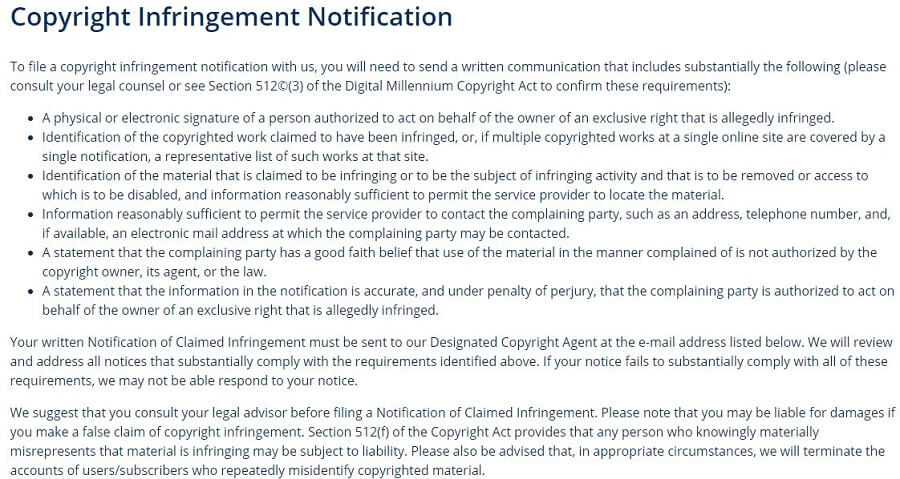 The DMCA policy is also here, which is never good news. Basically, it explains that you can file copyright infringement with the company if you think that someone violated copyright that you hold. How will they catch the person guilty of this if they don't store anything? We don't know.
Can I Use StrongVPN to Bypass Censorship?
Bypassing censorship is getting harder these days. The governments around the world use much more sophisticated methods to censor the citizens, making it impossible for an ordinary individual to bypass it.
The country most notorious for these practices is China. With its Great Firewall, the country effectively blocks every website it wants. So far, users in this country can't access YouTube, Twitter, Facebook, Instagram, and other sites.
Is this VPN working in China? Well, both yes and no. Our testers came to the conclusion that it doesn't work, even with the WireGuard protocol. We also read several other reviews online that complain about the issue.
On the other hand, some reviews say that StrongVPN works, but they're a minority here. It's safe to say that StrongVPN isn't the best option for bypassing censorship in China, Russia, and even the UAE. A much better option would be NordVPN with its obfuscated servers or ExpressVPN, for that matter.
Pricing and Plan Options
It looks like simplicity is one of the main things with this provider. Many providers overwhelm you with all the subscription plans they offer, but StrongVPN goes the opposite route. It gives you just two plans, which makes your choice much easier.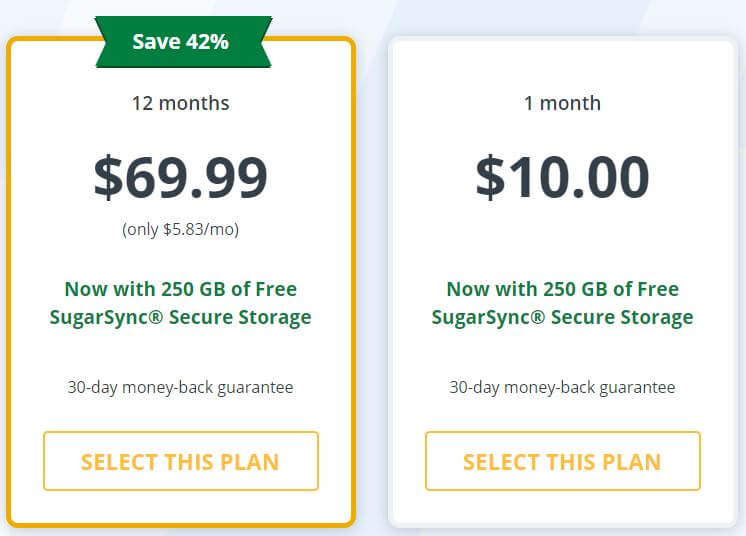 You can either buy an annual plan or a monthly plan. We noticed during this review of StrongVPN that both plans have a 30-day money-back guarantee and offer the same services/features. The annual plan is $69.99 a year or $5.83 a month, while the monthly plan costs exactly $10.00.
Saying that the monthly plan is cheap would be a lie. The annual plan, on the other hand, isn't very expensive, but not very cheap, either. As an example, we'll use Surfshark and CyberGhost. Both of these give you their annual plans at $5.99 and offer more, generally speaking.
ExpressVPN is $6.67 a month, which is not even a dollar more, but it also provides better performance. StrongVPN is by no means a bad provider. It's just that it's overshadowed by the aforementioned ones, which is one of the reasons why it's not so popular.

If you still want to buy it, here's how you can pay – VISA, PayPal, and Alipay. And if you want to get your money back, you can do it this way:
The refund policy has no strings attached, so you can quit whenever you want, with no bandwidth limits, and so forth.

If you bought the app on the Apple Store, different refund conditions apply e.g. Apple's refund policy.
How Can I Contact StrongVPN?
StrongVPN also made sure that you can contact it easily. That's very important for helping your users out in a fast and responsive manner.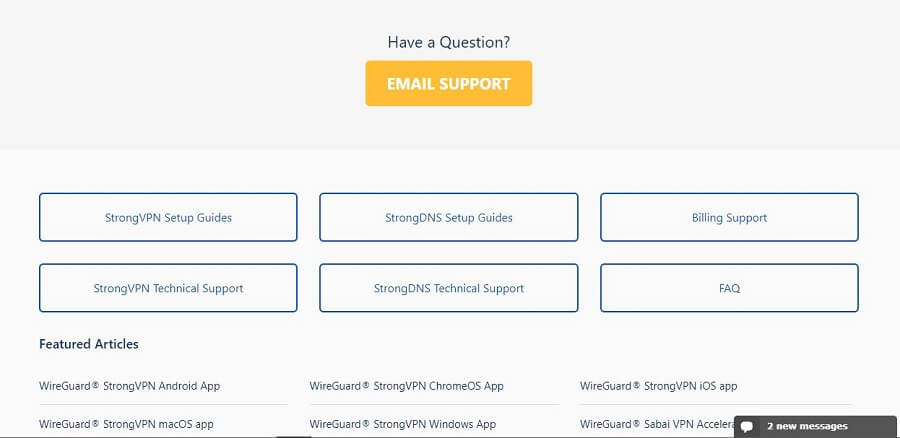 In the image above, we can see that you can contact the provider using either live chat or email support. We tested both, and of course, live chat did much better. On average, it took less than 1 minute to get a response, while email support takes up to 2 hours to respond.
The good thing is that both supports are available 24/7/365.
And that's not all!

While reviewing the client support, we saw that StrongVPN even offers a number that you can use to call the support team directly. Albeit, we don't recommend doing it if you're not from the United States. It's not toll-free and if you call from a foreign country, it will cost you a lot.
The Special Functionalities
StrongVPN isn't a champ when it comes to special functionalities. It has everything that a Virtual Private Network should have, which we mentioned in the review. But, one feature, or better said, protocol, is there – WireGuard.

We don't know if you've heard about WireGuard, but it's not a thing of the future anymore. Providers like Mullvad use it, as well as NordVPN who made a new protocol called NordLynx, based exactly on this one.
What makes WireGuard so special? Simply put, it's lightweight, making it easy to maintain, and at the same time, it offers stronger security and faster speeds. In this app, it still needs a bit of work, in our opinion.
OpenVPN works better, as it unblocked all the streaming platforms we showed below. For instance, WireGuard couldn't unblock Hulu but was generally faster than OpenVPN. We don't doubt that this protocol will see some improvements in the future, in which case it could be much better than OpenVPN or IKEv2.
Other Things You Should Know
An in-depth review means talking about every single thing about the provider we're reviewing – StrongVPN. With that in mind, let's talk about a few more thing you should know:
Number of Servers
When it comes to the number of servers, StrongVPN isn't as disappointing as you probably thought it will be.

As you can see, 950+ servers are there, which isn't a bad number. Surfshark has 800 more, yet it's a bit cheaper. Speaking of cheap providers, check out our ranking for the cheapest VPNs here.
Number of Countries
These 950 servers are scattered across 50 locations. Not very bad, considering that NordVPN has 5,700+ in 59 countries. Of course, it can compare to NordVPN only in terms of countries. In terms of server count, the winner is obvious.
Number of Simultaneous Connections
Lastly, the provider offers up to 12 simultaneous connections.

Coupled with router support, that's more than enough, even for more demanding users.
What Do Other Users Say About StrongVPN?
Before we wrap up the review, it's time to see what other people online think about StrongVPN. Let's start with Reddit, where we have short feedback:

This user says that the provider "throws you under the bus" and for that reason, he switched to PIA. Whatever the aforementioned phrase means, the user isn't very satisfied with StrongVPN.

On the Android side of things, this user is clearly dissatisfied with StrongVPN. He mentions that the app doesn't work in China, as well as its slow speeds, which we also said in the review. On the Apple Store, we have one pretty satisfied user: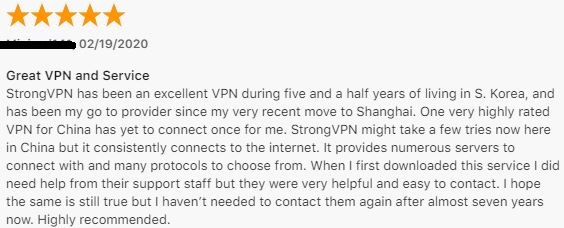 If you look at it better, this is quite the opposite review. The user used it in South Korea, and when he moved to Shanghai, he continued using it, claiming that it works, although it takes a few attempts. He also praises the support team, stable connections, the app's ease of use – all in all, very positive feedback about StrongVPN.

The Trustpilot user claims that the provider doesn't work in the UAE and that's the end of his message. If you scroll back up, you'll see that we also didn't recommend it for this country.
Conclusion: Should You Take It?
Concluding this review of StrongVPN was very hard for us. Believe us.
StrongVPN has lots of things to look forward to. Intuitive apps, solid streaming capabilities, zero-log policy, 24/7 support, and so forth. However, if we compare it to some of the best VPN providers on the market, it doesn't have that "wow" effect.
We can't say it's a bad provider. Honestly, it's very good, but as we said, it's heavily overshadowed by its competition. If you buy StrongVPN, you definitely won't go wrong… at least not very much. Just know that there are much better providers on the market, making it hard to recommend this one.
Our recommendation instead of this one is ExpressVPN, which is the best VPN your money can get. It's less than a dollar more per monthly basis, yet offers far better performance.