SurfEasy isn't a very popular VPN on the market, and as such, it doesn't have a huge user base. However, it has more than 5 million downloads on the Google Play Store, which implies that mobile users love it. But, apart from that, is SurfEasy really a worthy provider? Can it stand toe-to-toe with the most popular providers? We'll see that in our in-depth review of SurfEasy. Stay with us to find out if it's worth your time and money in 2021.

What is SurfEasy?
SurfEasy is a VPN provider from Canada, Ontario, owned by a company called Symantec. This company acquired this provider a few years ago, and from then, the provider saw a slight improvement in terms of server count and security.
Being a very cheap provider on a monthly basis, SurfEasy is extremely attractive for newbies and those who don't want to break the bank. But, as it is often the case, extremely cheap providers aren't worth your time, except if we're talking about Surfshark, which is among the best cheap VPNs on the market.
For now, though, let's focus on SurfEasy and see what it has to offer for the money. Below is our comprehensive review of SurfEasy, where we'll talk more about its features and performance.
Compatible Devices and Ease of Use
Let's start with the basics and talk more about supported devices. The more devices a particular VPN supports, the better it is. However, this provider isn't exactly generous when it comes to the device support, which we expected: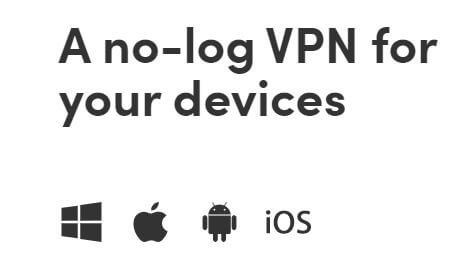 From left to right, we have Windows, Mac, Android, and iOS. Sure, all the main platforms are there (including Chrome and Opera) but we don't see routers, which is a big minus. Actually, some of these platforms are also a minus and you'll see why in just a second.
Computers
Let's start with computers. SurfEasy supports Windows and Mac but we don't see Linux, which is, once again, discrimination of Linux users. We made an account on the provider's site and everything went smoothly. We also verified our email, downloaded the setup file, and double-clicked on it: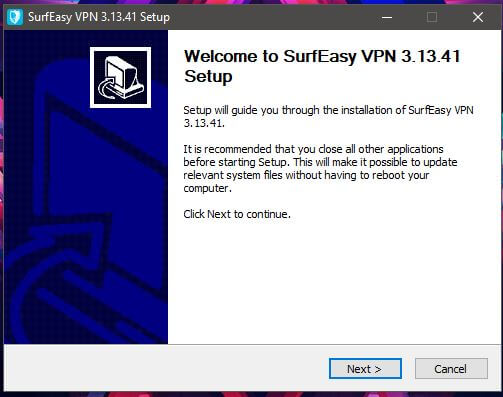 Here, you need to click Next if you want to proceed: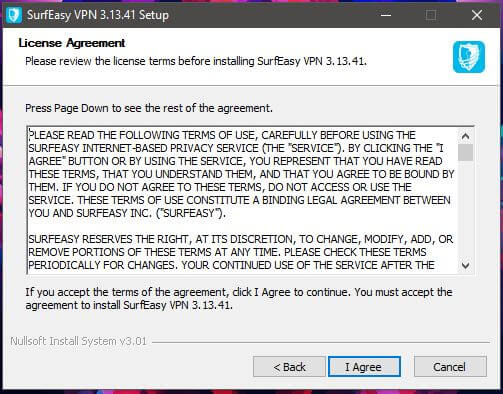 If you have the time to read this policy, go on, but you'll get every info you need in our review of SurfEasy, so just click I Agree. The setup will now begin…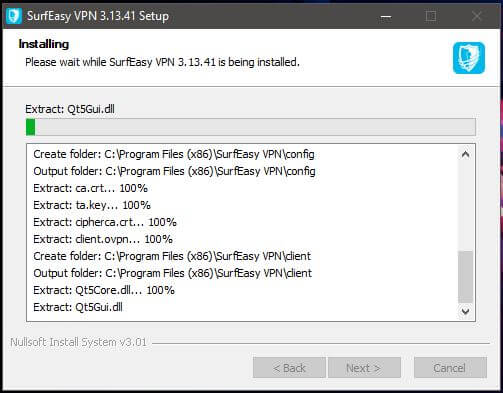 After it finishes installing, the only thing left to do is to run the app: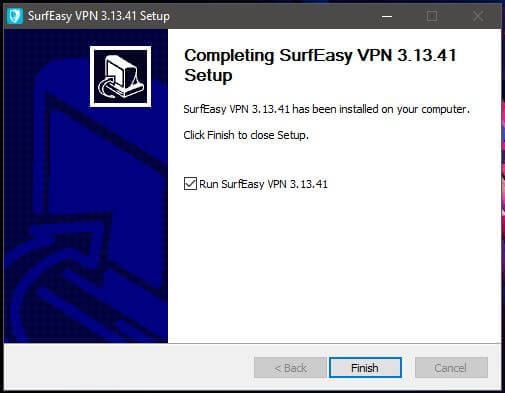 Thankfully, you don't need to restart your computer, which will waste another minute of your life. Now, this is where things start to get hairy. We opened the app and saw the initial screen: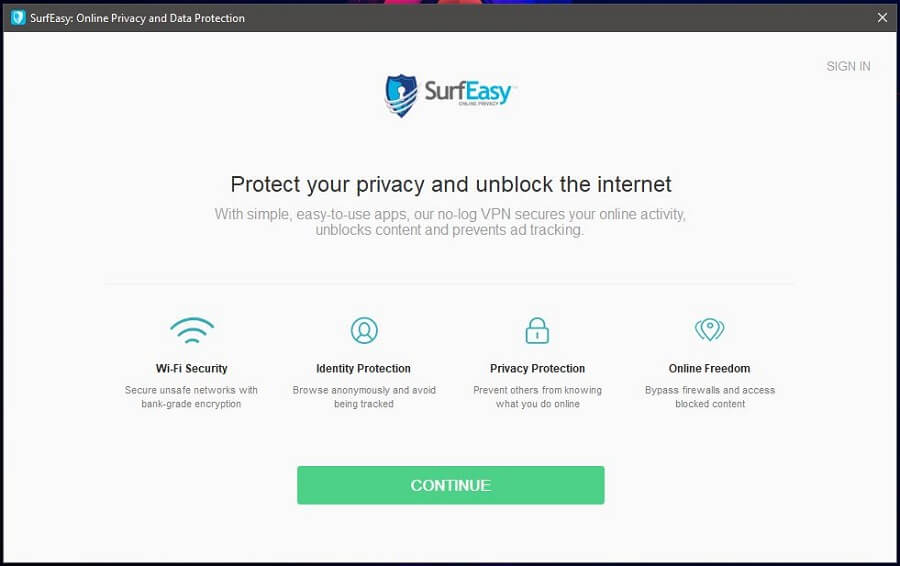 Click Continue and you'll get to the registration screen: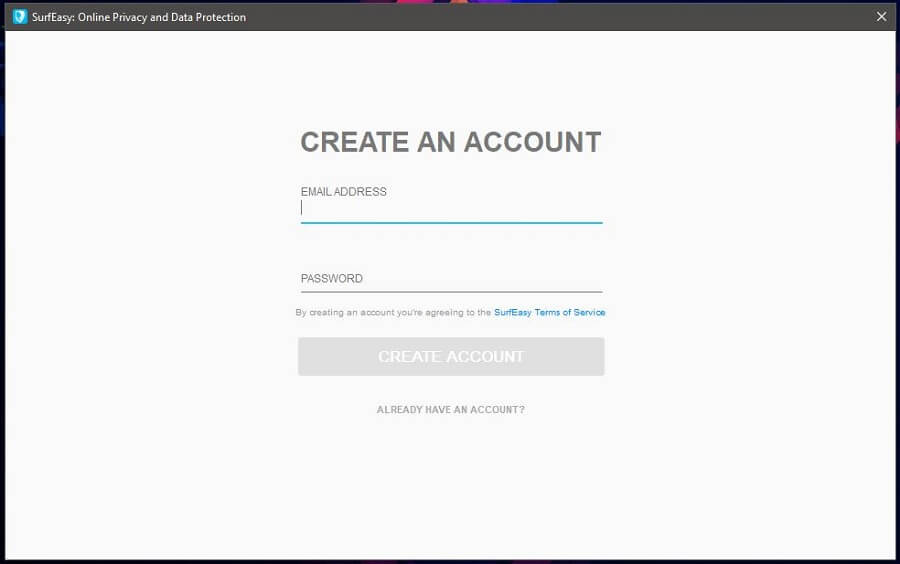 Since we already have an account, we decided to just sign in. Buuuut… that's not gonna happen! For some reason, SurfEasy declined our attempts to sign in to OUR OWN account, saying that the information is not correct.
We tried registering with the same email and it said that it already exists… what?!
We were already infuriated at this point, so we made a new account, confirmed our PayPal payment for a premium account and they didn't even charge us for it. Of course, they didn't give us a premium account either. We won't waste your time anymore. Here's how the app looks:
It automatically connected to the United Kingdom and when we disconnect, it shows our location and IP, which we can't show for obvious reasons. If you want to change the server, click on the arrow next to the planet and the server list will open: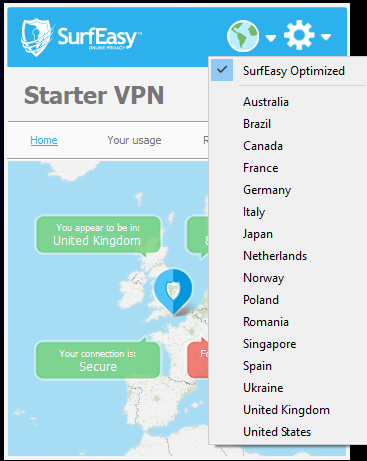 The ugly thing about this VPN is that it disappears as soon as you click somewhere else, so you have to run it again and do everything from the start. Oh, and it also opens in the bottom-right portion of the screen and you CAN'T move it anywhere else.
All in all, the app is easy to use but everything we mentioned makes us give it a much lower grade. It's simply not as smooth and seamless as other VPNs we tested.
Smartphones and Tablets
SurfEasy supports both Android and iOS when it comes to mobile devices, so we can't complain. But, are the apps easy to use? Well, let's check that using our Android smartphone. The first step is to visit the Google Play Store and install the app, as shown in image 1: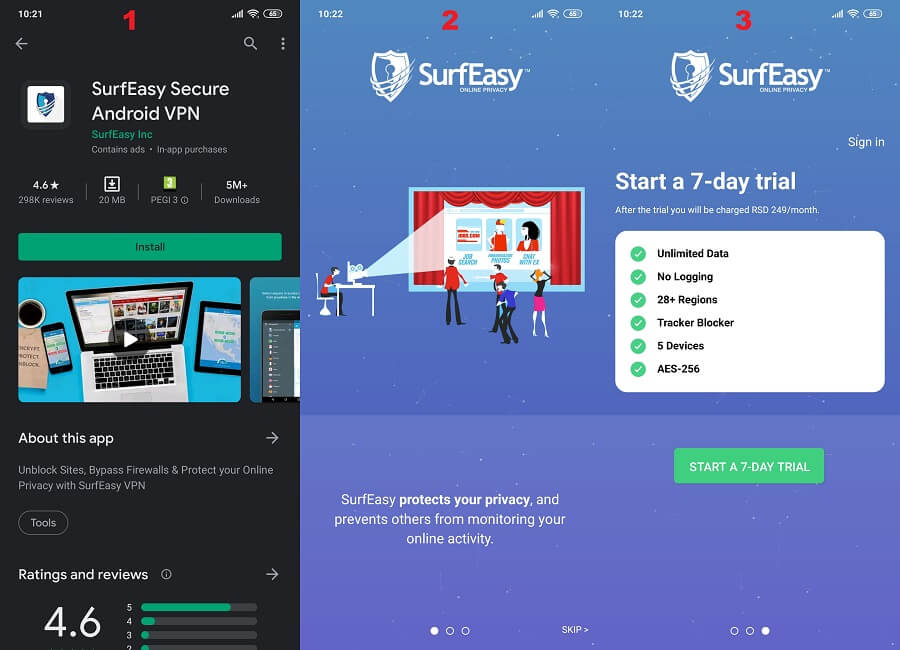 The initial home screen in image 2 briefly explains to you how to use SurfEasy VPN, why it's good, and so forth. In image 3, we see a registration screen, offering you a 7-day free trial but only if you insert your credit card number… forget about it.
We have an account, so we clicked on Sign In and entered our credentials. Thankfully, we signed up immediately – thank God! In image 4, you see how the home screen looks like: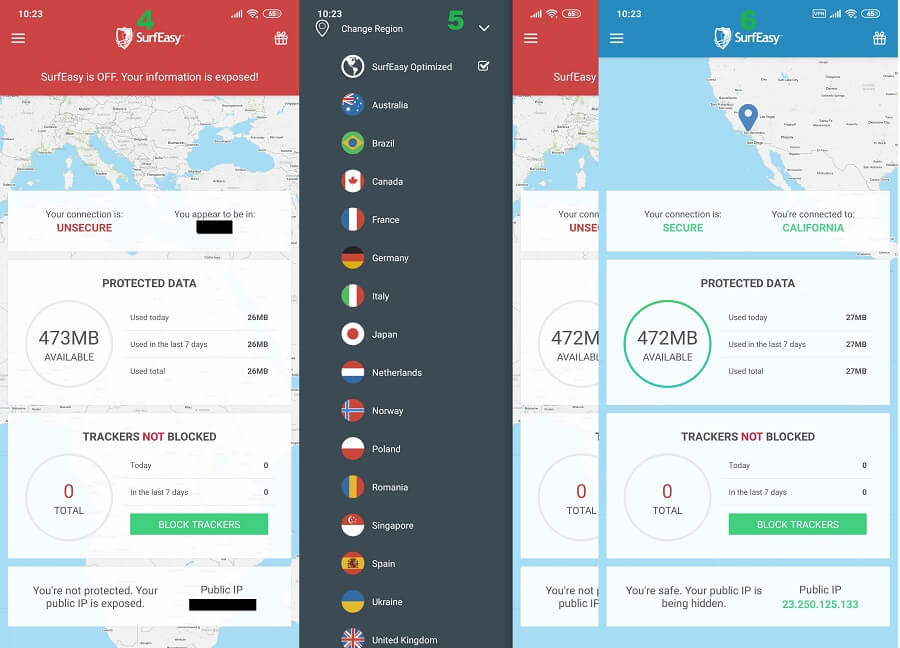 It looks bad and non-intuitive. Hundreds of windows, text, data, trackers, blah, blah. You can't even connect from the home screen, duh! To open the server list, click on the settings in the top-left corner and you'll see how it looks in image 5.
Tap the server you want and the connection will be established, which you can see in image 6. Usually, mobile VPN apps are pretty intuitive. However, that's not the case here. SurfEasy wasted an opportunity to get at least one good grade from us.
Other Devices
Other devices… what other devices?!
As stated previously in our review, SurfEasy doesn't support routers, hence it won't be able to protect other devices in your home. You can forget about Apple TV, Roku, Chromecast, PS4, Xbox One, and so forth. For this section, this is a final nail in the coffin for SurfEasy.
Press 'F' to pay respects.
How Fast is SurfEasy? We Checked Its Speed!
But wait, Monkey, SurfEasy is fast, right? SurfEasy is like surfing easy, huh? Let's see that. From our experience, cheap providers are not only less-secure but also very slow, so they aren't suitable for streaming or torrenting. Before we check that theory, it's important to say that every provider will decrease your native internet speed to some extent.
Providers like ExpressVPN and NordVPN will do it very slightly, whereas low-quality VPNs will drastically decrease your speed. Where does SurfEasy lay? On the lower end of the spectrum. For the start, we did 3 tests in the morning, 3 in the mid-day, and 3 in the evening, for 3 different locations.
We kept the best scores and used the best locations when that was possible. Our physical location is in the USA (non-VPN test) and we used these 3 testing locations:
The United States
The United Kingdom
Australia
Without using a Virtual Private Network, our internet speeds are:
Ping: 11 ms
Download Speed: 211.88 Mb/s
Upload Speed: 202.20 Mb/s
Now, when using SurfEasy, our ping, download, and upload speeds respectively, for 3 different locations, were:
US Server: 48 ms / 120.93 Mbps / 78.55 Mbps

UK Server: 175 ms / 38.19 Mbps / 21.42 Mbps

Australian Server: 415 ms / 16.47 Mbps / 4.20 Mbps

As you can see, SurfEasy isn't very fast. Sure, the US sever showed serviceable speeds but as soon as we moved away, we noticed a sharp decrease. We even managed to get below to 4.2 Mb/s upload speed on the Australian server, which is mind-boggling, considering that our native speed is 202.20 Mb/s.
Long story short, SurfEasy offers VERY slow speeds, as we predicted before even doing this review, making it bad for bandwidth-hungry online activities.
How Good is SurfEasy for Streaming?
Do slow providers and streaming to hand-to-hand with each other? Sure, with a VPN, you can save some cash when buying flight tickets but you can't always enjoy Netflix. Speaking of Netflix, SurfEasy, surprisingly, unblocked Netflix US. Other incantations of this platform won't work well, though.
Netflix Australia and Netflix UK didn't show great results, often returning us to the "proxy error." Don't expect to stream 4K content here with these speeds, as the provider showed very bad results in our speed test. Nevertheless, let's see if it will unblock HBO GO:

At least, we got HBO GO to work – voila! Let's try Disney+ now: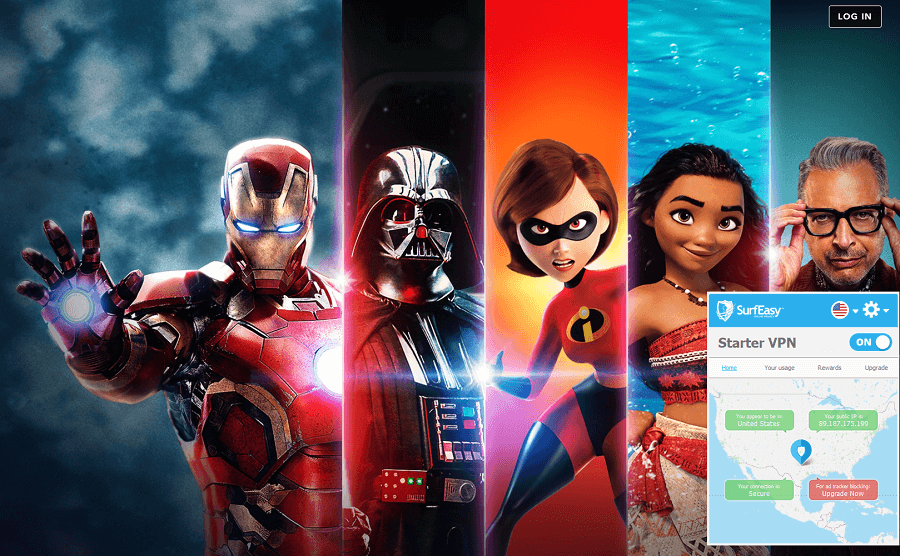 This looks promising at first but when you click on the login button, nothing happens. Needless to say, the provider can't unblock Disney+. DAZN is next on our list:

You saw it coming, too, right? DAZN doesn't work and we only have BBC iPlayer left: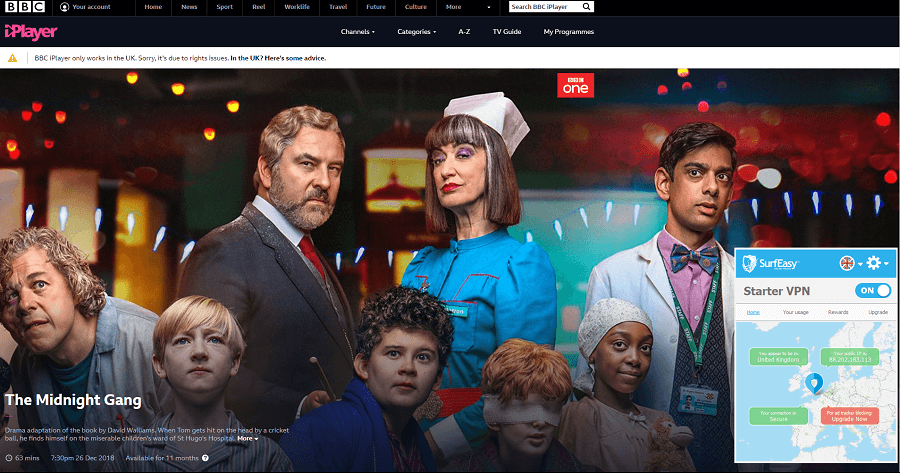 BBC iPlayer also doesn't work.
SurfEasy unblocks Netflix US, which is definitely a good thing. However, people also watch other streaming platforms, which this provider can't unblock.
HBO GO can be unblocked but Disney, DAZN, and BBC iPlayer can't. Furthermore, we also couldn't unblock Amazon Prime Video and Hulu, making this provider very bad for streaming.
Confidentiality, Security & Logs
Canada is part of the 5 Eyes alliance, which isn't something we're happy to say. Given that the provider resides in this country, chances are that it will log a substantial amount of data. Without further ado, let' see what you can expect from it in this regard: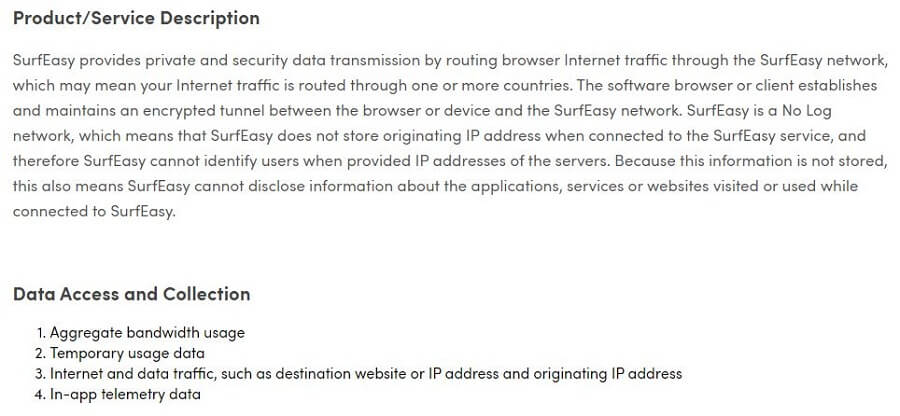 As we can see, it considers itself a no-log service. In the first paragraph, they say that they don't store originating IP addresses, so they can't hand it to the government in case they're told to do it. However, the paragraph below looks like it belongs to a different provider.
First, they log your aggregate bandwidth usage, which we don't like. Temporary usage data is also something we don't like, and on the third spot, you see that they log something they said they don't – originating IP address!
The third spot on the list tells you a full story. There's internet traffic, IP addresses, and destination site. To translate, if you're watching porn, they'll know that you're watching porn, which isn't very "private", as a Virtual Private Network should be. It's more like a VN, and not a VPN.
We must admit that we've seen worse, but if you're strictly for privacy, you won't be happy with SurfEasy. In that case, ExpressVPN is a much better option, as it has a crystal-clear zero-log policy. Also, you can't access the Darkweb safely with this provider because of the things it collects.
Let's check the IP leak test now: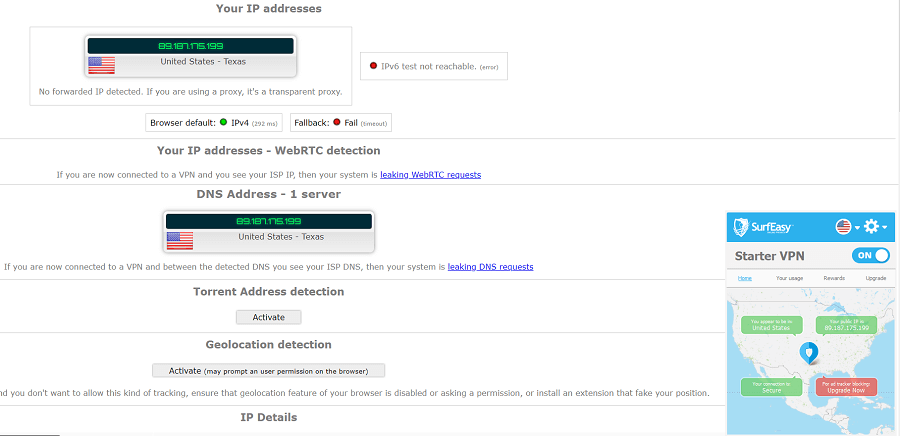 Thankfully, we had no IP or DNS leaks while using SurfEasy. Since we touched on security, the provider has 256-bit AES encryption and supports OpenVPN, which is the best VPN protocol in most scenarios. All in all, the provider is secure and not very safe, given the data it stores.
Can I Do Torrenting Safely With SurfEasy?
Do you still want to torrent with this provider, despite its slow speeds? Okay. Listen carefully. If you get a free plan, you will not be able to do it. We mean, sure, you'll be able but you won't have any protection from DMCA or any other copyright-based agency and authority.
Buying a premium subscription plan will grant you access to SurfEasy's dedicated torrenting servers where you can download to your heart's contempt. So, technically, you can do torrenting with a free plan but you can only do it SAFELY with a premium plan.
For those of you who are asking for a premium plan, well, just read the section about devices and you'll get a clear picture.
Can I Use SurfEasy to Bypass Censorship?
Some of the most popular premium providers are well-known for their ability to bypass censorship. For instance, ExpressVPN works flawlessly in China and Russia. But, cheaper, lesser-known providers aren't very good for bypassing censorship in China and similar countries.
The Great Firewall of China is still at large and actively blocks inbound and outbound VPN connections. Do you have to be worried? Yes, you have, especially if you live in China and you plan to buy SurfEasy because it will NOT work.
SurfEasy can't bypass censorship and is not a good option in China, Russia, the UAE or any similar country. We suggest paying a bit more for a premium-grade provider and bypass censorship easily.
Pricing and Plan Options
When we said that it's very cheap, you probably wondered how cheap it is. In this section, we'll see that: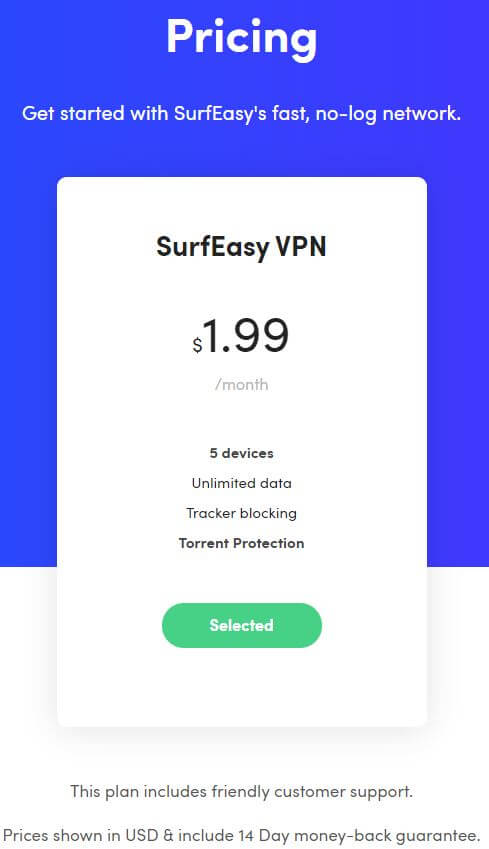 Wait, that's all? Yep. SurfEasy offers a single subscription plan that costs $1.99 a month and it's basically an "infinite" plan since it doesn't limit you to 6 months, year, two years, and so forth. Basically, you get a monthly plan and you can cancel the subscription anytime you want.
This premium plan offers up to 5 simultaneous connections, unlimited bandwidth, tracker blocking, and torrent protection we talked about a minute ago. Now, we aren't sure what the "friendly customer support" means when they say that they include it in the plan…
Is it unfriendly for those who don't buy it?
Nonetheless, you get a 14-day money-back guarantee and there aren't any strings attached to it:

To request a refund, you'll have to contact the customer support. More about that in the next section of our SurfEasy review for 2021.
How Can I Contact SurfEasy?
Contacting SurfEasy is an easy thing to do. You just have to scroll all the way to the bottom of the page to find its email:

For those who can't see clearly, it's [email protected].
Unfortunately, this is the only means of getting help here and to make matters worse – it's not available 24/7. Instead, they'll respond to you between 9 AM and 5 PM (EST). A live chat would definitely make this provider a little better but hey, we're maybe a bit too demanding! Or maybe not?!
The Special Functionalities
SurfEasy doesn't offer any special functionalities.
However, we found one statement that confused us and it says "WiFi hotspot protection." There is no additional information on what that means since it doesn't support routers. It's probably about keeping you safe when connected to a WiFi network or something similar to that. But then again, every VPN will do that for you.
Also, we're surprised that it doesn't have a kill switch. In case you lose connection to the server, your IP will be exposed since there's no kill switch to cut off your internet connection. Not only does it has no special features but it also lacks the basic features – such a shame.
Other Things You Should Know
Let's briefly go over a few more things you should know about:
Number of Servers
Interestingly, SurfEasy doesn't have a small server network for the price and popularity.

As you can see, it has 1,000 servers worldwide, which is on par with Surfshark, a much better provider than this one. Oh, and it also costs the SAME on a monthly basis – $1,99!
Number of Countries
SurfEasy offers 28 different countries to choose from, which isn't an imposing number. We'd like at least 50 countries here for more variety. Just to let you know, ExpressVPN covers for example 94+ countries.
Number of Simultaneous Connections
The provider gives you up to 5 simultaneous connections and doesn't support routers, so you can't expand this number further.
What Do Other Users Say About SurfEasy?
This review and test is our experience and opinion about SurfEasy. But, what do other people say about it? Let's see Reddit first:

Right from the get-go, you see that this user isn't satisfied with the provider. He says it's "rubbish" and mentions that it doesn't support routers, which isn't to his liking. Furthermore, he explains that the connection often drops and that he wouldn't recommend it, even though it's cheap.
To make things interesting, this user tried it in China, yet it showed bad results. He also doesn't like customer service, this "friendly" customer service that gives him no help. All in all, a bad review about SurfEasy. Let's check the Google Play Store now:

It's clear that this user isn't quite proficient with English as he says that the provider is "disturbing." Or perhaps, he's too afraid? Jokes aside, the user mentions that the provider turns off constantly and that he can't use Instagram music. Simply put, he has to install and uninstall the app to make it work properly.
Finally, we have a review from the Apple Store:

The iOS/macOS user got this app through an ad that claimed that he has 6 viruses, which is a red flag. It means that SurfEasy uses these scammy ads to reel in new customers. Nevertheless, the user doesn't mention anything concrete about the provider but is rather angry for getting it this way.
We assume that he isn't satisfied, given that he left a 1-star review on the Apple Store.
Conclusion: Should You Take It?
We'd lie if we said that there's a lot to like about SurfEasy. This provider is one of the worst we ever tried. Its apps are unintuitive, it has slow speeds, isn't good for streaming, has lackluster customer support, doesn't work in China, and so forth.
Even its privacy policy isn't a favorable one, which is one amongst hundreds of nails in the coffin for the provider. With that being said, we think that the decision is very easy – do not buy SurfEasy as it is not worth your money, despite its low price.
We suggest getting ExpressVPN instead, our top pick for 2021 😉