Have you been disappointed with the service offered by Trust.Zone? Or do you have big doubts about its legitimacy as a VPN? In this case, you couldn't have been better. We explain below the disadvantages of Trust.Zone, then we will present the best alternatives available to you for 2021.
What is Trust.Zone?
It is a Virtual Private Network that was developed a couple of years ago (2014) by Trusted Solutions LLC. Much like most VPNs, it does make bold claims when it comes to security and bypassing restrictions.
Whether it is a VPN that you can actually count on is something that we will be discussing throughout the article. What you should know is that this provider is based in Seychelles, which does seem like a good solution when it comes to the relevant jurisdiction.
Why? Well, because this country features no data retention laws, and also is not a part of the 5/9/14-Eyes alliances. Thus, for anyone worrying about their privacy, Trust.Zone is quite reliable.
We have to say that the overall usability of this Virtual Private Network is superb and highlighted by simple installation. Also, the security aspect is trustworthy, with the encryption being 256-bit followed by several tunneling protocols, including OpenVPN.
Additionally, Trust.Zone is among the most affordable services on the market. You will be paying a price of $2.88 per month, as long as you decide to go for their 2-year plan.
This Virtual Private Network can fulfill the needs of some users. However, is it really that great for someone who is looking to enjoy global coverage and unblock popular streaming platforms? Let's take a look before talking about the best alternatives to Trust.Zone.
Downsides of Trust.Zone
If you are interested in finding out more about Trust.Zone VPN, then we suggest you check out our full review here. During our test session, we did find a couple of points that are lacking, and that may need to be improved if Trust.Zone wants to remain competitive.
Limited Device Compatibility
Any reliable Virtual Private Network is highlighted by an array of devices on which you can install the service. These include Android, iOS, Windows, macOS, Linux, gaming consoles, smart TVs, and even routers.
Also, it is great when a VPN is compatible with TOR as this adds to the overall protection and improves torrenting ability. However, you will be quite disappointed to find out that Trust.Zone doesn't offer its service for any device other than the phones and computers. Isn't that a great reason to look at a better alternative?
Additionally, the fact that it offers a standalone app just for Windows and Android is not the best solution if you are a beginner and don't have a lot of experience setting up service using customized config files.
Unreliable Customer Service
One of the main signs for a reliable Virtual Private Network is an effective and 24/7 customer support. Being able to get any issue settled within hours is of utmost importance for overall customer satisfaction.
Believe it or not, there is a much higher number of VPNs that can't ensure this, and is the same case with Trust.Zone. Which is one of the reason you should look at alternatives.
Firstly, we didn't find a live chat feature, and that is a disadvantage. However, we had high hopes for their email customer service as it was listed as among the most reliable on the market. Unfortunately, that is not true. We sent an email inquiry on Monday at 7 pm, only to receive a relevant answer on Tuesday at 4 pm. You can't really say this is the fastest support out there.
The main reason why the situation is as it is, is due to the limited working hours. Thus, they do offer support at limited working hours being 6 am to 4 pm GMT from Monday to Friday.
Frankly, we would be fine with this if the response we got was useful. However, it was more of a general-purpose answer and not something that could really help us with the connectivity issue we were facing.
On top of all that, the FAQ page leaves a lot to be desired. There's very little helpful information.
Our Favorite Alternatives to Trust.Zone
It is a fact that Trust.Zone doesn't do great in a number of aspects, including global coverage, as well as device compatibility. Also, the customer service offered by this provider is nowhere close to optimal.
For this reason, we conducted thorough research with the idea of finding a reliable VPN. Here are a couple alternatives to Trust.Zone you might be comfortable with.
1) ExpressVPN
When it comes to providers that have great speeds, ExpressVPN is the one you can count on. It is based in the British Virgin Islands, which are free of any data retention policy. Thus, it is one of the safest providers on the market.
Keep in mind that, much like NordVPN (we will talk about this alternative to Trust.Zone right after), it offers thousands of servers in more than 90 countries. Also, it provides an excellent ability to unblock content in Saudi Arabia, China, Korea, and Japan.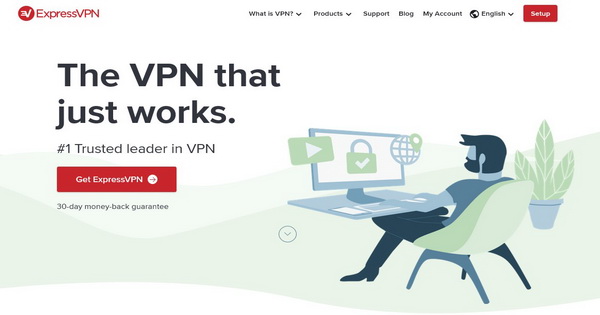 Why Choose ExpressVPN Over Trust.Zone?
The central reason certainly is the speed that highlights this provider. We enrolled in a 1-week test session and found the speeds to be simply amazing.
Even with the servers that are set in the US, Canada, Australia, and Asia, we didn't have any huge drops. This made it quite simple to enjoy browsing and torrenting.
Why Is ExpressVPN Better Than Trust.Zone?
ExpressVPN is slightly on the pricier side, but this is justified by its close to flawless performance. We found that the increased security and privacy aspect is quite beneficial if you want to stay anonymous.
Get a subscription at ExpressVPN.com >
2) NordVPN
Anyone who has ever researched the best VPN or an alternative to Trust.Zone has undoubtedly come across NordVPN. Situated in Panama with a strict no-log policy, you have nothing to worry about in terms of privacy.
We love the fact that it offers an array of instruments that protect you from potential leaks and malware risks. Additionally, there are a couple of tunneling protocols, including OpenVPN, and 256-bit AES encryption for added security.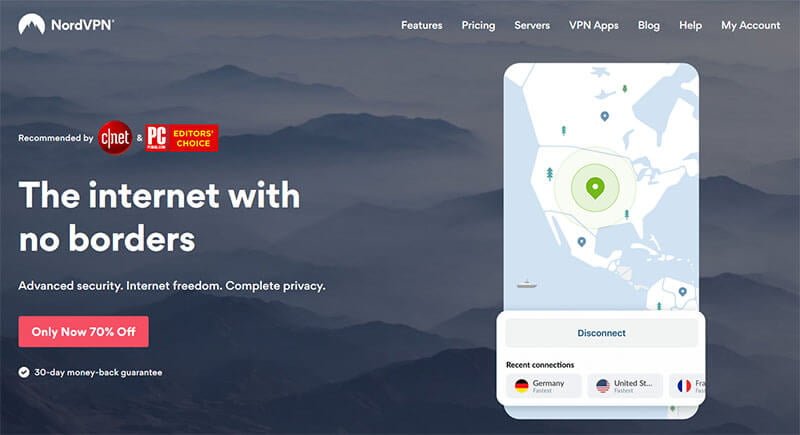 Why choose NordVPN over Trust.Zone?
NordVPN is one of the best to watch Netflix with. Plus, it offers more than 5,500 servers and is highlighted by specific security features.
It has compatibility that will allow you access to the dark web. This VPN also features a flawless ability to unblock Netflix and is quite efficient when trying to watch geo-restricted YouTube videos. Keep in mind that these two providers are similar in terms of price and payment methods.
Why is NordVPN better than Trust.Zone?
This provider is highlighted by great compatibility and also features a standalone app for all the popular devices, including Android, Windows, Linux, iOS, and macOS.
Also, the servers are faster and much more stable.
Get a subscription at NordVPN.com >
3) CyberGhost
When it comes to services that are friendly for those on a sensitive budget, CyberGhost is the way to go. Given its affordable pricing options, one would think that this product doesn't offer good performance.
However, we tested it and found that this Romanian-based service is quite good and a real option if you're looking at an alternative to Trust.Zone. The set-up process is extremely fast and easy. Plus, it can unblock Netflix, and it offers extensive connectivity.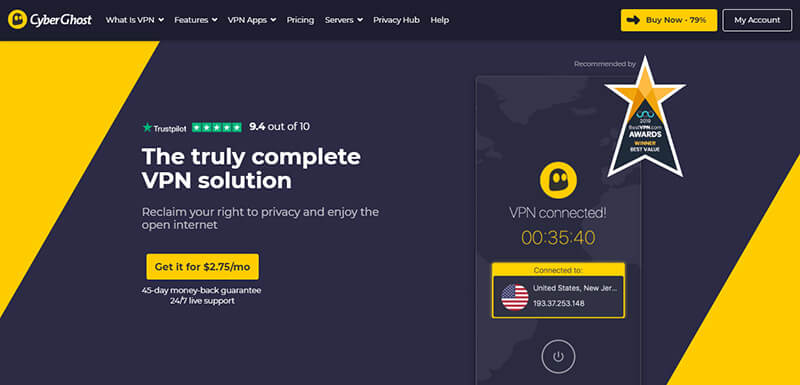 Why Choose CyberGhost Over Trust.Zone?
Our first answer would be because of server reliability. We performed a couple of test sessions and found it to work great across the world. One of the best things is the fact that we could unblock Netflix in 75% of the locations that we tried.
Why Is CyberGhost Better Than Trust.Zone?
This service is highlighted by a strict no-log policy, as well as proper encryption. Not to mention, they offer a free one day trial, as well as a great refund policy of 45 days.
Get a subscription at CyberGhost.com >
The Best Free Alternative to Trust.Zone
When it comes to a free Virtual Private Network, it is not the easiest to find a reliable alternative to Trust.Zone that offers a friendly privacy policy and protection.
Windscribe
Windscribe is a Canadian VPN that has been among the most popular for the past few years. Its free plan is highlighted by 10GB of data transfer per month as well as 14 different locations you are free to connect from.
What we were fascinated by is that Windscribe offers a reliable Netflix unblocking ability, and is thus, a provider that you are sure to fall for.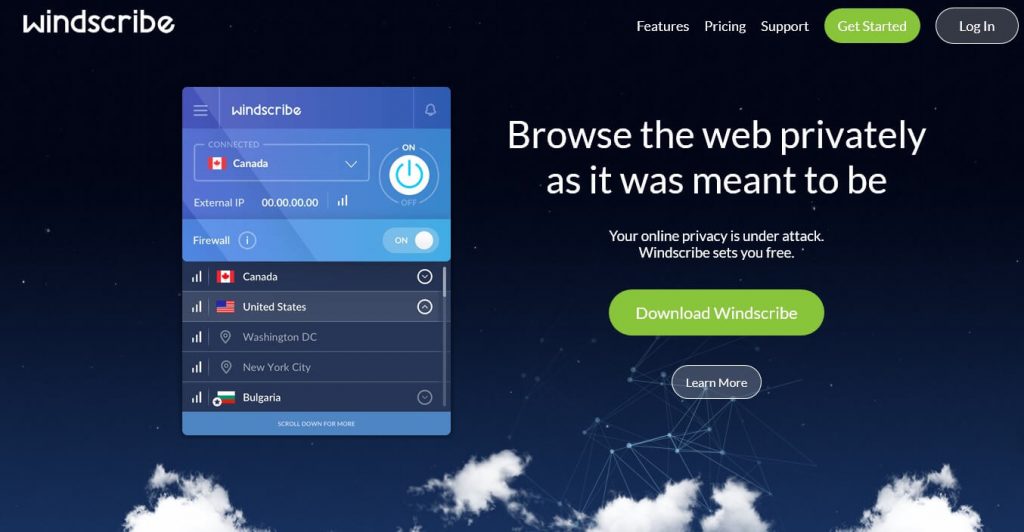 Why choose Windscribe over Trust.Zone?
The answer is quite simple – the device compatibility and overall usability of Windscribe are better in a way that you are not paying anything and still getting reliable standalone apps.
Why is Windscribe better than Trust.Zone?
For the main reason that the customer service offered by Windscribe is not limited by working hours as it is a bot-chat system that will assist you.
Wrap Up
In the end, it is safe to say that Trust.Zone is not really a VPN you can count on. Still, that is not a reason to put out a white flag.
Subscribing to some of the alternatives mentioned above, will allow you to stay anonymous and unblock most popular streaming platforms. Good luck!