Any type of online restriction is annoying as it gets. You can't access your favorite sites, and sometimes, it extends to apps like Facebook Messenger, preventing you from contacting your friends and family. Schools are notorious for this trend, which vastly limits your online freedom, even when you need it for your homework. Luckily, there are a few solutions to help you alleviate this problem. Stay with us to find more about unblocking and accessing websites freely at your school.
Using a VPN for Unblocking Sites at School
In this day and age, schools' firewall systems are getting stronger, but not stronger than VPNs. Depending on how tech-savvy you are, you may have heard about this term. This service is used by millions of people worldwide for this, and many other purposes online.
So, what exactly is a Virtual Private Network and how will it help you with this issue?
Simply put, it's a service that allows you to bypass website block and browse the web anonymously. When you connect to a VPN server, you're assigned a new IP address, hiding (obfuscating) your old one. In other words, you get a new online identity, making you anonymous online.
Access ALL the websites with ExpressVPN >
This lets you browse the web freely, without any site blocks and limitations. Given that VPNs use military-grade encryption, your connection will be stable and safe, so your school can't intercept your traffic.
A service like this is also great for unblocking streaming platforms at your school/university. You can watch YouTube videos freely at your school or catch up with an episode of your favorite show on Netflix. When you change your IP address, possibilities are endless, even in your school.
Just don't use the internet during classes, though. But when the big break comes, you can chew your school meal and enjoy some free internet – it's that easy!
How to Use a VPN to Unblock Sites at School?
We said that using this service is easy and we'll quickly back that up. If this is your first time using a VPN, don't fret – we have a step-by-step guide on how to unblock every website that is blocked at your school. Scroll down, buddy!
Subscribe to the provider of your choice. We recommend ExpressVPN.
Download and install the apps you're going to use.
Open the app and sign in with your credentials to proceed to the home screen.
Under the connection button, click on the country displayedto open the server list.
Click on the server you want to connect to and use the connection button to establish a connection.
With your connection established, visit any website you want and enjoy.
Beware that schools mostly block communication websites and apps, such as Facebook, Instagram, and Messenger. Without a doubt, a VPN will unblock all of them easily. And before you ask – yes, Snapchat and TikTok will work!
Recommended VPNs for Unblocking Websites at School/Workplace
Getting a Virtual Private Network is like going on your local car dealership. Every car is allegedly good and reliable, while many of them suck. There are many providers that aren't worth a second of your time.
Therefore, we came up with the list of top 3 VPN choices for unblocking sites at school/uni. Note that they will ALWAYS work.
1. ExpressVPN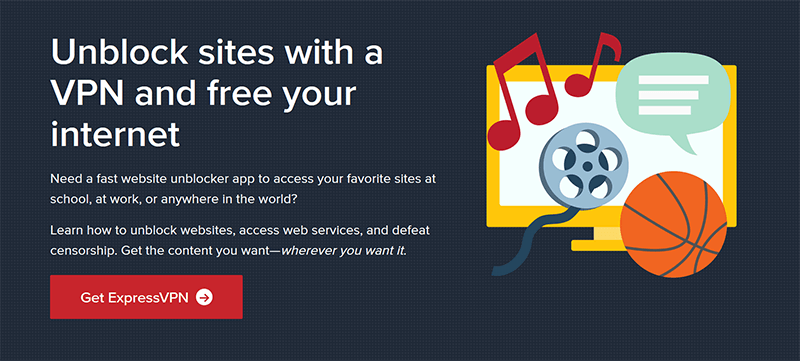 Do you think that your buddies from school are your best friends? Well, no offense, but ExpressVPN will trump them all! This provider is your best companionship for worry-less web browsing, even in "grey" areas like schools or workplaces.
The reason being is because it's exceptional when it comes to unblocking websites. With 3,000+ servers in 94 countries worldwide, ExpressVPN will bypass geo-restrictions in a snap of a singer. Moreover, it has the fastest speeds on the market, which will give you buttery-smooth browsing experience.
For this purpose, having rock-solid security is a must and the provider knows that well. It wraps your connection with 256-bit AES encryption and supports a Kill Switch preventing you from exposing your IP or DNS.
If you care about privacy, a zero-logging policy will fix that. It's audited by PwC, hence the provider abides by its promises perfectly. Are you bored to death on your big breaks? Well, ExpressVPN unblocks streaming services like Netflix, HBO GO, and Hulu, so you can still enjoy some shows and movies during that time.
ExpressVPN offers a 49% discount for an annual plan and gives you 3 months FREE on top of that. With 5 simultaneous connections and 24/7 support, this is the best VPN deal on the market.
Unblock and Access Favorite Sites in School With ExpressVPN >
2. NordVPN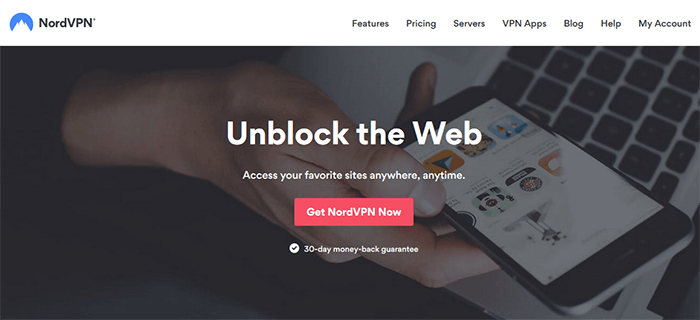 NordVPN is a well-known name in this industry. A name that strides to make itself perfect and satisfy millions of users around the globe. To be fair, it does so, all while offering a relatively affordable price, depending on your location.
What makes this provider special? For the start, 5,600+ servers in 60 countries. All of them are super-secure and offers great speeds for web browsing and streaming. You can now dance on TikTok or act a fool on Instagram live streams without any limits!
Unblocking sites at your school/university will be a breeze, especially if we talk about streaming sites and social media. Facebook, Twitter, Instagram, and YouTube – they'll all be at your palm's reach. Even better, you get dedicated servers for streaming, just in case you want to access some teenage shows on Netflix or Prime Video.
Security-wise, NordVPN is equipped like a tank. It uses 256-bit encryption, a kill switch, Double VPN, and obfuscated servers. With all of these features, you'll easily slide under the prying eyes of your school and/or the Internet Service Provider.
And if you find ads annoying (who doesn't?!), there's CyberSec for mitigating this issue. NordVPN will give you unlimited bandwidth, up to 6 simultaneous connections, and a 30-day money-back guarantee in case you don't like it. Is this a fair deal? It surely is.
Enjoy Online Freedom at School With NordVPN >
3. CyberGhost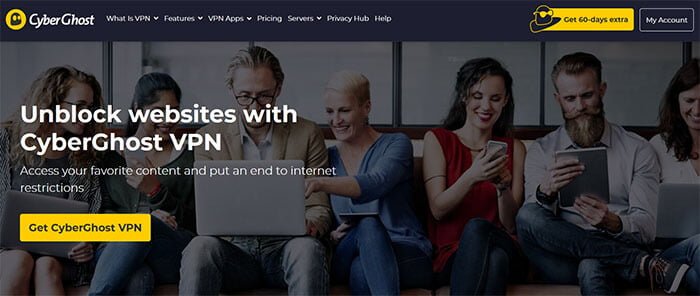 Saving money off your school snack can lead you to some great savings that you can spend on CyberGhost. The reason we're saying this is because it's very cheap. Actually, it's the cheapest of the bunch and provides equally good performance.
One thing where CyberGhost reigns supreme is the server count. It has 7,000+ servers in 90 countries around the globe. It sounds like a lot, and frankly, it IS a LOT. Some of them are dedicated servers for streaming and torrenting, in case you want to snatch some songs or movies from torrent sites at school.
And if you want to stream Netflix, that's possible with CyberGhost's fast and reliable servers. Users of this provider like its speeds that are slightly below what ExpressVPN offers. This is still pretty fast, so you won't notice that you're using it.
CyberGhost can take pride in being very secure, due to its military-grade encryption and a zero-log policy. This, alongside 7 simultaneous connections, will let you protect every internet-capable device in your home. And now, for the best stuff – a 45-day money-back guarantee.
This is the most generous offer you're going to get. If you don't like it, you can get a refund within the first 45 days of your purchase. If your parents refuse to get a VPN for you, show them this offer and they'll think about it – we promise!
Unblock Sites at School With CyberGhost >
Other Solutions for Unblocking Sites at School
The solution we just gave you is the most reliable one. It will always work and you'll have no problems with it, given that you've picked one of the choices from our list. Now, the solutions you're going to see below may, or may not work.
This depends on how strong the school's firewall is. On the flip side, they're all free, so you can try them out easily.
Using a Proxy Server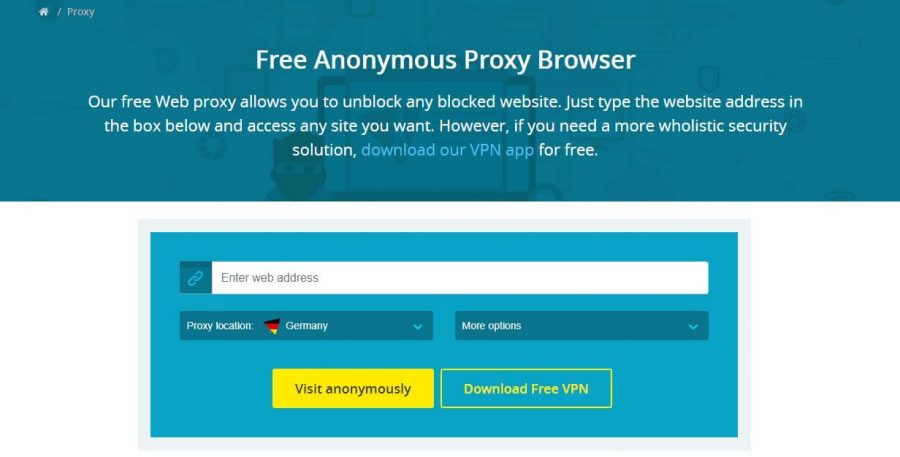 The solution many people use at schools or workplaces comes in the form of proxy servers. They let you unblock sites and they're free, so why would you use a VPN? Hold on a second. Do proxies really unblock sites? Well… sometimes.
A proxy server may unblock the site you want but there are a few important caveats to think about. First, you get very slow speeds that will hinder your browsing experience. Second, you can't connect to the server you want. Instead, the proxy assigns you a random IP from a random country.
And the last thing is that your connection isn't encrypted – uh-oh! This means that your school's internet administrators can still see what you're doing online and intercept your connection.
For us, using a proxy is a no-go if you're in a dire need of the internet at your school. If we're talking about a one-time use, a proxy might come in handy. For example, to see what's new on Instagram or check messages on Discord.
But, as we mentioned, this method may not always work if the school's firewall is rock-solid. Plus, with no encryption, you can say goodbye to privacy.
Typing a Site's IP Instead of URL
This trick is as old as the internet itself, but it seems to work in some cases. You see, every website has an URL but also an IP address that you probably don't know of. Schools will often block particular URLs, without thinking about IP addresses.
In that case, if you type in the URL, you can't access the site. But what if you go for an IP? If it's not blocked, this trick will work. Here's how to get an IP of the site on different platforms:
iOS and Android: download the app called Traceroute on your phone and follow the steps.
Windows: open the command prompt and type in tracert websitename.com.
macOS: open the Network Utility tab and find the Traceroute option. Type in the website address to get its IP.
Linux: In the Terminal, type in dig websitename.com to get the IP address of the site you want.
When you get the IP, copy and paste it to your web browser. If the school hasn't blocked the site's IP, this method should work.
Using Google Translate
Google Translate is a great educational tool that lets you translate words and sentences from and into more than 100 languages. This is why schools and workplaces usually don't ban it. But, little did you know, you can use this tool to bypass websites' ban at your school.
Basically, you'll use it to translate the blocked website in another language, and then, Google-search it. It's very simple and will work given that your school didn't impose a ban on Google's tool.
Getting a Portable Web Browser
Many schools will impose very strict bans that are hard to bypass with all of the aforementioned methods, except VPNs. These bans may be so harsh, that you can't install any browser extensions to unblock sites.
What you can do, though, is download a portable version of a web browser on your USB drive. We recommend Mozilla Firefox because it's lightweight and actually offers a portable version.
You can then equip this browser with numerous extensions and like that, transfer it to your USB Drive. When you get to school, plug in the USB drive and use the browser. It should unblock sites, depending on the level of your school's restrictions.
If it doesn't work, you can also use a quality proxy with it, but then, the issues we mentioned above will arise. This is why a VPN is a much better solution in order to access blocked websites at school and university.
Using a Free VPN
Another solution is getting a free VPN. This solution is slightly more effective than proxies, although we still don't recommend it. For unblocking sites, it will work a bit better, but you get limited bandwidth, very slow speeds, and weak security features.
In many cases, though, free providers collect your personal info and browsing history, which isn't exactly screaming privacy. To make matters worse, they sell your data to third parties, which allows the government and advertisers to track you online.
Providers that we recommend avoiding are Hola VPN and Betternet. They are proven to sell data, and on top of that, they offer almost zero security.
Long story short, ExpressVPN will give you a no-compromise experience, so it's always our recommended choice. It's more affordable than ever in 2021 and provides everything you need to safely unblock sites at school.