US Open is one of the 4 grand slams that transpire during each year of the Tennis season. In 2021, despite the coronavirus outbreak, tennis didn't suffer any major consequences, which is good for die-hard fans. With this tournament on the rise people are looking for free means to live-stream their favorite players. Thankfully, we have a solution to this problem, and if you stay with us, we'll show you how to watch US Open 2021 completely free.
Where to Stream US Open of Tennis Live?
Streaming tennis on your cable TV seems like the easiest way to go about it. You grab your remote, jump in bed, break a few mattress springs, and watch the players battle it out. That is if you're not interested in a full coverage and want to watch only one match a day – at best!
Numerous online sites offer you to watch the US Open but on the flip side, pretty much all of them are paid. There's some good news, however, as the Swiss TV Channel RTS gives you access to FREE US Open live stream without even registering on its website.
How to Unblock RTS Easily from Anywhere in the World?
Being from Switzerland, RTS allows for limited access to users outside the country. In other words, you can browse through the website but you can't access different sports streams. To do so, you'll either have to move to Switzerland or use a VPN to unblock the platform.
A much cheaper solution is a VPN that will effectively unblock this site and let you gain access to US Open 2021 matches. Here's how to use a Virtual Private Network to watch this tournament for free:
Subscribe to a VPN. Our recommendation is ExpressVPN, with its 49% discount in 2021.
Download and install the apps you're going to use (smartphone, computer, smart TV, tablet, etc).
Sign in with the credentials provided upon registration.
Open the server list, find Switzerland, and connect to a Swiss server using the connection button.
Visit RTS and start streaming the US Open live and for free!
Best VPNs to Unblock RTS and Enjoy US Open Live Stream
With everything out of the way, we need to talk about the VPNs that will allow you to enjoy streaming your favorite sport, aka tennis. Here are our recommendations for watching the 2021 US Open live:
1. ExpressVPN

If you want a really fast VPN with exceptional performance, look no further than ExpressVPN. This provider is an epitome of quality that many providers on the market try to replicate. Unfortunately for them – unsuccessfully!
ExpressVPN comes with 3,000+ servers in 94 countries, making it great for unblocking geo-restricted sites worldwide. One of them is surely RTS, with dozens of ExpressVPN's servers in Switzerland.
The good thing about it is that it works with Netflix but also Hulu, Disney+, HBO GO, Prime Video, and ABC. This will let you enjoy your favorite shows and movies, just in case you get bored with the US Open. Moreover, it allows for torrenting, so if you need some of that sweet torrenting, feel free to go for it!
What we appreciate a lot is its security. There's impenetrable 256-bit AES encryption coupled with a kill switch. Should the VPN connection breaks, it will shut down your internet connection, preventing accidental IP/DNS leaks. Super convenient, isn't it?
ExpressVPN gives you unlimited bandwidth across all devices, as well. This is crucial for streaming and will allow you to follow through the whole US Open tournament in one go. Offering up to 5 simultaneous connections, protecting your devices at home will be a breeze!
Lastly, the provider is at its cheapest in 2021. You get a 49% discount and 3 months free for an annual plan. Oh, and there's a 30-day money-back guarantee just in case you don't like it. But, as we always say, with ExpressVPN, that's probably not going to happen.
Stream US Open 2021 Live With ExpressVPN >
2. NordVPN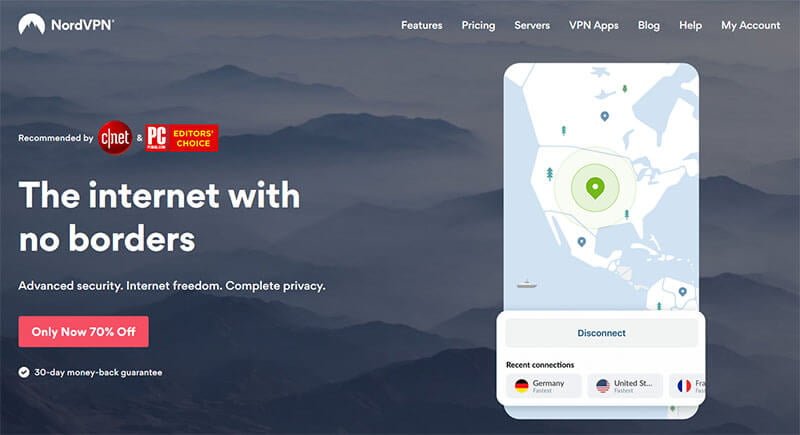 NordVPN is up there with ExpressVPN in terms of quality. However, being a slightly newer provider, it is, in our opinion, still not on the same level. Don't misunderstand us – this is still a VERY competitive provider with lots of quality features.
One of them is speed, which does a brilliant job of supporting high-res streaming. RTS is from Switzerland, yet NordVPN has 100+ servers there, thus accessing the site will be a piece of cake. Speaking of servers, the provider has 5,600+ of them in 60 countries worldwide.
We know you're already impressed but there's a lot to talk about NordVPN. It comes with military-grade encryption backed up by reliable IP/DNS leak protection. Furthermore, there's the Double VPN feature for another layer of encryption, ensuring maximum security and privacy.
If you're often streaming, you'll find ads and pop-ups annoying, even when trying to watch the Tennis US Open. Thankfully, the provider's CyberSec will block and smash them like a tennis ball. Being from Panama, NordVPN also has a zero-log policy if privacy is your main concern.
And if you want to watch US Open 2021 on multiple devices, worry not – NordVPN gives 6 simultaneous connections on a single account! In case you encounter some problems with this VPN, its 24/7/365 support will always be on guard to solve them.
Arguably, NordVPN isn't very affordable in the short run. But, if you manage to snatch its great long-term deal, you'll be jumping around in excitement!
Enjoy US Open Streaming With NordVPN >
3. CyberGhost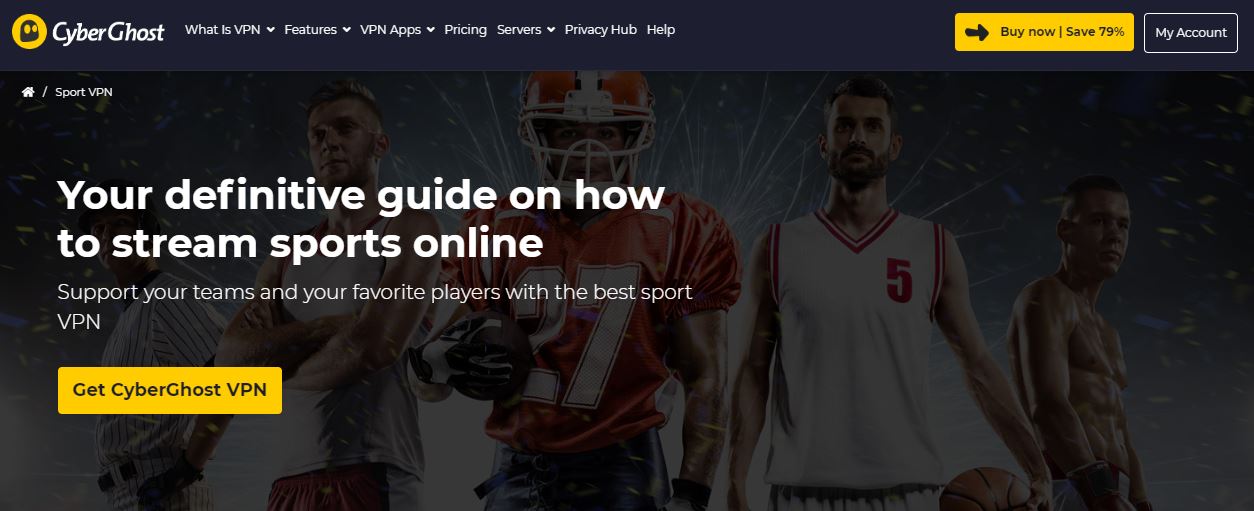 CyberGhost is yet another great provider for enjoying some grand slam matches live. With it, you'll be able to watch not only the US Open but other grand slams/tennis tournaments as well. Thanks to its dedicated streaming servers, CyberGhost is exceptional when it comes to unblocking RTS.
The provider has around 150 servers in Switzerland, letting you enjoy streaming and torrenting to your heart's contempt. Logically, you get unlimited bandwidth and blazing-fast speeds and given that it's a premium provider, expecting anything less would be foolish.
Another great thing about CyberGhost is its focus on security. Sure, you want to watch tennis and you probably don't care about it too much. But, not all users are the same and some of them will be glad that 256-bit encryption is in place, along with a kill switch.
CyberGhost is based in Romania, and therefore, has a strict no-logging policy. This means that your personal data will never end up in the government's hands, providing necessary privacy that a service like this should give.
Installing CyberGhost is possible on every platform, including routers. Instead of 5 or 6, it gives 7 simultaneous connections, which is impressive for the price. The price of this provider is significantly cheaper than the previous two choices and performance-wise, you lose absolutely nothing!
Unblock US Open Live Stream With CyberGhost >
Other Platforms for Streaming 2021 US Open
There are quite a few platforms where you can access different tennis tournaments including this one. However, as we said, all of them are paid. Just in case you have a subscription on some of them, you might want to check out our list below.
ESPN
ESPN is a US-based sports-streaming platform that offers exceptional sports coverage. As is the case with many similar services, it's premium and costs $40 a month with the addition of Sports Extra.
We can see that it's quite expensive and a far less attractive option than RTS for watching the US Open of tennis. Of course, if you want to watch more sports and be in touch with everything happening in the sports world, you'll probably be inclined to pay for it.
Amazon Prime Video
Amazon Prime Video is a great platform for streaming movies and TV shows. Recently, it got a license to stream US Open as well, so you can access it for $6 a month or around $72 a year (but only if you are located in the United Kingdom).
TSN
TSN is a Canadian platform that you can get with your cable TV or pay for it separately. Although it offers great coverage, it's very expensive, costing $19.99 a month. Logically, we don't recommend it, or any other platform from the list when you can go for RTS instead.
But, if you happen to have some of these subscriptions, know that you can watch US Open as soon as it starts.
Free VPNs for US Open Live Streaming – Do They Work?
For the end, we need to talk a bit about free VPNs and their performance in this regard.
In short, free VPNs are not reliable and you should avoid them if you want to enjoy streaming in general. Why? Because of limitations in regards to bandwidth and speed, that will only make your streaming experience a nightmare.
On average, they'll give you not more than 10 GB a month, and if you go for TunnelBear, you get just 500 MB! That's hardly enough for one match, let alone the whole US Open tournament. Not to mention speeds that are, for the most part, atrocious – and we're being polite here.
The biggest deal for us is the fact that they collect your personal info and sell it to third parties for revenue. Maintaining VPN servers is very expensive and free providers must earn their buck at the end of the day.
Summary
If you want to avoid potential issues while watching a live stream of the US Open of Tennis, we strongly suggest that you avoid free solutions. Sure, ExpressVPN isn't free and is a bit more expensive than its competition, but when you experience its performance, you'll hardly want any other provider.
Therefore, we recommend ExpressVPN if you're hell-bent on unblocking RTS and watching the US Open live.
Get it now, access RTS, and enjoy your sports streaming to the fullest!