As the most successful sports channel in the world stands ESPN, which has been successfully operating for the past few decades. However, it places its focus on the American audience, which means that if you are outside of the US, you won't be able to access the full content. Still, you shouldn't give up just yet. There is an effective method to bypass this blockade while traveling abroad using a VPN. Read on and find out how to do it!
What is ESPN+?
Owned partially by the Walt Disney Company and the Hearts Communications (one fifth), ESPN was launched back in 1979. Today, it is the most successful American sports channel that offers 720p HDTV and a versatile programming schedule.
The slogan "The worldwide leader in sports" is what makes ESPN so great – it broadcasts almost any sport, including college basketball, football, NBA, NFL, NHL, and even professional tennis tournaments. It does have a number of sister channels, including ESPN2, ESPN3, ESPNews, ESPN on ABC, and ACC Network.
It does have its headquarters set in Bristol, Connecticut. Available to more than 90 million households across the USA, it also operates in 200 other countries.
However, in order to get full free access anywhere in the world, you will need to use a VPN.
ESPN+ Popular TV Shows
As we have mentioned above, most of the ESPN programming schedule features live broadcasts of sports events. However, there is a little bit more to it, including documentary shows, highlight shows, and review talk shows.
Among the most popular is Around the Horn, College GameDay, E:60, Get Up!,  Outside the Lines, and Sunday NFL Countdown.
In 2019, ESPN signed a contract with UFC getting exclusive rights to stream any match that comes up. With this in mind, it became an all-around sports channel that offers much more than football and basketball.
ESPN+ Error Message – Why Does It Happen?
The main reason you encounter a playback error message is due to the issue with your cable/video service subscription. As with most other US TV channels, you shouldn't expect to get full access from abroad without the help of a VPN.
What lies behind this block is licensing, which means that local authorities aren't restricting you, but rather ESPN+.
How Can a VPN Help?
If you come across an error message on ESPN+, you will need to find an effective solution to unblock it. While you could have success using a proxy server, your best bet is installing a Virtual Private Network.
The idea behind a VPN is that it tunnels your internet connection from your current location to an alternative server that should, in this case, be set in the US. It doesn't matter if you log to an East or West Coast location as long as it is inside the country.
By tunneling your connection, it hides your IP address and ensures that your true location is not revealed. This is done through leak protection instruments such as kill switch and CyberSec.
Not to forget, a reliable VPN ensures that you stay safe from cyber criminals and hijackers that would otherwise track your browsing activity. Plus, some bookmakers are blocked abroad and you can use this kind of service to unblock them easily from abroad.
How to Unblock ESPN+ Outside the US Easily?
If you would like to catch every exciting minute in your favorite sports, then you definitely want access to ESPN. Here is how you can do it quickly and easily in just a few steps.
Select a VPN from our recommendations list below. We strongly recommend using ExpressVPN.
Download the relevant app for your device and sign into it
Connect to a US-based server from the available server list
Go to the ESPN+ website and find the games you want to watch
Grab your drinks, snacks and enjoy 😉
VPN to Watch ESPN Live Anywhere Outside the US
The VPN market is quite competitive, which means you will need to invest a bit of effort in order to find the one best for your needs. To help you, here is our selections of the best services you can get in 2021.
1) ExpressVPN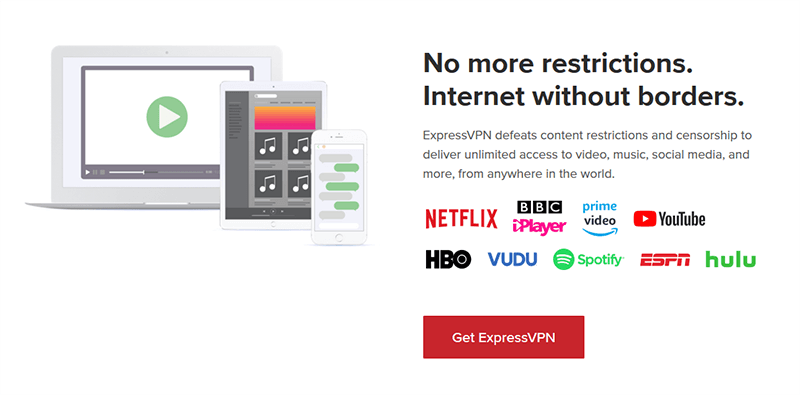 There are several features that make ExpressVPN the most reliable VPN choices out there. First and foremost, it offers its service in more than 94 countries, featuring over 3,000 servers. This is quite versatile and means that you can connect and bypass almost all geo-related restrictions.
From what it seems, ExpressVPN does a great job of unblocking content from America and many more countries. It also allows residents outside of Russia and Saudi Arabia to access their local bank accounts. In addition, you can hide and change your IP address in one click – it really is that simple.
Also, the server speeds are incredible, with the expected drop being around 10% when connecting to the US servers. Thus, you shouldn't have any issue if you want to watch ESPN Live in HD while abroad.
ExpressVPN is our top recommendation for all of your streaming, security, and speed needs. We suggest clicking below to find out more or sign up:
Get 49% off at ExpressVPN.com >
2) CyberGhost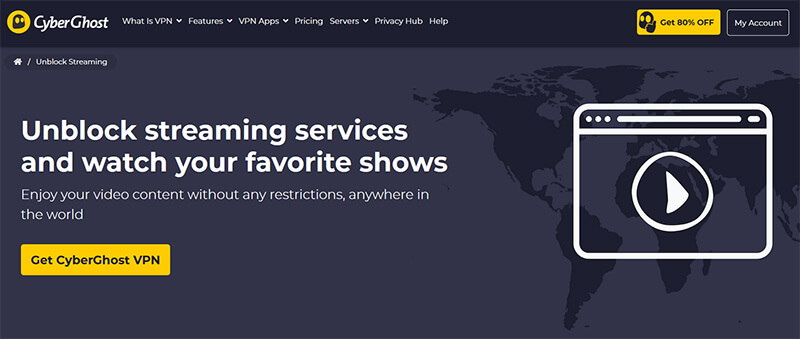 CyberGhost stands quite strong in this field. When it comes to connection stability, it may be the best option out there. Considering that it offers over a few thousand servers in a myriad of countries, we invested extra time to review the overall connectivity.
We had no issues with connecting to the US and EU locations. Additionally, while the ping was higher when we ran tests for Australian and Asian servers, everything still worked. Maybe the most important advantage of subscribing to this provider is that it has a 24 hour free trial so you can test out the service first.
It doesn't only offer a stealth mode Hong Kong server but also a couple of other locations, as well. Thus, you will be able to unblock content if you are in China, as well as access the websites that are limited to those residing there.
Also, one of the coolest things is that it offers more than 1,000 servers in the US, which makes it a reliable choice for unblocking ESPN+ Live when you are abroad!
Take advantage of CyberGhost's optimized servers >
3) NordVPN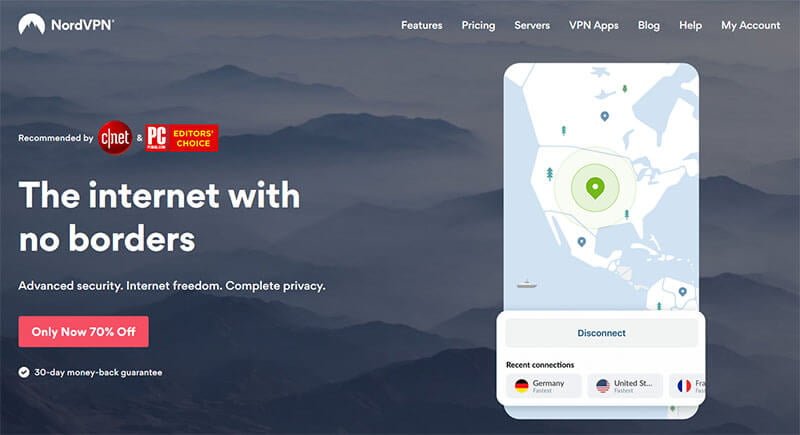 Among the most common reasons why people subscribe to a virtual private network is to access streamed content across the globe. That is why we find NordVPN to be a really good choice for people who are looking for flawless unblocking ability.
Firstly, you will be able to access the most popular streaming platforms across the globe. Not only that, but you can also enjoy sports TV, foreign channels, and watch ESPN Live when outside the US.
Along with this, it is also safe to say that NordVPN is extremely easy to use. The installation process is done within a couple of minutes, and the pre-made apps for different devices are user-friendly.
Also, the fact that it is compatible with the TOR browser makes it a great choice for anyone who was hoping to experiment with dark web browsing.
Last but not least, it offers several different payment methods and subscription options, making it a viable and affordable choice! Click this button to find out more about it and to subscribe: