Every year, cyclists battle their way for the top-grade Tour de France race. This race is extremely hard and sees the best cyclists in the world racing against each other. Being so exciting and intense, it's very popular around the globe, but sadly, not every cyclist enthusiast can watch it. Luckily for you, we have a guide that will let you enjoy Tour de France 2021 live stream free of charge. Sounds good? Then, stay with us!
Where to Watch Tour de France 2021 Live Stream?
If you're relying on your cable TV to provide all the necessary sport streams, you're just beating a dead horse. Sure, you'll have channels like Eurosport but they're very limited in what they can show on television.
On the flip side, there are multiple streaming platforms online that allow you to stream a plethora of different sports, including cycling. Beware that not all of them are free, but if you happen to have a subscription on some of them, you can enjoy Tour de France 2021 easily.
So, what channel is Tour de France on? Here's the list:
RAI
France TV Sport
NBC Sports
Eurosport
SBS
FloSports
We can see that the list of streaming platforms for cycling is pretty good. There are 6 platforms in total, albeit, almost every platform is paid. And if you're outside France, Italy, the USA, Europe, Canada, Australia, and New Zealand, you won't be able to access any of them.
Now, the question is – which platform will allow you to watch this event completely free?
There are a few options. Our recommended one is SBS, an Australian platform, that just requires you to register and you're good to go. RAI, a streaming platform from Italy, is also free. You just need to visit the website and enjoy Tour de France live stream.
But wait – you probably aren't from Italy or Australia… are you? If the answer is negative, you need to keep reading this guide on how to watch the 2021 Tour de France. We're going to show you how to access these platforms abroad and watch your favorite sports for FREE.
Use a VPN to Unblock Tour de France 2021 Stream
The most efficient way to unblock Tour de France 2021 stream is to use a VPN. Of all the advantages of using a VPN, there are some of them that are important for this scenario.
First of all, a VPN lets you access geo-restricted platforms such as Rai or SBS, even if you're not from the respective countries. You achieve this by connecting to a VPN server in another country and "fool" the website into thinking you're from that country.
Furthermore, this service will encrypt your connection, allowing you to browse the web anonymously. This is extremely important if you feel like your online security is at stake.
It may sound like rocket science but it couldn't be farther from the truth. Let's see how to use this service to access TdF live stream:
1. Subscribe to a VPN
Subscribing to a provider of your choice is the first thing to do. We won't lie – it's not free. However, for the money, you'll get more than you paid for, especially if you go for ExpressVPN, which is our recommendation.
2. Download & Install the Respective App
Next, you need to download and install the apps you're going to use. Do so and sign in with the credentials you provided when registering.
3. Connect to the Australian/Italian Server
Now that you're on the home screen, look for the connection button and the country underneath it. Click on the country to open the server list. Depending on which platform you want to unblock, you want to connect either to the Australian or Italian server.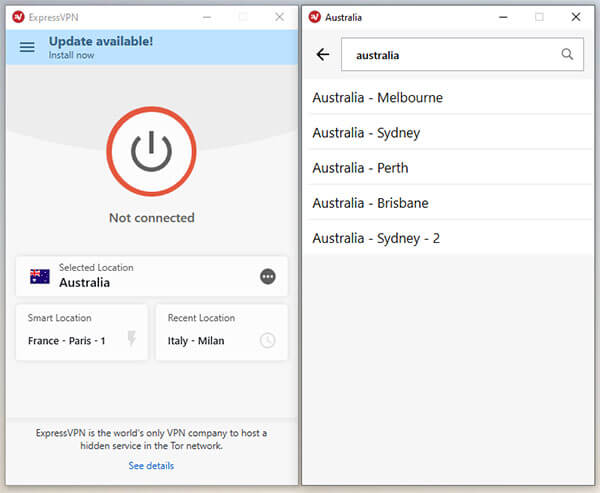 We recommend connecting to the one closest to you. If you're from Europe, your best bet is the Italian server. But, if you're from New Zealand, you want to go for the Australian one. When you've made your pick, just use the connection button to establish a connection.
4. Watch Your Favorite Cycling Event!
As soon as the event start, visit RAI or SBS and start watching. You can also use your VPN to access HBO GO abroad, or many other platforms, so don't be sorry for the money you gave. It will be worth it!
Best VPNs to Access Tour de France 2021 Live Stream
Not all VPNs are equal, and therefore, not all of them can unblock the platforms that will allow you to watch Tour de France. With that in mind, we've come up with a list of top 3 picks that will let you enjoy cycling, regardless of which race you want.
1. ExpressVPN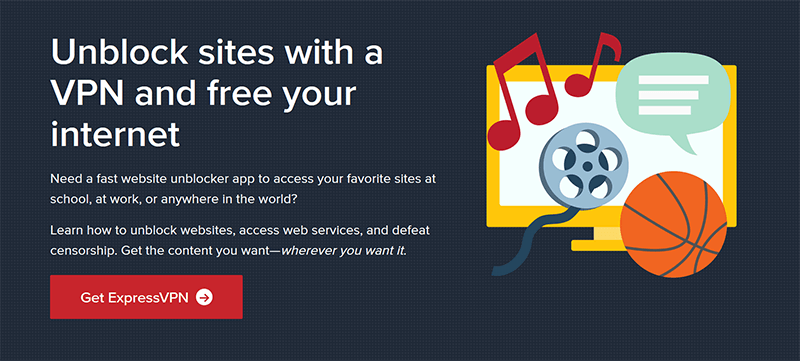 ExpressVPN is the best pick for watching Tour de France on a free foreign TV Channel. Actually, it's the best VPN on the market, and there are numerous reasons for that. This provider comes from the BVI, and as such, it's far from the 14 Eyes. In return, you get an audited zero-log policy that promises complete privacy.
Wait – you want to watch some cycling, so you don't care about security. Well, no problem. ExpressVPN is also blazing-fast, allowing for buttery-smooth streaming even if you want some 4K footage. This is accompanied by 3,000+ servers in 94 countries around the globe, which is great for bypassing geo-restrictions.
Not only it will allow you to unblock Rai or SBS, but also Netflix, Prime Video, Hulu, and HBO GO. On top of that, there are multiple P2P-friendly servers should you want to download some torrents from YIFI or TPB.
ExpressVPN covers all the platforms with its easy-to-use apps. You can install it on Windows, iOS, Android, macOS, Linux, routers, and many more. Furthermore, you get unlimited bandwidth and 5 simultaneous connections. For the price, this is exactly what you want!
Speaking of price, it's not the cheapest out there. But, with its 49% discount and 3 months free for an annual plan, it's more than affordable. See our ranking of the best and cheapest VPNs if you want premium performance while not breaking the bank.
Stream Tour de France With ExpressVPN >
2. NordVPN

NordVPN is slightly cheaper than ExpressVPN, and of course, it's just slightly inferior to it. Make no mistake – this is a bloody good VPN that will satisfy your needs in every regard. It's great for unblocking RAI or SBS, giving you leeway to watch Tour de France 2021 live.
Also, with its reliable 5,600+ servers in 60 countries, you get to access Netflix and Disney+ from abroad. For streaming, speeds are very important and NordVPN knows that well. It's pretty fast, and with the recent implementation of the NordLynx protocol, its speeds saw a massive increase.
Security-wise, the provider has all the relevant features. There's 256-bit AES encryption coupled with an automatic kill switch and IP/DNS leak protection. Users in China can use obfuscated servers for bypassing censorship, and for stronger encryption, Double VPN servers are here.
The addition of CyberSec, an ad-blocker is a welcome one. This feature will block and smash annoying ads to pieces, providing a clean and lag-free browsing experience. Much like ExpressVPN, it's available on every platform, with an exceptionally good app for iOS and Windows.
Lastly, NordVPN gives 6 simultaneous connections on a single account, and if problems arise, its diligent 24/7 support will gladly help you. If you want to get it, we recommend a 2-year plan that comes with a 30-day money-back guarantee and a huge discount.
Enjoy Tour de France Live With NordVPN >
3. CyberGhost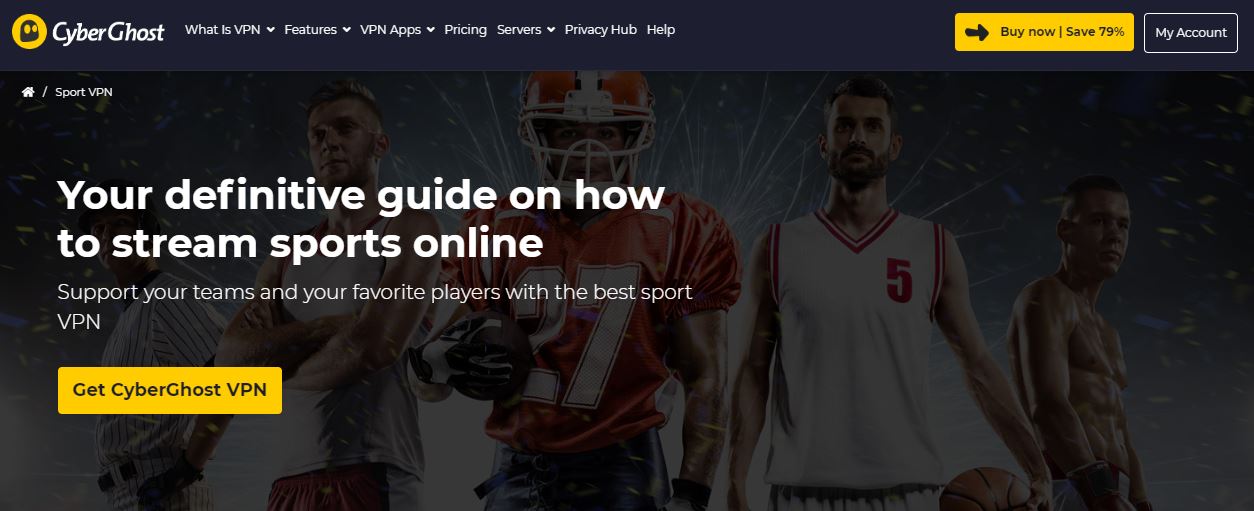 The previous two choices aren't up to your liking? Well, you can always go with CyberGhost and see how well it stacks up. Let us tell you – it stacks up pretty damn good and is a LOT cheaper than other options on the market. What's the catch then? There are no catches – surprise, surprise!
CyberGhost comes guns-blazing with 7,000+ servers in 90+ countries, which is the biggest you're gonna get. These servers are lightning-fast, giving a top-notch performance and overall stability. One of the best features of CyberGhost are dedicated servers.
You get some for streaming and some for torrenting. Streaming servers are good for unblocking Netflix, Hulu, BBC iPlayer, and of course, SBS and RAI. Thanks to its speeds and the stability, streaming Tour de France 2021 will be a breeze, and that's what matters the most in this case.
In terms of security, this Romanian provider is great. There's a no-logging policy, 256-bit encryption, and a kill switch as standard. Similar to NordVPN, it also comes with an ad-blocker, which is better in this instance.
It blocks trackers and malicious websites, as opposed to just blocking ads. The main selling point, however, is its price, which is very cheap. If you get a 3-year plan, you'll get the most savings and enjoy protection for the years to come. Therefore, it's our recommended pick.
Access Tour de France Live Stream With CyberGhost >
Summary
Watching Tour de France is very easy if you follow our in-depth guide. You can pay for a VPN and for a streaming service, but why waste additional money when you don't have to? Our suggestion is to watch it either on RAI or SBS in which case you'll only have to buy a VPN.
Speaking of that, ExpressVPN is our top pick for this purpose. With its speeds, security, and stability, you won't feel the need for any other provider. And if you don't like it while trying it in order to watch the Tour de France live, its 30-day money-back guarantee will let you put back the money in your pocket.