Amidst all of the cheap and affordable providers, Ra4wVPN is perhaps one of the most affordable VPNs out there. However, when a provider is cheap, one question remains – is it worth even this low price? This less-popular option seems like an interesting deal for money-savers, so we're going to examine if it's any good for the cash. Our Ra4wVPN review is below, so please read carefully before you buy a subscription.
What is Ra4wVPN?
Depending on how you look at it, Ra4wVPN isn't a new provider in the business. To be precise, it was founded in 2013, in the United States, which means that it exists for almost a decade now. During its years of existence, the provider didn't do anything significant to become more popular.
And to be honest, its US jurisdiction isn't exactly what privacy lovers prefer. As some of you know, the US is a part of the 5 Eyes alliance, which countries are known for excessive government surveillance. If the government requests users' data from the provider, chances are that it will hand it over.
We can say, in short, that Ra4wVPN is a mediocre provider that doesn't offer anything exciting, and that applies to every department. Whether it's performance, speed, streaming capabilities, or other things, Ra4wVPN isn't going to achieve that "wow" effect.
Nevertheless, we'll give you a comprehensive review of Ra4wVPN and reveal the reason behind our bad impressions. Keep reading, fella.
Compatible Devices and Ease of Use
The first thing that we want to talk about in this Ra4wVPN review is device support. Usually, VPNs on the marketplace will support four basic platforms – Windows, macOS, iOS, and Android. For us, this is a bare minimum that every provider should support.
When a certain VPN goes below that threshold, that's when we see a problem. Ra4wVPN, unfortunately, is one of those providers. We were completely baffled to see that only the PC app exists. Actually, only the Windows app, to be concise.
In the decade of high-speed smartphone development, where people mostly use smartphones instead of PCs, things like this shouldn't happen. Right of the bat, Ra4wVPN gets a bad grade in our 2021 review.
Computers
Since the Virtual Private Network supports only computers, this is the section we can fully delve into. Beware that only Windows computers are on the list, so don't try to download it on your Linux or macOS systems. Heck, even this PC app is a rip-off of OpenVPN, which is insulting!
You can't make a proper app for the PC, yet you want us to pay? Begone!
Let's start with the installation process. The setup file is wrapped inside the WinRar archive which you can download from the site. Extract it and run the setup executable.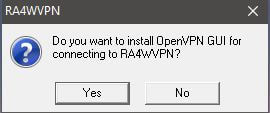 Ra4wVPN connects through the OpenVPN GUI, so you'll need to install it. Click Yes and let the installation do its job.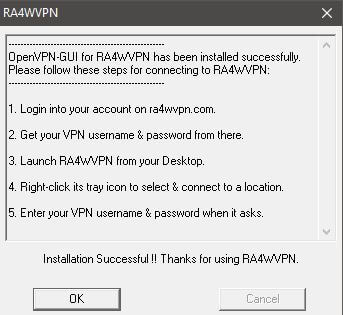 Once it's done, you'll see a small instruction sheet. If you don't want to read it, click OK and the app will be on your computer. To open the app, click on the tray in the bottom-left corner and find the icon. Left-click on it and this menu will appear: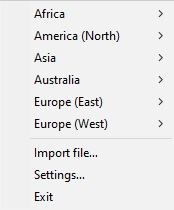 This is basically the whole menu of the app. You have a list of continents and if you place your arrow on one, a new menu will emerge from it. Here's how that looks:

We placed a mouse-over on America (North) and these servers popped up. Once again, mouse-over on the server you want, and the new menu with the Connect option will appear. Just click Connect and you'll get this screen: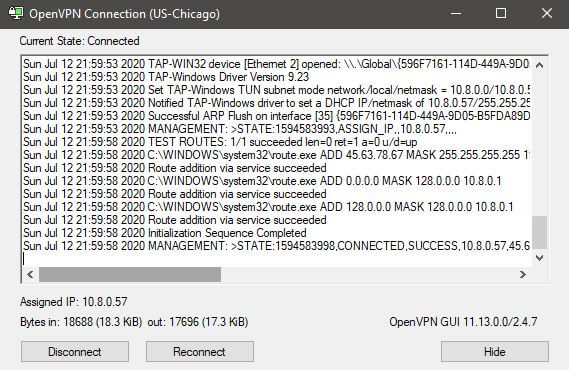 Right before connecting, the app will ask you for your username and password. And no, this is NOT the username you've registered with. Instead, Ra4wVPN gives you another password and username – because why not?!
You need to copy and paste this other password and username, after which you'll be able to connect… gosh!
The app is, we can say, simple. However, we can't help but think that they could've done a much better job. If you're supporting just ONE platform, at least make it look good, and not this bare-bones OpenVPN client that we're tired of.
Smartphones and Tablets
What about smartphones and tablets? We said earlier in our in-depth review that Ra4wVPN doesn't support these platforms. But, is there a way for you to still use it? Well, to be honest, we didn't bother trying but we've heard that the OpenVPN client might work.
OpenVPN is available on both iOS and Android, and if you're willing to give it a shot, go for it. We wouldn't bother, though. If you want to watch US TV shows from abroad or browse the web safely on your smartphone, our recommendation is ExpressVPN.
Other Devices
Needless to say, Ra4wVPN won't support any other devices besides the ones we mentioned. No router, Roku, Apple TV, or Fire TV support – nothing. Before we move on, let's just reassure that you know that this is a premium service.
Keep that in mind while reading this review of Ra4wVPN and you'll see why we don't recommend it.
How Fast is Ra4wVPN? We Checked Its Speed!
We always say that free VPNs are slow and perform poorly, which is almost always the case. Sure, Windscribe jumps out from that mass a bit, but it's not the best performer out there. If free solutions are slow, this means that premium VPNs are fast, right? No. Not always.
Ra4wVPN is a provider that you can't expect miracles from. It's made for people who, honestly, don't know anything about VPNs. Only these people will be satisfied with it, and that's questionable. Every provider reduces your internet speed when you connect to a server.
However, there's a big difference between 10% and 95% reduction. Our hopes of at least decent results sunk deeply into the ocean when saw them. We did 3 tests in the morning, 3 in the mid-day, and 3 in the evening, for 3 testing locations. Also, we kept the BEST score and used the best location when that was possible.
Our physical location is in the US and we used these 3 locations for testing:
The United States
The United Kingdom
Australia
Without a VPN, our native internet speeds are:
Ping: 11 ms
Download Speed: 211.88 Mb/s
Upload Speed: 202.20 Mb/s
Now, when using Ra4wVPN for this review and test, our ping, download, and upload speeds respectively, for 3 testing locations, were:
US Server: 55 ms / 47.89 Mbps / 62.37 Mbps

UK Server: 138 ms / 22.71 Mbps / 18.36 Mbps

Australian Server: 377 ms / 7.12 Mbps / 6.36 Mbps

The results we got were, in one word, atrocious. This is easily one of the slowest VPNs we've tested in 2021. When using the US server e.g. the server in our country, the speed reduction was quite significant. We got the worst results on the Australian server, which made our speeds so slow, that we couldn't browse the web properly.
That being said, if speed is of high importance for you, Ra4wVPN won't suffice. ExpressVPN will, as it's the fastest provider on the market.
How Good is Ra4wVPN for Streaming?
Ra4wVPN already has one foot in the grave, given that our first two tests didn't go so great for the provider. With its poor device support and very slow speeds, will it be good enough for streaming?
As we always say, for streaming, you need to have the ability to unblock geo-blocked platforms and fast speeds. The latter is already in the wind, so let's see if it can unblock websites, starting with Netflix: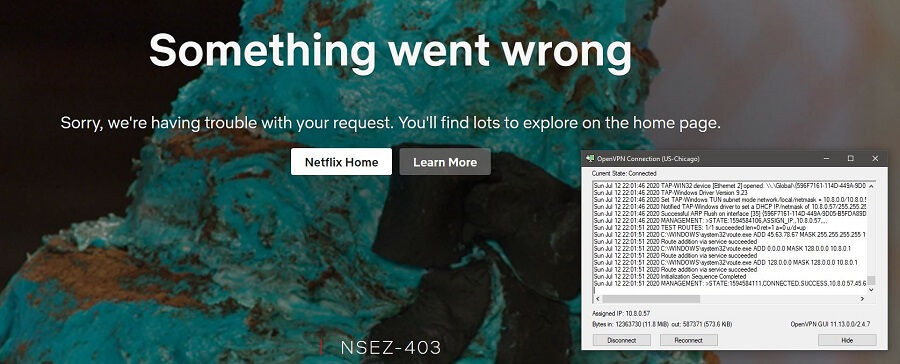 Upon connecting to the server in Chicago and entering the site, we got this message. Usually, VPNs that won't unblock Netflix allow you to access the site in your local version. This time, Ra4wVPN didn't allow us to access Netflix at all.
To make sure that it's not Netflix's fault, we disconnected and tried to enter the site. Guess what – it worked! It's pretty obvious that Ra4wVPN won't unblock Netflix US, so let's see if Hulu works.

As expected, Hulu immediately detected that we're using a VPN, giving us a well-known proxy error. Moving on, we have to check Amazon Prime Video: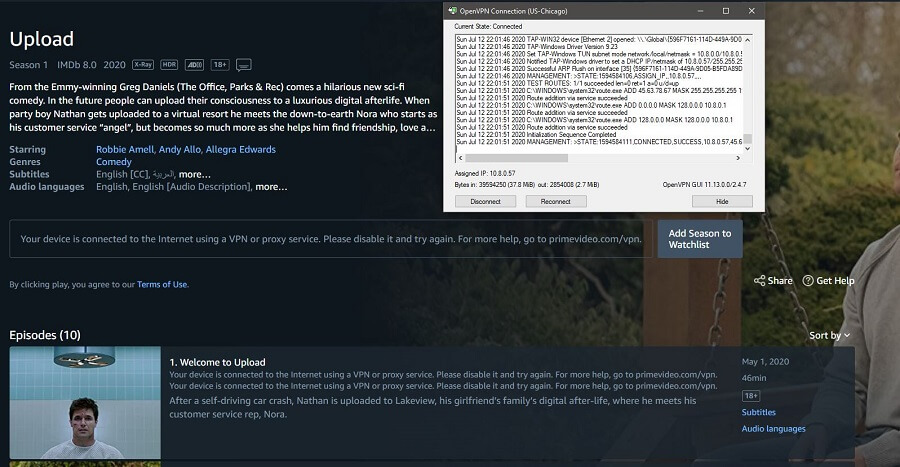 Amazon Prime Video is a pretty tough platform to unblock, even for the top providers. Ra4wVPN didn't manage to unblock it, as you can see in the image above. Below, we have Disney+.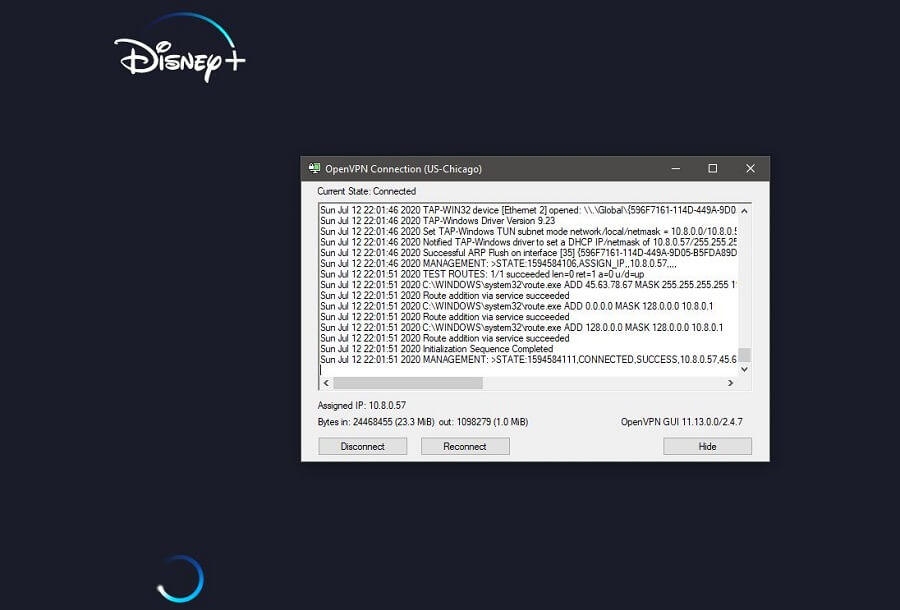 When trying to log in, we got this infinite loading screen, which means only one thing – that the provider can't unblock this platform.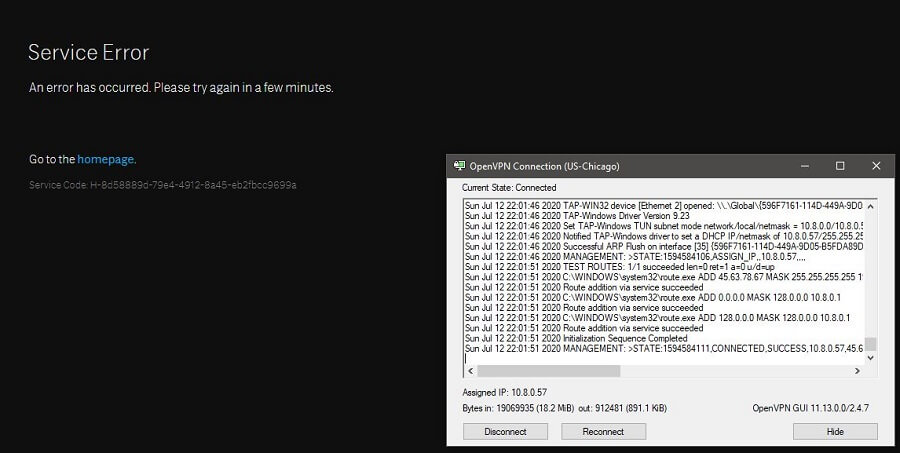 Interestingly, even HBO GO didn't work, a platform that almost all VPNs manage to unblock. We did the same as with Netflix, and with another VPN, we entered the site easily.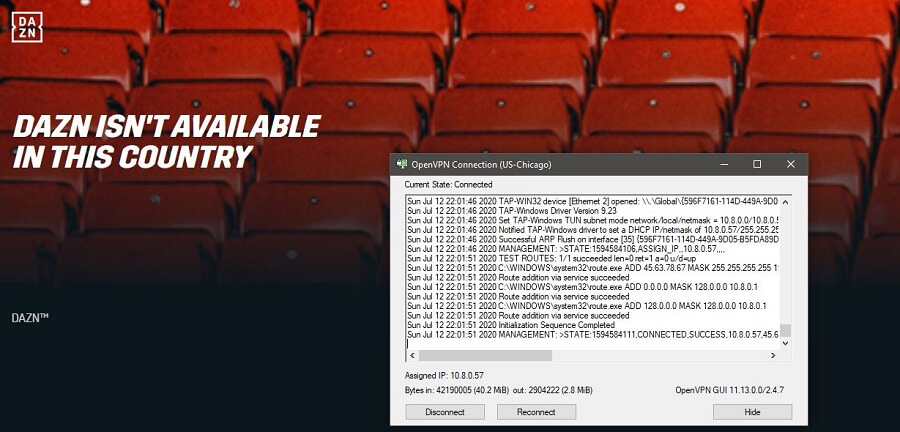 DAZN says that it's not available in the US… well, that's not true. Or it is? If you're using this provider, certainly.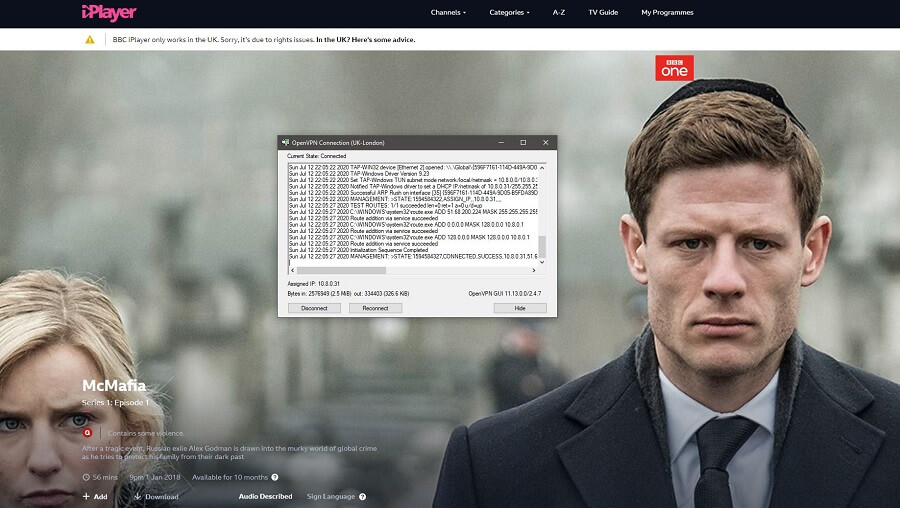 The last platform we tested for this part of our Ra4wVPN review was BBC iPlayer, a UK-based streaming platform. We were pretty disappointed to see that it didn't work either, making Ra4wVPN extremely bad for streaming.
Out of 7 streaming platforms we tested, the provider didn't unblock a single one. If we add the fact that its speeds are very slow, you get a non-capable provider that won't let you stream on Netflix or unblock even the simplest geo-restricted websites.
Confidentiality, Security & Logs
US VPNs always have one burden on their backs and it's no other than jurisdiction. The United States is a pretty 'free' country. You get to access the internet freely, post what you want, and comment on social media.
The problem here is government surveillance, which is ever-growing as the US elections approach. While many US providers collect tons of data, Ra4wVPN takes a different approach. In their words, they don't collect anything. Here's the proof: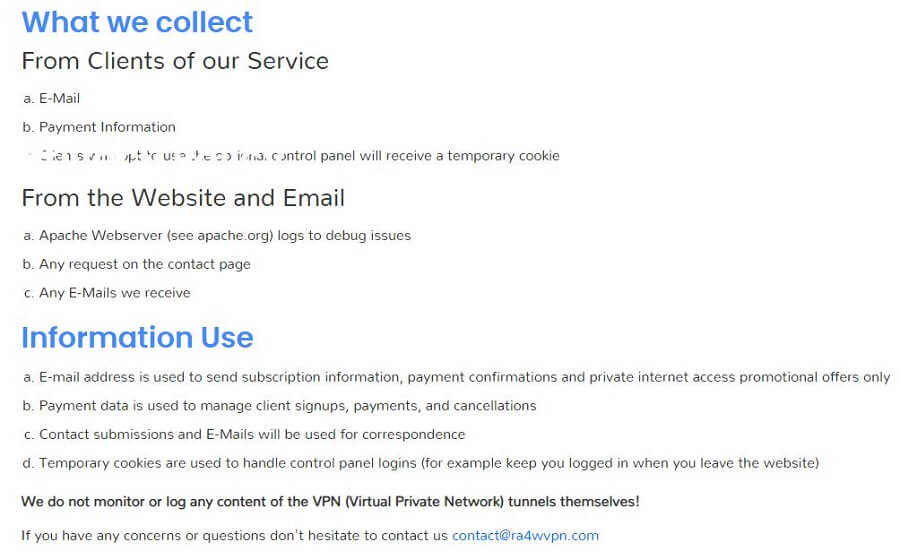 Ra4wVPN collects only minor data, such as email address, payment information, or requests on the contact page. In the privacy policy above, the provider clearly explains the reasons for collecting this information.
We can see that these aren't malicious reasons and are, in fact, mandatory for a service like this to work. Lastly, they mention that they don't monitor or log any content of VPN tunnels, meaning that they don't monitor your traffic.
A privacy policy like this is very short but gets to the point quickly. So, despite being from the US, you theoretically shouldn't worry about your privacy.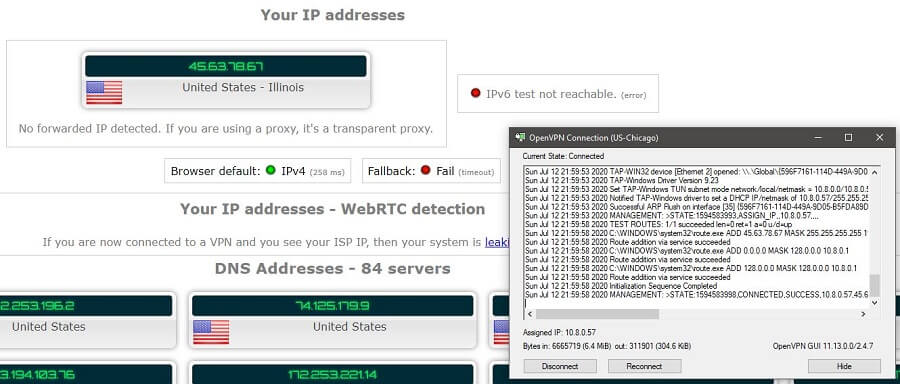 We wanted to make sure that we're completely secure while using the provider, so we did an IP and DNS leak test. Luckily, we saw no IP/DNS leaks, which brought a smile on our faces. This means that you can browse torrent sites safely, without fearing that your ISP might detect you.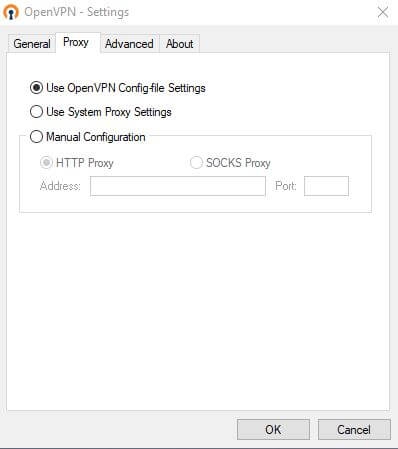 As for other security features, don't expect much. The provider uses OpenVPN coupled with 256-bit AES encryption. But with no kill switch.
Can I Do Torrenting Safely With Ra4wVPN?
Since we touched on torrenting, it's important to see if you can do it safely with this provider. Theoretically, Ra4wVPN should be safe for this activity. It doesn't store logs and it enforces privacy, so you should be okay. We decided to visit 1337x.to and download a movie to test this theory out: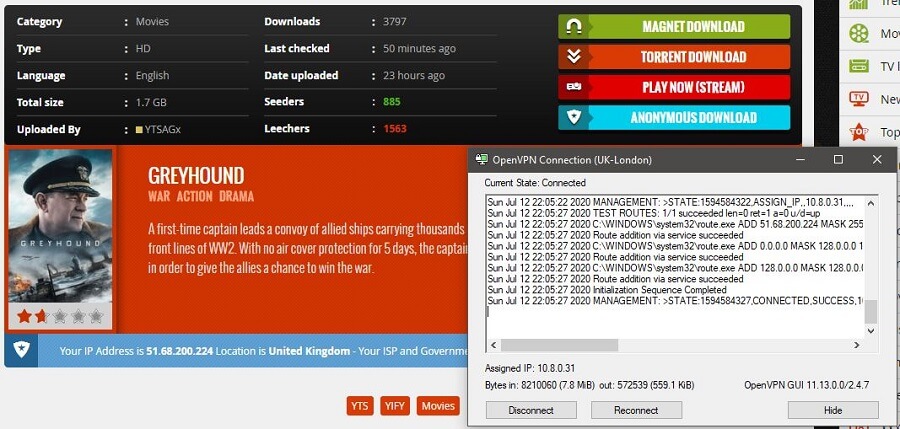 Downloading Greyhound was very easy and we didn't have any problems, except for very slow speeds. After that, we downloaded two more movies and a few albums, and everything was okay. Generally speaking, Ra4wVPN will allow you to torrent safely but due to its lackluster speeds, it won't be as enjoyable and fast as ExpressVPN.
If you're interested in how to avoid DMCA notices when torrenting, read our dedicated article for that.
Can I Use Ra4wVPN to Bypass Censorship?
One thing where cheap providers haven't caught up with the premium ones is bypassing censorship. Ra4wVPN uses OpenVPN protocol, which is sometimes enough for bypassing censorship in China or the UAE. However, the governments have already learned the patterns and their firewalls are much stronger.
This means that OpenVPN is slowly getting obsolete for this purpose, making it useless for bypassing the Great Firewall of China, for instance. To make matters worse, the provider doesn't allow you to change protocols nor does it have any special functionalities to help you bypass censorship.
Ra4wVPN is a bad option for this scenario. We recommend NordVPN instead, which will work flawlessly in China with its obfuscated servers.
Ra4wVPN Pricing and Plan Options
After everything we said in the review, it's hard to think that Ra4wVPN is a premium provider. To make matters worse, they don't offer a free trial, making you immediately buy it if you want to use it. That's not how you do business, especially if you're not an audited provider.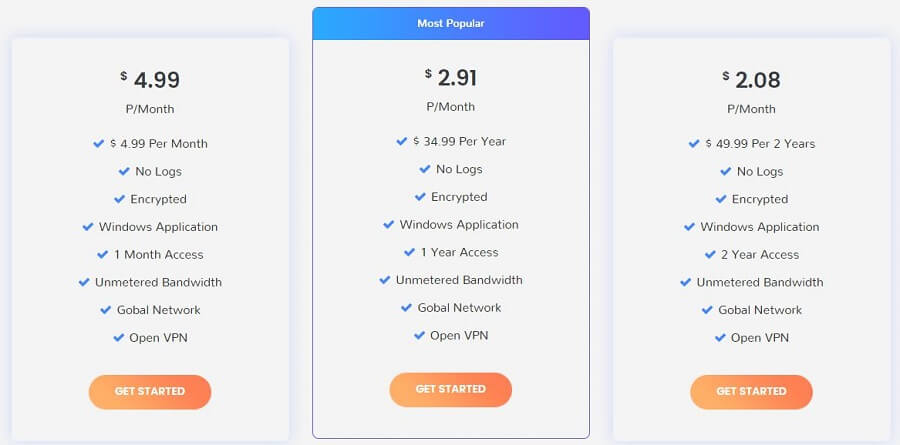 Okay. So, here's the pricing. Their most popular plan is the annual one, which costs just $2.91 a month or $34.99 a year. For those who want a VPN for a longer period, Ra4wVPN offers a 2-year plan at $2.08 a month or $49.99 every 2 years. The most expensive plan is the monthly one and costs $4.99 a month.
Every plan gives you the same features and functionalities. The only difference is longevity – nothing else. We can say that the provider is reasonably priced. However, not for the performance you get.
A provider like Ra4wVPN should be free, although we paid for it for review purposes. And you know what? We'll never get our $4.99 back, which isn't a big deal. The big deal is that they basically don't give refunds… almost.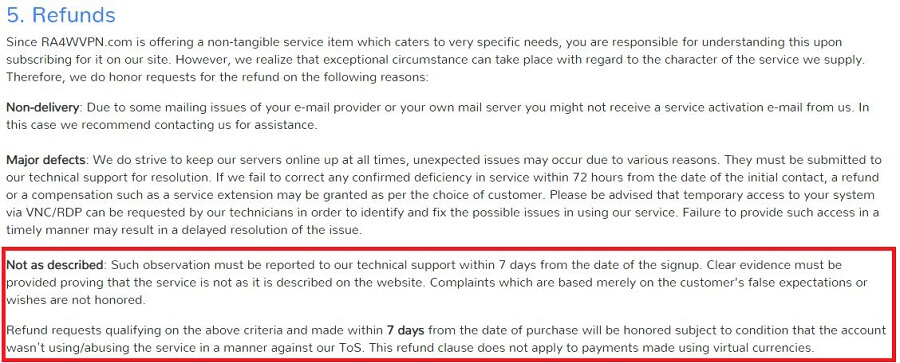 The last paragraph says that they'll refund your money only if the provider doesn't work as described on the website. They add that complaints based on the "customer's fake expectations or wishes" will not get a refund.
In other words, if you're not satisfied with the speeds or its inability to unblock sites, you're not eligible for cashback.
Here's a middle finger to you, dear customer. Thanks!
And if you still want to buy it, here are the payment methods you can use:

Cryptocurrencies are here, so yeah… there's at least something good.
How Can I Contact Ra4wVPN?
Given that Ra4wVPN won't give a refund so easily, we expected that the customer support is helpful and willing to solve the potential issues. But, our hopes sunk once again, as we saw that there is no live chat. You get this contact form instead.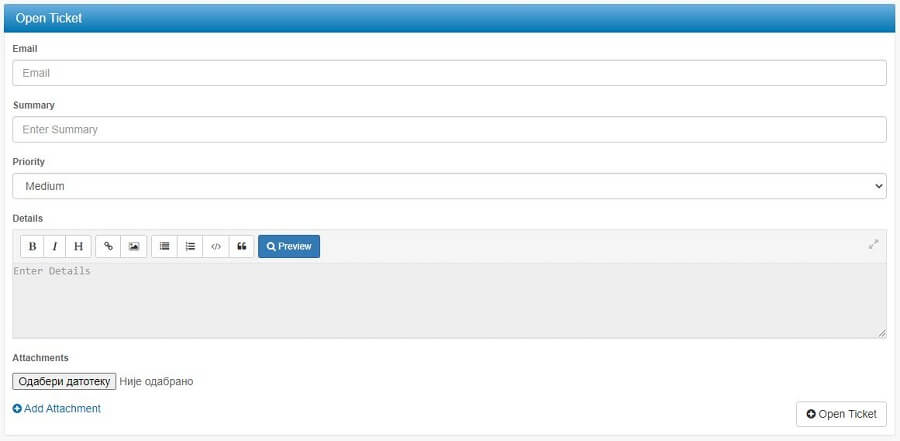 Here, you can explain the problem in detail, add files, bold, or edit your text however you want. We actually like that. Explaining a problem properly is half of the solution, so we must admit that they did that part well.
But, the fact that it's a ticketing system doesn't make us happy. You get to choose the priority of your email, but what's the point of that? We can all choose "Urgent" and get a response in a few minutes – easy!
That's not how it works here. We intentionally went for this option and got a response after 24 hours, which is ludicrous. Just imagine what would happen if your query wasn't urgent. You'd probably wait for two, three, or four days!
The support team, on the other hand, is helpful, but once again, if you're slow to respond, that's nullified.
The Special Functionalities
One of the things we value during the review process is at least one special functionality. Apart from your classic VPN experience, we love features like split tunneling, special protocols (WireGuard, Stealth, …), and other security features. Ra4wVPN doesn't offer any. You don't get even a basic feature like kill switch, which is, for us, a mandatory feature for secure web browsing.
Needless to say, we're once again disappointed in what we got for the price.
Other Things You Should Know about Ra4wVPN
There are still a few more things we haven't mentioned in our review of Ra4wVPN. Let's cover them up in this section.
Number of Servers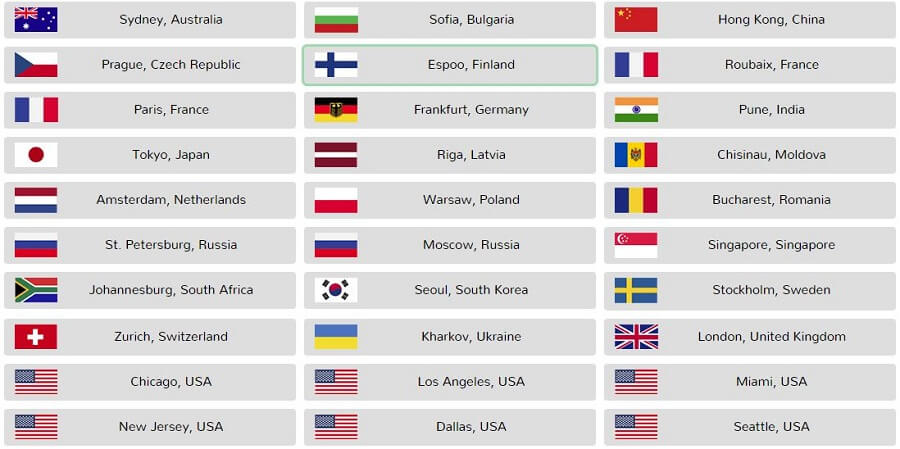 We like that the provider is transparent about its number of servers, despite that number being critically low. If you didn't count them already, it's 30. Ra4wVPN has only 30 servers worldwide, which is significantly lower than what the top providers offer.
For example, CyberGhost packs 7,000+ servers and that's way more than what Ra4wVPN offers.
Number of Countries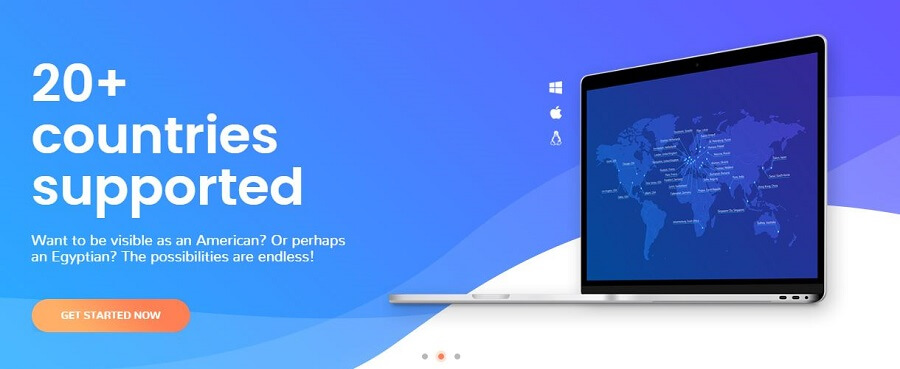 The 30 servers we mentioned are scattered across 20 countries worldwide. This is also a not-so-impressive number when compared to the competition.
Number of Simultaneous Connections

Here, we can see that the provider doesn't specify how many simultaneous connections are allowed. It says that you can use multiple devices simultaneously but doesn't say how many. Furthermore, it mentions that you must use two different servers on both devices.
Does that mean that you can use two of them, after all? Maybe.
But since it doesn't support smartphones, you must have two Windows computers in your home to take advantage of simultaneous connections.
What Do Other Users Say About Ra4wVPN?
Before we wrap up our comprehensive review, let's see what users have to say about Ra4wVPN. Since it's available only on the PC, we couldn't find it on the Apple Store, Google Play Store, or Trustpilot.
We went on Reddit and found this interesting topic: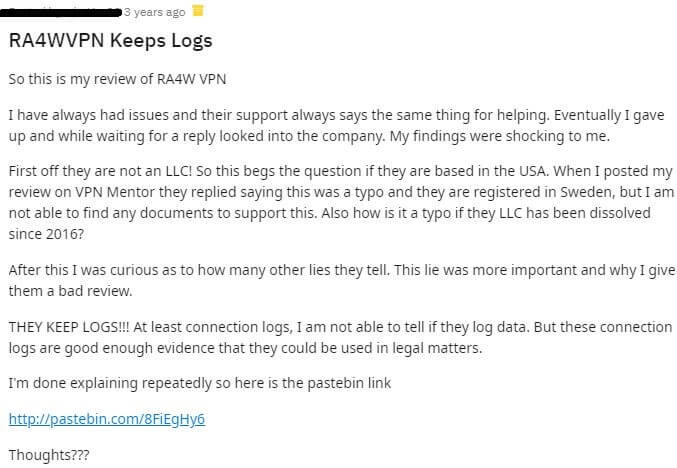 Apparently, at the time of writing the Reddit review, Ra4wVPN wasn't even a company. This user asked the support team if they were based in the USA, only for them to say that it was a typo and that they're based in Sweden.
How can this be a typo, we're wondering… You can mistake one or two letters but not the whole country.
The user also mentions that the provider keeps the connection logs, which they're claiming not to keep. All in all, the provider has a very bad reputation on Reddit and is characterized by many as a scam.
Conclusion: Should You Take It?
Now that you're at the end of our Ra4wVPN review, we think that things are pretty clear about this provider.
Ra4wVPN is not only a bad provider overall but its reputation isn't the best out there. You can expect from Ra4wVPN to perform poorly, to have slow speeds, inability to unblock streaming platforms, and a small server network.
Not to mention that there's no mobile app or refunds for unsatisfied users.
We STRONGLY advise NOT to buy this provider. A perfect alternative to it would be ExpressVPN, which is the best provider on the market. Right now, it offers a 49% discount and 3 months free for a 12-month subscription plan, making it more affordable than ever.