At first glance, it seems like a very decent provider. It has a solid server network, beautiful website, and presentation that might make you press that 'Get VeePN' button quickly. However, we need to pull a handbrake and think about it. This is a very cheap provider that offers some very long-term plans, which almost always seems suspicious. Why so low price? Does this mean that we're talking about a less-quality provider? That's your mission to find out in this VeePN review and test!
What is VeePN?
Obviously, VeePN is a VPN provider from Panama, a country where NordVPN also resides. As you know, NordVPN is almost at the very top of our top 10 list, whereas this provider isn't. The great thing about Panama is that it's far away from the 14 Eyes jurisdiction, which already gives us an insight into how safe the provider could potentially be.
The provider claims to be "fast, ultra-secure, and easy to use", which we can't confirm before our complete review of VeePN service. If you stay with us, we'll see how good this provider is and if it's worth the cash, even though it's very cheap. This is our comprehensive review of VeePN, so welcome aboard, and let's glide into it!
Oh, by the way, you can visit the website of the provider by using the button below. This way, you'll get a discount in case you want to buy it.
Compatible Devices and Ease of Use
As always, let's start off with the devices because they're very important. The more devices a certain Virtual Private Network supports, the better it is in this aspect. So, what can we expect from this cheap provider? Surprisingly… a lot! Just take a look at the image below:

On the left side, we have major computer and smartphone platforms, such as iOS, Windows, Mac, Android, and Linux. On the right side, we start seeing a router, Apple TV, and three extensions for Chrome, Firefox, and Opera.
Judging from the image, we're off to a good start. We just need to see how good the apps are and if they're usable on certain platforms.
Computers
The first thing to check is how robust its VPN client is on computers. Since many people use this software for torrenting and streaming, it's important to see if you can perform these activities on a big screen. When it comes to computer platforms, VeePN supports Mac, Linux, and Windows. We're going to use our Windows 10 PC to see how it works.
Immediately after you purchase it, you'll be prompted to download the app setup. Do that and double-click on the setup file. You'll get this screen: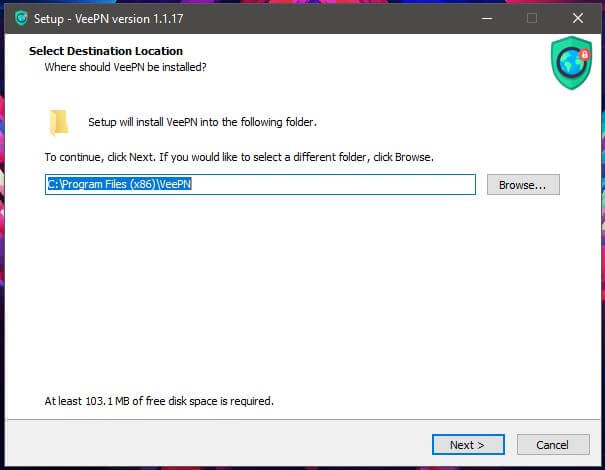 This provider wastes no time and immediately puts you into action. Click Next and the installation will begin: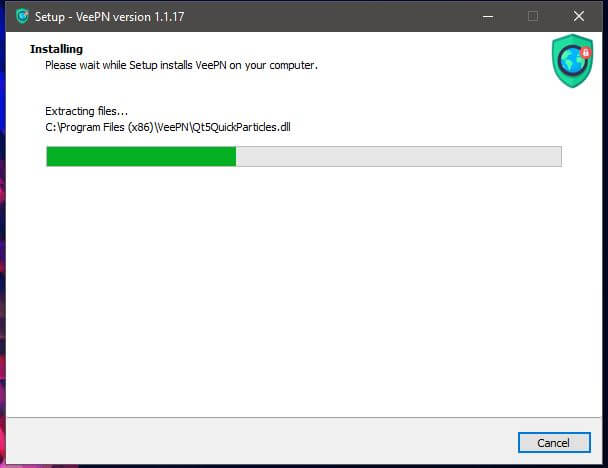 The setup is, after this, complete. It took us literally 10 seconds to install the app, including the first step. We're glad that no restart is required, leaving us to do one more thing – open the app and see how it functions!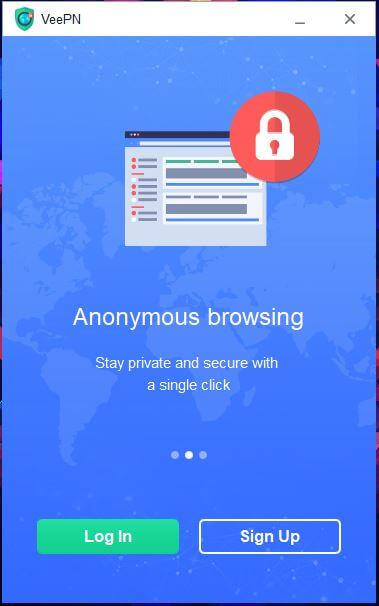 What you see above is the initial screen when you first boot up the app. Given that we already have an account, we clicked on the login button, typed in our email and password, and proceeded to the home screen: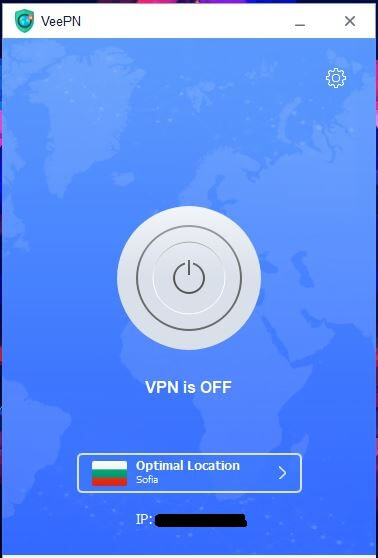 The home screen is simplistic, yet looks modern. To open the server list, click on the arrow pointing to the right, just next to the country displayed: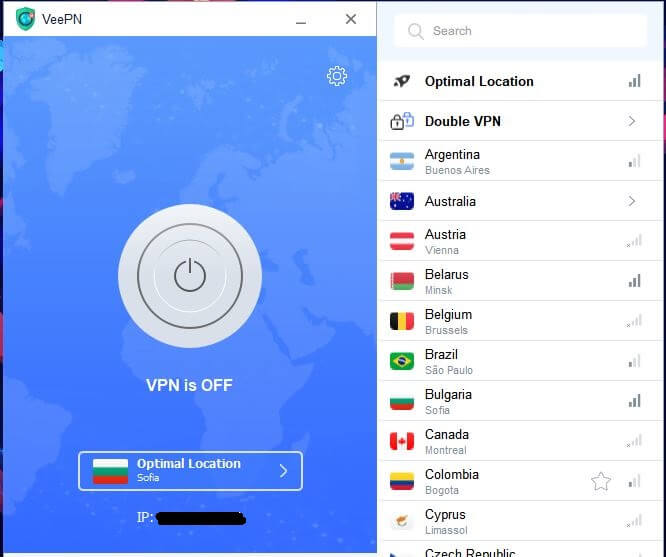 Select the server you want, double-click on it, and the app will establish a connection.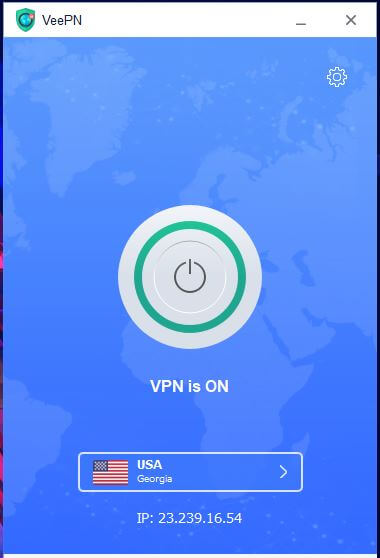 You can see that we're using a US server from Georgia, with the IP address shown in the image. We'll use this server later in our tests. As for the app and installation process, we can't complain. It's very simple and straight to the point – as we like.
Smartphones and Tablets
Now, what about your mobile companions? The provider supports two major platforms – iOS and Android. We use an Android phone, which is the device we're going to use for this test. Rest assured that the apps are the same on both platforms, so what you see here is also what you're going to see on an iPhone.
The first step is to download the app from the Google Play Store, as shown in image 1.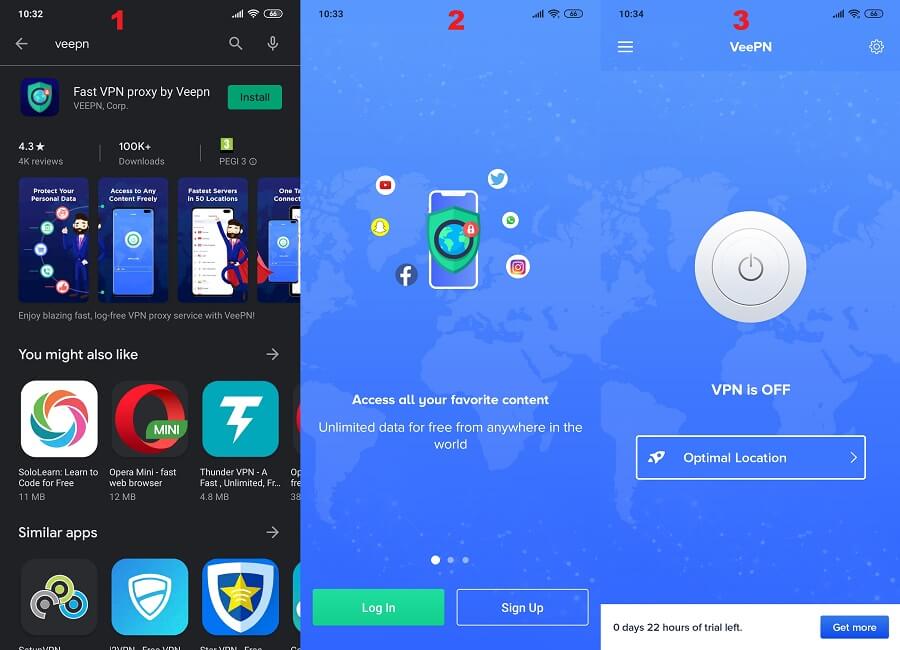 In image 2, we can see the initial screen, that looks the same as on a computer. Click the login button, type in your credentials, and proceed to the home screen, shown in image 3. Once again, the home screen is very similar to the one on PC.
To open the server list, once again, tap on the arrow pointing to the right. You can see the server list in image 4.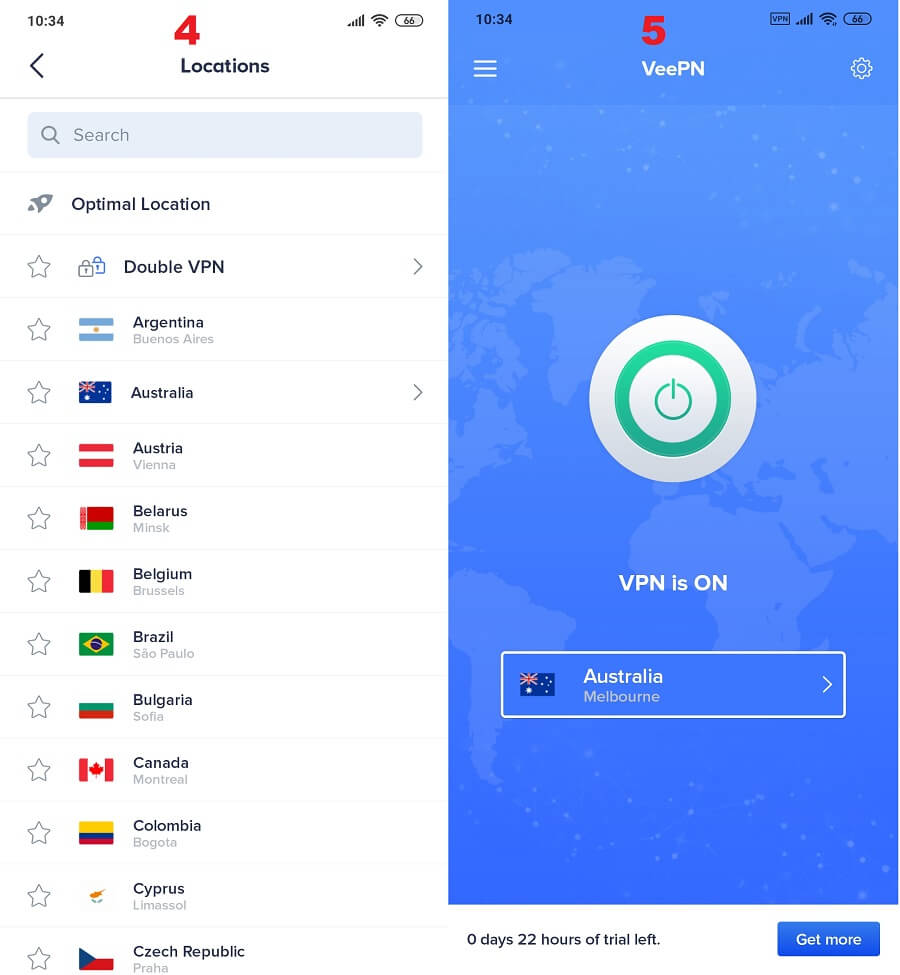 Tap on the country you want and the connection will be established. You can see how the app looks when you're connected, in image 5. The mobile app is practically the same as the one on a computer, so we can say the same about this one – very easy to install and use.
Other Devices
VeePN isn't limited only to smartphones, tablets, and computers as you've seen before in this review. Instead, it also supports routers, which is always a welcome addition.

Needless to say, when you connect a VPN to your router, you can protect every device connected to it in the house. Routers usually support up to 16 or 32 connections simultaneously, so you can protect all of them.
The provider also supports Apple TV, and to utilize it, you'll need to download the macOS X app that they offer. All in all, the device support is great.
How Fast is VeePN? We Checked Its Speed!
Being a very cheap provider, we don't have very high expectations when it comes to speed. After all, the best VPNs are usually the fastest ones and this one is nowhere near being the best we used. Before we move on to the speed test, it's important to mention that all providers will reduce your speed to some extent.
However, there's a big difference between 10% and 80% reduction. The speed depends on numerous factors, such as the quality of the server network, server distance, server load, and level of encryption. Since many factors are into play, let's see how exactly we did our tests.
We did 3 tests in the morning, 3 in the mid-day, and 3 in the evening, for 3 different locations. We also kept the best score and used the best location when possible. Our physical location is in the United States (non-VPN test) and we used these testing locations:
The United States
The United Kingdom
Australia
Without a VPN, our internet speeds are:
Ping: 11 ms
Download Speed: 211.88 Mb/s
Upload Speed: 202.20 Mb/s
Now, when using VeePN during our review, our ping, download, and upload speeds respectively, for 3 testing locations, were:
US Server: 69 ms / 108.95 Mbps / 92.58 Mbps

UK Server: 93 ms / 36.49 Mbps / 47.12 Mbps

Australian Server: 391 ms / 10.74 Mbps / 9.55 Mbps

Ladies and gents, this is the slowest provider we've ever used for now – Australian server, we're looking at you! Although speeds on the US server were usable, we still encountered a huge reduction of approximately 50%.
The Australian server, though, is catastrophic, to say the least. With a ping of almost 400 ms and speeds of dial-up internet, we couldn't even watch 720p videos on YouTube. To make it short- VeePN has very slow speeds, easily the slowest we've seen for a Virtual Private Network… atleast for now.

How Good is VeePN for Streaming?
Do you want to watch British Television from abroad? Well, the speeds on the UK server were very bad, so you can pretty much forget about it. Also, the provider isn't capable of unblocking almost the entirety of streaming platforms.
Starting off with Netflix, we simply couldn't unblock it. Netflix US didn't work and no matter how hard we tried, we always got the infamous proxy error. This leaves us with a few more platforms to test out. Let's use our warm-up contender – HBO GO.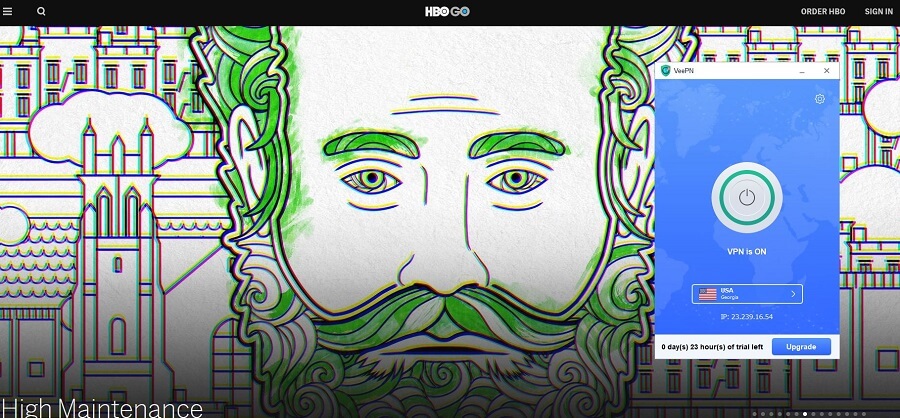 Thankfully, HBO GO worked well, which we expected. But can VeePN helps you to unblock Disney+ abroad?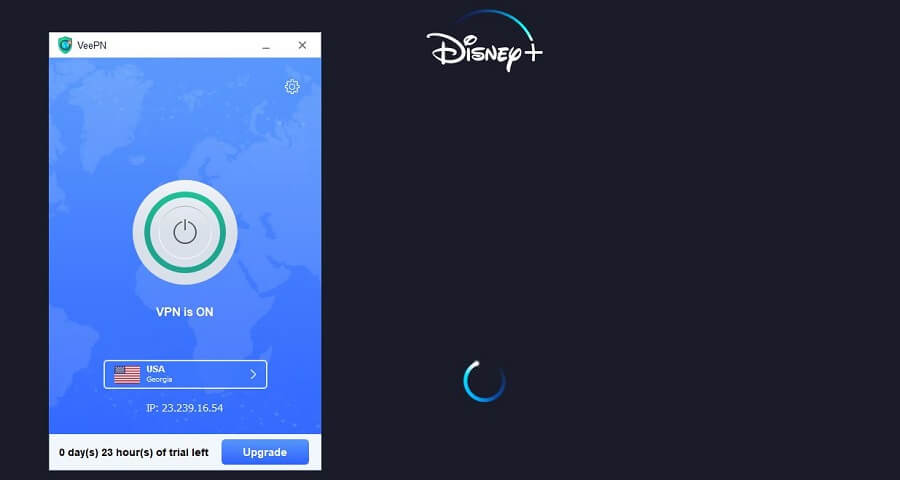 No, you can't. Disney+ doesn't work on any of the US servers we tested. How about streaming some sports on DAZN, then?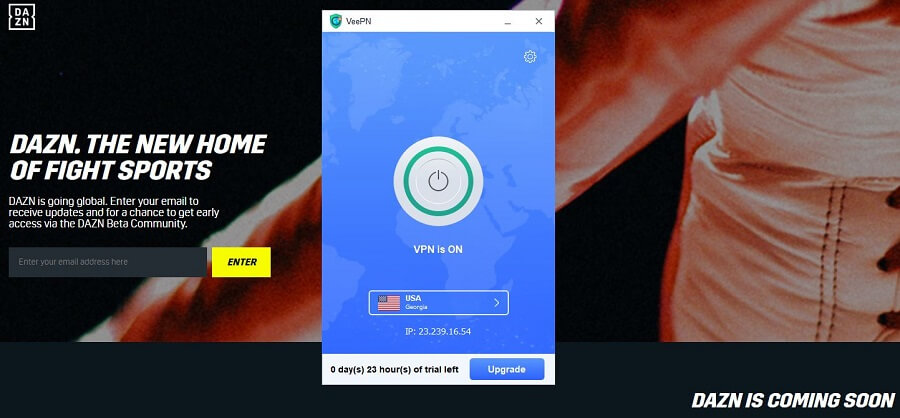 As expected, we couldn't access DAZN during our test of VeePN. You will need a good VPN to watch MotoGP for free, or any other sport for that matter. Just know that you can't watch it on DAZN with this provider. Finally, we have the BBC iPlayer test: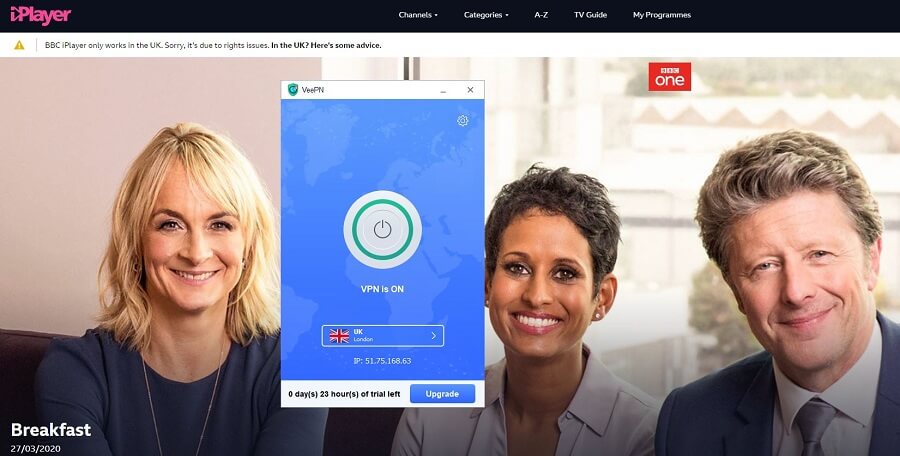 BBC iPlayer also didn't work.
To digress, VeePN unblocked only HBO GO, while every other platform was inaccessible. Accompanied by painfully-slow speeds, VeePN is very bad for streaming. You'll be better off with ExpressVPN, which unblocks every streaming platform and has the fastest speeds on the market.
Confidentiality, Security & Logs
Security is quite important for a Virtual Private Network, so we're here to put it to the test. If you remember, we said that the provider is from Panama, which is actually a fantastic location for a company like this.
It's away from the 14 Eyes clutter, meaning that you can get all the privacy-oriented features and most importantly – a zero-log policy! Speaking of policies, let's check what the privacy policy has to say:

This is the beginning. They immediately assure you that they don't store browsing history, data content, traffic destination, and DNS queries. The only thing they do store, though, is your email address and payment information. So far, so good. Let's take a look at the next part: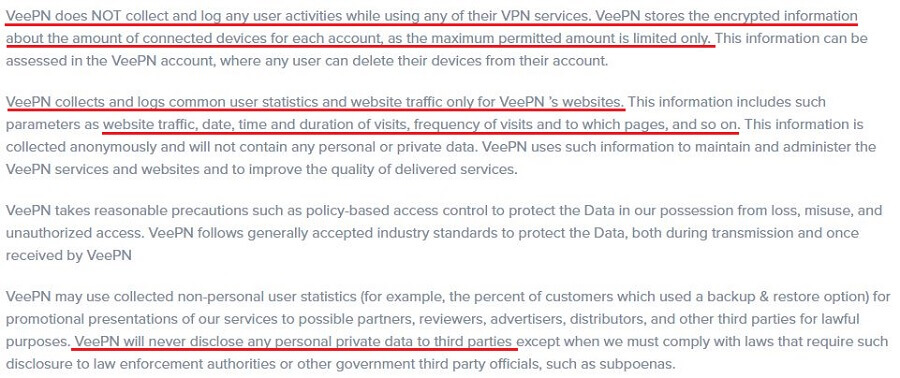 Once again, they state that they don't collect logs or user activities. The info they store, email, devices connected, and payment method, are all in an encrypted form, which is great. Furthermore, they store how you use the provider's site.
This is the only thing that we can complain about here but since it's (hopefully) only on the VeePN site, your privacy still isn't endangered in any way, shape or form.
In the last paragraph, they mention that they won't disclose your personal data to third parties. That's logic because if they truly don't store any compromising info, they won't have anything to share.
For us, this no-log policy looks genuine, especially because the provider is outside of the 14 Eyes jurisdiction. Let's check the IP leak test now: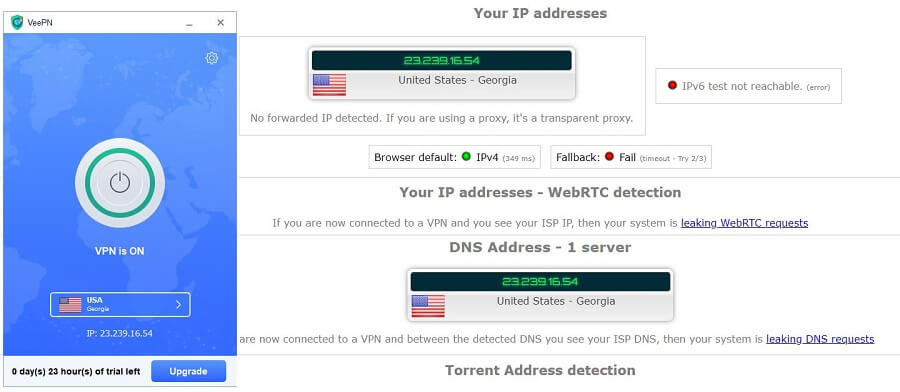 VeePN passes this test with flying colors! It's not strange, given that it has 256-bit encryption, DNS and IP leak protection, and a plethora of security protocols. There are also Double VPN servers that route your traffic through two different servers, for even stronger security. But we will talk about it later in this review.
The provider supports all the standard protocols, such as OpenVPN, IKEv2/IPsec, TCP, and UDP. Long story short, VeePN is indeed secure and provides a clear zero-log policy.
Can I Do Torrenting Safely With VeePN?
Yes, VeePN supports torrenting on every server and there aren't any restrictions. As always, we tested it on the 1337x torrent site to see if we'll get some kind of warning from the provider:

First, you can see that we're using the same server from above, so it didn't detect our true IP. Secondly, we downloaded this game safely, without any copyright warnings. We tested multiple servers for torrenting and they all work flawlessly.
The downside is that the speeds are very slow, so you'll need to wait a bit more to download some bigger files. We certainly don't recommend the provider for torrenting but at least, you can safely do it.
Can I Use VeePN to Bypass Censorship?
Despite offering strong encryption and multiple security features, it's getting harder for VPNs to bypass the Great Firewall of China. This country is known for its harsh censorship that won't let you access even the basic social media websites.
We can count on fingers the providers that will reliably work in this country, and as you might've guessed, VeePN isn't one of them. It has no special protocols or features that would allow for such a thing.
The Great Firewall of China still remains a challenge for almost every provider on the market, vigorously blocking and preventing users from piercing through it. Since it doesn't work in China, we wouldn't recommend the provider for countries like the UAE, Russia, Turkmenistan, Iraq, etc.
Pricing and Plan Options
When we mention that a certain provider is very cheap, you're probably interested in how cheap it is. Sure, the term 'cheap' is relative and what's cheap for us, doesn't necessarily have to be cheap for you. So, let's see how much will VeePN cost you: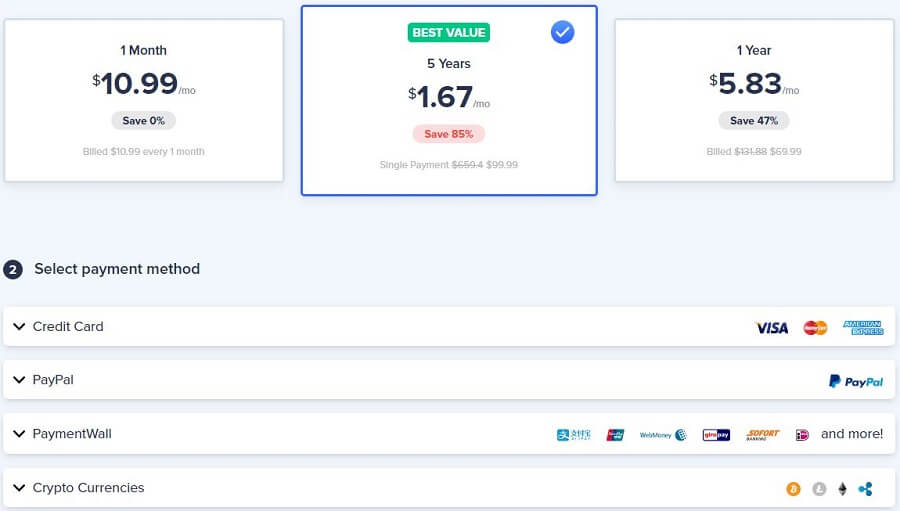 Before we talk about prices, we need to mention a free trial that the provider offers. You didn't see it? Well, that's because it's hidden. You need to register an account without paying and you'll get a 24-hour free trial. We found out about it after we asked for a trial for reviewing purposes.
In comparison to Windscribe, this provider keeps its free version hidden, which we don't like. They want to reel you in, to make you pay immediately before testing it first. Nevertheless, let's talk about prices. The plan in the middle is the cheapest one, it's a 5-year plan that costs $1.67 a month or $99.99 every five years.
An annual plan is $5.83 a month or $69.99 a year, and finally, there's a monthly plan at $10.99 a month. To be honest, these 5-year plans don't stick with us but if that's what you want, go for it. Sure, it's cheap but for five years, the provider can change drastically – for worse of for the better, so that's a bit of a gamble.
The annual plan is quite expensive in our opinion. ExpressVPN offers its at $6.67 a month, which is a tad more expensive but offers more robust services in return. CyberGhost's annual plan is $5.99 a month, which is, once again, a much better choice.
At least, you get to pay with Bitcoin and Litecoin, if that's what floats your boat. You can see the payment methods in the image above. In case you want a refund, you can do it within the first 30 days of your purchase:

When we asked VeePN client support how to get a refund for our review, we saw something strange: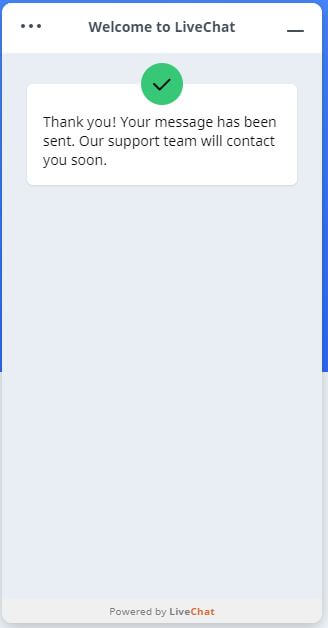 We left a message using the "live" chat feature and it turned out to be… well, not exactly the live chat we expected.
How Can I Contact VeePN?
This brings us to methods of contacting VeePN. The first one you'll notice is the so-called live chat. As you can see from the image above, it's just a ticketing system. The provider even goes out of its way and LIES to its visitors. Take a look: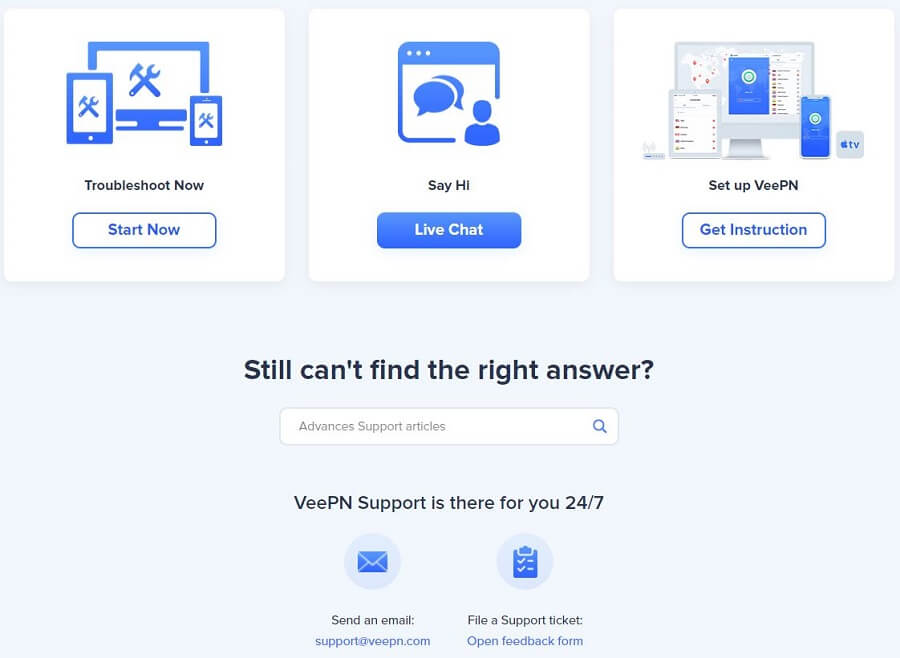 These are contact methods and as you can see, it says 'live chat'. That's basically a lie since VeePN does NOT have this feature. If there's something we hate, it's lying. Be honest with your customers and they'll love you. Lie to them and you'll lose the customers.
So, with that out of the way, there are two methods of contacting them – via a direct email and via a support ticket. We tested its support, as you can see in the image from the previous section, and waited for more than 5 hours to get an answer.
Just so you know, we asked them – "How do I get a refund?" That's all.
The Special Functionalities
The special functionalities are almost a necessity for every provider since most of them enhance security and/or speeds. Let's see in this part of our review what VeePN offers.
Double VPN
Much like NordVPN, this provider offers a well-known Double VPN feature. It allows you to route your traffic through two different servers, making it impossible to intercept. Here's what combination of servers it offers: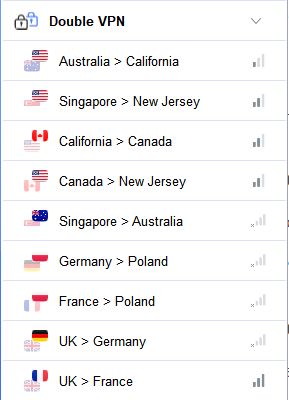 It's easy to use, too. Just click on the connection you want and the connection will be established in a few seconds. Be aware that you'll get slightly slower speeds but on the contrary, you'll get impeccable security.
Ad and Malware-Blocker
Ad-blocker is always a welcome addition. It automatically blocks ads, trackers, and malware, letting you browse the internet effortlessly. You can find it in the Settings tab in Privacy: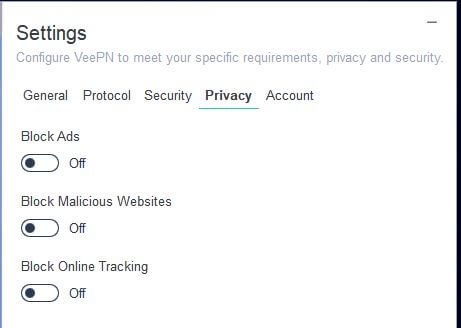 As you can see, you can block ads, malicious websites, and online tracking, which ensures maximum security and anonymity online.
Other Things You Should Know
There are a few more things that you should know about the provider.
Number of Servers
VeePN has a surprisingly big server network that nearly matches the one of ExpressVPN. Here's a screenshot from the provider's website: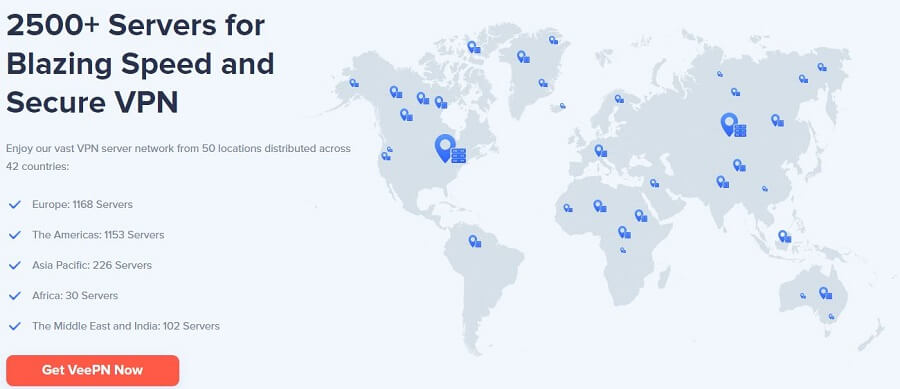 As you can see, 2,500 servers are here, of which most of them are in Europe and America.
Number of Countries
In the image above, you can also see how many countries the provider covers – 42 of them, with servers in 50 unique locations. There's also a server in Saint Petersburgh, Russia, which isn't necessarily a good thing.
Only VPNs that comply with the country's data-retention laws can operate here. Since VeePN has a server in Russia… well, you know what that probably means.
Number of Simultaneous Connections
Finally, the provider offers up to 10 simultaneous connections, which is great.

You can now protect the whole family's devices with a single subscription.
What do Other Users Say About VeePN?
Let's see if users online are keen on recommending this VPN. We'll start with Reddit:

This user recommends the provider. He says that he tried different applications and that this one fits his needs the best. He continues the review by saying that it's fast, easy, and safe, which is kinda strange since it's all but fast. We aren't biased but does this feedback look like an ad to you? To us, it definitely looks!
Moving on, we have the Apple Store: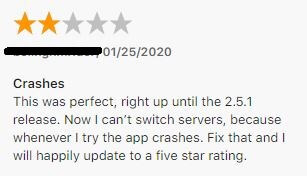 The review about VeePN is from 2021, so it's a new one. Basically, the user isn't satisfied with the app because he can't change servers and when he tries to do so the app crashes. What do people say in the Android world? Let's see:

This user is extremely unsatisfied with VeePN. In short, he says that the provider is very slow, so slow, that he has problems with YouTube video buffering. He obviously gave it a one-star review based solely on the speed.
To wrap up this section, let's check Trustpilot:

The user gave a one-star review because of lackluster customer service. His app didn't work properly, to which they gave him non-working solutions. After some time, they even stopped responding completely, without refunding him the money. It's not the first time that VeePN is caught lying – remember?
Conclusion: Should You Take It?
The answer is really simple after our review and test:
No, you should not buy VeePN.
There's not much to like about this provider and service, except its large server network, zero-log policy, P2P support, and great device support. Other than that, as you may have seen from our in-depth review, VeePN can't unblock Netflix, has exceptionally slow speeds, lies about its live chat feature, and doesn't work in China.
If you're in a dire need of a VPN, our suggestion is ExpressVPN, a provider that has no issues at all. It offers a 49% discount and 3 months free for a 12-month plan, which makes it an ideal choice for 2021.