Channel 5 is a free streaming platform based in the UK that has some amazing shows. Here, you can watch A Body To Die For, Wall of Silence, Wall Street or Made in Yorkshire. While the good thing is that the UK residents can enjoy it, the bad thing is that you, a resident of any other country, can't. But, bypassing geo-blocks is simple and today, we're going to show you how to unblock and watch Channel 5 outside the UK.
Channel 5 Error Message – Why Does It Appear?
Streaming platforms are known for their errors that might often appear due to seemingly unknown issues. For example, it can be your connection error or the country that isn't compatible. We tried watching some shows on Channel 5 outside the United Kingdom and we got this message: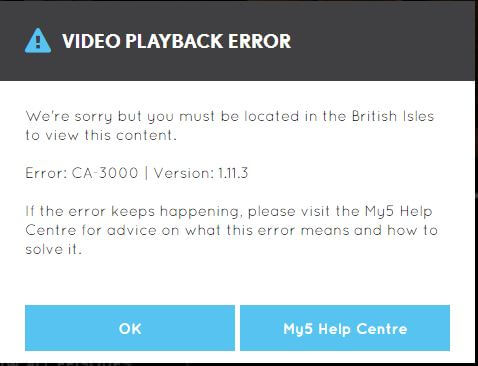 The error is pretty simple and you can understand what it tries to say. We're not from the British Isles, hence we can't see the particular show. This is tough information to swallow, given how big the catalog on this site is. However, there's a solution!
Instead of packing your stuff and departing for the UK, you can get a Virtual Private Network and fix the problem. Wanna know how it can help you? Proceed to the next section.
How Can a VPN Help?
A VPN is a software made for keeping you safe and secure online. You can use it on your Windows computer, smartphone, Mac computer, and even router. Aside from keeping you safe, it allows you to bypass geo-restrictions. The question is – how?
You see, every provider has servers in different countries around the globe. To activate it, you need to connect to any of the servers, which will change your IP address, and make it seem like you're from that country.
From there, you can unblock the local content of that or any other country you connect to. Sounds easy, huh? Well, it IS easy. Let's check our guide where you'll learn how to access and watch Channel 5 outside the UK.
How to Unblock Channel 5 Outside the UK?
Without further ado, let's check our steps for unblocking this platform from abroad, and after that, we'll give you a couple of VPNs suitable for that.
1. Buy ExpressVPN
The first step is to buy ExpressVPN. Why ExpressVPN – you might ask. Simply put, because it's the best provider on the market. It offers the fastest speeds, great for streaming, and unlimited bandwidth that will let you stream day and night.
Oh, and it also offers a 49% discount for a 12-month subscription plan (+ 3 months free).
2. Download and Install the Apps
Upon subscribing, you'll be prompted to download the apps you want. You can go for whatever platform you want, just make sure to install the app and sign in with your credentials.
3. Connect to the UK Server
Now, you'll be on the home screen. Under the connection button, there's a country. Click on it to open the server list. From there, scroll down and find the United Kingdom, then choose a server from this country.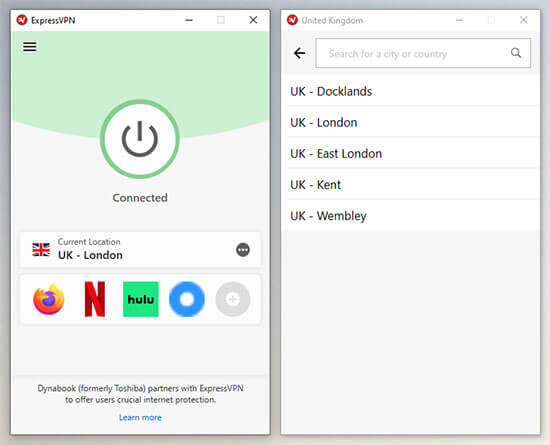 There are 5 locations, as you can see in the image above. Click on the connection button to establish a connection and it will be done in a few seconds.
4. Enjoy Channel 5 Shows
Channel 5 can be enjoyed without making an account, so this is the last step. Type in the site's address and start streaming. We promised it will be easy and as you can see, it is! Next time you want to do the same, just use the previous step.
Best VPNs to Unblock Channel 5 from Anywhere in the World
We've scrapped the fastest VPNs on the market that will give you a perfect streaming experience on Channel 5. Our list is below:
1. ExpressVPN

ExpressVPN is easily the best thing that happened to the VPN market. With its ludicrous speeds and the ability to bypass geo-restrictions, the provider is amazing for this purpose. We tested it on numerous occasions and managed to watch 4K content on Netflix – that's how fast it is. It is also perfectly able to unblock US Netflix in any country.
Aside from that, you're looking at a provider with 3,000+ servers in 94 countries. For Channel 5, that's not gonna matter. But, if you want to unblock BBC iPlayer, TenPlay or CTV in Canada, you might want to take advantage of it.
In case you want to use ExpressVPN for other purposes, it's going to keep you secure, thanks to its 256-bit encryption and zero-log policy. It supports up to 5 simultaneous connections and has quality 24/7 support, should things go south.
Unblock Channel 5 Outside the UK With ExpressVPN >
2. NordVPN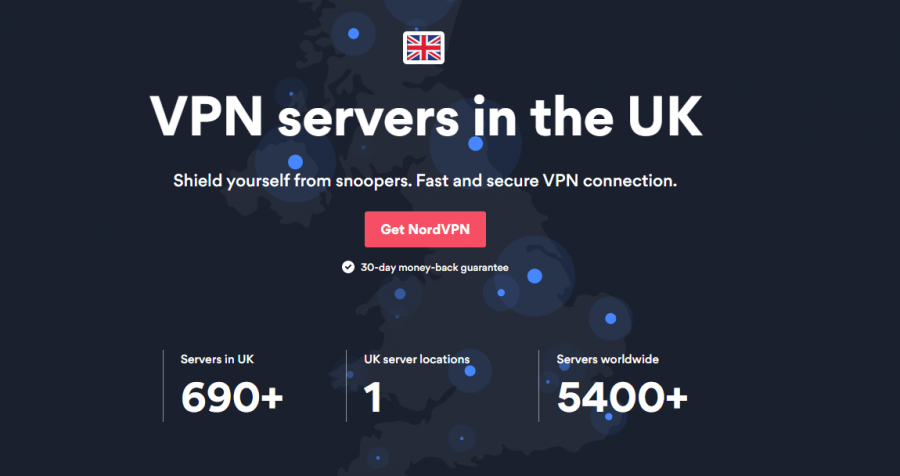 NordVPN represents one of the best choices in 2021. With its 5,600+ servers in 60 countries, the provider is jam-packed with possibilities. Speed-wise, it's on a very high level, allowing you to enjoy seamless browsing and streaming.
On Channel 5, NordVPN worked flawlessly. We managed to load the shows in less than 5 seconds and watch them buffer-free. The same applies to Netflix, where 4K isn't a thing of the future anymore. The provider comes with a SmartPlay feature for streaming and there's even an ad-blocker called CyberSec.
If you want a Virtual Private Network with tons of features at an affordable price, this is the one to go for. It even offers up to 6 simultaneous connections and supports routers, to make this number up to 5 times higher.
Get NordVPN and Enjoy Channel 5 from Abroad >
3. CyberGhost

CyberGhost is, for lack of a better word, perfect – for the price. It is a very affordable provider that will crush down every geo-restriction online. Of course, it unblocks Channel 5 but also lets you watch shows with no buffers, thanks to its high speeds.
The provider has 7,000+ servers at this moment, allowing you to choose the servers that aren't under heavy load. This, in turn, gives you plenty of speed to work with. Furthermore, there are dedicated servers for streaming and torrenting, which is a nice addition to an already nice provider.
Even better, CyberGhost is from Romania, so it doesn't keep logs. You can now watch porn or gamble online without the ISP breathing behind your neck. If saving cash is your priority, you can get CyberGhost's 3-year plan at a very low price.