Were you disappointed with the service offered by Norton VPN? In this case, you couldn't have find a better article since we are going to see together the best alternatives to Norton VPN for 2021. There will be something for absolutely everyone, whether you are looking for the cream of the crop … or a VPN solution from cheap quality.
What is Norton VPN?
The Symantec company is one of the most successful names when it comes to antivirus and malware protection. In the past few years, the company has been doing its best to ensure a reliable VPN service.
As a result, there is the SurfEasy, as well as the less-popular Norton VPN. It was developed a couple of years ago and now stands among a couple of internet-privacy features that Symantec provides.
It is a fact that this Virtual Private Network is certainly not one of the most reliable, considering that although operating for a few years, it has just a few thousand subscribers.
The positive thing is the industry-standard encryption in the form of 256-bit AES, as well as OpenVPN as the primary tunneling protocol. Also, a fair price is given to what you are getting.
Additionally, you will love that there is no risk of leakage or malware interference due to the set of instruments that are used to protect you. However, that is about it when it comes to what Norton VPN has to offer.
Indeed it does not have the best ability to bypass geo-blocks or enjoy torrenting. To give you a better idea of how it works, we performed a couple of test sessions and found out the aspects in which it is lacking.
After all of that, we will see what are the best alternatives to Norton Secure VPN 😉
Downsides of NortonVPN
This Virtual Private Network is not one that is going to ensure a reliable performance highlighted by fast/stable servers and privacy-friendly log policy.
Unfriendly Jurisdiction
The main issue that we do have with this provider is that it is situated in California, USA. As you probably know, the United States is a member of the 5-Eyes alliance (and also 9-Eyes / 14-Eyes), which cooperates when it comes to data retention.
What this means is that any of the allied countries including UK, Canada, Australia, New Zealand, Denmark, Germany, France, Netherlands, Belgium, Norway, Germany, Italy, Spain, and Sweden can ask for your private info and browsing activity, they have the right to get it.
While Symantec does do its best to ensure exceptional security and protection, they can't really protest against the 5//-14-Eyes regulations and requests given the US jurisdiction.
Yes, Norton VPN does claim to keep no logs of your activity, but we can't really be sure about that. Whether that is true or not determines the gravity of US jurisdiction.
Limited Device Compatibility
Along with the US jurisdiction, its low overall compatibility and usability makes Norton VPN an unworthy choice. What do we mean?
It supports nothing but Android, iOS, macOS, and Windows; thus, if you were hoping to install this Virtual Private Network on a Linux computer, that will not be possible.
This is not where the trouble ends as most other devices, including consoles, smart TVs and routers are unavailable as well. Additionally, while most leading names are highlighted by TOR compatibility, Norton VPN doesn't feature this.
So, if you were hoping to experience added protection, and enjoy risk-free torrenting, you will need to look elsewhere. Lastly, the tunneling protocols are limited to OpenVPN, which is another reason why device compatibility is not a strong point for this product.
And also a good reason to look at a better alternative to Norton SecureVPN!
Unreliable Customer Service
To be honest, we always have high expectations when it comes to customer service. The reason for this is that it is not something that is so hard to provide and does mean a lot.
However, it is more often than not that a VPN does not have reliable customer support. That is the case with Norton VPN.
First, we were quite happy to see that it does feature a live chat support. However, as soon as we sent our initial inquiry, our experience turned from bad to worse.
The chat operator was pretty unfriendly and unprofessional. Frankly, we didn't get the answer to our connectivity issue, and the operator claimed to have technical difficulties several times.
It is safe to say that if you were hoping to settle your issue using their support, that would not be possible.
Small Server Park
Last but not least is the fact that they offer no transparency when it comes to the locations that they cover. We did find that 28 countries are included in their service, but we couldn't get any info on which countries, nor did we find out the complete number of offered servers.
Isn't that a good reason to look at better alternatives to Norton VPN? For us, it is!
Our Favorite Alternatives to Norton Secure VPN
Understanding that most VPNs are nowhere as good as they claim to be, we are happy to say that there is a couple of names you can completely trust:
1) ExpressVPN
ExpressVPN stands as the best alternative to Norton VPN, given its big server park featuring 3,000 servers and fantastic speed.
One of the main reasons why we consider it to be a leading provider is because this VPN unblocks content in China. The ability to bypass the Great Chinese Firewall is not typical for most VPNs. It can also help you access DAZN streaming platform while being abroad.
Additionally, you will not have to worry about the reliability of the internet connection. While connecting to near servers, the highest drop that we experienced was only around 20%.
Lastly, this provider offers a no-log policy, a set of tunneling protocols, and outstanding customer service to handle any possible issues.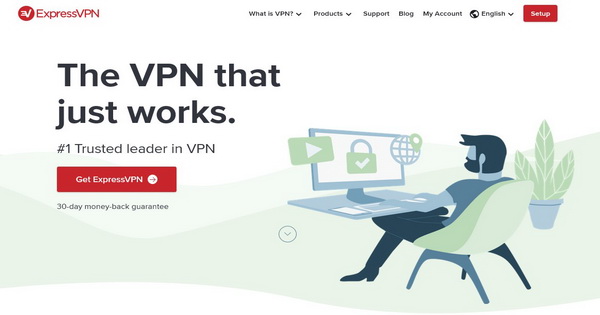 Why choose ExpressVPN over Norton VPN?
ExpressVPN is considered to be premium mostly for its ability to keep your internet connection quite fast. The most important thing is that you will stay anonymous. Plus, there is no leak or malware risk during your browsing activity.
Which may not be the case while using Norton Secure VPN if you want our opinion.
Why is ExpressVPN better than Norton VPN?
You are sure to enjoy the faster overall performance, and it runs almost perfectly with any given device. Additionally, the overall usability of their service is user-friendly. Plus, you shouldn't have any issues related to installation or server choice.
For all of this, ExpressVPN is definitely the best alternative in 2021 to Norton Secure VPN.
Get a subscription at ExpressVPN.com >
2) NordVPN
This Panama-based service is highlighted by a user-friendly interface and an indisputable ability to unblock censored sites.
Much like the aforementioned great alternative to Norton VPN, it runs on the OpenVPN tunneling protocol. It also uses military-grade encryption that comes in the form of 256-bit AES.
NordVPN does excellently when it comes to offering global service. This VPN has above 5,000 servers that are set in more than 50 countries. This makes NordVPN one of the best provider for accessing streaming sites.
Additionally, it works great for P2P transfers and torrenting, with no logs collected whatsoever.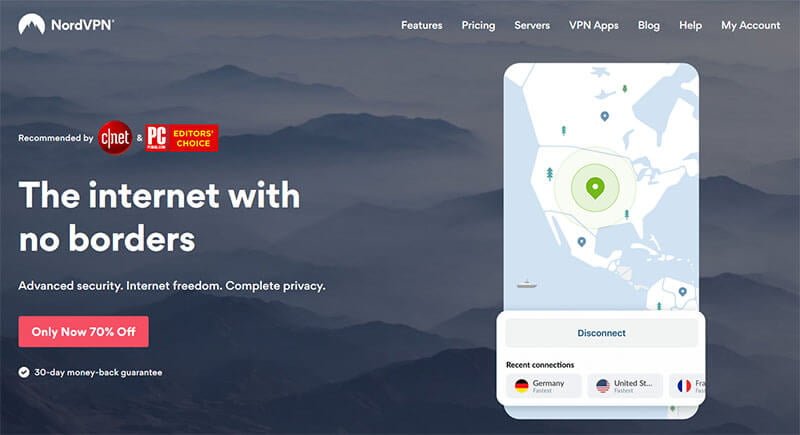 Why Choose NordVPN Over Norton VPN?
Again, NordVPN is simply the best when it comes to unblocking Netflix and other popular streaming platforms. We performed a couple of tests and found that 100% of locations in the US were able to offer access to unlimited Netflix content.
The same goes for the locations set in the UK, and we also had luck with catalogs in France and Germany. Of all the test sessions that we performed on 40 different servers, only one did not work.
It is also one of the best Virtual Private Network to watch the UEFA Champions League. We loved the incredible usability that comes with this VPN, as the installation process consists of three simple steps.
Why Is NordVPN Better Than Norton VPN?
NordVPN works great for unblocking censored content and allowing unlimited P2P transfers. This provider is quite affordable, as well. The 3-year subscription option will set you back a mere $41.88 per year.
Overall, this is an affordable and reliable alternative to Norton VPN that you are sure to enjoy.
Get a subscription at NordVPN.com >
3) CyberGhost
Last but not least, when it comes to paid alternatives to Norton VPN, CyberGhost is thought to be the best value choice on the market. It is highlighted by more than 6,000 servers, and a reliable overall performance suitable for global browsing activity.
It doesn't only work exceptionally in terms of unblocking censored sites, but also by providing you a malware and leak protection. Not only that, but with 7 simultaneous connections at a time, you will be able to get more than you expect out of a single license.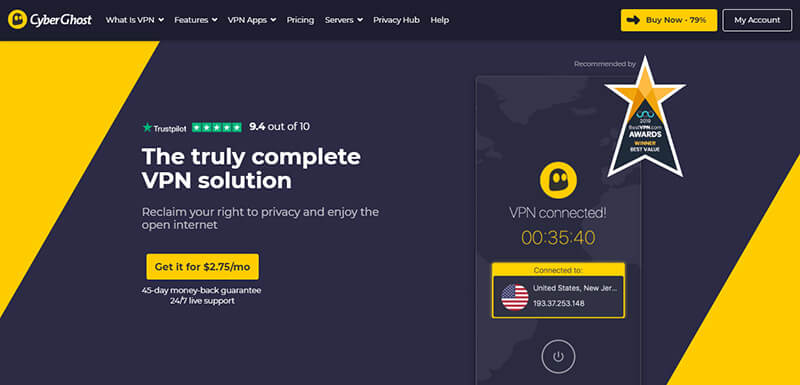 Why Choose CyberGhost over Norton VPN?
It is much more affordable. Given the fact that an extension for Chrome is available, it is little to say that the overall compatibility and connectivity of CyberGhost are superb.
Why is CyberGhost better than Norton VPN?
This is for a couple of reasons. Firstly, you will not have any issues with customer service because CyberGhost does have a reliable live chat feature.
Additionally, the interface overall, as well as switching between the many locations, is incredibly simple. You are sure to get a tremendous and unlimited experience that is completely anonymous.
Get a subscription at CyberGhost.com >
The Best Free Alternative to Norton VPN
It is a fact that Norton VPN is not an ideal choice, especially given the fact that it is not more affordable than NordVPN and CyberGhost.
Furthermore, there is a couple of free options that we consider to be better than Norton VPN, with Windscribe being our top choice.
Windscribe
There is no doubt that when we are talking about a service that is free of charge and offers reliable performance, Windscribe is the way to go. Yes, you are limited with 10GB of data transfer per month and just 14 locations. But that is fair given the fact that the service is completely free.
Also, it comes with a good ability to unblock Netflix, and allow torrenting through 14 servers that are featured.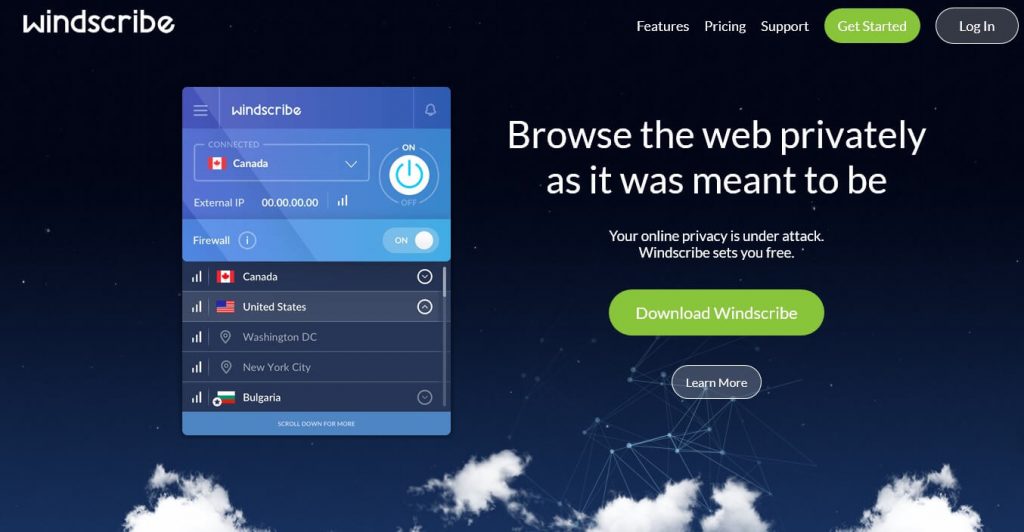 Why choose Windscribe over Norton VPN?
The main reason is that the overall usability and device compatibility of Windscribe is much better than Norton VPN.
Why is Windscribe better than Norton VPN?
First and foremost, you will get to enjoy 10GB of data transfer per month, which is certainly not bad. This is especially true if you are not streaming 24/7.
Also, the connectivity to the 14 locations is quite good. This should be reliable for most activities, including torrenting and streaming.
Wrap Up
We don't recommend Norton VPN for anonymous browsing or bypassing censorship. While Symantec is a popular and successful company, they simply didn't do well enough in this aspect.
Luckily, ExpressVPN, NordVPN, and CyberGhost are really great alternatives to Norton Secure VPN. We do hope we have helped you find out more about these services and finally make an educated decision. Good luck!