Dave is home to some of the most popular TV shows in the United Kingdom. It contains not only shows but also on-demand TV and interesting podcasts where you can learn something new. But, as it is often the case, this platform is available strictly for its native country – the United Kingdom. If you're not from the UK, you can still watch Dave easily from abroad. Want to learn how? Better stick around!
Dave Error Message – Why Does It Appear?
Whenever you're trying to access geo-restricted websites without any "tool", you're bound to get some errors. This is because the platform you're trying to access is locked only for the residents of a particular country. Dave has an error message that… well, that is kinda strange. Take a look at this:

At first, the platform will ask you to make an account to watch something. Even though you're not from the UK, you can do it. But, as soon as you start to stream anything, this will appear. You don't have to be a rocket scientist to realize why it's here – because you're not in the United Kingdom.
Sure, you can book a flight to this amazing country but if you'd rather stay on your sofa, you can just buy a VPN and fix your problem.
How Can a VPN Help?
Buying a VPN is both easily said AND done. The good thing is that it costs very little, yet gives you plenty of features and possibilities, making the purchase justifiable. A Virtual Private Network is here to preserve your online identity, to keep you safe and secure, and let you browse the internet anonymously.
To do that, you need to connect to a server in a different country, for instance, the UK. Now, when you do that, you'll get the IP address from this country and British sites will see you as if you were from there.
This allows you to access sites like Dave, BBC iPlayer, and many others from abroad. Needless to say, this advice can be applied to any other British TV channel.
How to Unblock Dave Outside the UK?
Want to see how to unblock and watch Dave outside the British soil? Take a look at our guide below:
1. Buy ExpressVPN
If you want an outstanding streaming experience, ExpressVPN is your best bet. It offers fast speeds and stable connection for streaming buffer-free. You also get a 49% discount and 3 months free for a 12-month subscription plan. Now is your chance to snatch it!
2. Download & Install the Apps
Download the apps from the provider's site as soon as you subscribe. The installation is quite simple after that and can be done in a few clicks. Sign in with your credentials and proceed to the next step.
3. Connect to the UK Server
Connecting to the server of your choice can also be done in a few steps. Click on the country underneath the connection button to open the server list. Find the United Kingdom and choose one of the locations.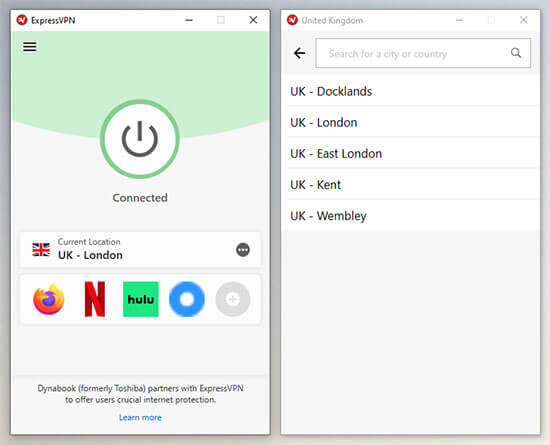 Click on the connection button to the left to establish a connection.
4. Make an Account on Dave
Do not forget to make an account on this site if you don't have one already, as it will allow you to enjoy your favorite shows.
5. Enjoy Shows and Podcasts on Dave
With everything under control, it's time to make the best out of your free time. Streaming Hypothetical, Taskmaster or Red Dwarf is easy with ExpressVPN. By the way, Surfshark is also a good option, even if it's really cheap.
Best VPNs to Unblock Dave from Anywhere in the World
Accessing and watching Dave isn't all that complicated and now, you have a few VPNs to choose from. Take a look:
1. ExpressVPN

ExpressVPN comes with 3,000+ servers in 94 countries worldwide. Its very large server network is also a very quality one.
You can expect the fastest speeds on the market, which will positively impact your streaming experience on Dave. Streaming Netflix is also going to be a breeze, given how efficient the provider is in unblocking geo-blocked sites.
We like how jam-packed with features ExpressVPN is. It's optimized for unblocking every streaming platform and even allows torrenting on every server. The good thing is that it doesn't store logs, allowing you to browse all the depths of the internet.
Last but not least, you get to connect up to 5 devices simultaneously. With 24/7 customer support and router compatibility, ExpressVPN is a powerful weapon for regaining your internet freedom.
Unblock Dave Outside the UK With ExpressVPN >
2. NordVPN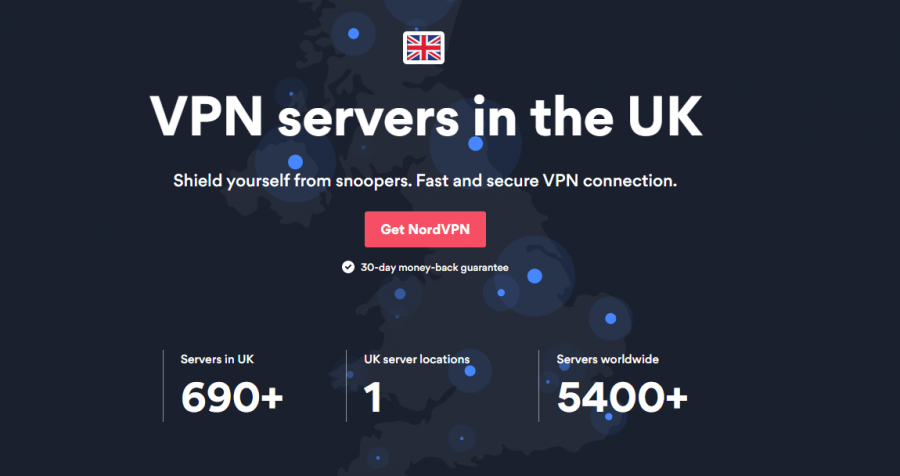 NordVPN offers amazing speeds for unforgettable streaming, sleepless nights. Dave has some amazing shows that this provider will unblock easily and let you watch in the highest possible quality even if you are abroad. Since you get 5,600+ servers in 60 countries, not many servers will be under heavy load, allowing you to always have top-notch speeds.
For streaming, NordVPN includes SmarPlay, and if you want to remove annoying ads, there's CyberSec. Being from Panama, the provider stores no logs, leaving you to freely watch even porn if you want.
NordVPN also comes with dedicated servers. You can use them for torrenting or unblocking popular streaming platforms such as Netflix, HBO GO or Hulu. All in all, using it will be a joy, especially when you have 24/7 support to back you up.
Enjoy Dave from Abroad With NordVPN >
3. CyberGhost

CyberGhost will also back you up in every sense of that word. It has whopping 7,000+ servers worldwide, giving you endless possibilities when it comes to unblocking sites. Its military-grade encryption will keep your connection safe and give you fast speeds for streaming Dave endlessly.
Despite not being at the first spot, CyberGhost sports some serious speeds for streaming. Furthermore, it has an intuitive app, so even if you're a beginner, you're going to like it. While it doesn't work in China, it perfectly works in every other country.
Unblocking Netflix or Disney+ will also be easy, and so will your seamless web browsing with it. Some say that cheap VPNs are bad but in this case, they'd be wrong. CyberGhost is among the cheapest options on the market that will change your perspective on how good a cheap provider can be.