If you got used to watching Sky Atlantic programming, but you are currently traveling outside the UK, you will be pretty triggered to come across a streaming error. It does come as a consequence of geo-blockades that are quite common for television networks, and cable operators. Still, there is nothing to worry about. In this article, we will be discussing a practical solution that will allow you to access Sky Atlantic abroad. Let's get to it.
What is Sky Atlantic? (Popular TV Shows Included)
Unlike CBS, ABC, and NBC, Sky Atlantic is a TV channel that is British and premieres mostly US TV shows. It is situated in London (UK), with a number of its offices set in Ireland.
Sky Atlantic was launched back in 2011 with the idea of presenting the imported programs to the UK audience. Today, it does have a number of affiliates in countries such as Germany, Italy, and France.
However, it is a fact that not all the content you can watch in the UK is available anywhere in the world. When it comes to its most popular TV shows, the HBO and Showtime dramas pretty much does the trick.
Keep in mind that the production of Gomorrah, as well as Young Pope, was endorsed by Sky Atlantic. Among the US TV shows that Sky Atlantic does stream are Game of Thrones, Ray Donovan, Silicon Valley, Euphoria, Boardwalk Empire, Watchmen, and Westworld.
While it doesn't come close to CBS, ABC, or Fox in terms of versatility, Sky Atlantic certainly places a focus on TV series aimed at a somewhat younger audience.
Sky Atlantic Error Message – Why Does It Appear?
The primary problem you will find with streaming sites like Sky Atlantic when abroad is that they have geo-restrictions. This means that only people located within the country of broadcast are able to access the content.
So, if you are not within the United Kingdom, you will not be able to access Sky Atlantic content. Well, not easily anyway. There are some solutions. The first is to up and move to the UK. But that is ridiculous. The better solution is to subscribe to a VPN.
How Can a VPN Help?
As we have mentioned above, if you are currently abroad, you won't be able to access and watch Sky Atlantic content live. Not unless you install a Virtual Private Network.
But what is it? Well, it does come as an internet privacy service, there to ensure anonymous browsing, and unblock censored content. Today, there are hundreds of VPNs offered at the relevant market – however, this doesn't mean that each can fulfill your needs (something we will get to later).
What a VPN does is tunnels your private internet connection to a public network at an alternative IP address. How? Well, a reliable Virtual Private Network should feature a couple of thousand servers across the world that you can connect to. In this case, you will want a portion of that number situated inside the United Kingdom in order to access most of the relevant content on Sky Atlantic.
With a VPN, you can not only unblock streaming sites, including Netflix, HBO, Hulu, Amazon Prime, and Sky Atlantic, but also enjoy 100% anonymous browsing. This is if that provider can offer good encryption and leak protection. Plus, if you're Canadian, you'll also be able to watch your favorite shows with your VPN by following the steps below.
How to Unblock Sky Atlantic Outside the UK Easily?
Now that we have covered what a VPN does, here is how you use it in order to watch Sky Atlantic from abroad.
Sign up to one of the VPN options below and download its app. Our favorite provider is ExpressVPN.
Sign into the app with your details.
Open the server list, choose a US-based server, and click connect.
Open the Sky Atlantic streaming (on Now TV), sign up for an account (or sign in), and enjoy the shows you want live and in High Definition.
Voila! That really is as simple as it is 😉
Best VPNs for Watching Sky Atlantic from Abroad
If you want to stream Sky Atlantic even while you are outside of the United Kingdom, then you will need a safe, secure, and fast Virtual Private Network.
1) ExpressVPN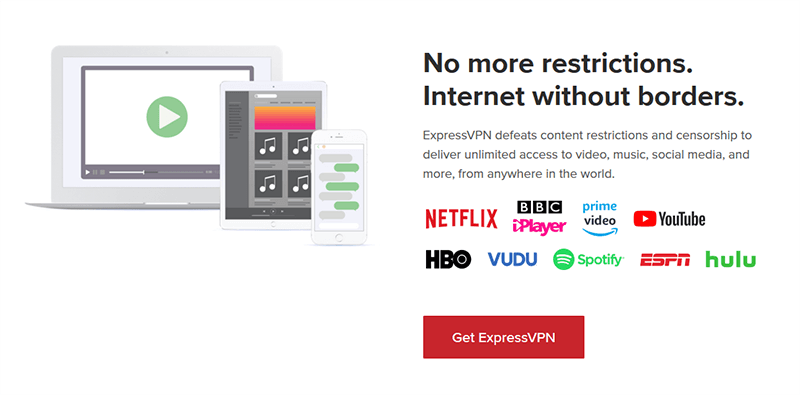 The perfect example of a reliable VPN is ExpressVPN. It falls under the jurisdiction of the British Virgin Islands, and thus, ensures that your privacy and browsing data are 100% safe from the 5/9/14-Eyes alliances and other third parties.
What we love about ExpressVPN is that you will be able to enjoy a sizable server park that does offer global coverage. With more than 3,000 servers of which a considerable portion is set inside the UK, unblocking Sky Atlantic abroad is going to be quite easy.
Most importantly, you will not experience a dramatic speed loss, which is common for most of the other providers. This, along with excellent connection stability, is something that ensures great performance even when watching content in HD.
ExpressVPN is highlighted by 256-bit AES encryption and a set of tunneling protocols such as OpenVPN and IPSec that should provide service for anyone with a mobile or a computer device.
While at a higher price, you won't regret subscribing to ExpressVPN in order to bypass geo-restrictions!
Watch Sky Atlantic Outside the UK With ExpressVPN >
2) CyberGhost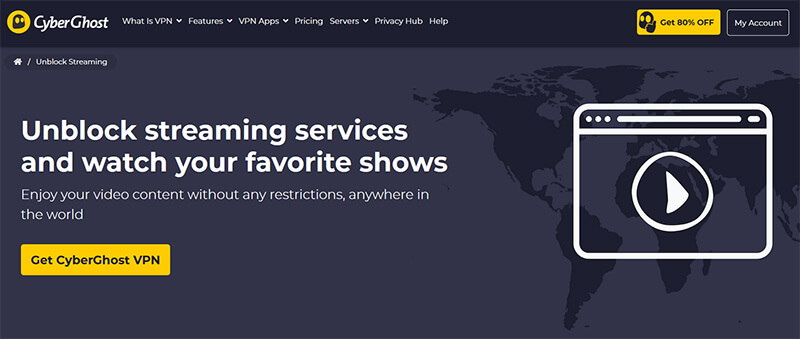 Our second favorite for unblocking Sky Atlantic has to be CyberGhost. Much like ExpressVPN, it does maintain a friendly jurisdiction (Romanian), and a couple of robust security features to keep you safe.
The main highlight of CyberGhost is its extensive connectivity. Thus, not a single UK server had lags or timed out during our test sessions. It offers great device compatibility, and you can even use it on your web browser – you can just use the VPN extension for Chrome!
The fact that is has a user-friendly interface also makes this VPN a great choice. In case there is any kind of problem with the service or payment, you can contact their 24/7 live chat support. With this, you can have the issue settled almost immediately.
The best thing about CyberGhost? It does come at a great price of $2.75 per month if you decide to go for their 3-year plan!
Get a Huge Discount on CyberGhost website >
3) NordVPN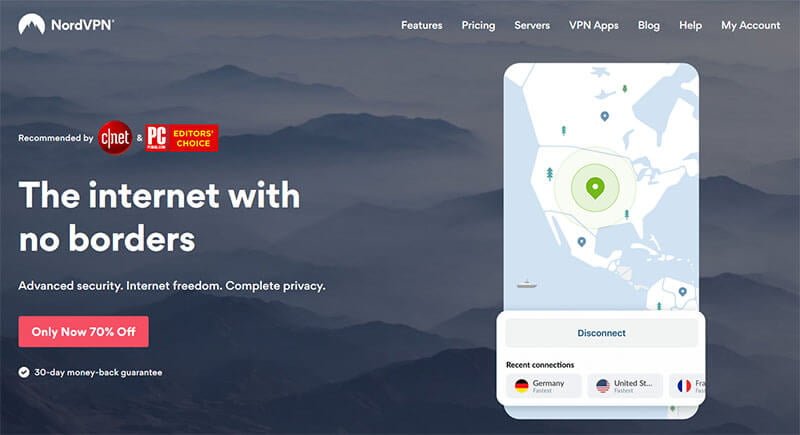 Last but certainly not least is the Panama-based provider: NordVPN. It is a leader when it comes to unblocking streaming platforms and censored entertainment content.
Thus, NordVPN does claim a flawless ability to access more than 150 platforms and channels, including Sky Atlantic from outside the United Kingdom. The reason why this is possible is because of the 5,500+ servers that this provider maintains (across the globe).
NordVPN is highlighted by phenomenal leak protection with a couple of instruments. This includes a kill switch and CyberSec, ensuring that your IP address stays hidden and that you do not get spam by ads. Also, the user-friendly interface and several subscription options made it affordable for any budget.
Hence, installing NordVPN will not only help you with the issue of blocked Sky Atlantic when abroad, but also allow you to enjoy 100% anonymous browsing.
Avoid geo-blocks when abroad with NordVPN >
Wrap Up
This is all to say that while Sky Atlantic may be blocked in the country you are currently visiting, you shouldn't put out a white flag.
We did our best to highlight a couple of leading names in the VPN industry that could help you. Now, it is up to you to make an educated decision based on your needs and preference. Good luck!