Anonymous VPN is yet another provider with a self-explanatory name. What can you expect from it? Well, anonymity! While it's not the most popular provider (not even close), Popcorn Time seems to like it and recommends it for that service. Given that the governments crack on different P2P services from time to time, this VPN seems like a great option for staying anonymous while torrenting. We've yet to see that in our in-depth review of the provider.
What is Anonymous VPN?
Anonymous VPN is stationed in Seychelles, which is already a good start in terms of privacy and security. This country is far from the 5 Eyes, so the government doesn't refer to any data-retention laws. When you first open the provider's site, you'll see a "dude" with sunglasses. This is, as they say, their mascot.
It's supposed to represent anonymity but not in a formal way, which we like. The provider doesn't seem to take itself seriously but on the other hand, it takes your privacy and anonymity seriously. Of course, in our review, we'll see if this provider is as good as Popcorn Time says, and if it's not, we'll recommend to you another provider.
Without further ado, let's delve deeper into our Anonymous VPN review for 2021.
Compatible Devices and Ease of Use
Enjoying a VPN on a multitude of devices is something we all want and can do in this day and age. The device support of any provider should include at least the most popular platforms, whereas, routers, Apple TV or other devices are a bonus. Albeit, we value this bonus a lot. Let's see what Anonymous VPN offers:

Interestingly, Anonymous VPN doesn't support iOS, so the iPhone users won't be able to enjoy its benefits. This is, to be honest, a very bad start for this provider. The basic device support should include iOS, alongside these three platforms – Windows, macOS, and Android.
Needless to say, expecting it to support more "advanced" devices is like expecting the pig to fly.
Computers
Most of the users who watch Popcorn Time are going to use this provider on the computer, making it the most important platform in this instance. Anonymous VPN supports Windows and Macintosh, and although the apps are a bit different, they work practically the same.
Since we use a Windows computer, we'll install the app and run it, to see how it looks and if it's easy to use. Upon downloading the setup file, double-click on it and the installation screen will appear: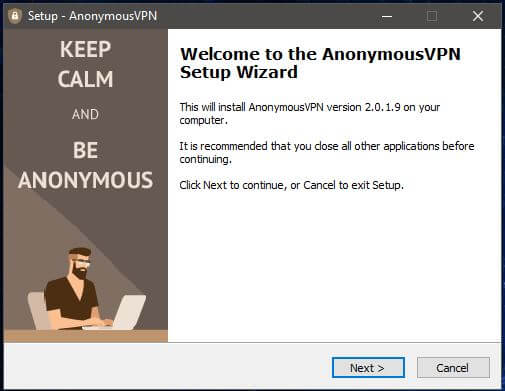 It's a classic Welcome screen, so just click Next to proceed to the next step: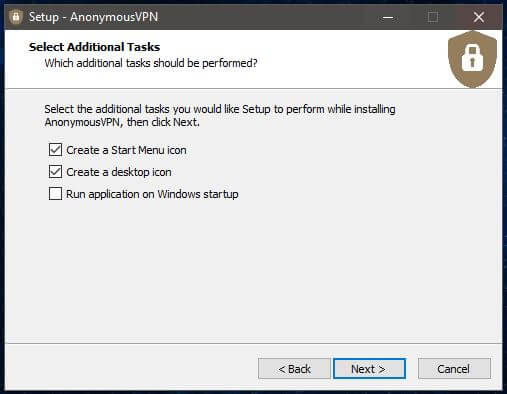 Choose whether you want to place shortcuts and run the app on Windows startup, and then, click Next: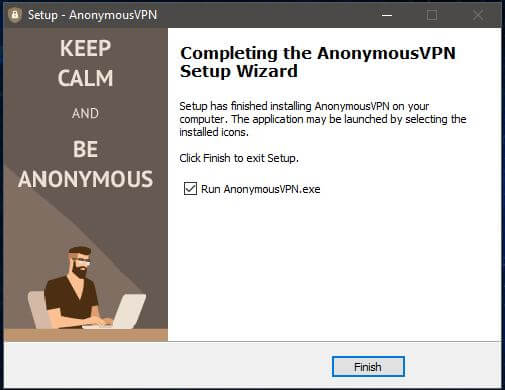 Once you confirm that you want to install the Anonymous VPN app, it will install in a few seconds and you'll see the screen shown in the image above. If you wish to run the app immediately, simply tick the box and click Finish. Here's how the app looks: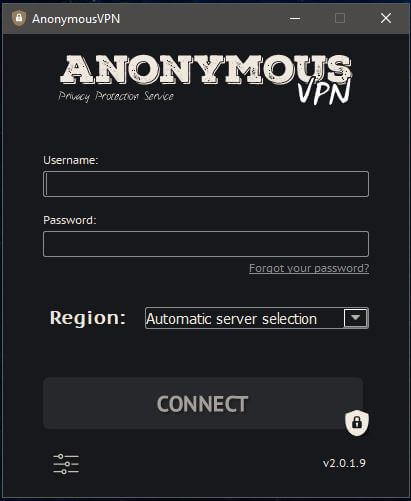 The login screen, as you can see, looks kinda cartoonish due to the logo at the top. And here, we already have one complaint. When you type in your credentials, they're visible all the time, except for the password, which is encrypted. If you want to connect in a single click, click on the Connect button: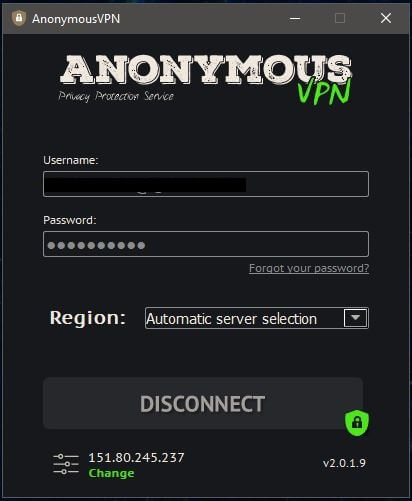 You can see what we're talking about here. Also, we're curious who had this silly idea? You can see your email but you can't see what is your server location. In case you want to open the server list, you can do that by clicking on the drop-down menu, right next to Region: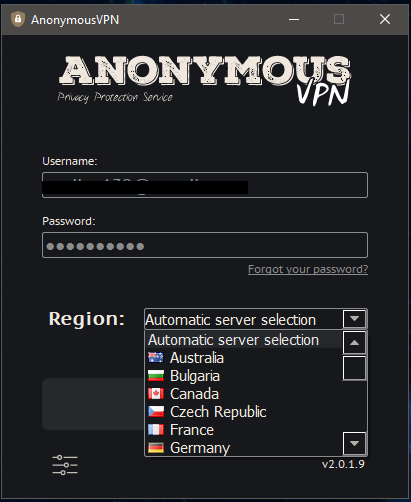 If you see the slider, it's very small, so there aren't a lot of countries and servers to choose from. More about that later in our review of Anonymous VPN.
For now, we must say that the app is easy to use, although we'd like to at least see the server we're connected to. They can easily replace the email and password boxes for that information.
Smartphones and Tablets
Using Anonymous VPN on mobile is possible only on an Android device since iOS isn't supported. To access the app, you can either visit the provider's site, click on the Android icon, and go to the Google Play Store page or do the search yourself.
We recommend the first option because when you type "Anonymous VPN", you can find at least 10 providers wit the same name. And to make matters worse, the PC icon and the one on the smartphone are two different worlds! Oh, and the apps look vastly different, too! Here's what we're talking about: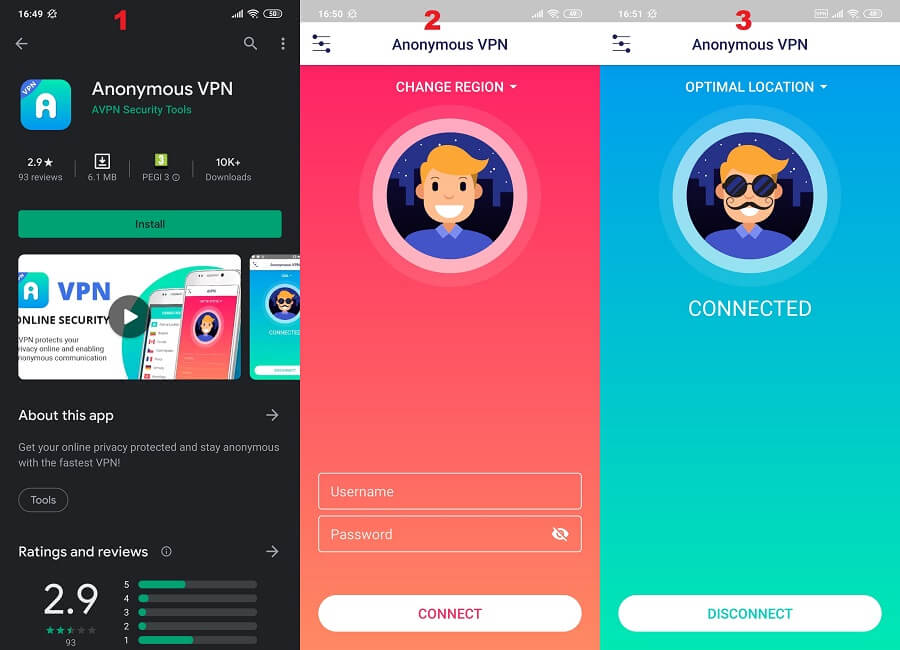 You can see how it looks on Google Play (notice the 2.9-stars review) in image 1, and the login screen in image 2. Here, type your credentials and click Connect. As soon as you do that, it'll establish a connection and the app will look as shown in image 3.
Notice something yet? Well, the provider's designer team got carried away designing the mustache of this dude but forgot to include the info about the server we're using – for Christ's sake!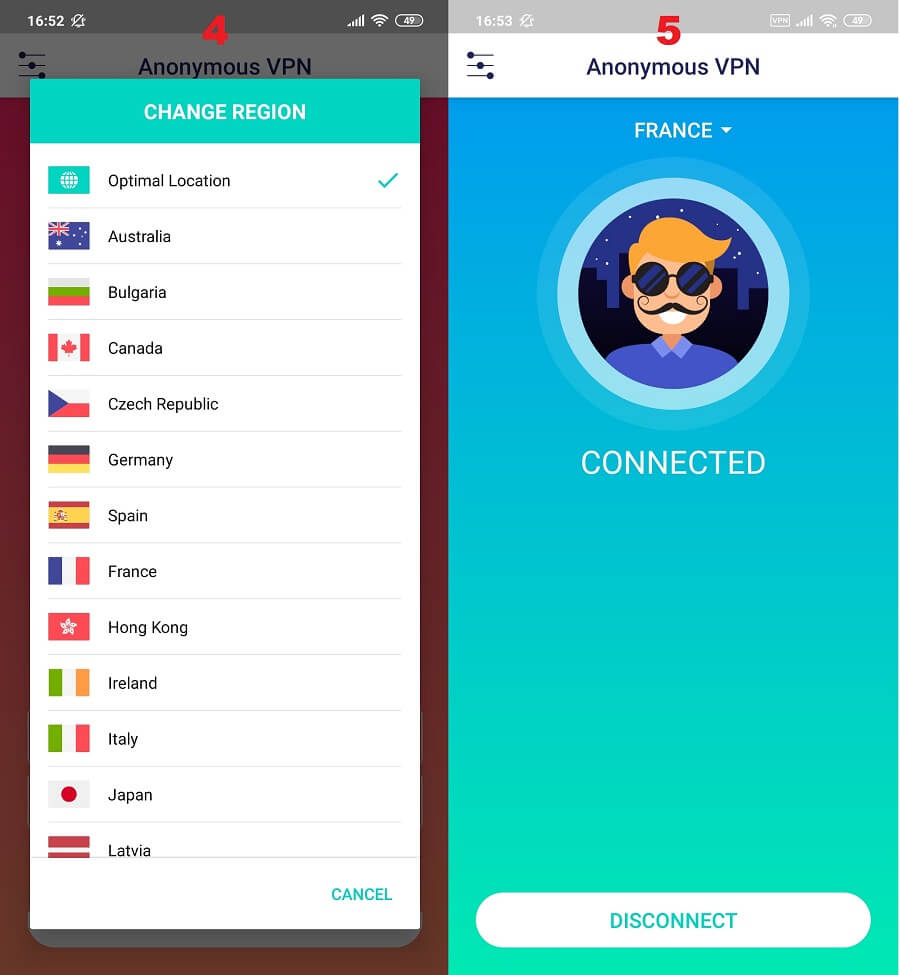 To open the server list in image 4, click on the Optimal Location. Now, select the country and it will automatically connect. Finally, in image 5, we can see that we're using the French server – thank you. The Android app is really simple to use and looks quite attractive.
We'd just like to have a bit more info about our connection on the screen – nothing more.
Other Devices
As we already mentioned below in this review, Anonymous VPN doesn't do a good job of even supporting the main platforms, let alone routers, Kodi, Roku, Apple TV or other devices. Unfortunately, that's a big minus for the provider, seeing that it's not very cheap.
How Fast is Anonymous VPN? We Checked Its Speed!
Popcorn Time is a well-known P2P-based streaming platform and they recommend this provider. That means that you should blatantly trust them and immediately buy Anonymous VPN, right?
Wrong!
For streaming, having the fastest speeds possible is a must. You want to avoid buffering at all costs so that you can seamlessly enjoy your favorite movies or TV shows. The important thing to mention is that all providers reduce your native internet speed to some extent.
However, only the premium providers will make that reduction so small, that you won't even notice it. This depends on the server load, server distance, quality of the server network, and so forth. With so many factors into play, we did 3 tests in the morning, 3 in the mid-day, and 3 in the evening, for 3 different locations.
We kept the best score and used the best (optimal) location when that was possible. Our physical location is in the USA (non-VPN test) and our test included these 3 locations:
The United States
The United Kingdom
Australia
Without using a Virtual Private Network, our internet speeds are:
Ping: 11 ms
Download Speed: 211.88 Mb/s
Upload Speed: 202.20 Mb/s
Now, when using Anonymous VPN during our in-depth review, our ping, download, and upload speeds respectively, for 3 testing locations, were:
US Server: 94 ms / 72.10 Mbps / 53.22 Mbps

UK Server: 181 ms, 47.96 Mbps, 30.57 Mbps

Australian Server: 423 ms / 18.84 Mbps / 16.55 Mbps

Talking too much about the speed of Anonymous VPN is pointless. You can see how bad it is. Even when using the US server, our ping jumped to an enormous 94 milliseconds, which is unacceptable, given that the server is in our country.
When increasing the distance between you and the servers, things quickly take a turn for the worse, making watching even a Full HD movie a chore. This provider will give you speeds far from the speeds offered by ExpressVPN, so here's a good choice for Popcorn Time, instead of Anonymous VPN.
How Good is Anonymous VPN for Streaming?
What if you don't want to watch Popcorn Time and you want to go more "legal?" Well, in that case, you might want to watch Netflix, BBC iPlayer, Hulu, and so forth. But, if you're using Anonymous VPN, you can pretty much forget about it.
We tested at least 10 servers and we couldn't unblock Netflix. We'll either be redirected to a Netflix catalog in our country or get a proxy error – sucks. Don't bother trying to unblock this platform with the provider, you'll go crazy. Let's see if HBO GO works: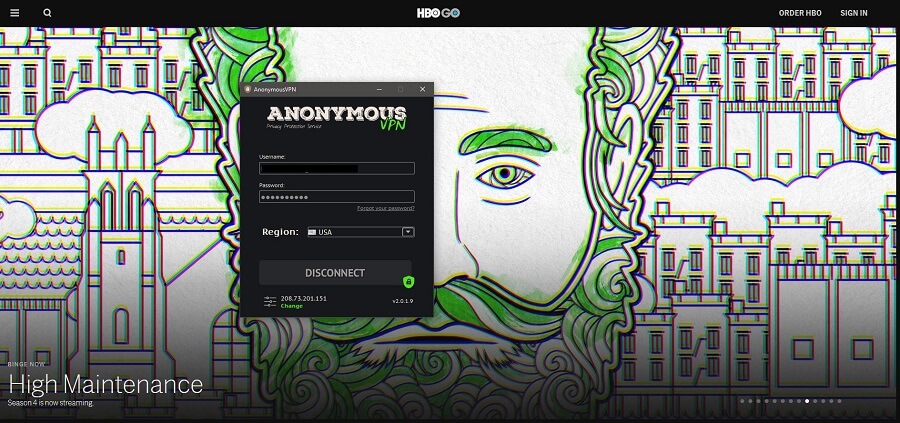 HBO GO really works. Well, that's something to look forward to!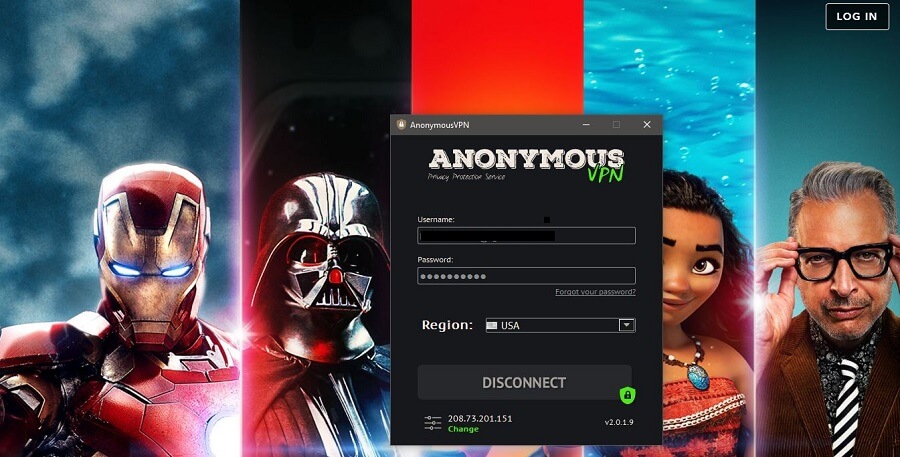 As expected, Disney+ didn't work.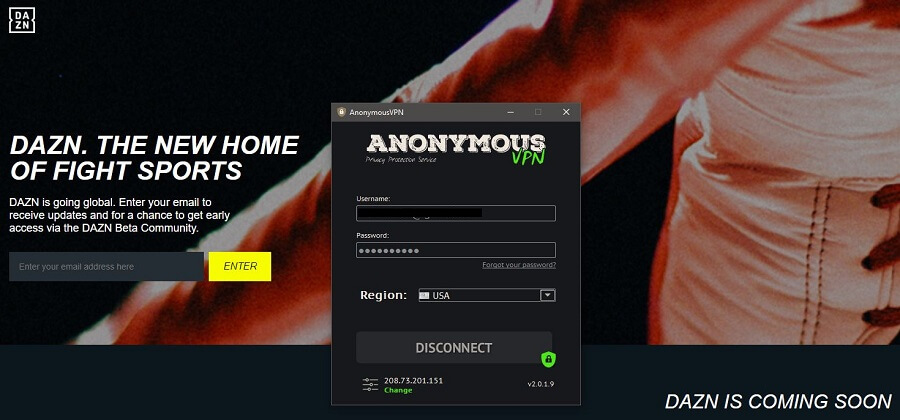 DAZN repeats the unsuccess of Anonymous VPN, slapping a geo-restriction as soon as we opened it. It DAZN't work (see what we did there?). Finally, we hoped that BBC iPlayer would work: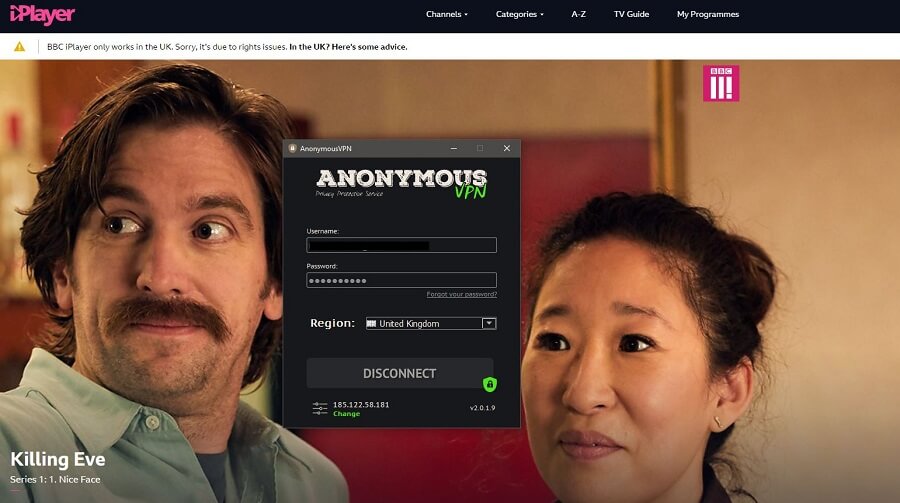 It doesn't work, after all.
Anonymous VPN is easily one of the worst VPNs for streaming we had to review.
Not only it doesn't unblock Netflix but also struggles with other major platforms AND has painfully-slow speeds. If you're looking for a great provider for streaming, ExpressVPN is the best choice. It unblocks every platform we tested here.
Confidentiality, Security & Logs
Let's see if the provider's self-explanatory name explains something or is just false bravado.
Anonymous VPN prides itself on being completely anonymous and having a crystal-clear zero-log policy. With that in mind, we visited its privacy policy and read it carefully. Here's what it says:

Off to a good start! The provider states that it doesn't collect any logs related to your VPN connection, browsing behavior, data sent over its network, and so forth. Furthermore, they also state that they can't share the info with anyone because they DO NOT collect it.

As you can see, they collect a fraction of your data and this data can't compromise you. Basically, they collect timestamps and the amount of bandwidth you've used during your connection. Of course, there's your email, too, to be able to monitor the validity of your subscription.

In case you're wondering, here's how they protect your information. They use AES 128-bit GCM encryption with P-256 key exchange for keeping your personal information intact. Anonymous VPN is, after all, safe and doesn't store any compromising logs.
Let's see if the IP leak test will repeat the success: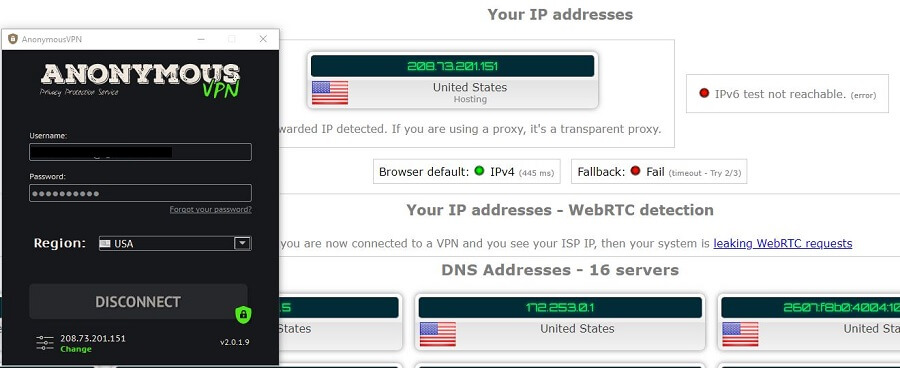 We've had no IP or DNS leaks, making the provider both safe and secure. Speaking of that, it also comes with a kill switch, 256-bit encryption for protecting your traffic, and IPsec and OpenVPN protocols. So all good regarding this aspect of our review.
Can I Do Torrenting Safely With Anonymous VPN?
Downloading torrents is a risky habit due to possible copyright infringement. And what's Popcorn Time than a simple P2P platform? When you stream on it, it's like downloading that particular movie or TV show to your computer. The difference here is that you're streaming it at the same time.
For that reason, this platform recommends a Virtual Private Network. Having a zero-log policy and rock-solid security, Anonymous VPN automatically puts itself into the category of P2P-friendly providers, which it is.

We downloaded one movie using the 1337x.to site without any problems. It even shows our VPN-given IP address, which confirms that there aren't any IP leaks that can compromise your online identity.
However, we must, once again, mention the slow speeds you'll get with the provider. Even though it's good for torrenting safely, it's also bad because downloading bigger files will be much longer in comparison to providers like ExpressVPN or NordVPN.
Can I Use Anonymous VPN to Bypass Censorship?
As we speak, there are only a handful of providers that can reliably bypass censorship, especially when we talk about China. The Great Firewall of China is an epitome of censorship, violently blocking the majority of the VPNs on the market, alongside a huge portion of the internet in China.
Because of that, Chinese residents have very limited internet access, so they can't access Facebook, Twitter, and even YouTube. In case you want to bypass censorship, Anonymous VPN isn't going to help you because it doesn't work in China.
We also don't recommend it for Russia or the UAE since these countries are also heavily censored.
Pricing and Plan Options
Anonymous VPN isn't going to impress you with its offerings and as such, it should be very cheap. We're all about getting the most out of your money because earning money isn't easy. Well, this provider doesn't seem to think so:

Did you ever have to pay for a trial? No? You'll have to if you decide to use this provider. On the left, we have a 3-day trial at $2 – yes, a trial that costs! That's ridiculous.
In the middle, we see the monthly plan and it's bloody expensive at $12 per month. ExpressVPN is only half a dollar more expensive and will wipe the floor with this provider.
Finally, the annual plan costs $69 a year, which is $5.75 a month. That's very expensive and on par with the best providers on the market, such as NordVPN, ExpressVPN, and CyberGhost. Yet, it doesn't deliver impressive performance and features.
Sorry, Anonymous VPN, but you're not worth a shot.
Oh, and it also supports only one payment method – your credit/debit card!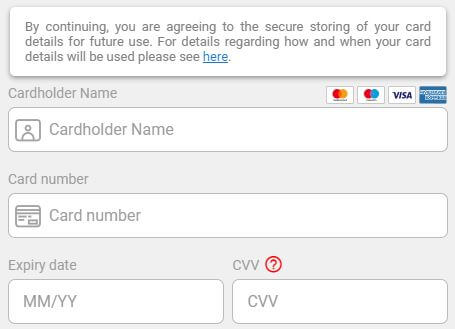 Should you want to get a refund, you can do it in the first 14 days… with some strings attached. First, here's how to get it:
Send an email to [email protected] and they'll process your refund. Now, here are the conditions you need to fulfill:

They say that your bandwidth consumption shouldn't go over 500 MB to be eligible for a refund. You want to tell us that we have 500 MB for 14 days? Are you serious? With 500 MB, you can't even test streaming properly, as it's one of the most bandwidth-hungry activities online, let alone torrenting.
How Can I Contact Anonymous VPN?
To contact the provider, click on the Contact tab above and the ticketing system will open: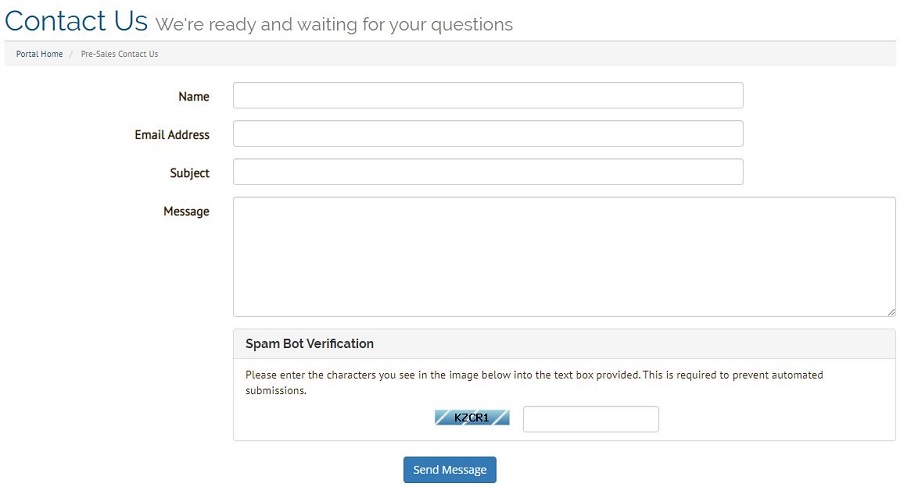 Enter your name, email address, subject, and message, and send it. Alternatively, you can use their other email – [email protected]. This is for contacting their sales department directly, in case you have issues with billing or buying a subscription.
We're disappointed with the lack of a live chat function but we expected it before doing this in-depth review, knowing that this is a small provider.
Nonetheless, we had a positive experience with the support team. As soon as we sent an email asking for a free trial for testing purposes, their team got back to us and gave us what we wanted.
The waiting time was about 20 minutes, which is outstanding for email support.
The Special Functionalities
For enhancing the basic VPN experience, you'll need some special functionalities. These include dedicated servers, special protocols and security features, and so forth. If we glance over to the Settings tab in the app, we can see what the provider offers: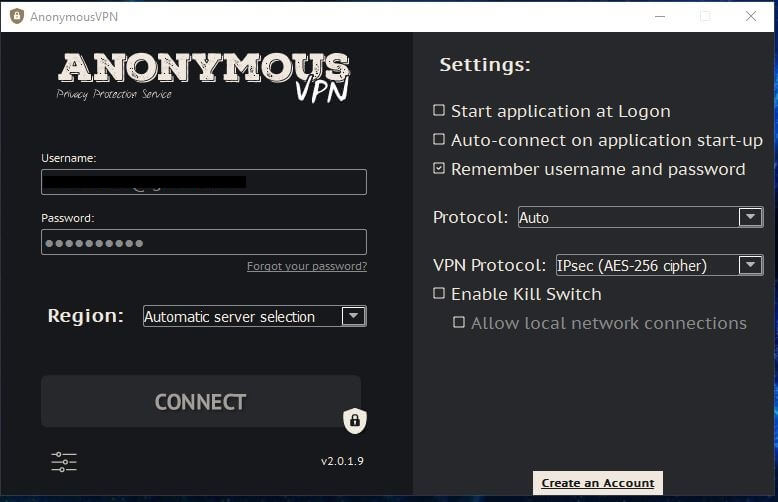 In one word – nothing special. Apart from some app behavior settings, you can choose the protocol you want and enable or disable the kill switch. A kill switch is here to disconnect you from the internet if the VPN connection breaks and today, all providers have it.
Anonymous VPN gives you minimal control over your connectivity and that's never a good thing.
Other Things You Should Know
We talked a lot about Anonymous VPN today but our in-depth reviews are always in-depth, so let's mention a few more things about it:
Number of Servers
Anonymous VPN offers a very small server network, way smaller than some similar providers on the market. It also doesn't give you an exact number of servers because, let's be honest, you can count them manually: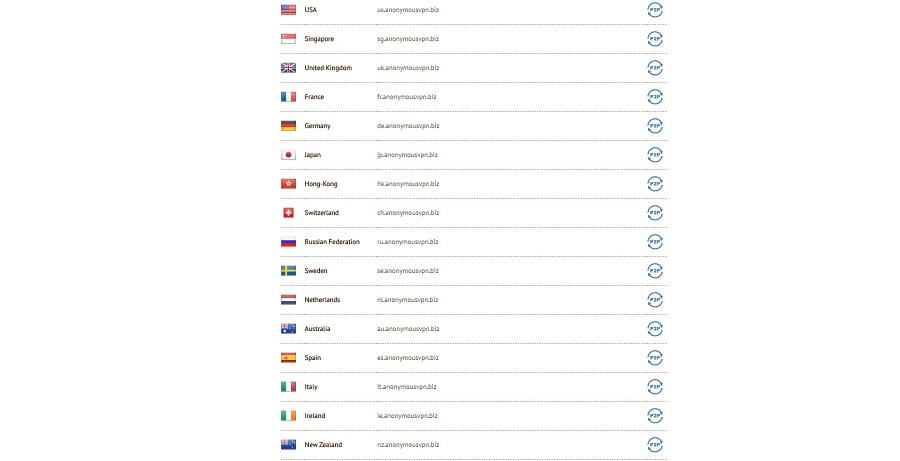 This is how the provider represents the servers and this is not the whole list. But, in total, you get 26 servers.
Number of Countries
The same can be said for countries – 26 of them. It's not hard to see that the provider has one server for each country which isn't great, considering that some Popcorn Time users use these servers for streaming.
If the servers are under heavy load, you will encounter slow speeds and that can be an instant turn-off for streaming perfectionists.
Number of Simultaneous Connections
Anonymous VPN gives you up to 3 simultaneous connections per account. That's already a bare minimum but at least, you can protect your smartphone and computer simultaneously, with one slot left for another device of your choice.
What Do Other Users Say About Anonymous VPN?
Before wrapping up our comprehensive review, it's time to see what other users have to say about Anonymous VPN. We always start with Reddit but this time, finding proper feedback on it is impossible, which only speaks about how unpopular the provider is.
We found one question about Anonymous VPN but the users suggested another provider instead of it, with no explanation as to why they did that. But, if we search on the Google Play Store, we can see that it has a 2.9-star rating and that's not very good. In fact, that's pretty bad!

This review is pretty short but straightforward. The user complains about streaming. In his words, it "doesn't work", whatever that means. He probably thinks about unblocking websites, which this provider does poorly.
What about Apple Store? Well, Macintosh users also aren't very satisfied with the service and they aren't very abundant, either.

This user complains about the short-lasting connection. In his words, he connects to the server and the VPN automatically disconnects with no reason. Furthermore, he complains that the app is clunky and unreliable, which is why he gave it a one-star review.
Unfortunately, the same story is on Trustpilot, where we couldn't even find the provider, so there aren't any reviews.
Conclusion: Should You Take It?
Anonymous VPN is doomed from the get-go, let's be honest. It isn't a cheap provider by any means, yet does nothing to justify its pricing. ExpressVPN costs $6.67 a month for an annual plan and this one will cost you $5.75, which is less than a dollar difference.
And as many of you know, ExpressVPN is the best provider on the market.
If we mention that Anonymous VPN doesn't unblock Netflix, has a very small server network, doesn't have a live chat, doesn't support iOS, and many other downfalls, it's clear that it isn't worth your money.
Instead, you should buy ExpressVPN and enjoy the internet to your heart's contempt.