When you see the Perfect Privacy name, one thing immediately falls on your mind – privacy. However, this VPN promises to give you a lot more than just privacy. It's, theoretically, an all-around provider that will give you all the benefits of a Virtual Private Network, including complete privacy and security. But, as always, we're here to test that statement and see if the provider is worth your hard-earned money. This is our in-depth review of this provider, so stay with us to learn more about it.
What is Perfect Privacy?
Perfect Privacy is a provider based in Switzerland, founded in 2014 by Vectura Data Management Limited. Switzerland, as many of you know, has always been a 'neutral' country and enjoys its outstanding privacy laws.
We'll review Perfect Privacy as it is at the moment of writing this review, and if something changes, we'll keep you posted. For now, let's delve deeper into our comprehensive analysis of this Swiss company, shall we?
Compatible Devices and Ease of Use
A Virtual Private Network should never be limited to one device.
Sure, a lot of you use a computer to browse the internet but lots of users are turning to smartphones to efficiently use Instagram or Facebook. It's important that the provider supports a lot of relevant platforms, so let's see if Perfect Privacy is up to the task:

As you can see, Perfect Privacy is not only up to the task but also above the task. Aside from Windows, iOS, Android, macOS, and Linux, we have a Chrome extension, pfSense, AsusWRT routers, BlackBerry, RaspberryPi, and many other devices. If you ask us, this is one of the best device support we've seen.
Computers
Should you decide to go for the computer app, you can download it for one of these platforms – Windows, macOS, and Linux. We use a Windows computer for all our reviews, which is why we're going to present the Perfect Privacy app on this platform. Rest assured, it's practically the same on Mac and Linux, with slight changes.
Upon buying the subscription, Perfect Privacy lets you download the app from the get-go. Download the installer and double-click on it, and you should see the initial installation screen: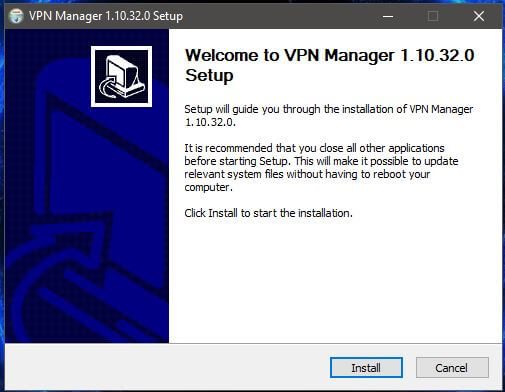 To start the installation, simply click on Install: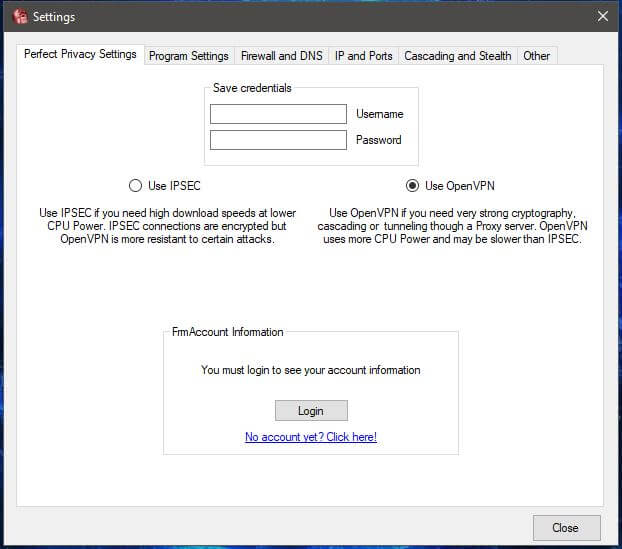 When you install it, this screen will open. These are settings for this VPN, so all you need to do is log in and save your credentials: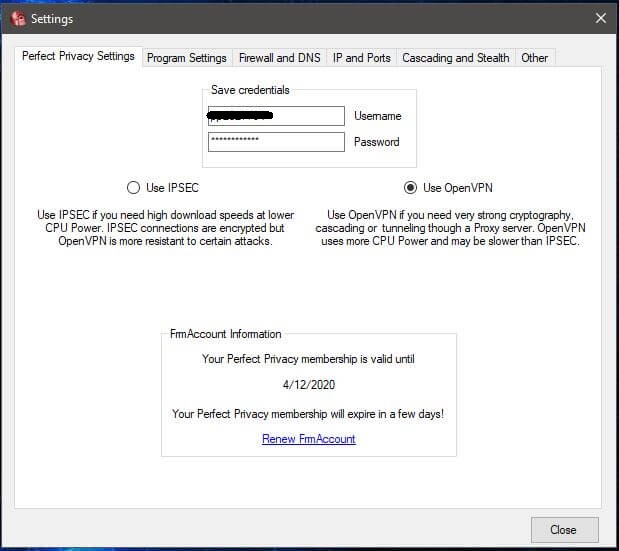 Now, as you can see, the app doesn't look very intuitive, especially when compared to Surfshark or ExpressVPN. To get into the app, we clicked Close, which is, once again, unintuitive, and a completely different window opened: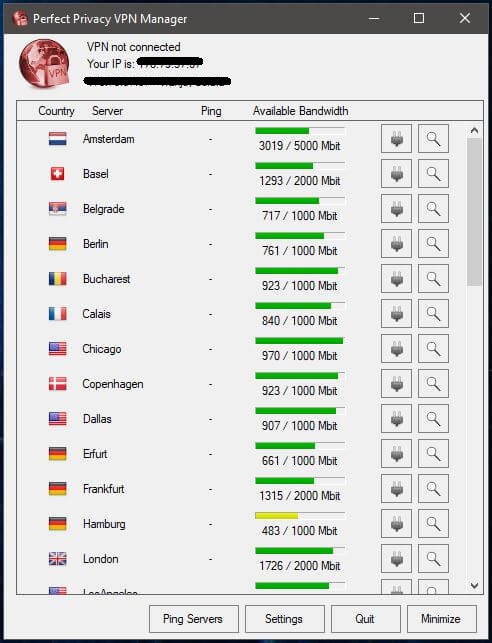 This is the server list, and judging by the slider on the right, it's not very big. To connect to the server, click on the plug button right next to the magnifier icon on the right. Wait for a few seconds and the connection will be established: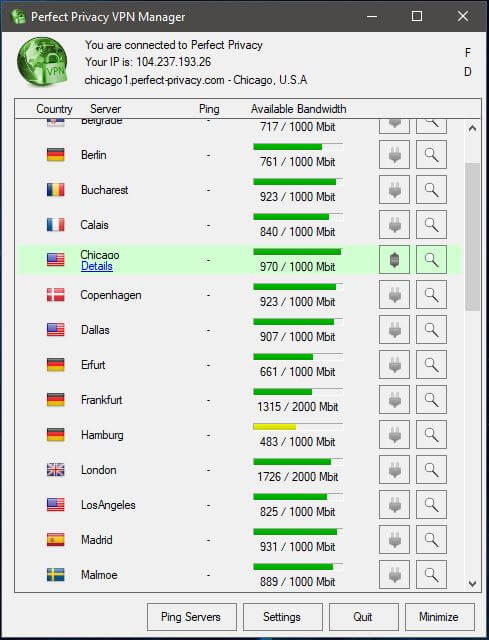 You can now see that we've chosen the server in Chicago and you can see the IP address above. It's a good way to change quickly your IP, although the Settings interface is a bit unintuitive.
All in all, the app itself is simple to use if you're an experienced VPN user. But, if you're a newbie, you're better off with another more intuitive provider.
Smartphones and Tablets
Let's see how the Perfect Privacy app looks on our mobile platforms. When we talk about smartphones and tablets, you can go for two options – iOS and Android.
The provider has an app for Android and for iOS, you must install the OpenVPN Connect to use it. As for Android, you'll need to download it from the Google Play Store, as you can see in image 1: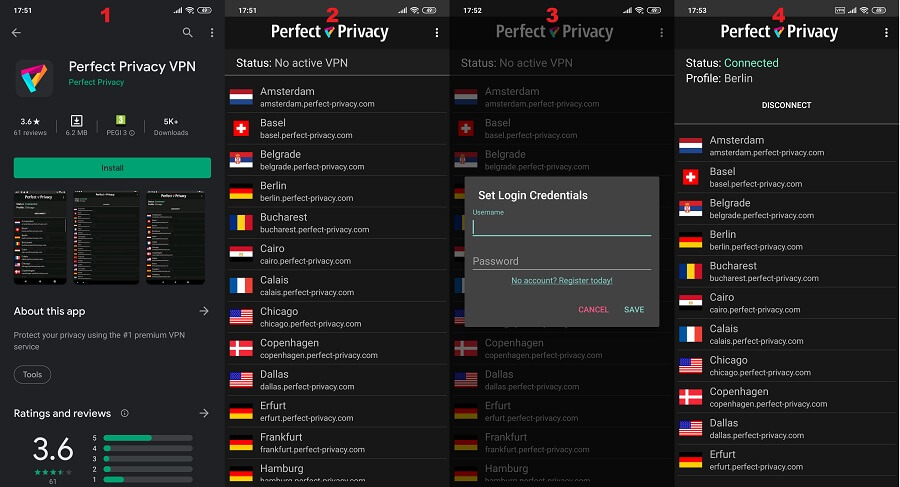 In image 2, there's a server list. Now, when you click on a server of your choice, the login screen will appear, as shown in image 3. Type in your credentials and you'll connect immediately, which you can see in image 4.
To be honest, the Android app is very intuitive. On rare occasions, we can present a whole app in just 4 screenshots. Also, there aren't any advanced settings here like on the PC, so it's more like a cut-down version of that app.
For example, when using the PC version, you change the protocol you're going to use. Here, you can't do that. Not a single connection setting can be changed. You can just select always-on VPN or change the default server for connection – that's it. Despite all of this, the app is VERY simple to use and even if you're a newbie, using it will be a breeze.
Other Devices
We said earlier in our review, that Perfect Privacy supports a multitude of devices and you can see that in the image above. Without router support, it wouldn't even be compatible with a vast majority of devices we mentioned a minute ago.
Even better, the provider lets you buy pre-configured routers that will support this VPN out of the box. In case you're interested, you can see its dedicated page here. You'll find different brands of routers here – Linksys, Asus, Vilfo, and Netgear.
When you connect Perfect Privacy to your router, you can protect up to 32 devices in your home simultaneously, depending on how many simultaneous connections does your router support.
How Fast is Perfect Privacy? We Checked Its Speed!
Considering how expensive this provider is, having low expectations when it comes to speed is pointless. But, things aren't always how they appear to be. Some providers offer excellent speeds for the price and some fall flat on their faces as soon as we test them.
The important thing to say is that every provider reduces your speed to some extent. However, the big difference is in the 10% or 80% reduction. This reduction depends on factors such as server load, quality of the server network, level of encryption, protocols used, and so forth.
For that reason, it's important to see how we did our tests for this in-depth review about Perfect Privacy. We did 3 tests in the morning, 3 in the mid-day, and 3 in the afternoon, for 3 different testing locations. We also kept the best score and used the best location when it was possible.
Our physical location is in the USA and we used these locations for testing:
The United States
The United Kingdom
Australia
Our native internet speed, without using a VPN, is:
Ping: 11 ms
Download Speed: 211.88 Mb/s
Upload Speed: 202.20 Mb/s
Now, when using Perfect Privacy, our ping, download, and upload speeds respectively, for 3 testing locations, are:
US Server: 35 ms / 148.93 Mbps / 164.72 Mbps

UK Server: 98 ms / 107.02 Mbps / 76.55 Mbps

Australian Server: 311 ms / 30.63 Mbp / 38.72 Mbps

The speeds here aren't too disappointing. We got pretty decent speeds when using the US server and even the UK server is serviceable. Although the Australian server gave us a ping of 311 ms, we still managed to enjoy streaming and browsing, but no gaming.
All in all, Perfect Privacy offers 'okay' speeds but we expected a lot more for the price. For browsing and streaming, it's more than sublime.
How Good is Perfect Privacy for Streaming?
Speaking of streaming, Perfect Privacy should be a good contender, having in mind its speeds, right? Well, it's not all about speeds here. Sometimes, you need a VPN that will unblock geo-restricted sites with ease.
There's a standard question here – does it work with Netflix? The answer is, unfortunately, no. In our tests, it couldn't unblock Netflix US, Netflix Australia, and Netflix UK. We also tried the Netherlands and Germany but with no avail.
Let's not judge the day by the morning. Maybe it will be better as we move on with our review. We tested HBO GO afterward, so here are the results: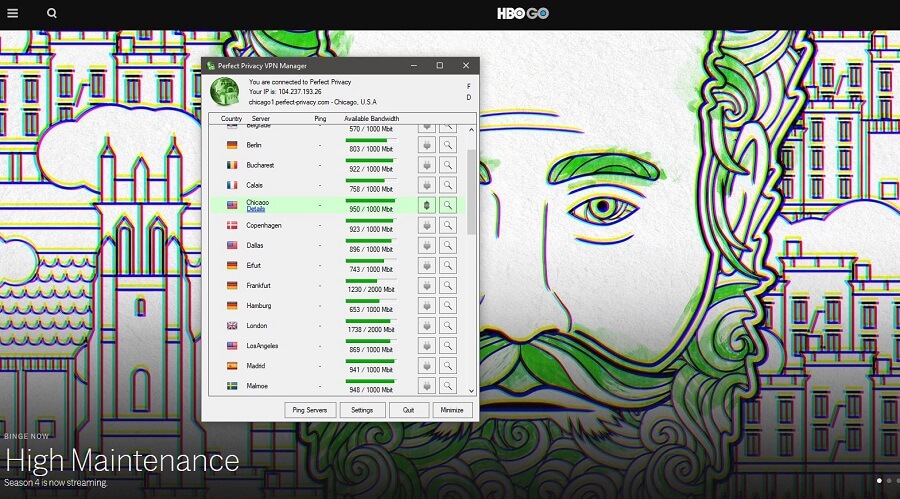 Perfect Privacy unblocks HBO GO easily. Let's see if Disney+ will work: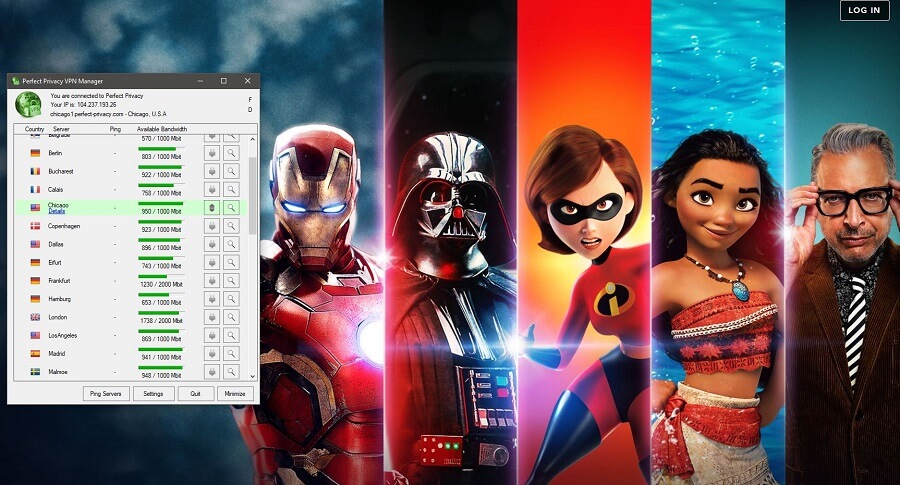 Nope, it doesn't work. When you click on the login button above, nothing happens. It's DAZN's turn now: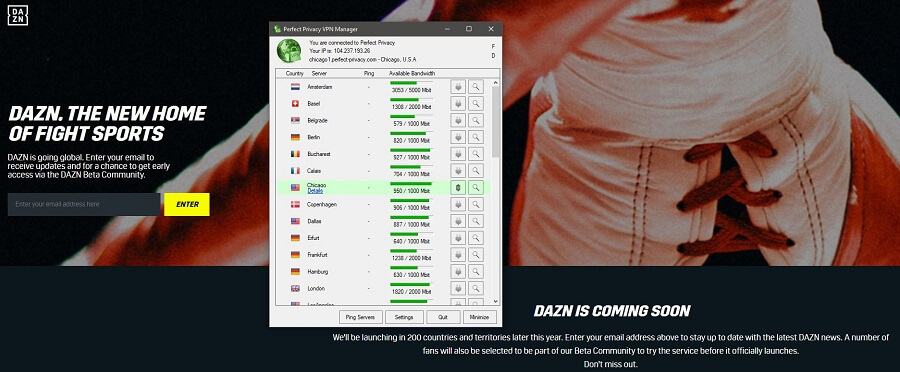 As expected, DAZN also doesn't work, so you can't stream sports on this platform. Finally, we have to test BBC iPlayer: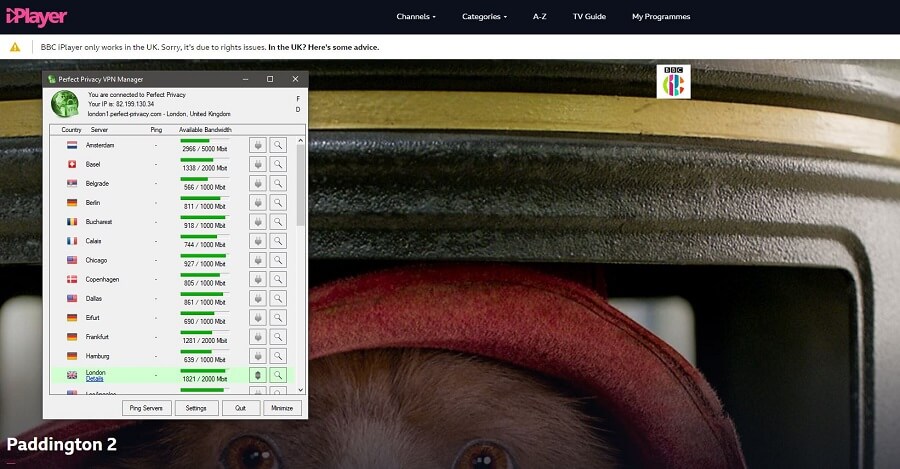 BBC iPlayer also doesn't work.
So, out of our 5 platforms tested, Perfect Privacy managed to unblock only one of them during our review, which is a very bad result. Despite its fast speeds, this Virtual Private Network won't be very good for streaming because it can't unblock a majority of streaming platforms with strong anti-VPN measures.
Once again, we expected a lot more but in the end, got disappointed.
Confidentiality, Security & Logs
This section is practically the nitty-gritty of the review. A provider with the Perfect Privacy name should be… private? Well, it should be. The security of this provider shouldn't be questioned and it should always keep you safe and secure online. At least, that's how we see it.
Without further ado, let's dive into its privacy policy and see what they have to say: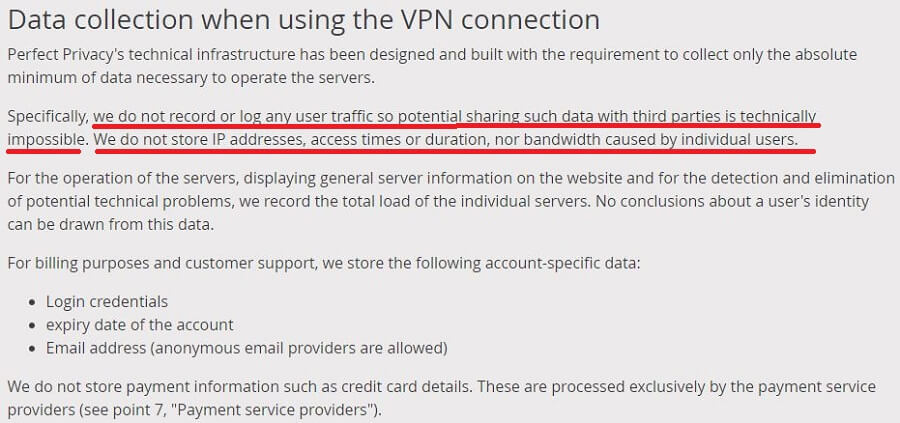 Good news from the get-go. Perfect Privacy doesn't store any user traffic, so sharing it with third parties is impossible. Furthermore, they say that they don't record your IP address, bandwidth used, access times or duration, and so forth.
The only info they collect are your login credentials, the expiry date of the account, and your email address. If we glance over to their terms and conditions, we can also see the glimpse of the privacy policy:

As you can see, they just confirmed what they said in the privacy policy, so there are no shady business practices here. The difference is that they've added how much traffic you use on the servers but that's nothing compromising. It's necessary so that the users can see how loaded the particular server is.
With all of this said, Perfect Privacy is safe and has a crystal-clear zero-log policy. Let's check the IP leak test now: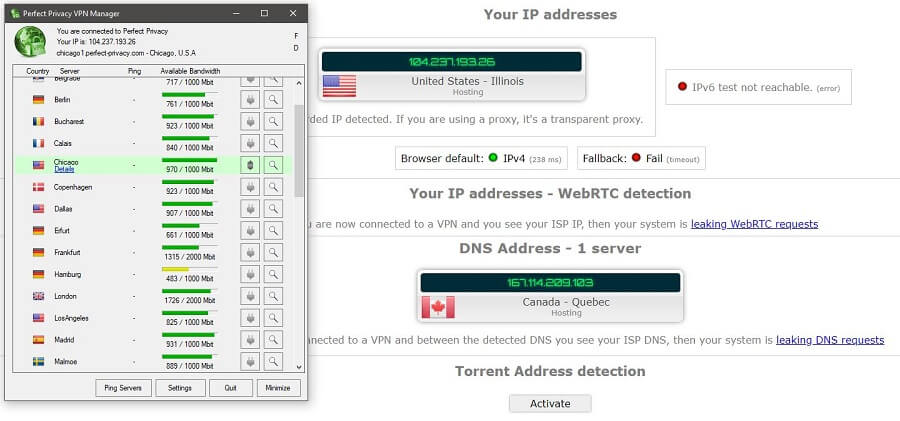 We didn't encounter any DNS or IP leaks. Apart from that, the provider has superb security in place. Are you looking for total privacy? This is a good choice.
There's up to 256-bit encryption and you can even choose which type you're going to use:

These are OpenVPN settings but you can also choose IKeV2 protocol, where you can't change the level of encryption. Perfect Privacy also has a kill switch, IPv6 leak protection, and a MultiHop feature, called Cascading, for added security. More about that later in our Perfect Privacy review.
Can I Do Torrenting Safely With Perfect Privacy?
Being a zero-log provider, Perfect Privacy is eligible for torrenting activities. The thing is, however, that you can download torrents using its premium dedicated servers, so not all servers are eligible for P2P downloads. That's a bit of a letdown, given that the provider isn't very cheap.
As always, we opened the 1337x.to website and tested it:

We downloaded this game without any problems, using a German server. Although you can torrent on pretty much every server here, only these dedicated servers will offer you complete privacy so that your ISP can't track you.
In short, you can torrent safely with Perfect Privacy but only on its dedicated P2P servers.
Can I Use Perfect Privacy to Bypass Censorship?
Bypassing censorship is among the worst internet issues nowadays. Only a handful of providers can really give you what you pay for, in this regard, leaving you exposed to the watchful eyes of your ISP or the government.
When we talk about censorship, we can't help but talk about China. This country is well-known for censorship and its Great Firewall of China is still a fierce enemy of all the VPNs on the market. Our testing showed that Perfect Privacy doesn't work in this country, hence it can't bypass censorship efficiently.
If you're from China or Russia, you're much better off with another provider, such as ExpressVPN, which reliably bypasses censorship.
Pricing and Plan Options
We mentioned that Perfect Privacy is more expensive but we didn't specify how expensive it is. Let's do that now:

Starting from the left, we have a monthly plan at $12.99 a month. That's already way too expensive if we take into account that many providers offer it for ~$10. In the middle, we have an annual plan that costs $9.99 a month or $119.99 a year, which is, again, very expensive.
Finally, we have a 2-year plan on the right, costing $8.95 a month or $214.95 every 2 years. If you ask us, these prices are insane for the level of performance you get here. Sure, you get privacy and security but it can't unblock Netflix and doesn't work in China.
This price for an average Virtual Private Network? No, thanks!
We can suggest basically any provider from our top 10 list that will be better, yet less expensive. Good alternatives to this provider are ExpressVPN and NordVPN.
In case you still want to buy Perfect Privacy, here's how you can pay:

Bitcoin is available, so that's a good thing.
And in case you want a refund, you shall read the refund policy shown in the image below:
Basically, they say that you get a 7-day refund period after the first purchase, with no special strings attached to it. To get it, you'll need to contact the customer support team.
How Can I Contact Perfect Privacy?
Contacting Perfect Privacy is an easy thing to do and you get two methods:

On the left, there's a FAQ section, which doesn't count. On the right, though, you can go to the ticket system, fill out the contact form, and send it to the provider. The second method is a classic one – via email.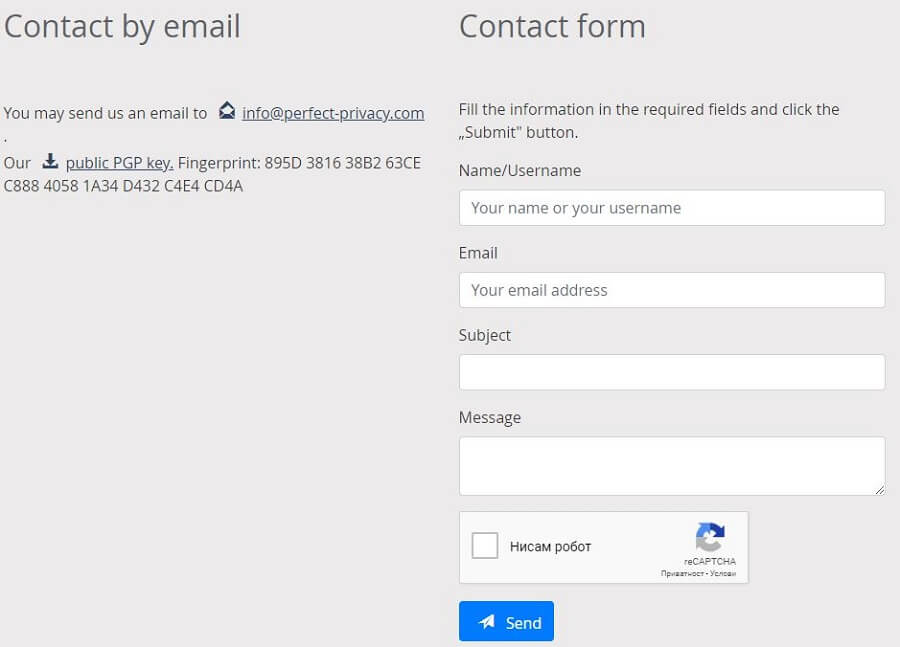 There's also a contact form here, so you don't have to boot up Microsoft Outlook or visit your Gmail account to do so. Simply enter your name, email address, subject, and message. You'll get a response in more than a few hours – at least 5+ hours in our experience.
The Special Functionalities
Let's talk more about special functionalities because Perfect Privacy has a handful of them:
TrackStop
TrackStop is a fancy name for an ad-blocker. It's basically a filter that blocks content from unwanted or untrusted sources, as well as ads and tracking software. Furthermore, it blocks suspicious websites and phishing, leaving you safe and secure online.
We like this feature a lot since it serves as an ad-blocker, or better said, a more advanced version of it. It's even great for keeping your children safe online, as it allows you to individually adjust the filter settings. For example, you can keep your children away from porn or gambling online and let them use YouTube.
Stealth VPN
Stealth VPN isn't a unique feature but it's, in theory, used to bypass DPI (Deep Packet Inspection).

You can enable it in Settings and choose which protocol you want to use. Although it's quite a robust and advanced feature in this instance, it didn't help us bypass the Great Firewall of China during our review of Perfect Privacy.
Cascading
Last but not least, we have a feature called Cascading. It's a MultiHop feature we have in Surfshark but here, it's much more advanced. Take a look:

When you enable it, you can choose how many hops you want to use. The more hops you want to use, the harder it is to intercept your traffic but your speeds will also suffer. We like that Perfect Privacy gives you full control over the features, so you can tweak and set them up the way you like.
Other Things You Should Know
An in-depth review isn't in-depth if we don't talk about all the nooks and crannies. So, let's talk about other things you should know:
Number of Servers
Perfect Privacy has a very small server network and if you take a look at this image, you'll see it:

Now, they don't mention the number of servers but if you count them manually, you'll get the number slightly higher than 50. To make it clear, the provider has 50+ servers worldwide, which is way under our expectations.
Number of Countries
In the image above, you can see that there are 26 countries available, so every country has 2 servers on average, excluding the USA that has more than 2 of them.
Number of Simultaneous Connections
If there's something really good about this provider, it's the number of simultaneous connections. You get an unlimited number of simultaneous connections, which we rarely see on the VPN market.
What Do Other Users Say About Perfect Privacy?
Before concluding our review, let's see what other users have to say about Perfect Privacy, starting with Reddit.

At the time of writing his review, this user used the provider for a few days with no complaints. He uses it on Linux and praises its speeds and ease of use, even mentioning that you can use your PGP key for encrypting your emails.
Now, let's check what the user on the Google Play Store has to say:

He gave Perfect Privacy a two-star review because it's expensive and the app is, in his words, pointless, because you have to visit the website for changing the settings. This is really a downside for users who want to control every factor regarding VPN connection.
Finally, we have feedback from Trustpilot:

This user wrote a very short review, stating that it's the most trustworthy VPN, albeit, at a very high price.
Conclusion: Should You Take It?
All things considered, Perfect Privacy has a decent reputation online. Not many users complain about it and it's generally a good option for many experienced Virtual Private Network users.
However, we have a couple of issues that we don't like. First, it's bad for streaming, its Windows app is not intuitive enough, and it allows torrenting only on special dedicated servers. The second thing is that it's way too overpriced, which isn't correct, even though it offers complete anonymity and privacy.
With the lack of live chat support and it's small server network of just 50+ servers, Perfect Privacy isn't worth buying at this price, thus we don't recommend it.
However, if privacy and security are your only concerns, this provider will do the job just fine. For other purposes, we recommend getting ExpressVPN.