If you are a US citizen or resident, you are probably used to enjoying local television, including channels like ABC, Fox and, ESPN. These don't only offer good informative programming, but also great entertainment content and sports. Additionally, you might have subscribed to some of the popular streaming platforms, including Netflix, Hulu, HBO Now, only to find that you can access content only while in America. Chances are if you have decided to visit the beautiful country of France, you will be significantly limited when it comes to US TV channels.
Why this is, as well as how to bypass the relevant geo-restrictions for free is something we will be talking about in this article. Let's get right to it!
Why can't I watch US TV in France?
You have just set a foot to the mesmerizing France, only to find out that you can't watch your favorite TV content while there. The main reason for this is the geo-blockades that are becoming incredibly common today.
It all comes down to who buys the license. In the case of US TV channels and aforementioned streaming platforms, most content is restricted to being set in the US. This requirement isn't related to the address where you are usually living. It is rather to do with the current IP address that you are using.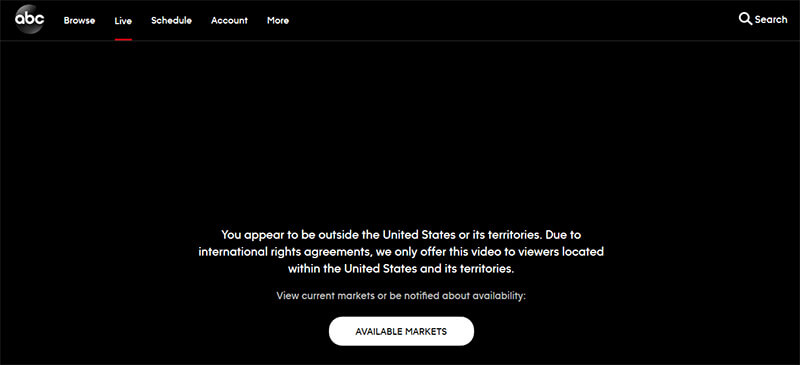 Thus, things are quite hard for a US citizen or resident that is currently outside of the country they are usually living in. However, while geo-restrictions are quite annoying, there is a way to access US Television even while you are in France.
Yes, we are talking about a Virtual Private Network, which is considered to be the most effective solution for this kind of issue. Let's take a look at how it works, as well as what are your best options.
Solution – Use a VPN
While using a proxy server was quite popular a decade ago, it is the Virtual Private Network that offers much more than an alternative IP address.
By installing this service and connecting to a relevant US server, you will not only get to stream the censored content but also make sure that your true IP address stays unrevealed to the ISP operator.
In addition to that, if you are tired of  getting bombarded by irrelevant ads, and your browsing being tracked, a VPN can be of great help. By encrypting your data and private info, you should stay on the safe side in this matter.
How does a VPN work? Well, by tunneling your internet connection through a protocol and switching your current IP address (set in France) to the one that is in the US.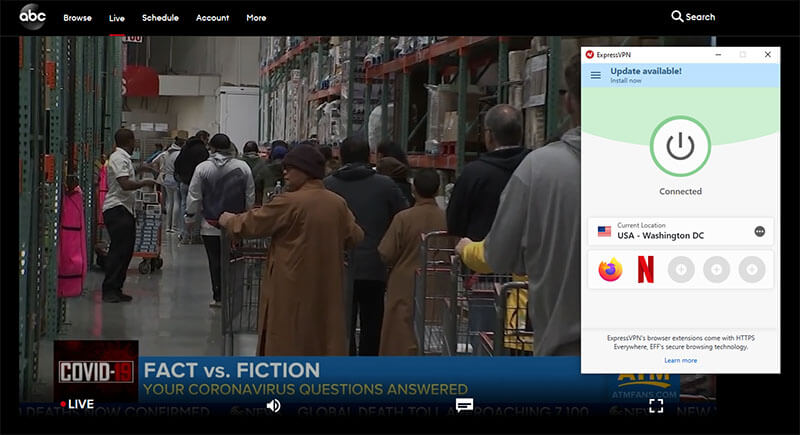 A good VPN will offer more than a few relevant servers. With these, you can connect to and stream relevant content for free.
VPN to Choose to Watch US TV in France
France is not as close to the US as, for example, Mexico, or Canada, which is why finding a fast VPN is crucial when it comes to streaming TV channels.
What you should consider is that any Virtual Private Network is sure to slow down your internet connection. It just comes down to whether the drop is acceptable or not.
Also, you will want a VPN that offers reliable encryption as well as a set of different tunneling protocols for greater device compatibility. With this in mind, we did our research and found a couple of great value offers.
ExpressVPN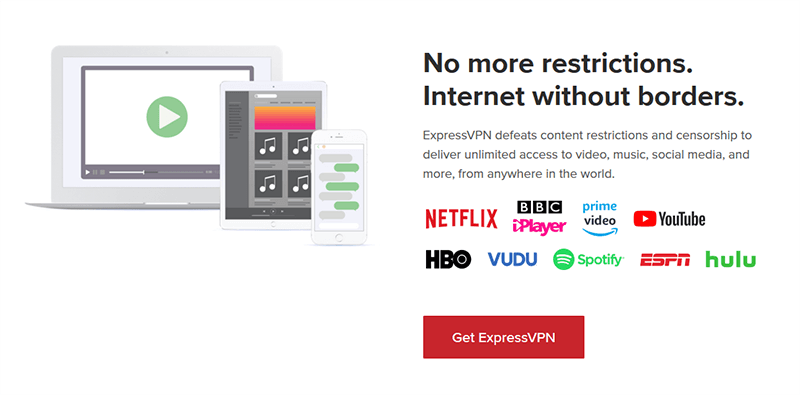 We are going to start our list with our favorite provider. It comes as a provider that is based in the British Virgin Islands. That is a great start because this country is not a part of the 5-9-14-Eyes alliance.
There are a couple of reasons why we consider it to be a VPN worthy of your time and notice. Firstly, a considerable server park of more than 3,000 servers and high speeds.
Most VPNs come with speed and connectivity issues, which are not the case with ExpressVPN. While France is at quite a distance from the US, we didn't have almost any speed issues as the drop was set at 15%. Also, the ping was at 120ms, which is quite good, given the circumstances.
Along with its streaming ability, you will find that ExpressVPN does a great job encrypting your communication and ensuring optimal privacy. Thus, while pricier, it is a phenomenal choice! Grab this offer here:
CyberGhost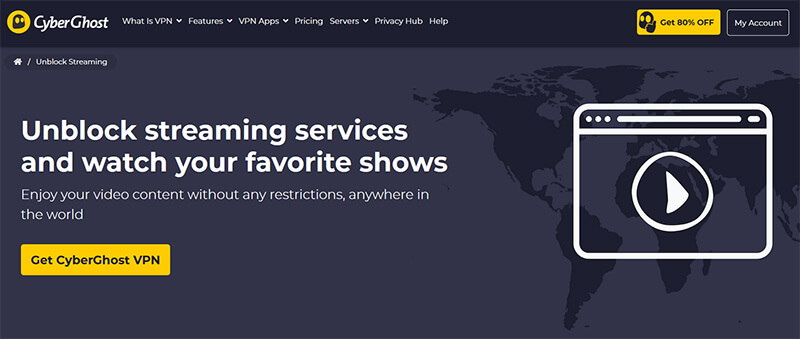 As our second option for unblocking US Television in France comes CyberGhost. It is a provider that probably offers the best compatibility out of all. We were pleased to notice that you can install it on several devices. This includes Android, macOS, iOS, Windows, Linux, gaming consoles, smart TVs, routers as well as different browsers, including TOR.
Thus, apart from ensuring great anonymity and 256-bit AES encryption, you are sure to get the ability to watch your favorite content from France.
This virtual private network has more than 7,000 servers. So we are sure you will not encounter a single issue in finding the best location to stream from. Many of these servers are set inside the US, so you will have no problems.
Much like NordVPN, the price of this service is quite affordable and costs less than $3 for a 3-year plan. Thus, for anyone who is budget-sensitive, CyberGhost stands as a superb choice.
NordVPN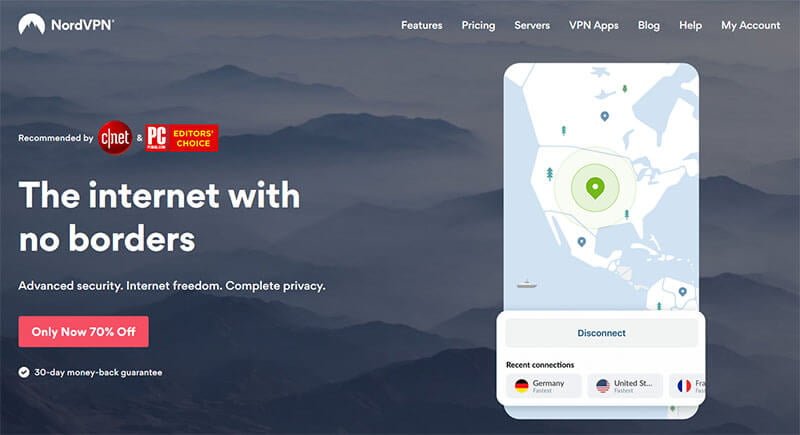 And finally, there is NordVPN, which has been one of the leaders for the past couple of years. What you are looking at is more than a hundred servers set in the US alone. The total number is above 5,500 which cover 58 different countries.
It operates from Panama, which is a good thing, given the privacy-friendly jurisdiction of this country. If you want to watch American TV channels from France, the best VPNs for streaming will help you with that.
Talking about the ability to unblock streaming content, NordVPN is set as one of the most effective option. This is because it gives you access to over 150 streaming platforms. This, and that it is simple to install and has a user-friendly interface makes it a worthy choice!
Wrap Up
It all comes down to your budget, as well as your personal preference when it comes to server locations.
However, all three, including ExpressVPN, CyberGhost, and NordVPN, do offer an effective unblocking ability, and are sure to make your trip to France more enjoyable… with all your favorite channels (ESPN, Netflix, ABC…)!