When it comes to Virtual Private Networks, one would think that you are best off subscribing to a service that comes with an antivirus program built-in. However, installing a VPN that comes from a malware-protection provider is not always the best choice. While Avast SecureLine is quite popular and is considered to be innovative in a couple of aspects, we wouldn't say it is the best choice. Why? That is something we will discuss down below, along with the presentation of a couple of great alternatives to Avast Secure Line. Let's get to it!
What Is Avast SecureLine VPN?
As you probably know, SecureLine VPN was developed by the same company that operates the popular antivirus program, Avast. Since 2014, this VPN has stood as one of the most discussed services on the market.
The provider is situated in Prague, which is seemingly a good location, given the fact that the Czech Republic is not a part of the 5/9/14-Eyes alliances. Also, this VPN is highlighted by superb 256-bit AES encryption. It also has a set of tunneling protocols that are considered to be reliable and offer great device compatibility (OpenVPN, IPSec).
Talking about overall usability, you can use this VPN on 5 different devices at a time. This includes PC, Mac, iPhone, iPad, and different Android devices. Unfortunately, it is not compatible with TOR, which would offer you added anonymity.
While featuring a limited server park, which we will discuss down below, it does offer reliable performance in the EU. Thus, it will allow you to gamble on your favorite betting site by connecting to some of the relevant locations (in the UK, Germany, etc.).
Overall, this is a VPN service that has some potential, but it can't really be compared to leading names for a couple of reasons.
Downsides of Avast SecureLine VPN
It is a fact that Avast SecureLine VPN is a provider that you can trust when it comes to usability and customer experience (effective support).
Still, that doesn't mean that we should let a couple of critical cons be left undiscussed. Lets see what are the downsides of Avast SecureLine before talking about the best alternatives to it.
Not Compatible with Routers
While we agree that this might not be a deal-breaker for most users, it would still be much better if routers were compatible with Avast SecureLine VPN. This is true for a couple of reasons.
Firstly, you would be able to connect and protect all the devices in your house, including consoles, smart TVs, and phones through a single router. Additionally, this type of compatibility would ensure extra protection.
Not only this, but the fact that Avast SecureLine VPN doesn't work with TOR puts the ability of this service to protect you in question.
Can't Unblock Netflix
Among the most common reasons that people subscribe to a VPN is to enjoy unlimited access to streaming platforms and their favorite shows. With this provider, that is not something you will get to experience.
While popular VPNs (which are obviously very good alternatives), such as NordVPN, claim to unblock up to 150 different streaming sites, Avast SecureLine VPN has huge issues with bypassing common platform restrictions.
We tested this with Netflix and encountered a streaming error from both the US and EU servers.
Thus, if you were hoping to enjoy your favorite TV shows and channels across the globe, you will need to look elsewhere.
Limited Server Park
We always emphasize the importance of a sizable server park. Firstly, this offers you more options when it comes to connecting in the same country from different locations.
Additionally, a VPN that offers thousands of different servers is more likely to unblock content in countries such as China, UAE, Russia, and Saudi Arabia. However, Avast SecureLine VPN offers a vague list of servers that cover only 34 countries.
Looking at what they have to offer, it all comes down to 55 servers in total, which is incredibly low compared to most leading names and the best alternatives listed below. The main issue that we have with this is that there are just two servers in the UK, and the same goes for Russia, Germany, Spain, and Canada.
From what it seems, they offer the best selection of locations in the US, but as we tested them, we found that 50% of them aren't up most of the time.
Also, if you were hoping to unblock the Great Chinese Firewall using Avast SecureLine, you should set your expectations quite low. This is not only because it doesn't feature a reliable Hong Kong server, but also because it lacks stealth mode.
Czech Jurisdiction
While the CZR jurisdiction is something that you shouldn't be worried about, it is not the most ideal solution, either.
Thus, while this country is not a part of any data retention alliances, including the 5/9/14-Eyes, it does cooperate with these countries. This means that there is a chance some of the logged info may be handed over to the authorities in the UK, US, Germany, etc.
Our Favorite Alternatives to Avast SecureLine
Dealing with the aforementioned disadvantages of Avast SecureLine VPN can be quite troublesome. That is why we did our best to find a couple of relevant alternatives that you will be comfortable with.
ExpressVPN
Standing as one of the fastest VPNs on the market, ExpressVPN is a provider that you can trust and the best alternative to Avast SecureLine. This is not only due to its strict no-log policy but also because of the vast server park that ensures global unblocking ability.
It works in countries like China, Saudi Arabia, and Russia, which is a huge plus. It comes at a higher price, but this is justified by splendid overall performance, stability, and customer service that you can rely on.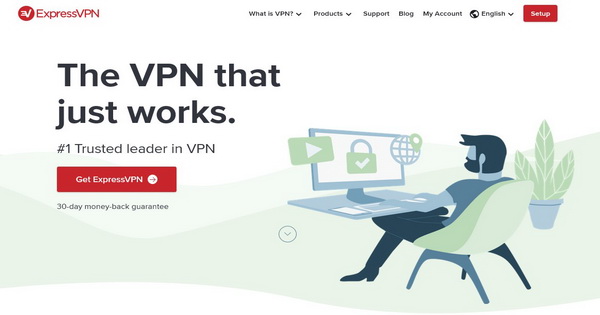 Why Choose This VPN Over Avast SecureLine VPN?
The British Virgin Islands headquarters location is much better than the Czech Republic, as it is based outside of the 5/9/14-eyes alliance. Also, when it comes to speed, ExpressVPN does a great job.
We experienced just a slight drop in both download and upload speed when connected to US and UK servers.
For us, it's a great VPN in Australia, as well. We had a ping of 180ms and a decrease in speed for download and upload of just 15% (while being in the US).
Why Is ExpressVPN Better Than Avast SecureLine VPN?
The fact that you can unblock censored content in mainland China is what makes ExpressVPN one of the most reliable providers on the market but also the best alternative to Avast VPN.
Get a subscription at ExpressVPN.com >
NordVPN
As one of the leading names in the industry, NordVPN offers over 5,500 different servers in more than 50 countries. Additionally, because it is Panama-based, there is nothing to worry about in terms of your privacy.
There is a myriad of reasons why this provider has been at the top of the list for years. It offers optimal security, reliable server performance, and effective customer service.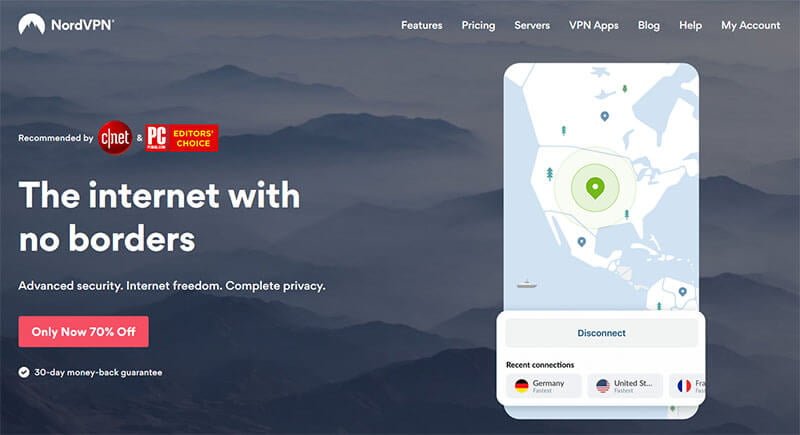 Why Choose This VPN Over Avast SecureLine VPN?
Looking at the flaws mentioned above with SecureLine, we can say with confidence that NordVPN has all of those taken care of.
Firstly, you will not have any issues trying to unblock streaming platforms, as this VPN does a great job with more than 150 sites worldwide.
Why Is NordVPN Better Than Avast SecureLine VPN?
As mentioned above, Avast SecureLine VPN is not the best option if you want to stay anonymous. On the other hand, NordVPN ensures that you are completely protected with a couple of instruments. These include CyberSec and a kill switch.
Additionally, with its no-log policy and jurisdiction outside of the 5-Eyes alliance, you have nothing to worry about.
Get a subscription at NordVPN.com >
CyberGhost
Our article about the best alternatives to Avast SecureLine wouldn't be any good if we failed to mention CyberGhost. This VPN is considered not only to be the most affordable but also the most user-friendly on the market.
It is based in Romania and features more than 6,000 different servers. This means it has the largest server park of all. CyberGhost can unblock sites all across the globe, whether we are talking about bank accounts or streaming platforms.
While not as fast as ExpressVPN, it is still highlighted by reliable device compatibility and stable connectivity. It is possible to use with Kodi and thus a much better solution than most VPNs.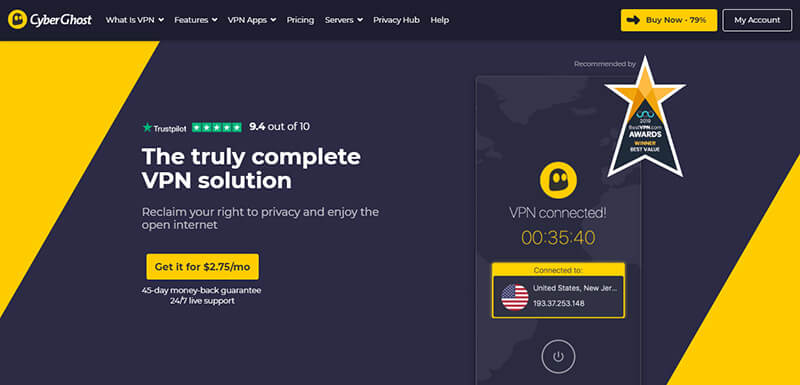 Why Choose This VPN Over Avast SecureLine VPN?
First and foremost, it comes at a great price and offers a 24 hour free trial. Not only that, but there is a 45-day refund policy for the subscription options of one year and above.
Why Is CyberGhost Better Than Avast SecureLine VPN?
We would say because of its excellent connectivity, pricing options, and ability to unblock content in countries known to be extremely restrictive. Except for China unfortunately.
Get a subscription at CyberGhost.com >
The Best Free Alternative to Avast SecureLine
When it comes to Virtual Private Networks that offer free services, most aren't reliable or privacy-friendly. However, Windscribe seems to do a good job of providing fair performance and proper security.
Windscribe
Situated in Canada, this provider comes with both a free and a paid plan. While Avast SecureLine VPN offers a 7-day free trial, this provider offers a full service that has just a couple of limitations.
You can't exceed 10GB of data transfer per month or connect from more than 14 locations with the free plan. However, this is still good given the fact you won't be paying anything.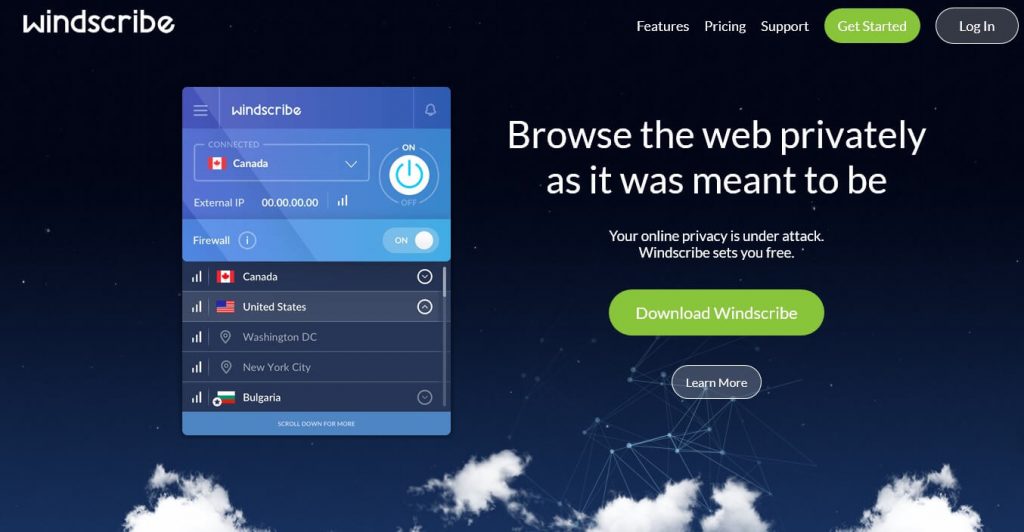 Why Choose This VPN Over Avast SecureLine VPN?
We love Windscribe for the fact that you will be able to unblock some popular streaming services, many of which are not available with Avast SecureLine.
Why Is Windscribe Better Than Avast SecureLine VPN?
Also, while its Canadian jurisdiction is not the best, the fact that it features a strict no-log policy leads us to trust Windscribe more than Avast SecureLine VPN.
Wrap Up
In the end, it all comes down to what you are looking to get out of a VPN. While subscribing to Avast SecureLine VPN may seem reliable, you won't get the best protection or utmost anonymity.
That is why we suggest ExpressVPN, NordVPN, and CyberGhost as three reliable alternatives to provide you stress-free and user-friendly performance!