Maybe you are a free spirit and like to travel a lot, or maybe you are simply a resident of the Philippines but a fan of US TV shows and movies. Either way, you cannot access the streaming platforms due to geo-restrictions. Catching up with that TV show or series might seem impossible, but do not worry!
In this article, we are going to help you watch your preferred streaming platforms and US television for free while in the Philippines.
Why Can't You Watch US TV in the Philippines?
Depending on their policy, certain streaming platforms producing movies or TV shows restrict their viewers to the US only. This can be achieved by the companies using your Internet address, or IP, which reveals your online location.
This IP address gives an approximate location of your device. It is not very exact due to security issues, but it gives a decently accurate location and is able to locate your region with ease.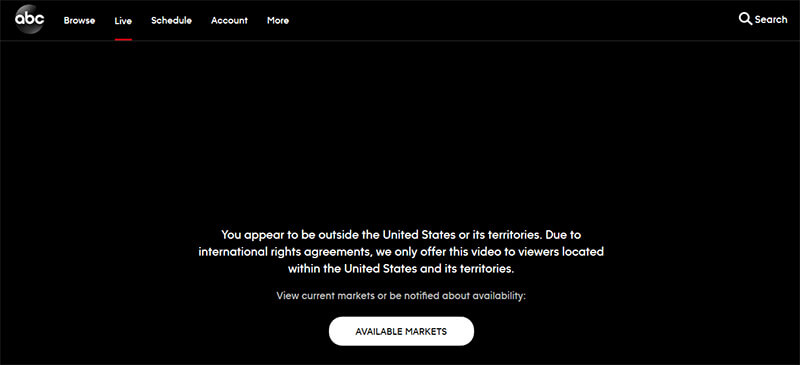 The restrictions started to be implemented because of the different laws and regulations in different countries. American TV broadcasts and channels are obliged to pay a lot of money acquiring licenses to stream their productions in some countries. Therefore, the Philippines might not be among their audience.
Which is why geo-restriction remains a problem though, but do not worry. You can still bypass them, allowing you to watch your favorite shows and movies easily.
Solution – How a VPN Works
What is a VPN, you might ask? VPN stands for Virtual Private Network. It is a service that provides a way of connecting to a different network.
The service allows you to connect to websites or platforms that are restricted or blocked in any region. A VPN is the best way of browsing the Internet safely since it blocks your true location and hides you from the eyes of undesirable parties.
Get ExpressVPN to bypass geo-restrictions >
The software does this by changing your location given by the Internet address that we talked about earlier, also known as your IP. Using a VPN helps you change your location to any country or region you choose, be it the United States or the Philippines. The chosen location is up to you.
By doing so, you can access restricted content available only in that region. The website you are accessing is able to read the location of the IP address and either allow you or not to continue browsing the said website.
Setting the VPN for a United States address, for instance, will allow you to access Netflix or other TV Channel platforms even though you're physically in the Philippines. This will let you enjoy your favorite shows and movies for free.
How To Use a VPN to Watch US Television Live?
Using a virtual private network is actually really simple. Here's how you do it:
Choose a VPN service that suits you and sign up for a subscription
Download the app or extension to your device
Log into the service using your login details
Open the server list in the app or extension and connect to a US-based server
Visit the site of your favorite US TV shows and enjoy!
There you have it. As easy as 1-2-3 😉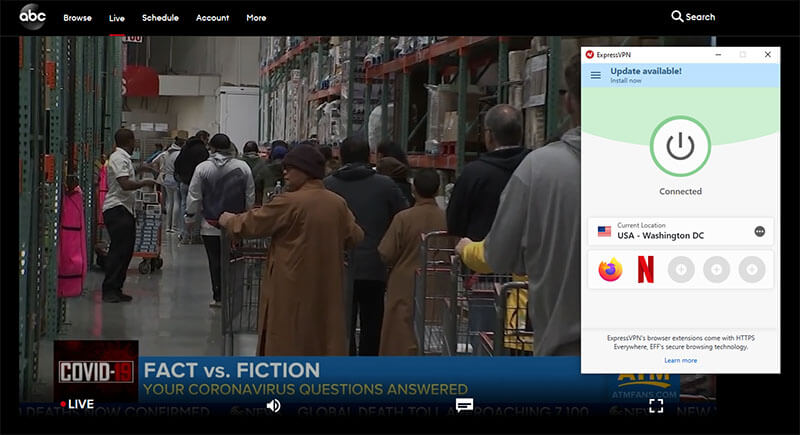 Best VPNs to Watch US TV in the Philippines
The Internet is filled with options when it comes to choosing a VPN. We did the hard work and chose three of the best VPNs that can be used to browse the Internet and unblock American Televisions.
These options have plenty of features and offer the best security for your private information. You can find the list of these three below with a quick review for each one of them.
1. ExpressVPN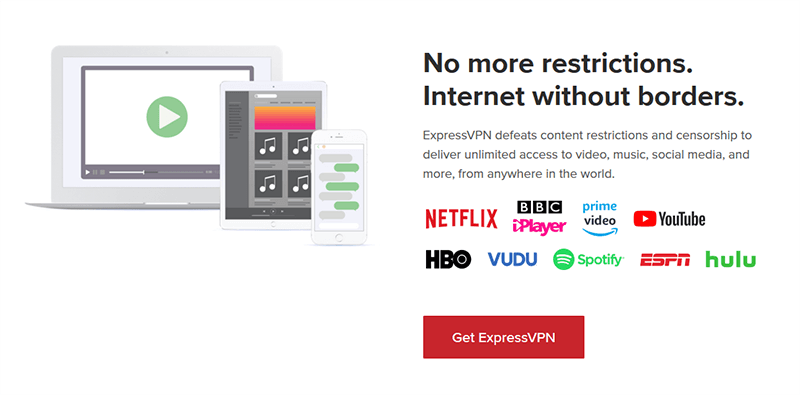 Being able to stream a US TV series in the Philippines could not get any easier using this VPN. ExpressVPN has a vast number of servers all over the world, with a little over 3,000 and counting. The service provides many benefits compared to other providers.
The creators of ExpressVPN managed to build a strong and reliable software that is both extremely fast and outstandingly secure. The multi-platform compatibility is very impressive, and it allows you to use up to three connections at one time.
ExpressVPN offers a considerably better speed when it comes to its competitors, and this is reflected in the price of the software. If you are looking for High-Definition content, this software is the best choice. There are no loading or buffering times, and you will get your money back through pure entertainment.
Based in the British Virgin Islands, ExpressVPN offers a friendly and easy-to-use service, as well as a professional and private service. Just like NordVPN, it offers a no-log policy, as well as amazing tunneling protocols and encryption.
If money is not a problem for you and it fits your budget, ExpressVPN is your best bet to watch US TV live while in the Philippines.
It will keep your data secure and allow you to stream your favorite online platform, be it Hulu, Netflix, or classical American TV shows. Plus, with this VPN, you don't miss any Formula 1 race no matter where you are!
2. NordVPN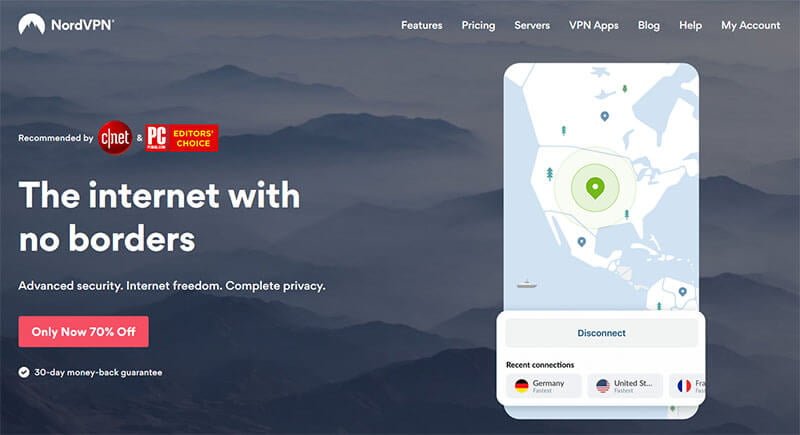 Based in Panama, NordVPN delivers a highly secure and great connection. Users can take advantage of the no-log policy, making it one of the most reliable providers available. Watching your favorite US TV channels in the Philippines will be very easy and offers an outstanding solution to geo-location problems.
The team behind NordVPN updates the software constantly with new technologies and features. This allows you to keep your personal data safe and private while streaming US television with ease in the Philippines. The prices are affordable, and the quality of this service is high.
It is also cheaper than the competitor mentioned above, and it still offers mostly the same features and quirks as ExpressVPN. NordVPN makes use of more than 5,500 servers worldwide, and they are mostly based in the United States. This makes it a perfect fit for streaming American TV channels.
If you are keen to check out more about NordVPN, click below:
3. CyberGhost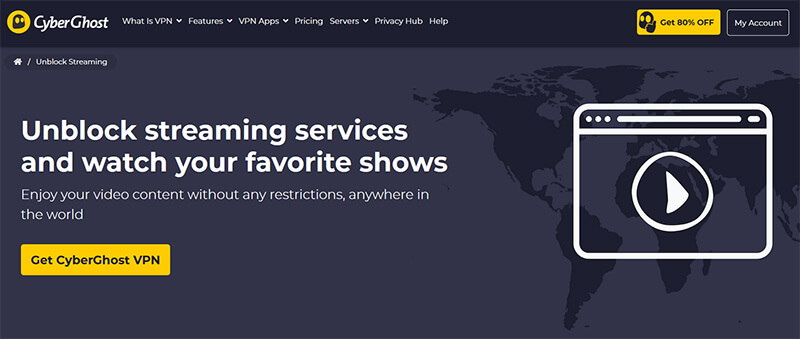 The last option when it comes to VPNs is CyberGhost. This service offers an excellent platform to work with, that is compatible with all your devices. It delivers amazing features at a low price when compared to its competitors.
With a robust connection, it is strong, but compared to NordVPN or ExpressVPN, for instance, it is not as fast. This makes it harder to stream very demanding streams in regards to quality.
This service offers the most servers to connect to, with more than 6,000 servers all over the world, with plenty in the US. This boosts the importance of CyberGhost for Philippine users. The security is high-end, as the team makes constant improvements and updates regarding the safety of your personal data.
Wrap Up
When it comes to watching your favorite US streaming platforms in the Philippines or other regions, using a VPN is the way to go. Being able to go past the geo-restrictions with a few clicks is outstanding.
You will be able to watch American TV channels, streaming platforms, or anything else without risking any of your personal data. If we had to pick a favorite from the VPNs mentioned above, it would be ExpressVPN.
Additionally, if you're a Champions League enthusiast, you can check this trick to watch it for free.