Portugal is well-known for its superb beaches, spectacular landscapes, historic cities and great cuisine. While it does have a lot to offer that attracts millions of people each year, one thing it does not have is access to British TV Channels. If you are visiting the country or relocating abroad, you will miss your favourite programs. However, there is a way to get around the restrictions. We know a trick to unblock and watch UK Television live in Portugal and it has been tested in 2021.
So, what is the trick I hear you asking? Well, it is to use a VPN to mask your IP address in Portugal and take one on from the United Kingdom. We are going to explain everything you need to know to make use of the trick and get access to UK TV abroad.
How TV channels from the United Kingdom are blocked?
Streaming sites such as ITV Hub, 5OD, All 4 and BBC iPlayer are blocked due to programs shown on the channels only being licensed for showing within the United Kingdom.
The device you use to connect to the internet to stream uses an IP address. This is given based on the country in which you are located.
If the IP address does not fall within the range for the United Kingdom, the streaming service blocks access and you cannot watch any show.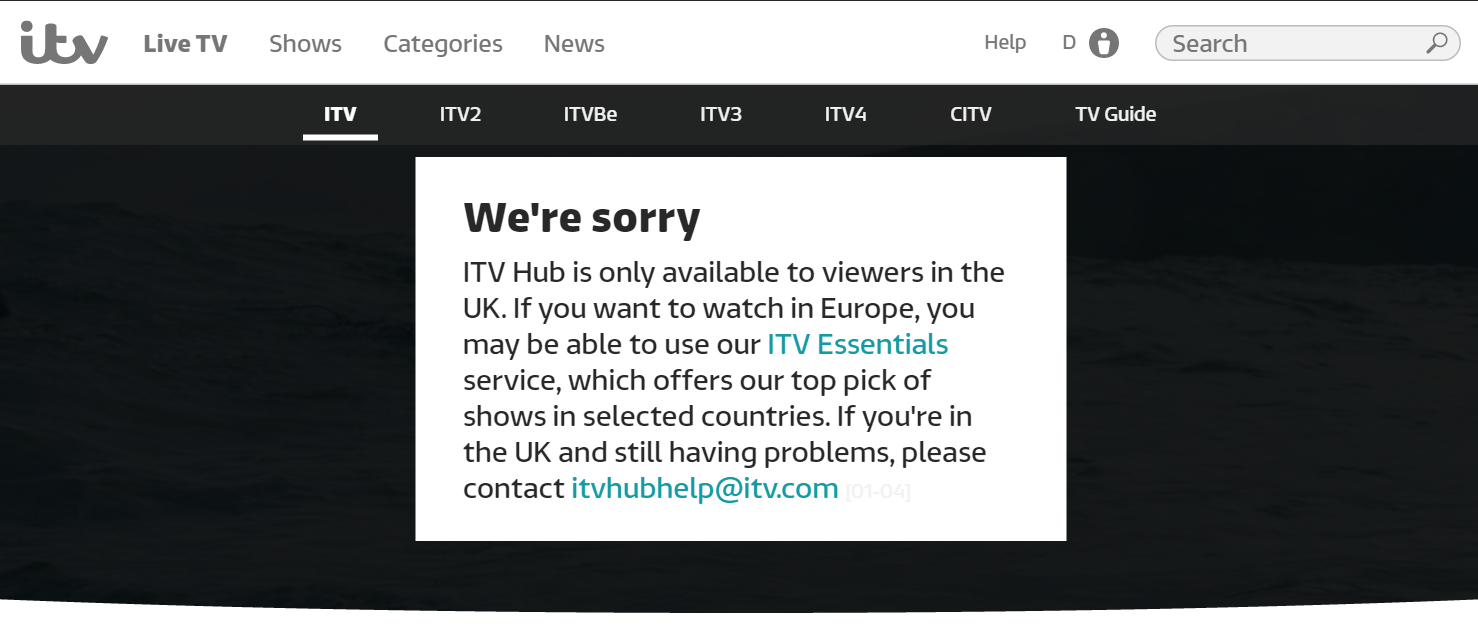 The only way to get around the blocks is to change your IP address so it looks as though you are still in the UK and you can do this with a VPN.
Unblock British TV with ExpressVPN >
Steps to unblock and watch British TV in Portugal
Here we provide you with the steps required to sign up with a VPN provider and get an IP address located in the United Kingdom.
Choose a provider;
Decide which plan;
Download and install apps;
Launch the app and sign in;
Choose a server from the UK;
Connect and visit streaming websites.
Which VPN provider to choose?
The first step is to choose a provider out of the huge range out there. While there is a wide choice, they are not all of the same quality or able to unblock geo-restrictions.
The top three providers are ExpressVPN, NordVPN and CyberGhost. We recommend these three as they offer a choice of UK servers and good encryption.
ExpressVPN, in particular, is one of the best as it works extremely well to unblock and stream live TV from the UK while in Portugal, or any other country. Another advantage is that no logs are stored on their servers so you remain anonymous.
Decide on a plan
VPN providers offer a range of plans. The longer you commit to the plan the more savings you make.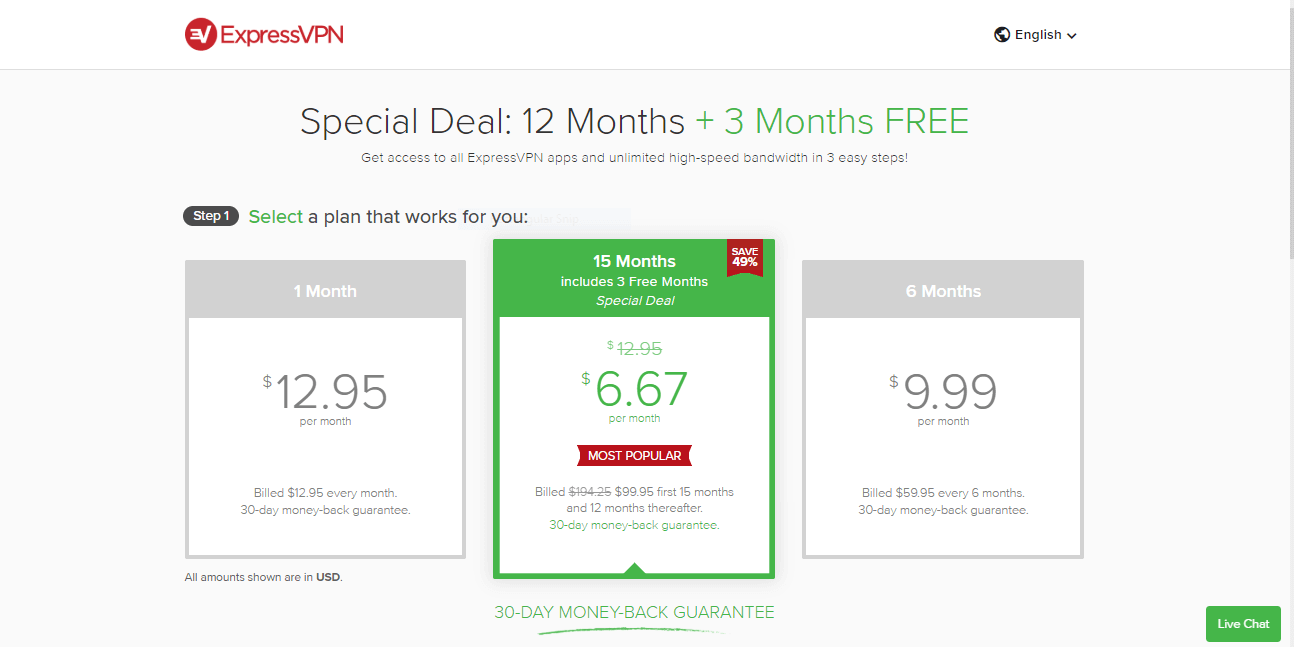 49% savings are made if you choose to sign up for the year with ExpressVPN and the provider offers three free months.
Pick your device and install the app
When you have signed up choose apps for devices. Common devices are Windows and macOS computers and laptops along with iOS tablets and smartphones. This tip also apply for Android users so you can stream on your smartphone or tablet.
Providers also support router installation so you can use your VPN on gaming consoles, Smart TVs and others.
Connect to a UK server
After installation, launch the app. You should see a dashboard. Here you can choose a server located in the United Kingdom and connect to it. This is important if you want to watch British television abroad.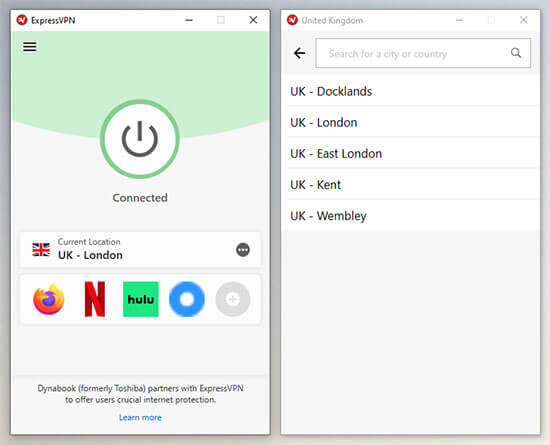 Once connected you have an IP address in that country and it looks as though that is where you are located so you avoid the geo-restrictions. You can now access free UK TV channels while in Portugal 😉
Other VPN uses
Along with a VPN being the best way to unblock and watch British TV live in Portugal, it also has many other uses. You can use it to get access to any blocked site if you travel to a country such as China.
With military-grade encryption, your personal information remains your own. This keeps it safe from hackers and anyone else who might be looking.
You can use free WiFi hotspots while out and no one can find your true location or read your data online. You can keep your online activity private thanks to the anonymity of a VPN.
This is also essential if you like to torrent. Your ISP will have no idea what you download so you can avoid DMCA notices if you download copyrighted content (when talking about DMCA, it's obviously if you are located in the US).
A VPN can also be used to beat censorship if you decide to visit countries with high internet censorship.
Finally, you can even save money on flights and hotel rooms on comparison websites. You can do this by choosing a server in a country with a lower cost of living than your own.
To summarise
It is easy to take advantage of all of the benefits offered by a VPN. This includes being able to access free (but also paid) British TV channels while in Portugal.
Access UK TV in Portugal with ExpressVPN >
Choose a provider, for example, ExpressVPN, NordVPN or CyberGhost. Sign up for a plan with the provider, download an app, launch it and sign in then connect to a UK server.
This is our trick to unblock and watch British TV in Portugal along with any other streaming service, such as Netflix, Amazon Prime Video and many more.