Following the footsteps of Bitdefender and Avast, Avira decided to launch its own Virtual Private Network. Avira Phantom VPN, at first, sounds quite powerful. Just imagine being a phantom on the internet and enjoying privacy and security during all your time online. As much as it sounds good, it is mostly a free provider, making it a bit hard to believe that fairytale. Today, we're going to review Avira Phantom VPN and see if it separates from the pack in any way. Stay tuned!
What is Avira Phantom VPN?
When talking about antivirus software, Avira surely made its name well-known and resounding. We don't know if it's us, but it seems like there's a trend going on. Bitdefender, Avast, Malwarebytes, and now Avira – all of these companies have VPNs that promise the same – impeccable safety and security.
The main problem with Avira Phantom VPN, for us, is the fact that it's from Germany. While it's a free country in terms of internet access, it's not the best place for enjoying privacy. Countries from the 14 Eyes are all but privacy-respecting.
Avira Phantom VPN is definitely an interesting provider to review. As it's not the cheapest out there (premium version), it probably tries to get extra money due to its popular antivirus software. Is it as good as Avira Antivirus, though? Well, let's find that out in our comprehensive review.
Compatible Devices and Ease of Use
Starting with the basics, we need to talk about the devices first. So far, these antivirus-based VPNs haven't been very impressive. To be brutally honest, they've been garbage time and time again, offering very limited device compatibility.
Avira is, unfortunately, exactly the same. With only a few basic platforms supported, we can't say we're impressed: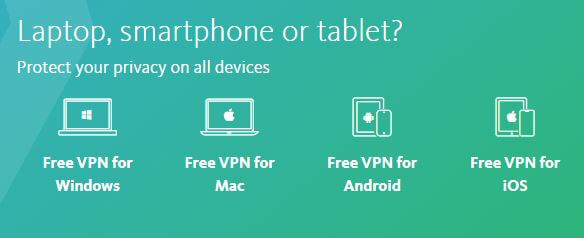 The good thing is that it's free and the bad thing is that even its premium subscription won't support more devices. To caption the image, Avira Phantom VPN supports Windows, Mac, Android, and iOS. If you think that this is enough, we don't blame you.
Our criteria are very high and we like it when a provider supports routers, as well. If that's what you want, too, the best provider for routers is ExpressVPN, so check it out.
Computers
Avira was primarily software for computers. Back in the days when antivirus software saw its expansion, Avira was among the top contenders for Windows. Windows is also our platform of choice, on which we're going to test this VPN out and see how easy it is to use.
When you run the setup file, you'll get this screen: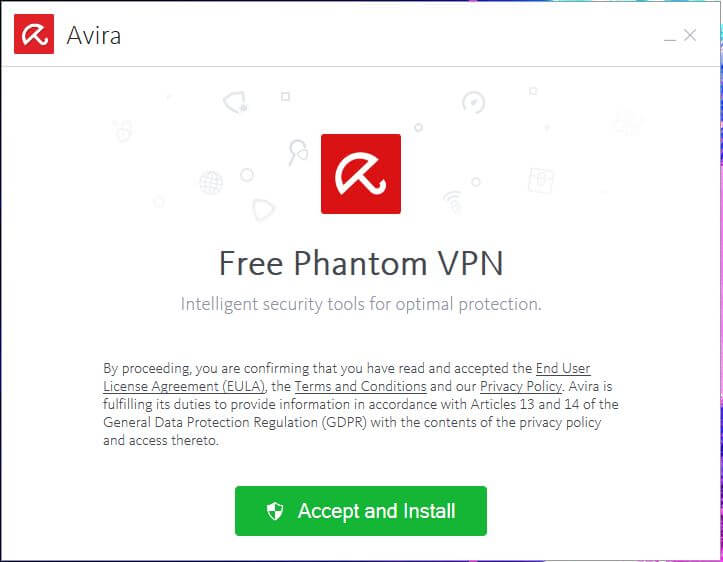 No settings, no tweaks, nothing. Just click the green button at the bottom of the screen and the installation process will begin.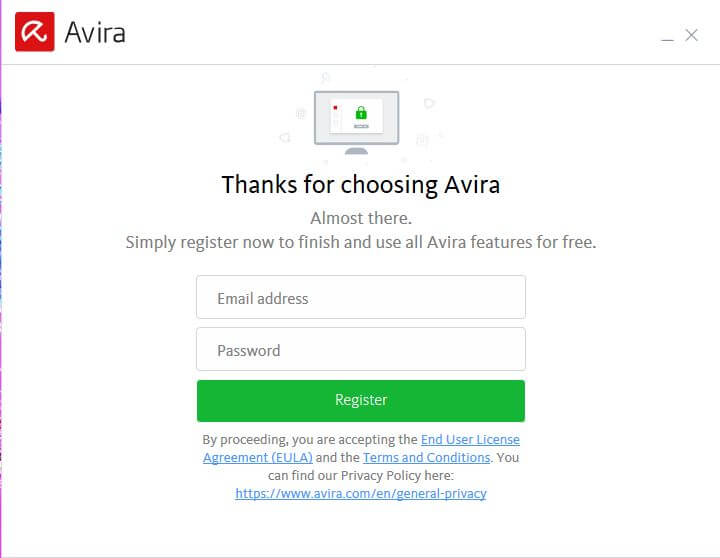 When it's complete, you need to register using your email and password. After that, just go to your email, verify your account, and you're good to go.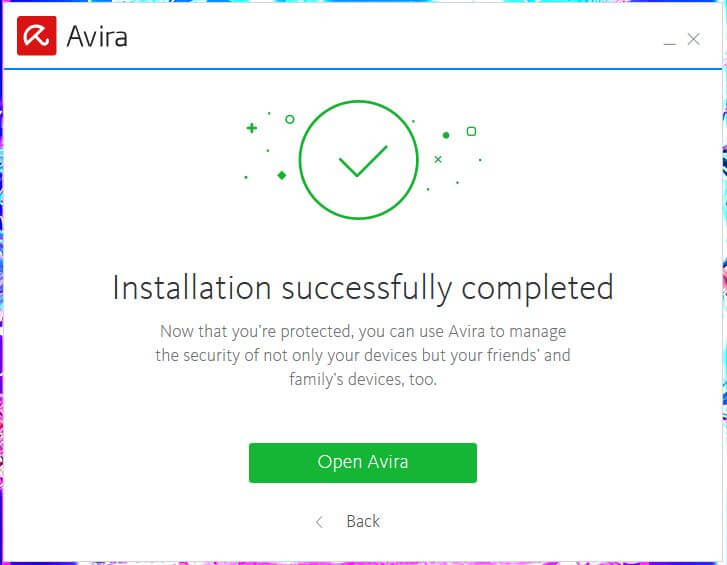 Click Open Avira and the app will open immediately.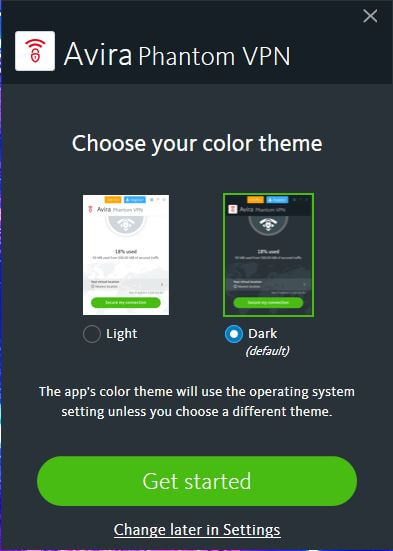 Choose the theme you want to use (Light or Dark) and click on Get Started. Of course, we went dark – some trends are simply too good, such as this one!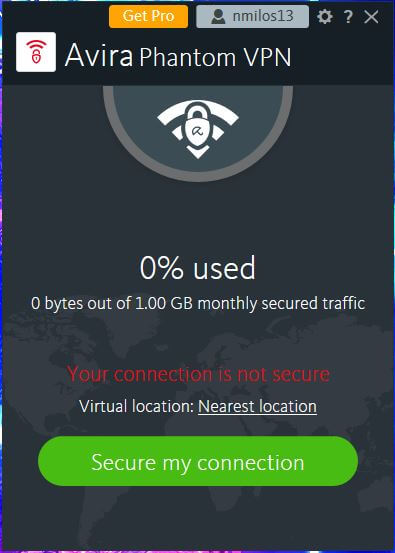 The app looks like this, quite simplistic, huh? Well, it certainly is, and if you ask us, maybe a bit too much. More on that later in our review of Avira Phantom VPN. To open the server list, you need to click on the settings button, right next to the question mark above.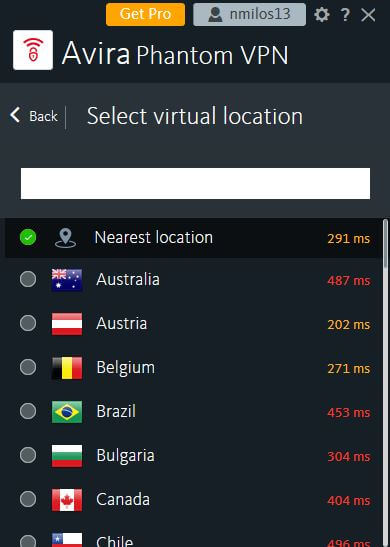 Click on the server you want, use the connection button, and the connection will be established in a few seconds.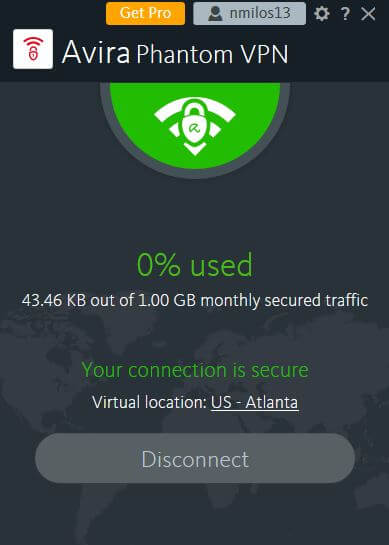 We connected to the US server and started testing out the VPN further. All in all, the app is easy to use and even easier to install. Just a few simple clicks here and there and off you go.
Smartphones and Tablets
Now, it's time to see what our smartphone and tablet will say to Avira Phantom VPN. The provider is available for both iOS and Android, making sure that both sides of the spectrum can enjoy it. We use an Android device for testing, so we'll show you some screenshots from that platform. Rest assured, both apps are virtually the same.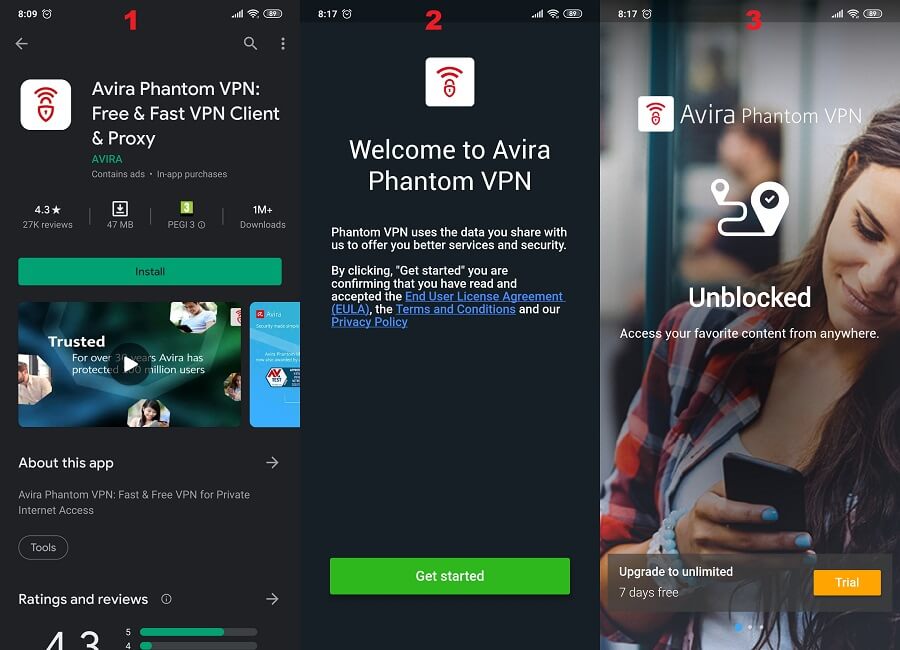 Image 1 shows how the app looks on the Google Play Store. It's quite well received, with 4.3 stars in rating, as well as 1 million downloads. Tap Install, and when that finishes, you can open the app. The initial screen shown in image 2 lets you read its privacy policy, terms and conditions, and so forth.
If you want to read it, read it, if not, tap Get Started. Avira Phantom VPN pulls a trick that we hate the most and it happens in step 3 (image 3). When you click Trial, it requests your credit card, and believe us – even when writing this now, we feel so infuriated.
Luckily, we managed to cancel the subscription successfully, making sure that Avira doesn't take our money in vain.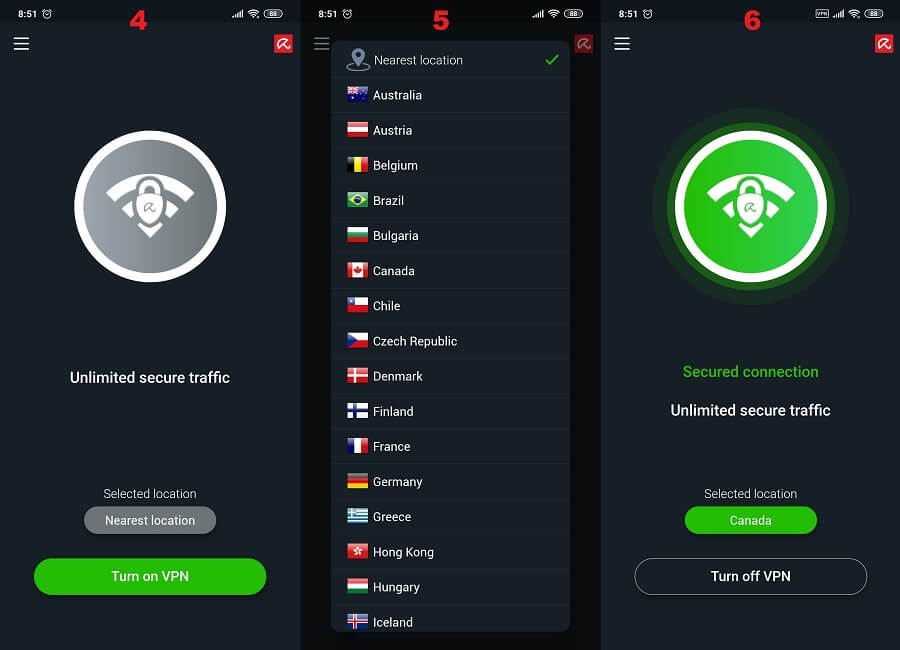 Here's how the app looks – image 4. To open the server list in image 5, click on three horizontal lines in the top-left corner, and then Change Location. Tap on the one you want and choose Turn On VPN. The connection will be established, as seen in image 6.
In short, the app is easy to use and install, with the only complaint being about this credit card thing… we better not mention it again.
Other Devices
If you came here expecting a whole lot of devices, you're going to be disappointed like a friend-zoned guy after asking the girl out for 75th time. Avira Phantom VPN is truly a bare-bones product in terms of device support, so don't have your expectations up in the sky.
You only get Windows, Mac, iOS, and Android as we said earlier in our Avira Phantom VPN review – that's all, buddy!
How Fast is Avira Phantom VPN? We Checked Its Speed!
Being a free provider, Avira Phantom VPN isn't exactly the fastest provider by default. Do you know a free provider that can beat ExpressVPN and NordVPN? If so, we'll place it on the first spot in our top-ten list. No? Okay, you can pretty much guess the outcome of this test even before we do it.
Before we start with the test, it's important to mention that all providers reduce your native internet speed to some extent. Some do it by 10%, while others go up to 80% or even 90% if it's a really bad provider.
Since the speed depends on many factors that are volatile, we need to specify how we did our testing. We did 3 tests in the morning, 3 in the mid-day, and 3 in the evening, for 3 different locations. Also, we kept the best score and used the best location when it was possible.
Our physical location is in the United States (non-VPN test) and we used these 3 locations for testing:
The United States
The United Kingdom
Australia
Without using a Virtual Private Network, our native internet speeds are:
Ping: 11 ms
Download Speed: 211.88 Mb/s
Upload Speed: 202.20 Mb/s
Now, when using Avira Phantom VPN for this in-depth review, our ping, download, and upload speeds respectively, for 3 testing locations, were:
US Server: 86 ms / 78.25 Mbps / 89.63 Mbps

UK Server: 174 ms / 36.12 Mbps / 47.09 Mbps

Australian Server: 377 ms / 20.36 Mbps / 4.95 Mbps

Did you compare these speeds with our native speeds? The gap is pretty damn BIG. It's like Brooklyn Bridge or whatever. While the US server was serviceable, it's still quite a big reduction. From 200+ Mbps to ~90 Mbps – that's simply too much.
Not to mention the UK server and the Australian one, with absurdly high pings. Our browsing experience with them was a chore, as we struggled to even enjoy some HD videos on YouTube. Avira Phantom VPN is all but a fast provider – it is, in fact, among the slowest we tested to date.
How Good is Avira Phantom VPN for Streaming?
If you want to enjoy streaming with a Virtual Private Network, this service needs to fulfill two main conditions. It needs to have fast speeds and the ability to unblock the majority of popular streaming platforms. Sure, unblocking porn is a thing you can do always, but streaming shows and movies is another thing.
Avira Phantom VPN, as we saw just before in our review, is a very slow provider. Does it unblock major streaming platforms, then? We'll start with Netflix, which by the way, doesn't work.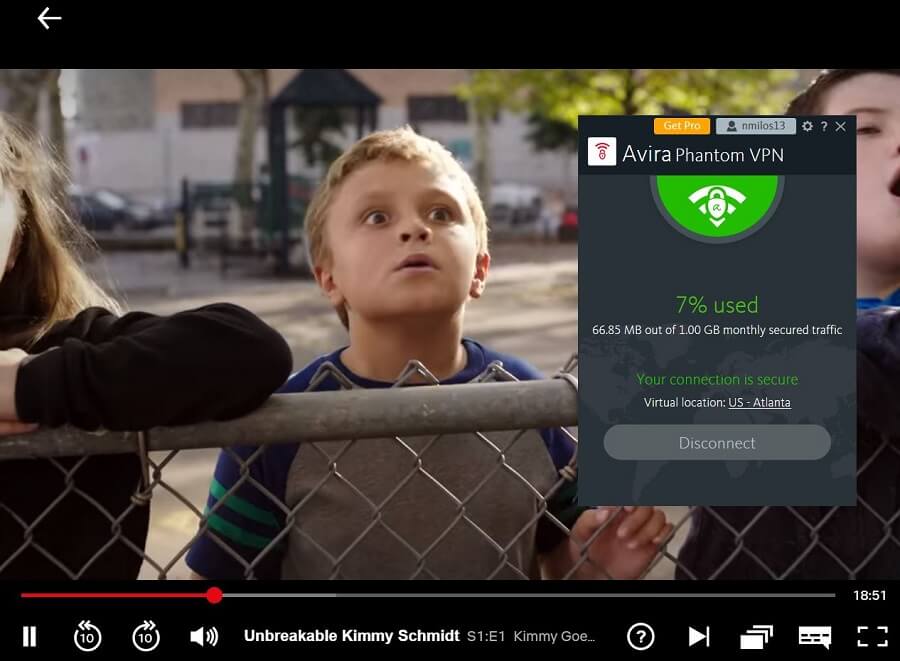 This show is available basically worldwide. Another show, Parks & Recreations, is available only in the US. As you can see, even with our US server, we couldn't find it on Netflix. In other words, it can't unblock Netflix US.
The same can be said for Hulu, a platform that represents pain in the butt for many VPNs out there: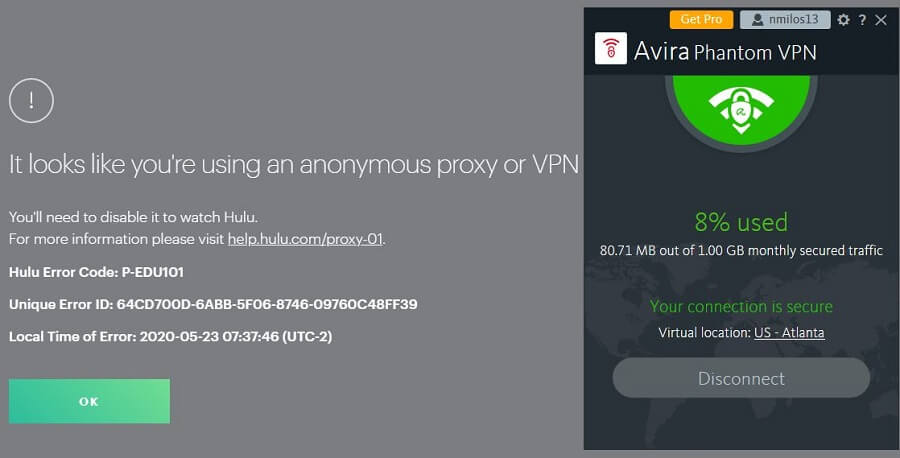 Amazon Prime Video is perhaps the hardest one to unblock, and as we expected, Avira Phantom VPN couldn't unblock it: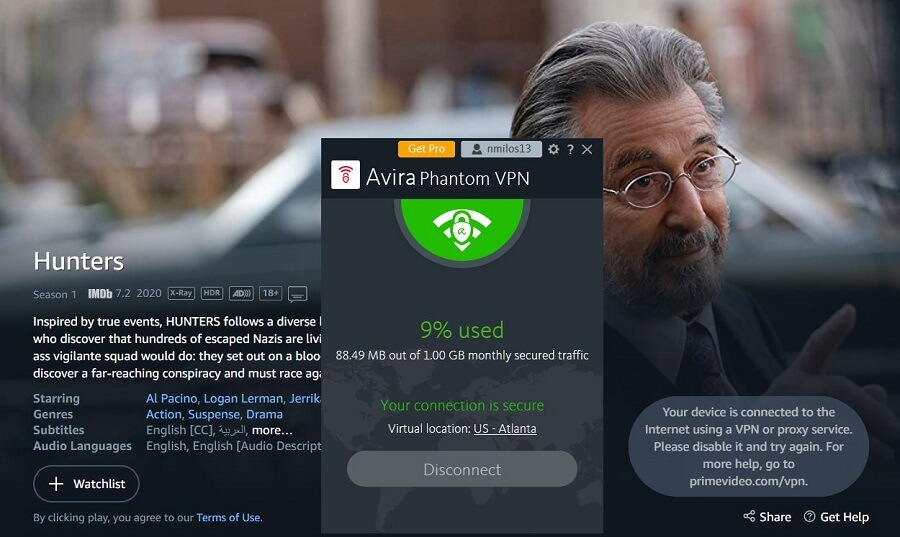 Prime Video detected our VPN use within seconds and locked us out of the website. So far, so BAD. Let's check Disney+ now: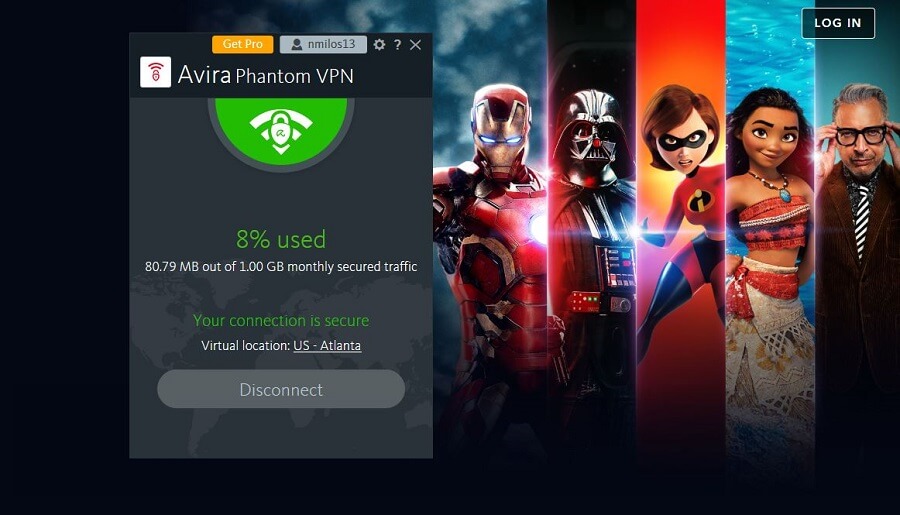 The login button up top didn't work, implying that Disney+ won't be unblocked with this provider anytime soon. What else do we got? Oh, it's HBO GO, which works – thank God!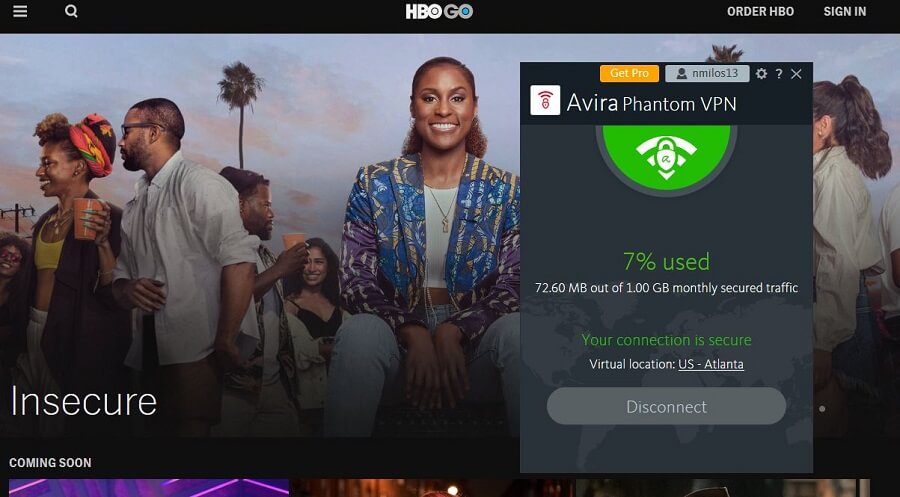 Much to our surprise, DAZN worked just fine, as we were able to access the login screen easily. We wonder if DAZN cut down on its anti-VPN measures these days. CyberGhost couldn't unblock it up until recently, and now, even this provider can do it.
Lastly, BBC iPlayer, a UK magnum opus of streaming platforms, doesn't work: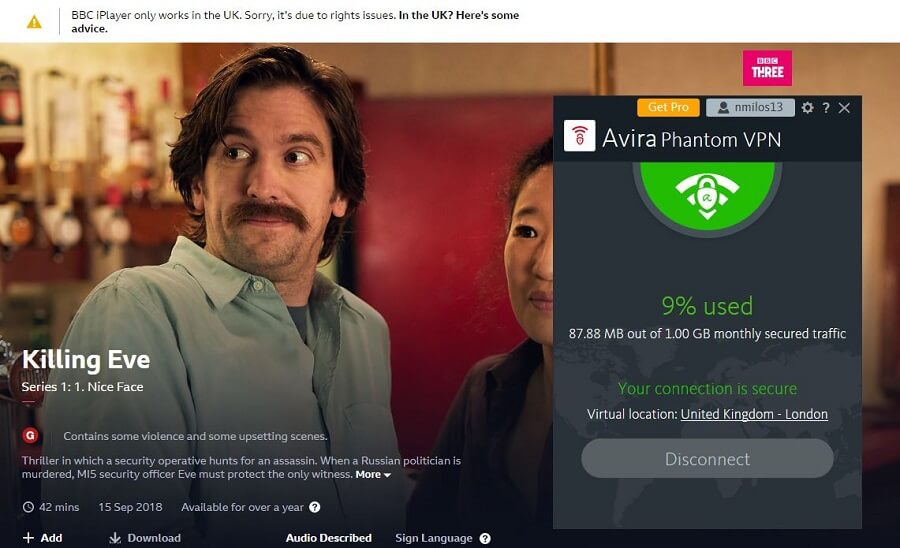 So, how well did Avira Phantom VPN do in regards to streaming? If we count in all the platforms that the provider unblocked, we won't get a high score. We managed to unblock only DAZN and HBO GO. Netflix didn't detect that we're using it, but it wasn't unblocked, either.
Coupled with very slow speeds, the provider is exceptionally bad for streaming. Sorry, Avira – you gotta do a MUCH better job to impress our Monkey!
Confidentiality, Security & Logs
Earlier in the review, we mentioned that Avira Phantom VPN is from Germany. This 14 Eyes country is known for excessive government surveillance that invades your privacy and makes you not very secure online.
For us, the provider's privacy policy is very interesting. It's very short and is mainly focused on mentioning that it doesn't sell your data, and so forth. Take a look: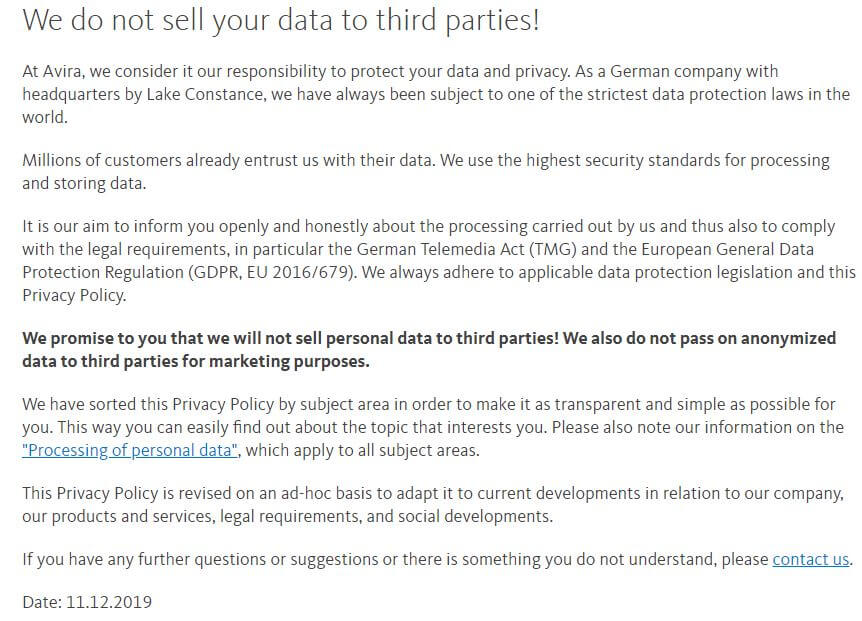 Just look at this caption – " We do not sell your data to third parties!"
The paragraph after that is… well, we don't know how to define it. They mention that the data-protection laws are one of the strictest, but we aren't so sure about that, given that Germany shares data with 13 more countries (14 Eyes).
Basically, the whole privacy policy is about them not selling and giving out your data to third parties. That's really OKAY, but how about you tell us what information you log? IP addresses, DNS queries? Nothing? We can't say immediately that the provider is untrustworthy, but it isn't trustworthy either.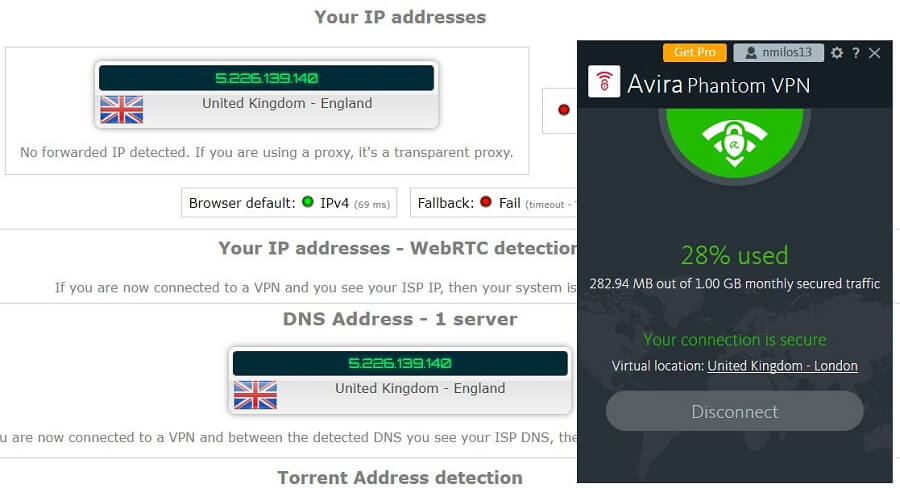 Luckily, the IP leak test didn't show bad results. We tested a couple of servers and our IP and DNS were always obfuscated, as things should be. In terms of other security features, Avira Phantom VPN uses 256-bit AES encryption and in its premium version, has a kill switch.
As a free product, you get nothing else than your basic Virtual Private Network experience.
Can I Do Torrenting Safely With Avira Phantom VPN
Before we answer this question, please go back to the previous section of our Avira Phantom VPN review and read the privacy policy once again. The provider mentions GDPR and TMG – two data-protection authorities. It's similar to DMCA in the USA.
While some providers comply with DMCA to prevent downloading copyrighted content, Avira Phantom VPN is sided with GDPR, but that's nothing better. GDPR plays a crucial role in Europe when it comes to banning torrenting and torrent sites in general.
That means that torrenting with this provider is most likely banned. Furthermore, the provider isn't concise enough and doesn't tell us if it's allowed or not. We tried to download a movie while using it and we succeeded.
We also tested Popcorn Time and it worked. After all, you need a good VPN to use Popcorn Time and watch movies, which this provider isn't.
As Avira complies with GDPR and TMG legislations, we DO NOT recommend using it for torrenting. Better safe than sorry!
Can I Use Avira Phantom VPN to Bypass Censorship?
What about censorship? Germany isn't a country where you'll often be censored. Sure, if you speak badly about the government, you probably would. But, in terms of internet access, this country is free as a bird.
The thing is that people around the world are using Avira Phantom VPN, and people in China, Russia, and the UAE have lots of problems enjoying the internet freely. In China, for example, even basic social media sites, including YouTube, are banned.
This is the next-level censorship that only a quality Virtual Private Network can solve. Unfortunately, our tests showed that Avira Phantom VPN doesn't work in China, due to the Great Firewall of China. Our testers tried it in multiple cities around the country, but with no avail.
Since it can't bypass this firewall, we don't recommend it for bypassing censorship in general. If you're from the UAE, Russia, Iran, or China, avoid the provider at all costs. A much better option in this regard would be ExpressVPN that bypasses censorship easily.
Pricing and Plan Options
Those willing to use free solutions won't care about the pricing and plan options. If that's your case, just go to the next section of our review.
Avira Phantom VPN is indeed a free provider, and although it's limited, its premium package won't bring drastic improvements. This is a review of the free version, but still, we feel obligated to mention the paid version of Avira Phantom VPN as well.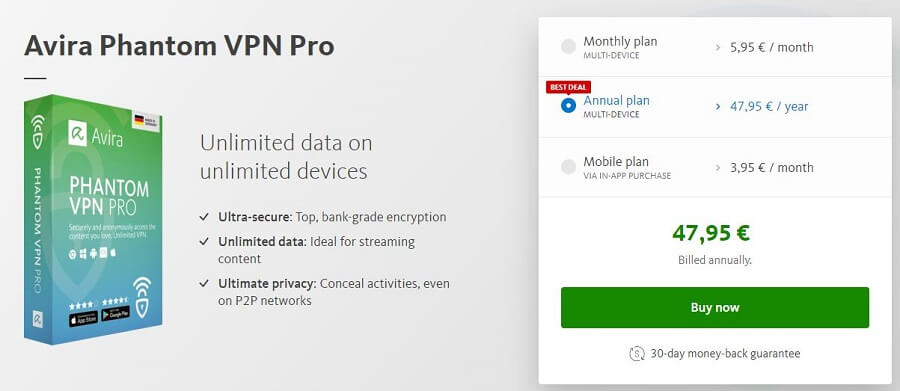 The prices are in Euros, but we'll quickly convert them into dollars. First off, you have 3 separate plans to choose from. One is a monthly plan at around $6.5 a month, the second is the annual plan at $53 a year, and finally, the mobile plan costs $4.3o a month.
For what the provider offers, it's quite expensive. If we take the annual plan into account, it's around $4.4 a month. Arguably, that's not very expensive if the provider is decent. But for something like this, we won't be hell-bent on giving out our money.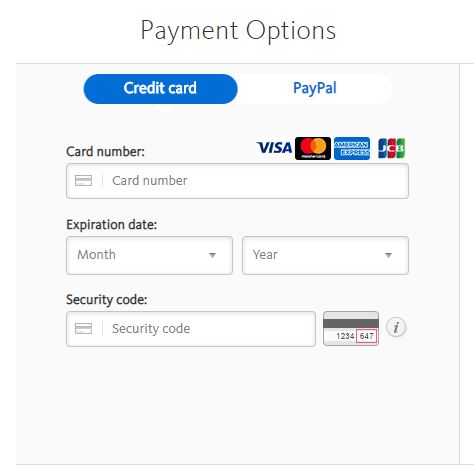 Should you still decide to buy Avira Phantom VPN, here's how you can pay for the services. You can use your credit/debit card or PayPal. And if you don't want to use it anymore, you can request a refund in the first 30 days of your purchase.
To do so, you need to contact the support team, which is impossible if you're a free user. Bear with us, we'll explain everything in the next section.
How Can I Contact Avira Phantom VPN?
How come that Avira Phantom VPN doesn't have customer support? It must have one, right? Sure, customer support is there, but only if you're a premium user. Even then, some users on Trustpilot complained about the same issue, which we'll address in a moment.

As you can see, Avira calls its customer support "premium support." You can still get help if you need it by visiting the FAQ section e.g. knowledge base, but that's far cry from talking with a real human. We can't express how disappointed we are in this provider.
Why do free users can't get any help, huh? A big company like this needs to value even those who just want to ask some questions without having to pay. Avira went too far this time, that's for sure.
The Special Functionalities
Whenever we use a free VPN, we expect the basic experience that you can get with pretty much every provider out there. Windscribe is an exception, and for us, the best free solution out there. On the other hand, this provider is perhaps one of the worst. Let's see what special functionalities Avira Phantom VPN offers:
These are the app's settings, and as we can see, nothing special is present here. The PRO version gets a kill switch, while the basic one gets the "Block malicious sites and content" option. It can be called a special feature, but we aren't very sure that it functions properly.
This isn't an ad-blocker, though. You'll still get ads on websites. The difference is that it blocks the whole websites and not just the ads that they display. We tried every kind of website online, and so far, we didn't notice that Avira Phantom VPN blocked a single site.
Other Things You Should Know
Our in-depth review is in-depth because we mention all the things you should know about a particular provider. This one about of Avira Phantom VPN is no exception. Here are the other things we haven't mentioned so far:
Number of Servers
Let's start with the number of servers. In this regard, Avira Phantom VPN is very modest – only 50 servers are available in total. Luckily, it isn't very popular as a computer solution. Just imagine thousands of computer users on these 50 servers – the speeds would be even slower and connections far less stable.
Number of Countries
The provider scattered its 50 servers across 36 countries. Pretty much every country has one server, while the UK and US have more.
Number of Simultaneous Connections
Protecting multiple devices on the same account is possible here. Avira Phantom VPN allows for up to 5 simultaneous connections for free users. For paid users, you get unlimited simultaneous connections – the same as Surfshark.
What Do Other Users Say About Avira Phantom VPN?
We still can't wrap up our review before mentioning other people's opinions on Avira Phantom VPN. Bear in mind that it's not the most popular out there, so it was pretty difficult to find any feedback on sites like Reddit and Trustpilot. Speaking of that, let's check Reddit first:

This user reported a fatal bug. In short, he says that Avira Phantom VPN doesn't work for him, despite being on a 0% data usage. Sadly, no one responded to this thread, making this user learn the lesson the hard way.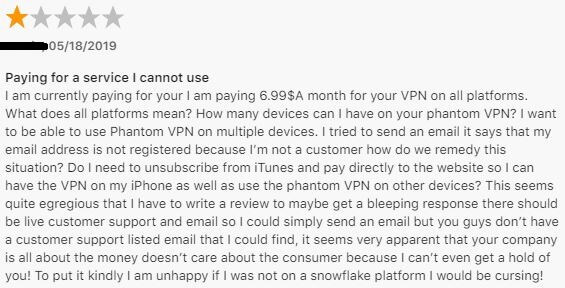 On the Apple Store, we found a review from a premium user of Avira Phantom VPN. As you can see, he pays a monthly fee, yet he's treated like a free user, which is just ludicrous. If you read this feedback carefully, you can see that he also mentions the lack of any customer support. To summarize the review, he's very dissatisfied and angry at the provider. Which we understand.

This Google Play user complains about the speed here and the lack of Azerbaijani and Turkish servers. He also mentions that some servers do not connect, which is a cardinal stability issue. Finally, we have to check Trustpilot:

This is what we talked about and why we hate giving out our credit card number even for a free trial. Even after you cancel the subscription, they can still continue to charge you. Thankfully, that wasn't the case for us, but this user obviously had some bad problems.
Conclusion: Should You Take It?
Avira Phantom VPN is doomed from the start. Even its presentation on the website doesn't look ambitious and trustworthy. From small server count and snail-slow speeds to its inability to unblock streaming websites and non-existent support, this provider has nothing to do on the market.
Even as a free option, it's pretty bad. And if you're thinking of getting a premium provider, this should be your last choice. It's clear that the provider isn't worth buying, so you shouldn't take it. Instead, we suggest ExpressVPN, which is a premium solution.