Argentina is one of the largest countries in South America, and thankfully, it's one of the freest. But, as always, you shouldn't take this for granted. The government in this country isn't always hell-bent on invading your privacy and you're free to do whatever you want on the internet… for the most part. So, why do you need a VPN in Argentina? And if you decide to buy one, which one should you get? You'll find that out in a minute – don't leave just yet!
Why You Should Use a VPN in Argentina?
Before giving you a galore of providers to choose from, we need to talk about some reasons why using them is a smart move here. Take a look below:
Avoiding ISP Surveillance
Year after year, Argentina shows how much it cares about the freedom of speech and privacy. While this isn't an easy task to manage, the government does it surprisingly well. There's one example that transpired in 2004.
A new data-retention law was taken into consideration when the Supreme Court of Argentina struck it down for violating the privacy, which was a pretty smart move. On the other side, some laws are still left unclear, which allows ISPs to monitor your data.
We usually say "government surveillance" but this time, the government doesn't do that much job. ISPs monitor you, instead, and if needed, the government will request info about you from them. Either way, that's not a business you want to be involved in.
Staying Safe on Public Wi-Fi Networks
Just about 3 years ago, in 2017, there's a case of public Wi-Fi hacking that the whole world was talking about. The American CEO who sat at Buenos Aires Starbucks was one of the victims of this event. Multiple hackers hacked through the customers' phones and laptops to mine cryptocurrencies, compromising their privacy.
The takeaway is that you never know who lurks in the shadows while sitting in your local cafe. For that reason, using a VPN is necessary in Argentina. It will mask your IP, encrypt your connection, and protect you from hackers who want to steal your data.
Bypassing Geo-Restrictions
Do you want to enjoy US Netflix or watch Amazon Prime from everywhere? Well, you can't do that without a Virtual Private Network. Sure, if you're from the USA, good for you. But most of us aren't living there and the USA is just a fraction of our beloved planet Earth.
This applies to every geo-restricted website, whether it's a streaming platform or just an ordinary website. Netflix, Hulu, DAZN, HBO Go, and Disney+ are just some of the sites you won't be able to access from Argentina.
With a VPN, however, you can obfuscate your IP, change your online location, and access all of the aforementioned sites as if you were from the USA.
Best VPNs with Servers in Argentina
Accessing local content from abroad is a hard or better said, impossible thing to do without a good VPN. Here are the best providers with servers in Argentina for enjoying Argentinian content from abroad:
ExpressVPN: It is is the number one on our list of top 10 VPNs. Luckily for Argentinian residents, it has servers in the country, allowing you to take advantage of all the benefits it offers – and it offers a lot of them!
NordVPN: NordVPN has 5,500+ servers worldwide, including 20+ servers in this country. This is one of the most secure providers on the market, with solid speeds, and security features. Definitely among the best choices!
CyberGhost: CyberGhost is a Romanian provider that's also the largest provider available. It has 10 physical, high-speed servers in Buenos Aires, supporting all of its security protocols and features.
Wanna know how to get the provider you want? Simply click on its name, buy a subscription for a discounted price, install the app, and enjoy the internet freedom anywhere in the world.
Best VPNs for Argentina
If you aren't traveling abroad often and you just live in Argentina, you still need a quality VPN provider. Which one to choose? Here are the 3 best options for 2021:
1. ExpressVPN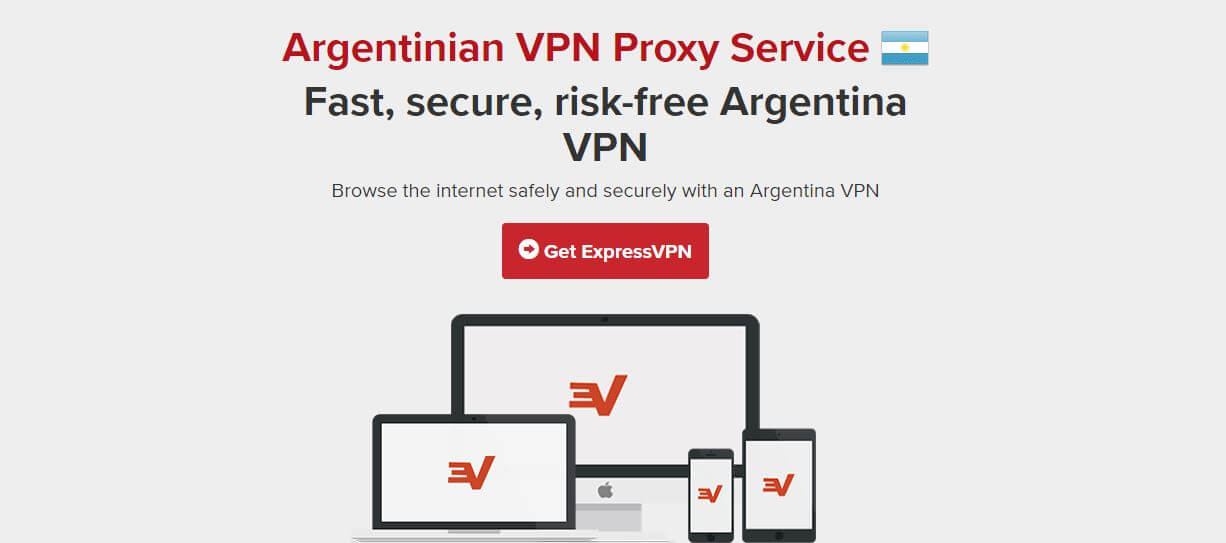 If you want a provider with no compromises, ExpressVPN is your best choice. Sure, it isn't the cheapest on the market but quality always costs a bit more. The reason we like this provider is that it provides fast speeds, yet always focuses on the security part that many VPNs lack.
It's stationed in the British Virgin Islands, a country with some strict privacy laws. This means that you get a no-log policy, as well as military-grade encryption, kill switch, and DNS and IPv6 leak protection. Aside from that, ExpressVPN can bypass geo-restrictions with ease.
You can read our full review here and see what we're talking about. ExpressVPN managed to unblock every major streaming platform, making it the best in this regard. Plus, it has an app for Fire TV, so you can further expand your possibilities.
Important to mention is that it offers a 49% discount and 3 months free for a 12-month plan. Should you decide to get it, you'll also get a 30-day money-back guarantee.
2. NordVPN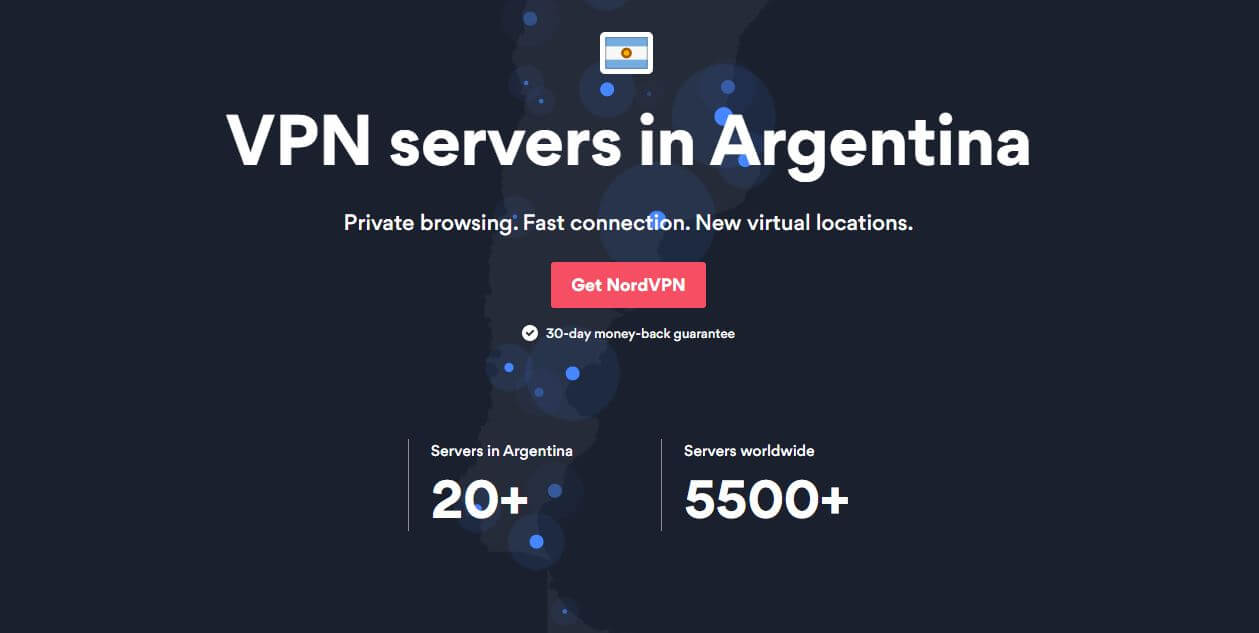 Those who like having thousands of servers at their disposal will fall in love with NordVPN quickly. As we mentioned, you get 5,500+ servers in 61 countries, making your possibilities literally endless. Since it's from Panama, the provider has some neat security features and even a no-log policy.
For instance, there's CyberSec, an ad-blocker, Double VPN, and Onion Over VPN for using Tor with this provider. 256-bit encryption is also here and you get IP leak protection for additional safety. NordVPN easily unblocks all the streaming platforms and is one of the fastest providers in 2021.
To top it all up, there's 24/7 customer support, 30-day money-back guarantee, and some cheap, discounted plans. It's a very good VPN for Argentina overall, there is no doubt about that.
3. CyberGhost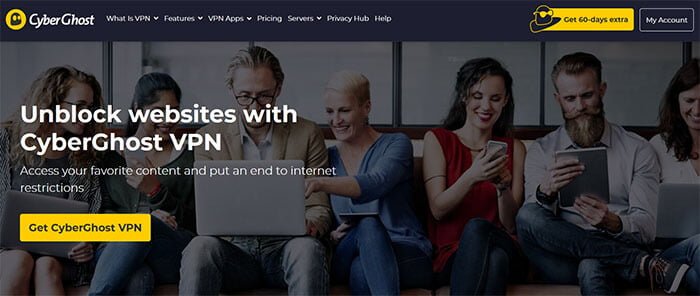 CyberGhost is a very cheap solution that's not going to break the bank. This, of course, doesn't mean it's bad. The provider offers dedicated servers for streaming and torrenting, so you won't be limited in any sense. Speaking of limitation, they offer unlimited bandwidth and neck-breaking speeds.
Watching Netflix even in 4K will be a breeze! And if you want to play some online games, well, you can do that, too! We always recommend this provider for beginners, which we're also going to do now. It's very cheap, yet very easy to use, making it perfect for you newcomers out there.
Other than what we said, CyberGhost offers rock-solid security that includes a no-log policy, and a couple of security protocols. Who else wants free providers when you can get one for this cheap? And speaking of free providers…
Enjoy CyberGhost's Dedicated Servers >
Why You Should Avoid Free VPNs?
… let's see why they aren't so good.
Free providers lack certain features that are very important. For example, they use weaker encryption and often store logs. These logs contain crucial info about you and other users, thus they're very expensive. To make matter worse, some free providers sell these logs and earn revenue, which is their primary way of making cash.
Apart from that, you're looking at pretty limited possibilities. You get 500 MB to 10 GB of bandwidth, very slow speeds, and only a handful of countries to choose from. If we were you, we wouldn't waste a second on a free provider and instead, we would buy a premium provider that offers all the high-end features.
Summary
Our Monkey is here to protect your privacy, even far away in his jungle. And when he assigned to us this mission, we took it seriously. For that reason, we recommend you ExpressVPN, a VPN provider that never disappointed us… especially in Argentina. It will keep you safe and secure in Argentina, giving you some fast speeds and 3,000+ servers worldwide.
If you want to save some cash, CyberGhost is another great option. But, know that it's an inferior provider when compared to ExpressVPN.