Astrill VPN is an interesting company in the world of cybersecurity. The main reason for that is the pricing. Arguably, this is one of the most expensive providers in the world, quickly making your expectations rise quite a bit. But, are its expensive pricing any indicator of its quality? Is it worth buying instead of some top providers we reviewed? Well, you'll have to stay with us during our complete review of Astrill to find that out!
What is Astrill VPN?
Before we delve deeper into our review, it's important to see what's this company all about. For the start, the company launched in 2009 by Astrill Systems Corp and is located in Seychelles. Interesting location, isn't it? Rightfully so.
As of now, Seychelles is a VPN-friendly country with no data-retention law that can have an effect on your privacy. This doesn't mean that the provider is good and that you should immediately buy it, though. With its ten years of existence, what did the company manage to achieve?
To be honest, not very much. Astrill, given its price, has some shortcomings but also some great features that we're going to talk about in our comprehensive review. For those that just want to buy it immediately, here's a button for visiting the website.
You'll get a discount if you buy it using our website. For now, let's finish what we started.
Compatible Devices and Ease of Use
For a good portion of this review, we'll cling to the word "expensive" for quite a lot. Beware that we also had very high expectations of Astrill VPN and so was the case in this compartment. Here's what devices it supports:

As you can see, all the major platforms are there. You didn't expect any sort of space shuttle, right? After all, this is just a Virtual Private Network. Jokes aside, it's good that we also see the router support on the right, which will drastically improve the service.
Other than that, Windows, macOS, Android/iOS, and Linux systems are here. So far so good.
Computers
Using this service on your big display might be your primary choice. Okay. You can use it if you have either Windows, Linux or macOS. Here, we use the Windows 10 platform, so we're going to install it and see if it's easy to use.
Upon downloading the setup file and opening it, we were greeted by this screen: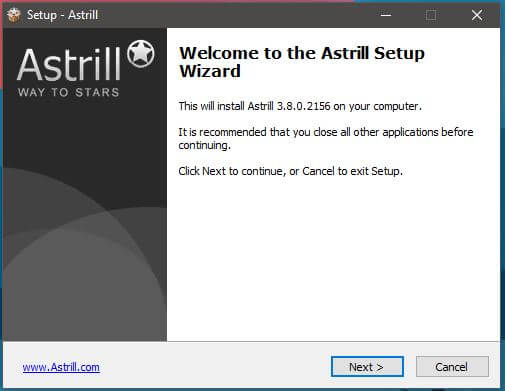 Click Next and accept the agreement on the next screen: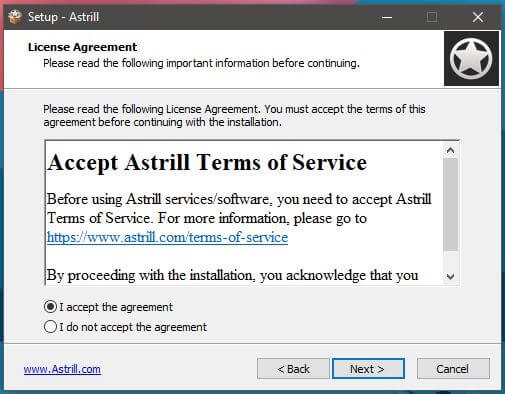 After that, click Install and the app will install in about 10 seconds. Unfortunately, the app requires a restart, as you can see below: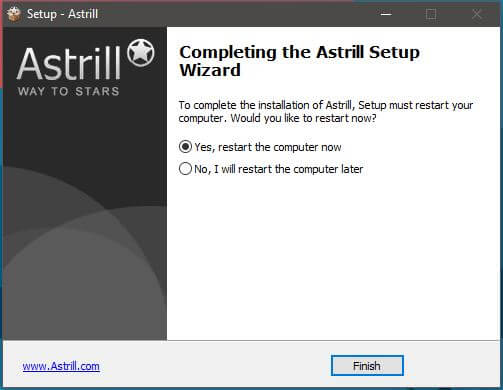 Restart the PC right away and after it's done, run the app manually from the desktop. The company took the word "minimalism" a little too far this time. Look how small the app window is!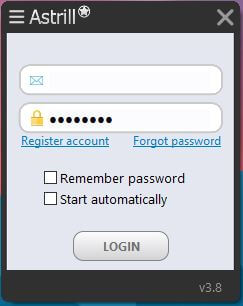 Type in your credentials and click the LOGIN button.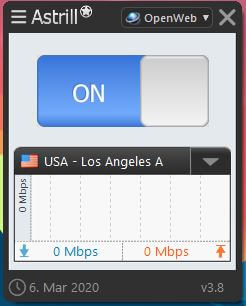 As you can see, the app immediately establishes a connection when you boot it up for the first time. We didn't like that, although it's easy to disable it by clicking on the big button. To open a server list, click on the arrow pointing down, right next to our virtual location: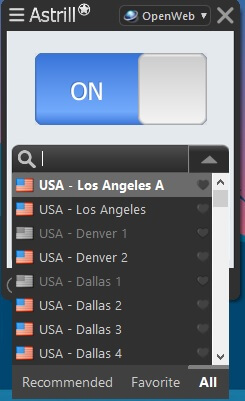 Choose the country you want and connect to it. We used the default choice, so we didn't have to do anything. The ease of use is great and the app lets you connect with literally no clicks, except if you want to change the default option.
Smartphones and Tablets
When it comes to smartphones and tablets, there are only two options – iOS and Android. Since the provider supports both, we'll use Android to show you the installation process and the app. This process is the same on iOS, so iPhone users can also see how the app will look on their iPhones.
The first step is to visit the Google Play Store and download the app, as shown in picture 1.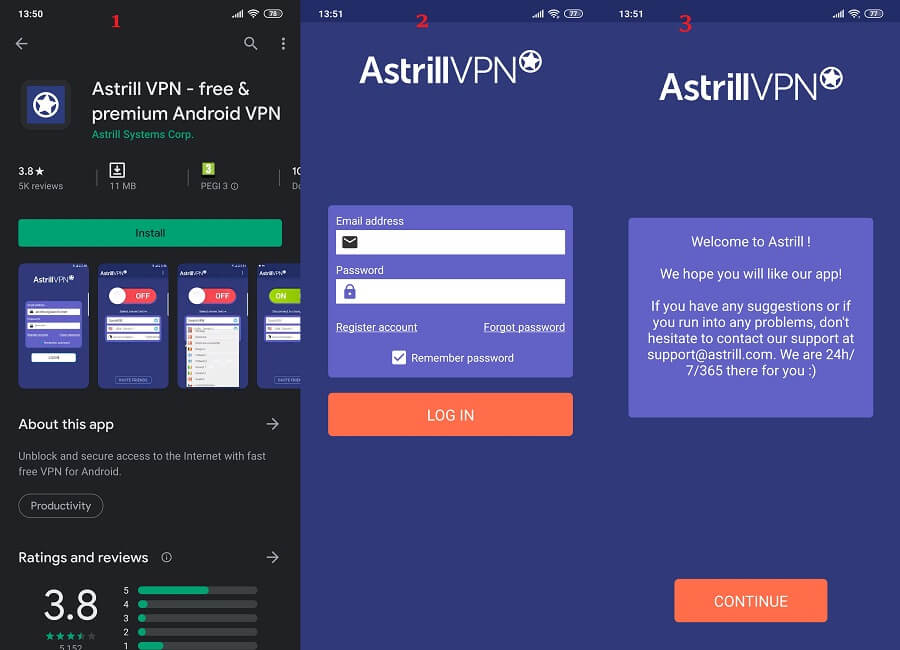 When you open the app, the login screen will appear right away, as shown in picture 2. In picture 3, there's a small welcoming screen with the ":)" emoji at the end. Click Continue and the app's home screen will appear. You can see it in picture 4.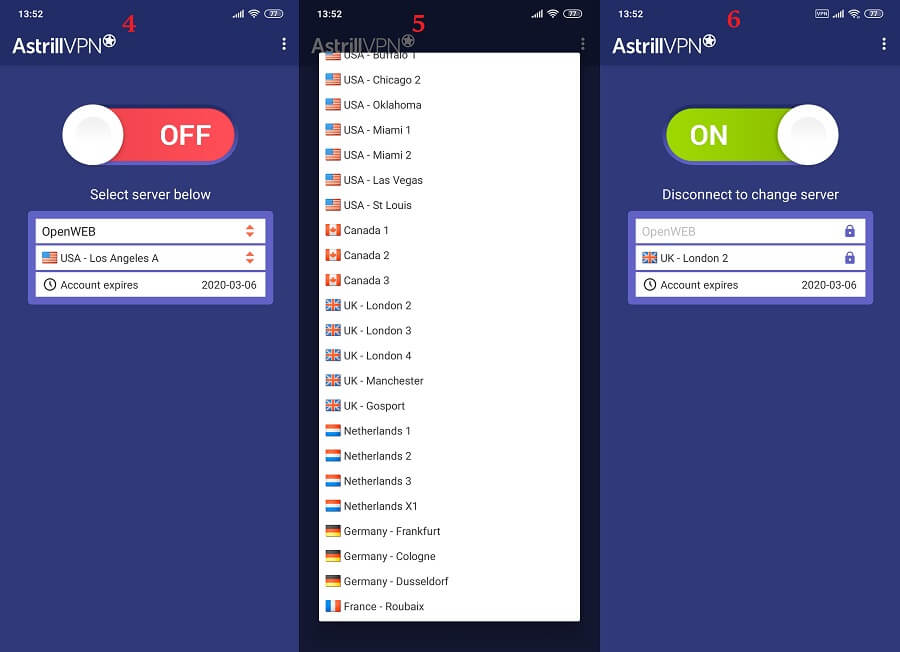 To open the server list, click on the part where the country is displayed. The server list in picture 5 looks as shown in the picture. Choose the server you want and the app will get back to the home screen. Click the power button and it will turn green, as shown in picture 6.
This means that you've established a connection successfully. To conclude, the app is easy to install and use on mobile devices.
Other Devices
As we already mentioned, Astrill VPN supports routers and with that, many other devices.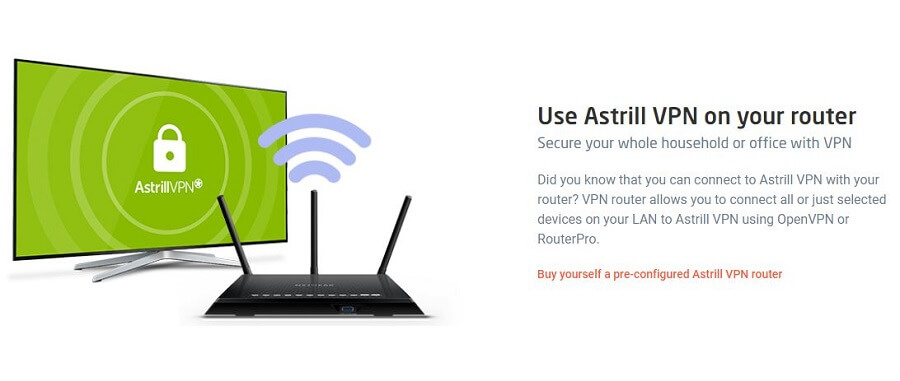 They even offer you to buy a pre-configured Astrill router, which is a nice option, given that it starts from $50 and above. You don't have to buy an expensive Razer router when you can get this one. With a VPN configured, you can protect up to 16 or 32 devices simultaneously.
This means protecting Roku, PS4, Xbox One, Smart TVs, smartphones, computers, and so forth. For this price, we expected the router support and we got it – nothing more to say.
How Fast is Astrill VPN? We Checked Its Speed!
Is the provider speedy or just greedy? Or perhaps both? We shall see that now. Before we do, though, let's just mention one fact that many of you don't know. Every provider will decrease your internet speed to some extent. But, there's a big difference between 10% and 80% reduction.
This speed reduction depends on many factors, such as the distance of the server, level of encryption, quality of the network, and so forth. With that many variables, we need to clarify how we did our tests. We did 3 tests in the morning, 3 in the mid-day, and 3 in the evening, for 3 different locations.
We also kept the best score and used the best location when it was possible. Our physical location is in the USA (non-VPN test) and we used these 3 locations for testing:
The United States
The United Kingdom
Australia
Without using a Virtual Private Network, our speeds are:
Ping: 11 ms
Download speed: 211.88 Mb/s
Upload speed: 202.20 Mb/s
Now, when using Astrill VPN, our ping, download, and upload speeds respectively, for 3 testing locations, are:
US Server: 28 ms / 135.44 Mbps / 162.78 Mbps

UK Server: 95 ms / 85.16 Mbps / 62.89 Mbps

Australian Server: 277 ms / 37.15 Mbps / 29.47 Mbps

The speeds when using the US server were quite good, which made us think that this trend will continue. But, unfortunately, the provider showed bad results in the other two countries, which you can see from the results above.
A download speed of just 37.15 Mbps in Australia isn't something we expected. There are a lot of faster options on the market at much lower prices. Even if it wasn't for the price, Astrill VPN is still a not so fast provider.
How Good is Astrill VPN for Streaming?
What about streaming? Is it possible to watch UEFA Champions League on foreign channels or just bing through Netflix shows? Let's start with Netflix first.
The provider passed this test easily or as they say, with flying colors. We managed to unblock US Netflix and servers in the UK, Canada, and Australia worked fine, as well.
As for the other platforms, we'll check another American giant – HBO GO: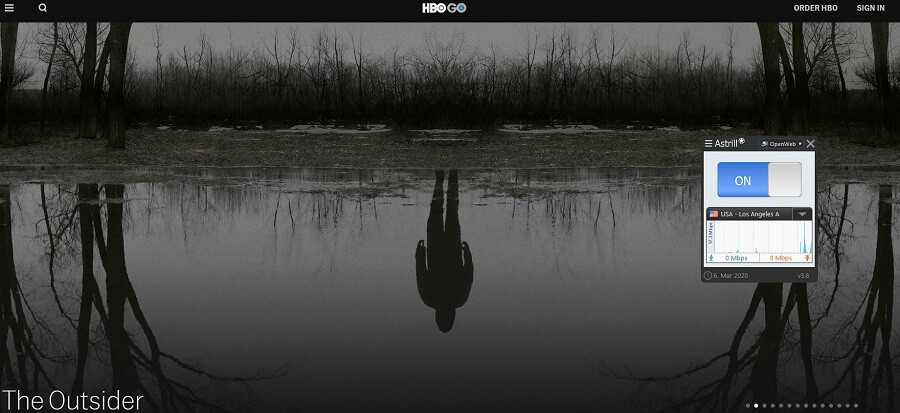 HBO GO worked flawlessly but this is just a warm-up round since this platform doesn't have strong anti-VPN measures. What about Disney+ then?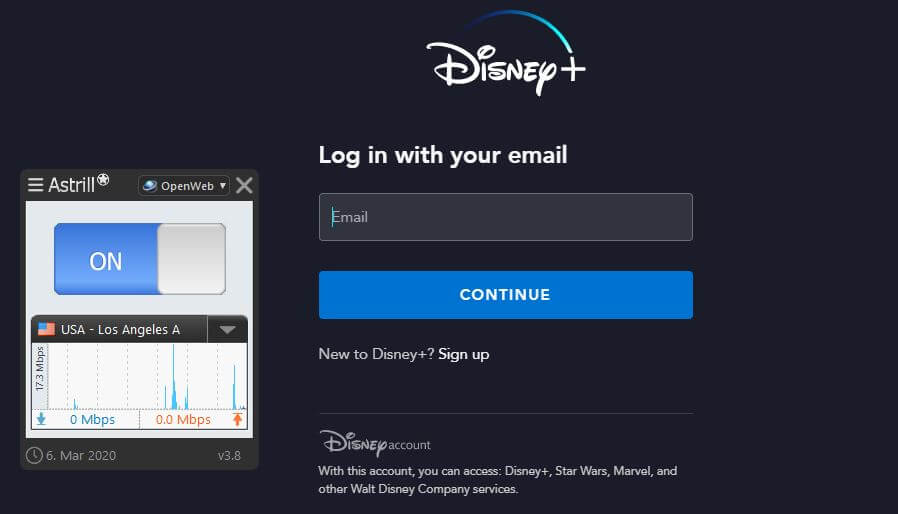 Disney+ also works great when using the Los Angeles A server. Let's see if DAZN works, for those who would like to stream UEFA Champions League (in the case you already have a subscription):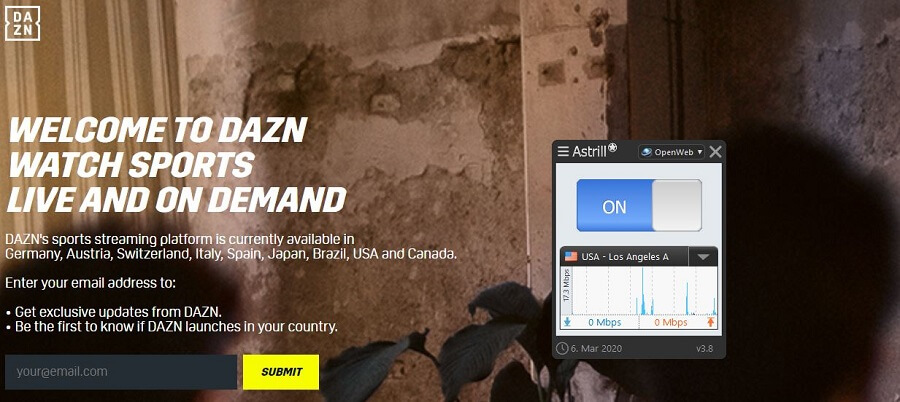 DAZN, unfortunately, doesn't work. Our final contender is BBC iPlayer, so let's check it out: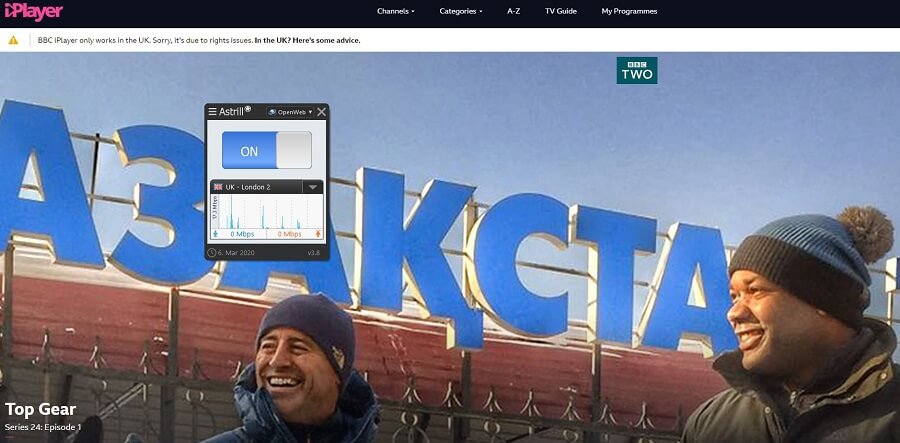 These guys were laughing at us for trying to access BBC iPlayer with Astrill VPN because it doesn't work! So, let's digress. The provider unblocks Netflix, Disney+, HBO GO, along with Hulu and Amazon Prime Video. But it doesn't unblock DAZN and BBC iPlayer.
Furthermore, it isn't very fast, so you'll struggle to watch movies and shows over Full HD. Simply put, the provider is "okay" for streaming at best but for the price, it's definitely not that good or downright bad.
Confidentiality, Security & Logs
You know how they say when you driving a car – safety first! Taking care of your safety is always a smart thing to do. For that reason, let's see if Astrill VPN is safe by starting with a review of its privacy policy.
Do you see these red lines? This usually means that something's not right. We can clearly see that the provider stores your IP address, connection time, and device type during your session. Although it's removed once you disconnect, it's still too much info for our liking.
If you continue reading the policy, you can see that they also store the amount of traffic you use, your country, Astrill client application version, and so forth. The next thing we saw baffled us. Take a look:

Basically, the info they collect is here to provide you capabilities such as the ones mentioned in the screenshot. Do you see something wrong? Like, for instance, online shopping? Well, this is a huge reason for worry, despite this statement:

If they "do not sell, rent or trade your personal information with anybody", how can they improve your online shopping experience? We had a hard time interpreting this policy, and from the looks of it, it seems like they keep a concerning amount of information. Not only that but they seemingly SELL this info to third parties.
We don't want to accuse anyone blindly, so you can be the judge. If you ask us, that's some shady business that makes the provider unsafe to use, hence we don't recommend buying it. The full privacy policy is here. Let's see if there are IP leaks:
At least, our IP wasn't leaking, so it's a good thing. Other than that, you get AES 256-bit encryption, a vast choice of protocols, Onion Over VPN, kill switch, and IP and DNS leak protection. If it weren't for this shady privacy policy, we'd say it's safe but as things stand, Astrill VPN isn't safe.
Can I Do Torrenting Safely with Astrill VPN?
What about P2P file-sharing? Can this not-that-safe provider do it? Let's check the 1337x torrent site and see what it says:

This is the IP we used above, so once again, we're concealed and ready to download this game. We downloaded it and we didn't receive any copyright infringement or any similar warning. Furthermore, the provider promises to keep your torrenting activities private, even enabling port forwarding to increase speeds (it is also available if you use the Stealth VPN feature).
In short, Astrill VPN supports torrenting, although you probably won't enjoy its speeds.
Can I Use Astrill VPN to Bypass Censorship?
If you're living in China, Pakistan, Indonesia, Russia or the UAE, you know what censorship is. And we believe that you're infuriated knowing that the government blocks even non-malicious websites. Our readers from China know this struggle the best, "thanks" to the Great Firewall of China.
This firewall is the worst enemy of internet freedom and VPNs, so only a few of them work there. Luckily, after our review and tests, we can confirm that Astrill VPN works flawlessly in China and can easily bypass censorship. This is probably among the top 6 VPNs that will work in China effortlessly!
Because of that, it's also a good solution to access the Darkweb privately. Of course, you can use it in other countries we mentioned because China's firewall is one of the toughest to beat.
Pricing and Plan Options
Let's talk business, shall we? The price is what either makes it or breaks it, as users want to squeeze every bit of cash they can. As we said, this isn't the best money-saving option, so if you came here expecting to save some money, you better take a look at Surfshark or CyberGhost for that matter.
Here's how much this provider will cost:

The plan in the middle isn't a monthly plan, as you might've guessed. It's an annual plan that costs $10 a month or $120 every year. On the right, there's a 6-month plan at $15 a month or $90 every six months. And finally, there's a monthly plan at $20 a month, which is just ludicrous. Do you think that's expensive? Check this:

Just look at how much these additions cost – unbelievable!
Saying that this is expensive is an understatement. Those who say that ExpressVPN is expensive should definitely look at this screenshot. Is ExpressVPN expensive now? Not really. For that reason, you should get it instead of Astrill VPN.
ExpressVPN costs $6.67 a month for an annual plan and you get 3 months free. It's a much, much better deal and needless to say, it's at least three times better provider. Nevertheless, let's see the payment methods Astrill offers:

They're very good in this regard, even offering Bitcoin payments. But what about refunds? Well, you might wanna take a look at this:

Yup, no refunds once you buy it. That's why we always say that you should inform yourself about the provider before you buy its subscription. If you go in blindly, it's your fault. The provider doesn't have to do anything with it.
How Can I Contact Astrill VPN?
In case you want to contact Astrill VPN directly, of course, that's possible. Here how to do it: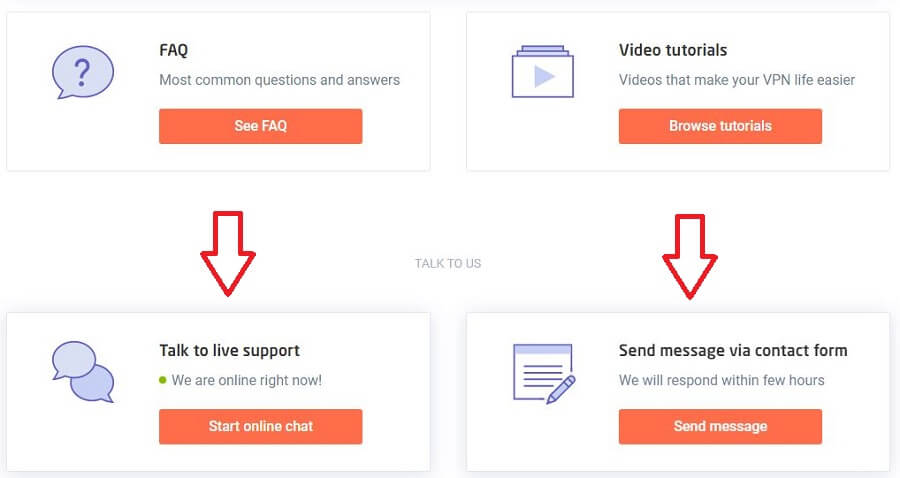 Visiting the Support section, you get these options. The bottom two are for contact, while the upper two are FAQ and Video tutorials. The live support isn't very… live, let's just say. We contacted it and we had to wait for a good 20 minutes before we got our response.
Interestingly, the same applies to the option on the right. We literally had a chat with them via email, where they responded within 5 to 10 minutes on several occasions. In case you're wondering, we were chatting about our free trial for reviewing purposes.
We must admit that the support is very helpful, though. They provided us with our free trial but as you can see, we are not biased and this review is 100% honest.
The Special Functionalities
Aside from some special features we mentioned, the provider offers a few special functionalities within the app:
Speed Test
Unlike many providers that connect you to the Ookla website for a speed test, Astrill has this feature in-app. Which is a good news in the case of this Astrill VPN review.
You also have a ping test here, so it's a very good option for vetting a server before you use it. Simply choose the server and then pick a test you want to do (Ping or Speed). The test lasts a few seconds, so you won't waste any time.
Ad-Blocker
The provider is very generous when it comes to special features, even including an ad-blocker that looks like this: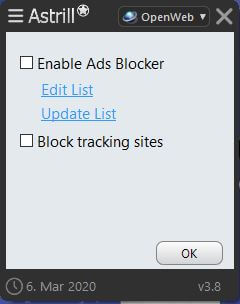 You can add certain sites to the list, enable/disable ad-blocker or block tracking sites. If you want to be as secure as possible we suggest ticking the last option.
Site Filter
Finally, there's the Site Filter feature, which is similar to split tunneling: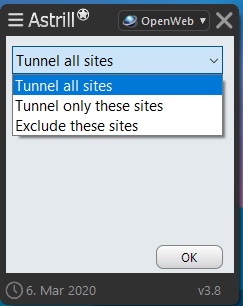 You can tunnel all sites, only the particular sites or exclude certain sites. The feature works great and we're sure you can use it for your bank account or PayPal, to avoid being locked out.
Other Things You Should Know
We've covered up almost everything about Astrill in our review, except these three things:
Number of Servers
If you want to find out how many servers the provider has, you can do that by clicking Features and then VPN servers: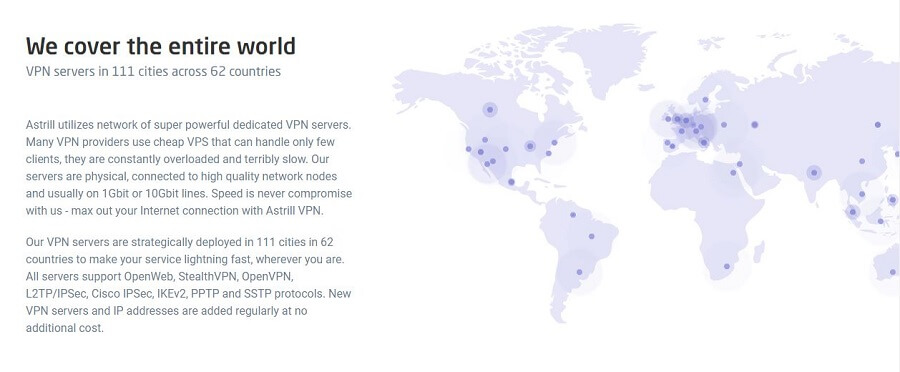 Do you see it? We guess you don't because the provider hides it and when it's hidden, you know something's up. However, we managed to find out that they have 360+ servers worldwide, which is obviously the reason for hiding this fact.
For their 10 years of existence, they've managed to build just 360 servers… that's ridiculous.
Number of Countries
The provider's servers are scattered across 62 countries and 111 cities, which isn't as bad. On average, that's something like 3.6 servers per city. In reality, the USA has 23 servers (at the time of writing) and all other countries rarely have more than 5 servers – rather 2, 3 or even 1.
One server in Moscow also made us think if the provider complied with the Russian laws regarding VPNs. Since they operate there, they probably have, meaning that Russia can access the users' data if it wants.
Number of Simultaneous Connections
Here's the number of simultaneous connections that the provider gives: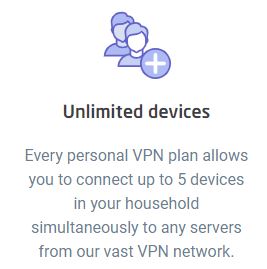 You'll first see the unlimited devices but if you read it again, it says "up to 5 devices in your household." At this price, we truly expected unlimited devices but it is what it is. You can at least install it on your router and get up to 16 to 32 devices simultaneously.
What Do Other Users Say About Astrill VPN?
The provider doesn't have quite a respectable reputation online. To prove our point, we'll start by reading the review from Reddit:
This user complains about the speed from the beginning of his feedback. Long story short, the user isn't satisfied with speeds, unstable connections, and customer support that is, in his words, rude and arrogant. He used ExpressVPN after that and said that it has much better speeds, which is actually the truth.
Here's what users from the Apple Store say: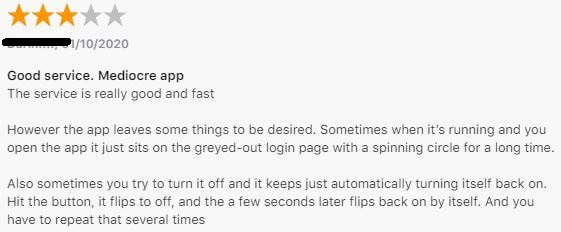 This iOS user says that the service is good but that the app lets it down. Just take a read and see if these problems wouldn't annoy you. Still, a three-star review isn't a very bad one, given how many problems with the app he has. On the Android side, this user is very dissatisfied:

As you can see, this user used Astrill for 5 years, just for it to be even worse in 2021, in his words. The connection is unstable and the app keeps reconnecting every 10 to 15 minutes, whereas this didn't happen a few years ago. Finally, the user from Trustpilot completely thrashed Astrill with his review: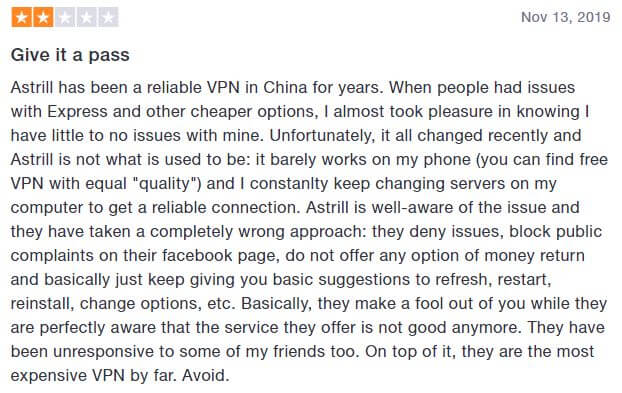 Do you see any similarities between this and the previous review? It's obvious that Astrill declined in quality from a few years ago since this isn't the only user complaining about the same issue. To make things worse, the user says that they just ignore these issues and "make fool out of you" when you mention them. It's a bit longer opinion but you can see that it's all but positive.
Conclusion: Should You Take It?
If you've read the review carefully, you know what our opinion on Astrill is. You should not buy Astrill VPN. There are multiple reasons, starting with the ludicrous price, lack of zero-log policy, slow speeds, and the lack of refunds.
Sure, this is a nice option for China, unblocks streaming platforms, and works well with routers. But, is it really worth that much? Not really. If you want to a provider that's a lot cheaper than this, yet far better, our recommendation is ExpressVPN.
Who would guess that ExpressVPN can be far cheaper than any provider, heh? Nevertheless, ExpressVPN is our numero uno and given its lower price, recommending Astrill VPN would be unfair and foolish.